"Knowledge is limited. Imagination encircles the world."
- Albert Einstein
Introduction
When I wrote my first article in this series on December 7th, 2015, titled "Why A 90% Cash Portfolio Will Probably Outperform", I had spent the prior five years researching deep value, out-of-favor securities. My research had convinced me that the broader market was overvalued, perhaps by more than it was in 2007 and 2000, and there were a number of stocks trading at valuations that made their 2009 lows look expensive. Said another way, there were a group of stocks who looked historically cheap even when compared to their own 2009 low prices, while the broader market was in its third "bubble" in fifteen years.
In contrast to 2000 and 2007, bonds as a group, were also trading at sky-high valuations. I illustrated this point using a table I had put together, with data from GMO, to show the dilemma facing investors.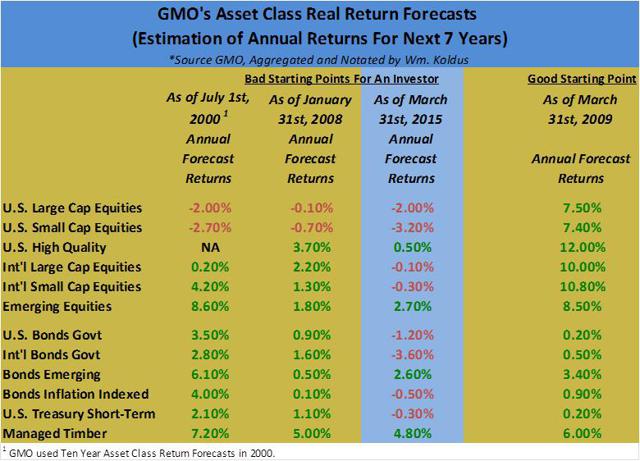 Since I published that first article, both the stock market and the high-yield corporate bond market have been in a slow motion crash. Only recently, with another dose of central bank money printing, via the Bank of Japan, have the global equity markets been able to stabilize. With low return prospects still facing investors, I thought it would be a good time to take a look at how a version of the "90/10 Portfolio" has performed.
Thesis
A 10% portfolio weighting to a concentrated, deep value distressed equity portfolio, with the rest of the portfolio in cash, has higher expected returns than a traditionally allocated equity portfolio due to the current levels of overvaluation.
A Different Approach - Revised
In the original article, I modeled a traditional, diversified equity portfolio (Portfolio A) alongside a non-traditional 90% cash portfolio, with the remaining 10% allocated to a basket of deep value distressed equities, that has a return profile more similar to a venture capital fund. For this article, I have slightly updated the portfolio modeling of the two portfolios.
For the traditional portfolio, Portfolio A in the table below, I used the SPDR S&P 500 ETF (NYSEARCA:SPY), iShares Russell 2000 (NYSEARCA:IWM), iShares MSCI EAFE (NYSEARCA:EFA), iShares MSCI Emerging Markets (NYSEARCA:EEM), iShares 20+Year Treasury Fund (NYSEARCA:TLT), iShares iBoxx $ High Yield Corporate (NYSEARCA:HYG), iShares iBoxx $ Invst Grade Crp Bond (NYSEARCA:LQD), iShares Core US Aggregate Bond (NYSEARCA:AGG), and for a little commodity exposure, the SPDR Gold Shares (NYSEARCA:GLD). The traditional portfolio is equity centric, loosely approximating an 80/20 split between stocks and bonds. The traditional portfolio is 100% invested starting today.
For the comparison portfolio, Portfolio B, I used a basket of deep value distressed names. The model portfolios and their expected returns under different scenarios are illustrated below.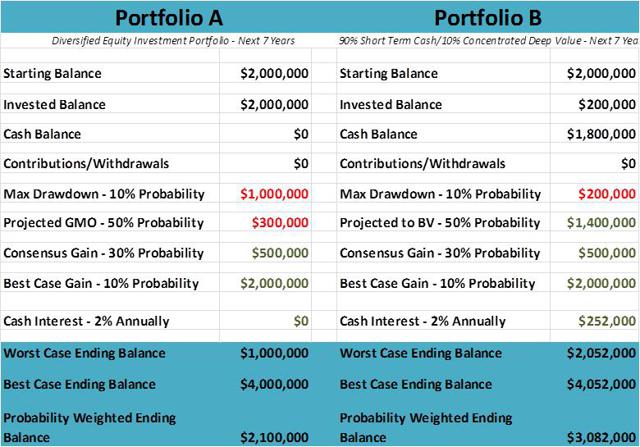 The probability weighted ending values of the non-traditional portfolio is almost 50% higher. Even more impressive, the worst case ending balance is much higher for the non-traditional portfolio.
The Contrarian's "90/10" Portfolio
I launched a premium research service on Seeking Alpha called "The Contrarian" on December 7th, 2015. As part of that research service there are a number of model portfolios that I have constructed based on real world transactions for subscribers, including a "Bet The Farm Portfolio", a "Best Ideas Portfolio", a "90/10 Portfolio", and a "All Weather (long/short) Portfolio".
The 2/01/2016 update for the "90/10 Portfolio" is reproduced below, to give investors a feel for how this portfolio has performed.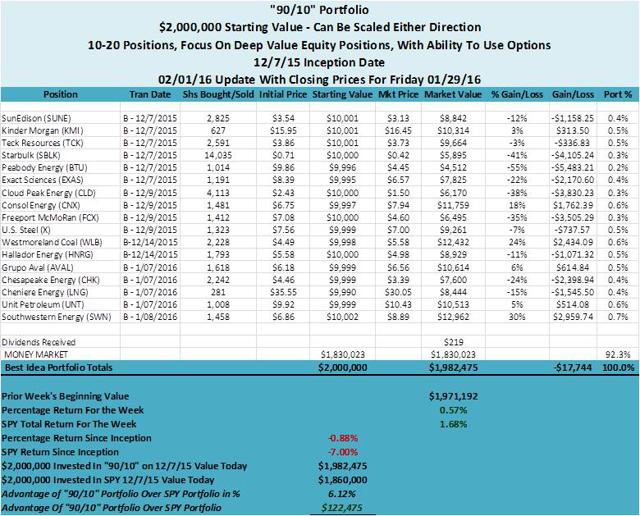 The portfolio is comprised of roughly 92% cash, and allocations to a group of deep value stocks, which I am all bullish on individually, though each of these companies faces high risks and some may not survive with their current capital structure intact. These companies are listed, as follows, in no particular order: SunEdison (SUNE), Kinder Morgan (NYSE:KMI), Teck Resources (TCK), Star Bulk (NASDAQ:SBLK), Peabody Energy (NYSE:BTU), Exact Sciences (NASDAQ:EXAS), Cloud Peak Energy (NYSE:CLD), Consol Energy (NYSE:CNX), Freeport-McMoRan (NYSE:FCX), United States Steel (NYSE:X), Westmoreland Coal (NASDAQ:WLB), Hallador Energy (NASDAQ:HNRG), Grupo Aval (NYSE:AVAL), Chesapeake Energy (NYSE:CHK), Cheniere Energy (NYSEMKT:LNG), Unit Petroleum (NYSE:UNT), and Southwestern Energy (NYSE:SWN).
After a strong first few days to start 2016, the deep value stocks have been swept up in the downdraft of the market. Thus, they have struggled as a group, with a few notable exceptions, including SWN (+30%), WLB (+24%), and CNX, after Consol endured a wild ride in 2016 (+18%).
Despite the struggles of the deep value stock group, the "90/10 Portfolio" has only declined less than 1% since its December 7th, 2015 inception, while the SPY is down 7% over the same time frame. The key to the portfolio's outperformance has been its cash weighting, which has protected the portfolio from the tsunami that has impacted the stock and bond markets. Building on this, when the markets come out the other side of the current correction, or potential bear market, at some undetermined point in the future, the deep value stocks, if they can survive, will have tremendous recovery potential as a group.
The Takeaway - Keep The Defensive Team On The Field
In the original article, I had a conclusion that still applies today, so I am going to simply use my original conclusion, which is in quotes below. Please note the comments in parentheses are my updated thoughts today.
"In light of low expected future asset class returns, it is imperative for investors to rethink their asset class allocations. A non-traditional asset class mix is needed. Even a 100% cash allocation is probably better than most traditionally diversified equity portfolios today. Let that settle in for a minute. If you cannot stomach an alternative portfolio approach like I am suggesting, think about doing nothing, just sitting in cash, which I have learned the hard way, is the right answer in certain investment environments. If you have been invested in the market, enjoy your good fortune and take some chips, perhaps even 90% of them off the table (depending on stocks owned, it might be too late today to sell as many value stocks are trading at multi-year low prices). If you have missed this bull market of the past seven years, this author's personal opinion would be not to chase it now (the only stocks I would consider are value stocks and stocks that have been out-of-favor for the last several years). While this article may seem outlandish, I believe it will be valuable for most investors, if it gets them to reconsider their portfolio strategy."
With the average stock now down over 25% from its highs, the broader market indices have some catching up on the downside, to do, in order to reflect the carnage that has gone on under the surface of the stock market. To close, in my opinion, investors need to keep their respective defensive team on the field, while keeping an eye on out-of-favor stocks to potentially make lemonade out of lemons.
For more information, please visit and peruse my author page.
Disclosure: I am/we are long POSITIONS LISTED AND SHORT SPY.
I wrote this article myself, and it expresses my own opinions. I am not receiving compensation for it (other than from Seeking Alpha). I have no business relationship with any company whose stock is mentioned in this article.
Additional disclosure: Every investor's situation is different. Positions can change at any time without warning. Please do your own due diligence and consult with your financial advisor, if you have one, before making any investment decisions. The author is not acting in an investment adviser capacity. The author's opinions expressed herein address only select aspects of potential investment in securities of the companies mentioned and cannot be a substitute for comprehensive investment analysis. The author recommends that potential and existing investors conduct thorough investment research of their own, including detailed review of the companies' SEC filings. Any opinions or estimates constitute the author's best judgment as of the date of publication, and are subject to change without notice.
Editor's Note: This article covers one or more stocks trading at less than $1 per share and/or with less than a $100 million market cap. Please be aware of the risks associated with these stocks.