Introduction
Jeremy Grantham of Grantham, Mayo, & van Otterloo (GMO), the world-renowned value manager based in Boston once said, there is very little that can be usefully said about the short-term outlook for markets but it is possible to make reasonable statements about the long-term based on the starting valuation of the asset concerned. Since valuations revert to their long-run average ("the mean") over time, patient investors can be rewarded by buying low and selling high.
The firm famously advised clients in 2001 to avoid U.S. equities and buy EM equities, which panned out as predicted in the following 10 years: Of 11 asset classes tracked, the MSCI EM Index was among the best performing markets (returning +15.9% annualized in USD) while the S&P 500 was in the doldrums (+1.4 annualized). The stellar 10 year return included the 2008 financial crisis, a period when EM and U.S. equities fell -53% and -38% respectively.
With the Shiller P/E of the U.S. market now sitting some way above its historical average, we believe prudent investors should now increase their allocation to EM for higher prospective returns. This asset class is currently attractivey valued based on long-run valuations and short-term momentum metrics. We believe investors phasing into this asset class now will be well served over the long-run.
Emerging Market: Long-Term Valuations
The table below summarizes the current Shiller P/E of various equity markets, available publicly from Research Affiliates. Trading at a P/E of 26x, the U.S. market remains fully valued despite the recent drop. In contrast, emerging market equities trade at a substantial discount, at 40% to the median which is almost half of its historical average. Sure, the problems with EM are well-cited (such as commodity weakness and currency depreciation), but investors should not be too concerned if they are investing with a sufficiently long time horizon. After all, asset valuations have the tendency to revert to their mean over the long-term (i.e. 7 years or more). This means cheap assets should appreciate toward to or above their fair value, and expensive assets should depreciate in value, and vice versa.
| | | | |
| --- | --- | --- | --- |
| Market Proxies | Shiller P/E | Median P/E | % +/- Median |
| Emerging Markets | 11 | 18 | -40% |
| Japan | 25 | 38 | -34% |
| EAFE | 14 | 22 | -36% |
| US (Large) | 26 | 16 | +63% |
So what does this sort of discount mean in terms of potential returns? According to regular forecasts published by GMO and Research Affiliates, investors can expect a real, inflation-adjusted base-case return of 4.1% to 7.9% respectively over the long-term (presumably over a period of 7-10 years), based on year-end 2015 valuations. These analyses were dated year-end 2015 so have not taken into account the fall in emerging market equities at the beginning of 2016.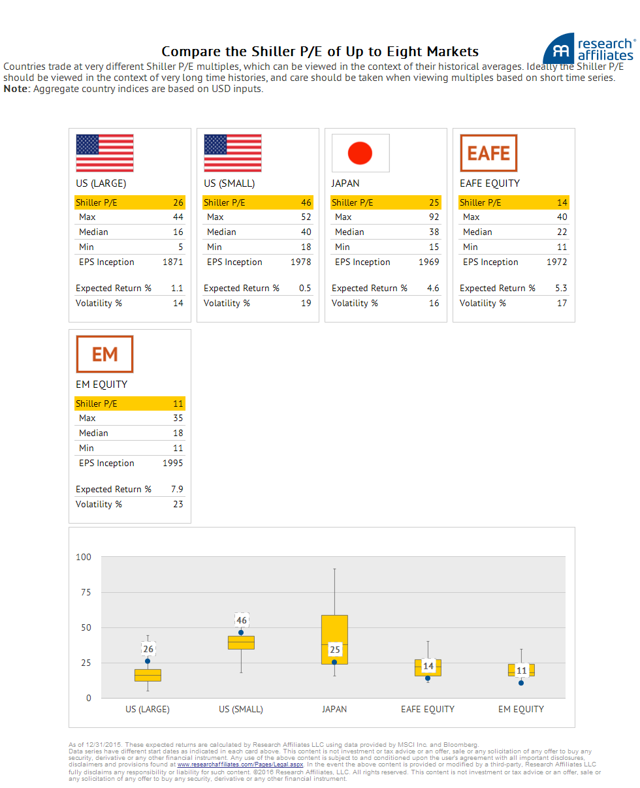 Emerging Markets: Performance and Momentum
Emerging market equities have performed extremely poorly over the past 10 years, returning almost 0% in real returns if one factors in inflation. This lost decade contrasts with U.S. equities, which have enjoyed high single digit returns.
| | | | |
| --- | --- | --- | --- |
| Total Returns in USD through January 31, 2016 | 1 Year | 3 Years Ann. | 10 Years Ann. |
| MSCI Emerging Markets Index | -20.9 | -9.2 | 1.8 |
| S&P 500 Index | -0.7 | 11.3 | 6.5 |
| MSCI EAFE Index | -8.4 | 0.7 | 1.7 |
Based on short-term metrics (rolling 6 month returns), emerging market equities appears to be oversold, with current returns sitting at 1 standard deviation below the mean. The rolling 3 year return is also extremely depressed. In contrast, the U.S. market remains vulnerable to a pull back despite short-term oversold conditions. Its rolling 3 year return is extremely elevated judging by history.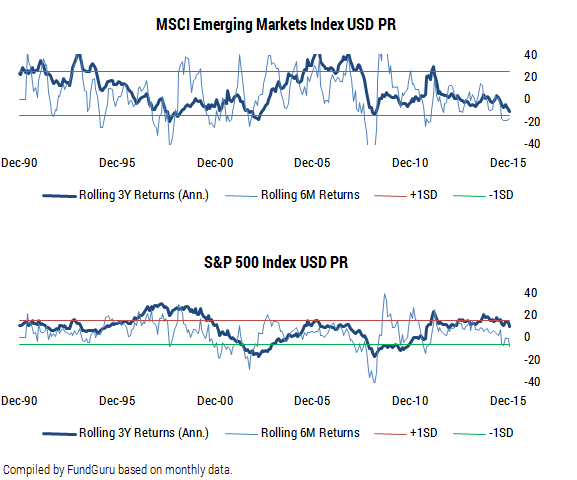 Which ETF is Best?
Below we provide an overview of the four largest Emerging Market ETFs currently on the market by assets: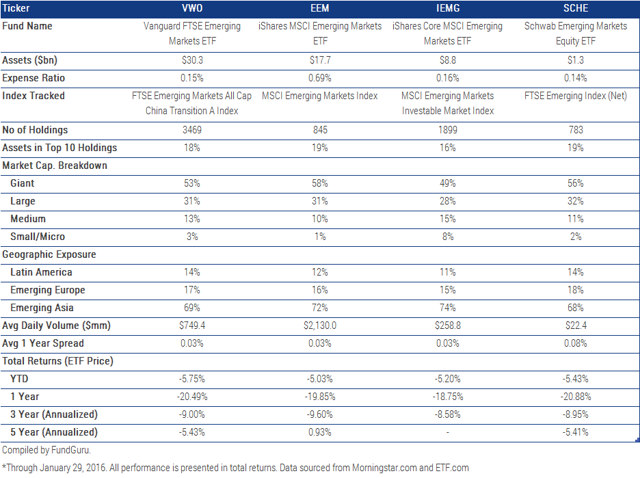 The ETFs can be split into two types: 1) ETFs that provide all-cap exposure (large+mid+small caps); and 2) ETFs that provide large and mid-cap exposure only.
Among all-cap, we prefer the iShares Core MSCI Emerging Markets ETF (NYSEARCA:IEMG) over the Vanguard FTSE Emerging ETF (NYSEARCA:VWO) due to the benchmark it tracks. The MSCI EM IMI Index has a lower country concentration in China (23.3% vs. 29.6% for the FTSE Index), the largest constituent in both indices. In June 2015, Vanguard announced that it will begin to add onshore China A shares to the fund over a 12-month transition period, starting in late 2015. This means its exposure to China will only get bigger.
Between the iShares MSCI Emerging Markets ETF (NYSEARCA:EEM) and the Schwab Emerging Markets Equity ETF (NYSEARCA:SCHE), we have a preference for the EEM for the same benchmark reasons. However, it is a tough sell with an prohibitively high expense ratio of 0.69%, very expensive fee an index fund. We advise investors stick with the IEMG for the broadest possible exposure to the emerging markets stock universe.
Disclosure: I am/we are long IEMG.
I wrote this article myself, and it expresses my own opinions. I am not receiving compensation for it (other than from Seeking Alpha). I have no business relationship with any company whose stock is mentioned in this article.