I certainly picked a great time to implement The ETF Monkey 2016 Model Portfolio, didn't I?
No sooner had I finished setting up the three implementations of the portfolio, as of the close of December 31, 2015, than January unleashed a hailstorm of market fury. I could spend a lot of time dissecting matters, but this picture will pretty much do it for me.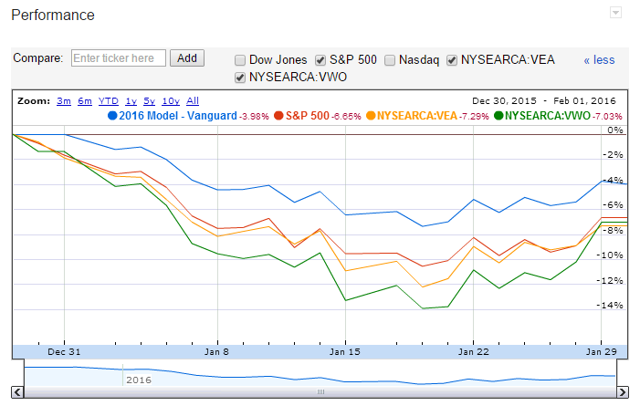 In that graphic, the red line represents the S&P 500 index. The orange and green lines represent the Vanguard FTSE Developed Markets ETF (NYSEARCA:VEA) and the Vanguard FTSE Emerging Markets ETF (NYSEARCA:VWO), which I selected to serve as proxies to represent the performance of foreign developed and emerging markets, respectively.
Fueled by, according to most commentary I have read, some combination of the Federal Reserve raising interest rates and rising concerns of greatly slowing economies, particularly in China, both domestic and foreign stock markets basically traced a straight line downwards for the first 20-21 days of January. As can be seen clearly in the graphic above, the S&P 500 declined by over 10% during this period, the classic definition of a correction, and foreign developed and emerging markets fared even worse, down approximately 12% and 14%. All of the averages recovered somewhat by the end of the month, but January still closed solidly in the red.
How did The ETF Monkey 2016 Model Portfolio perform during this period? The answer is visually depicted by the blue line in the above graphic. Overall, the three implementations declined by an average of 3.61%. Specifically:
The Charles Schwab implementation was the best performer, down 3.53%
The Fidelity implementation came in second, down 3.55%
The Vanguard implementation brought up the rear, down 3.76%
The two benchmarks I selected against which to evaluate the portfolio performed as follows:
The S&P 500 Index declined by 5.07%. The index closed at 1,940.24 on 1/29/16 vs. 2,043.94 on 12/31/15.
The ETF Monkey Vanguard Core Portfolio declined by 4.48%, with a closing value of $46,180.17 on 1/29/16 vs. $48,348.37 on 12/31/15.
NOTE: Here is a graphic of The ETF Monkey Vanguard Core Portfolio for documentation and comparison purposes.

As can be seen, the 2016 Model Portfolio was able to outperform both benchmarks that I am evaluating it against. As a result, I find myself happy with the overall performance of the portfolio.
I did, however, execute a series of rebalancing transactions in the portfolio on January 13. The notes in the following section were actually written on that date and saved in draft form until now, when I could complete the month-end report.
Portfolio Rebalance - January 13
Due to the stunning sharp decline in the markets as 2016 opened, I started actively monitoring the asset weightings in the portfolio towards the end of the first week. While the entire portfolio was down, the fact that several asset classes contributed to the drop initially left their various weightings still relatively balanced. However, in the midst of the steep market decline on January 13 the weighting imbalance in various asset classes caused me to make a move.
As of approximately 11:00 a.m. Pacific time, the overall portfolio was down a little over 5%. However, all stock classes, and in particular emerging markets, were down far more than that. Take a look at how the Vanguard ETFs representing U.S. stocks, foreign developed stocks, and emerging markets had fared:
Vanguard Total Stock Market ETF (

VTI): From $104.30 to $96.89 (Down 7.10%)
VEA: From $36.72 to $34.31 (Down 6.56%)
VWO: From $32.71 to $29.79 (Down 8.93%)
In contrast, the Vanguard Short-Term Inflation-Protected Securities ETF (VTIP) was basically flat ($48.31 vs. original purchase at $48.35) and the Vanguard Total Bond Market ETF (BND) was actually up .73% ($81.35 vs. original purchase at $80.76). As a result, VTIP and BND had increased to roughly 26.5% of the portfolio as compared to their target weight of 25%, leaving domestic and foreign stocks underweight by essentially the same percentage.
Not surprisingly, the situation with the Fidelity and Charles Schwab implementations was virtually identical. Given this, I felt it was a good time to rebalance all three portfolios back to roughly their target allocation. Therefore, at approximately 11:15 a.m. Pacific time, I entered the following rebalancing transactions:
Vanguard

Fidelity

Charles Schwab

In order to document that this was a real-time decision, I announced the transactions in real-time on my Twitter feed as well as in the comments section of my "Setting up the implementations" article here on Seeking Alpha.
With that background, let's take a quick look at all three implementations of the portfolio as of the market close on January 29, 2016. I will first share the graphic, and then offer any comments I wish.
Vanguard

A couple of notes:
On the positive side, Vanguard's offerings for Europe and REITS performed well against their competitors.
On the negative side, Vanguard's offering for emerging markets underperformed. As I noted in my comments for the Vanguard implementation, VWO includes some weighting in China A-Shares whereas its competitors do not.
Fidelity

Just one note for Fidelity.
I called out the exceptionally strong performance of the iShares Core High Dividend ETF (NYSEARCA:HDV) in this article. As can be noted, it maintained its outperformance compared to its two competitors as of the close of the month.
Charles Schwab

As previously noted, overall the Charles Schwab implementation was the best performer of the three in January. Of particular note is the strong performance of Schwab's ETFs for bonds and TIPS. Schwab's offering in the emerging markets class also did well.
Summary and Conclusion
While it is never fun to research and recommend a portfolio only to have it decline by an average of 3.61% in the first month of its existence, overall I am happy with how my 2016 Model Portfolio performed.
Certainly, if one had a crystal ball, one would have loved to have sat on their cash and jumped in on or around January 20 or 21. However, in all my work, I make no attempts to engage in all-or-nothing market timing. It is my hope that my January 13 rebalance, executed not based on emotion or market timing but rather because the asset classes varied from their target weights, will prove beneficial in the long-term.
As always, thanks for reading, and I look forward to reporting to you once again in the near future.
Happy investing!
Disclosure: I am/we are long VWO.
I wrote this article myself, and it expresses my own opinions. I am not receiving compensation for it (other than from Seeking Alpha). I have no business relationship with any company whose stock is mentioned in this article.
Additional disclosure: I am not a registered investment advisor or broker/dealer. Readers are advised that the material contained herein should be used solely for informational purposes, and to consult with their personal tax or financial advisors as to its applicability to their circumstances. Investing involves risk, including the loss of principal.