With the price of crude oil plummeting to under $30 per barrel last week, the mantra in the oil patch is no longer to thrive, but merely to survive. Last summer, we wrote an article titled "Whiting Petroleum Corporation: Climbing the Rocky Mountain" in which we laid out the case that Whiting (NYSE:WLL) equity shares were likely to fall given the outlook for oil prices. At the time, the stock was trading at $26.47 per share and oil was priced at just over $50 per barrel. Now that oil is closer to $30, our only regret is that we had not been even more emphatic about the risk that Whiting common equity posed at the time.
Last Friday, Whiting common stock closed at $6.62, down 74% since we wrote our article. About the only good thing one can say is that the convertible was down about 46% over the same period. Not really much to brag about. The Whiting convertible bond HOCS score has also tumbled to 40 overall/53 growth/ 13 safety. These numbers point to the current stress in the oil industry, but is there hope for Whiting in the future? Perhaps, but a significant recovery in the price of oil must take place over the next 18 months for Whiting to be a winner in the war of attrition.
Whiting has positioned itself for profitability at the $50 per barrel level. With most production cost estimates in the $35 to $45 range for U.S. shale oil, there doesn't seem to be much debate about oil again reaching the $50 threshold at some point in the future. The real debate is when. Like most producers throughout the globe, U.S. oil companies have continued to pump in an attempt to monetize assets in the ground, leading to a supply glut. U.S. production has not decreased despite the oil price crash, but has merely leveled off at a very high rate.
And oil inventories are bulging: With the glut in inventories and little near-term relief from falling production, the U.S. Energy Information Agency has forecast oil prices to remain low. Their WTI spot price forecast is $38.54 in 2016 and $47 in 2017. It is a forecast that would mostly likely allow Whiting squeak by as a survivor.
Company Description
Whiting Petroleum is an independent oil and gas producer mainly in North Dakota, Colorado and Texas. The company's largest projects are in the Bakken and Three Forks fields in North Dakota, the Redtail Niobrara field in Colorado and an enhanced oil recovery field in Texas. Whiting also owns and operates gas processing plants in North Dakota to convert natural gas into propane and butane for sale. Those plants may be sold however in order to raise cash during the downturn.
With the 2014 Kodiak acquisition, Whiting gained assets primarily in the North Dakota Bakken play. The deal resulted in Whiting becoming the largest Bakken-Three Forks producer and tilted Whiting's product mix heavily toward the oil sector. Whiting's Q3 production and sales in Q1 2015 were as follows:
| | | | |
| --- | --- | --- | --- |
| | Volume | Sales ($ million) | % Total Sales |
| Oil | 11.7 (MMBbl) | 461.5 | 91.5% |
| Natural Gas Liquids | 1.5 (MMBbl) | 15.7 | 3.1% |
| Natural Gas | 9.5 (Bcf) | 27.0 | 5.4% |
| Total | 14/8 (MMBOE) | 504.2 | 100% |
MMBbl = 1 million barrels of oil, MMBOE = 1 million barrels oil equivalent, Bcf = one billion cubic feet
Source: Company Filings
Profitability
Whiting has guided to the following cost structure for the final quarter of 2015:
| | | |
| --- | --- | --- |
| | Q4 2015 | 2015 Full Year |
| Production (MMBOE) | 13.9 - 14.3 | 59.2 - 59.6* |
| Lease Operating Expense per BOE | $8.00 - $8.50 | $9.10 - $9.50 |
| General and Administrative Expense per BOE | $2.90 - $3.10 | $2.90 - $3.10 |
| Interest Expense per BOE | $5.90 - $6.30 | $5.40 - $5.80 |
| Depreciation, Depletion & Amortization per BOE | $20.75 - $21.75 | $20.30 - $20.90 |
| Production Taxes (% of sales revenue) | 8.6% - 8.80% | 8.6% - 8.8% |
| Oil Price Differential to NYMEX per Bbl | ($7.00) - ($8.00) | ($7.50) - (8.50) |
| Gas Price Premium (differential) to NYMEX per Mcf | ($0.60) - ($0.20) | ($0.60) - $(0.30) |
Source: Whiting Petroleum Press Release
As mentioned, Whiting has stated that it is positioned to be profitable at $50 oil and the cost structure above seems to confirm that claim. One thing to note is the price discount applied to shale oil off NYMEX WTI pricing. For example, if Nymex WTI is $50 per barrel, Whiting would realize about $42.50 per barrel. The midpoint of Whiting's expense estimates outlined above is about $43.05 per barrel, or close to break even at $50 WTI as advertised.
Indeed, during the second quarter 2015, oil averaged just under $58 per barrel and Whiting reported a slight profit. Whiting reported a loss of $0.17 per share in the third quarter when oil averaged about $46 per share. Both of those quarters benefited from hedges that Whiting had in place.
Unfortunately, as with all oil production companies, almost all of Whiting's costs are fixed and therefore the company is highly leveraged to the price of oil. In the fourth quarter, Cushing WTI averaged just under $42, leaving about an $8 per barrel shortfall before hedging given Whiting's cost structure outlined above.
In fact, Whiting has benefited from an active hedging program, but those hedges begin to fall off in 2016 to a negligible number in 2017. Current hedges in place are:
Weighted Average

As a Percentage of

Derivative

Hedge

Contracted Crude

NYMEX Price

September 2015

Instrument

Period

(Bbls per Month)

(per Bbl)

Oil Production

Three-way collars (1)

2015

Q4

1,450,000

$44.48 - $54.83 - $70.54

39.3%

2016

Q1

1,400,000

$43.75 - $53.75 - $74.40

37.9%

Q2

1,400,000

$43.75 - $53.75 - $74.40

37.9%

Q3

1,400,000

$43.75 - $53.75 - $74.40

37.9%

Q4

1,400,000

$43.75 - $53.75 - $74.40

37.9%

Collars

2015

Q4

209,200

$ 51.06 - $ 57.37

5.7%

2016

Q1

250,000

$51.00 - $63.48

6.8%

Q2

250,000

$51.00 - $63.48

6.8%

Q3

250,000

$51.00 - $63.48

6.8%

Q4

250,000

$51.00 - $63.48

6.8%

2017

Q1

250,000

$53.00 - $70.44

6.8%

Q2

250,000

$53.00 - $70.44

6.8%

Q3

250,000

$53.00 - $70.44

6.8%

Q4

250,000

$53.00 - $70.44

6.8%

Swaps

2015

Q4

251,230

$76.25

6.8%
| | | |
| --- | --- | --- |
| | | A three-way collar is a combination of options: a sold call, a purchased put and a sold put. The sold call establishes a maximum price (ceiling) we will receive for the volumes under contract. The purchased put establishes a minimum price (floor), unless the market price falls below the sold put (sub-floor), at which point the minimum price would be NYMEX plus the difference between the purchased put and the sold put strike price. |
Hedged production falls off slightly in 2016, but significantly in 2017 when the three way collar expires. Using the U.S. EIA's 2016 forecast of $38.54 oil, the value of the hedges to Whiting is just over $205 million for the year in 2016. Were oil to average the same $38.54 in 2017, the value of the hedges would fall to $43 million as the 3-way collar rolls off at the end of 2016.
That means hedging will help Whiting suffer through a difficult 2016, but if oil prices remain low for an extended period, Whiting's exposure rises significantly in 2017.
Liquidity
To shore up liquidity, Whiting tapped the capital markets last March in a three-pronged offering including $1.25 billion in convertible senior notes due 2020, 35 million common shares for proceeds of $1 billion and 8.5% $750 million in unsecured senior notes due 2023. The money was used to pay down the company's revolver and other debt resulting from the Kodiak acquisition. Since then, the company has used its revolver to retire the senior notes, leaving Whiting with about $5.3 billion in long-term debt.
Future debt maturities are as follows:
2016 -- None
2017 -- None
2018 -- $350 million in Senior Subordinated Notes
2019 -- $1,898 million Senior Notes
$750 million under credit agreement
2020 -- $1,250 convertible securities
2021 -- $1,200 Senior Notes
Subsequent to paying off the Kodiak notes, Whiting has $2.75 billion of availability in its revolver. The company had $28 million in cash at the end of September.
To conserve cash, Whiting is guiding to $1 billion in capex in 2016. That should help Whiting stay out of covenant trouble in its senior debt in the short-term. One of Whiting's tightest covenants is its EBITDAX (with the "X" representing exploration expense) to consolidated interest of no less than 2.25 to 1. That currently stands at about 6:1 for the third quarter 2015, including $508 million in revenue and $208 million in commodity derivative gains. However, if one strips out the hedging gains and gives the top line a 20% haircut for the drop in oil prices, Whiting is quickly skating close to breaking the covenant, once again highlighting the importance of a 2017 rebound in oil prices for Whiting.
Conclusion
As the 13 HOCS safety score highlights, Whiting belongs in the high risk category. The crash in oil prices and roll-off of a significant amount of Whiting's hedges limits visibility to the next 12 months. It may not be pretty, but it looks like Whiting will survive through 2016. However, anything short of a rebound to the $50 per barrel mark in 2017 and beyond, leaves Whiting in a vulnerable situation.
Our recommendation is to remain on the sidelines for both the common shares and convertible security until U.S. production finally falls significantly for an extended period. While the market may firm-up in 2016 given many producer's plans to cut production, the real test will come when prices begin to rise. It is unclear whether U.S. producers will again increase production rapidly, depressing prices once again just as Whiting's hedges begin to expire. Waiting may result in investors forfeiting some gains once firmer pricing finally appear for the longer-term, but there will be plenty of time to make money and it is best to heed the rock-bottom HOCS safety score of 13 for now.
Credit Waterfall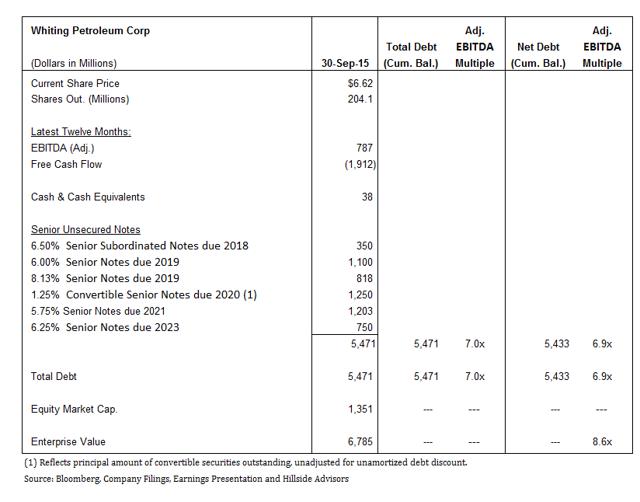 Financial Summary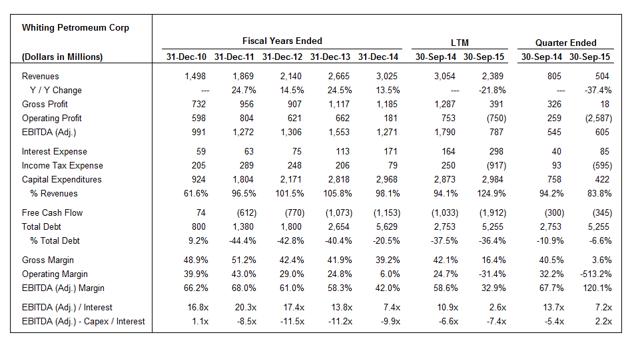 Additional disclosure: Originally published on Jan. 25, 2016, in Hybrid Vigor, our weekly newsletter.
Disclosure: I/we have no positions in any stocks mentioned, and no plans to initiate any positions within the next 72 hours.
I wrote this article myself, and it expresses my own opinions. I am not receiving compensation for it. I have no business relationship with any company whose stock is mentioned in this article.