By Valentin Schmid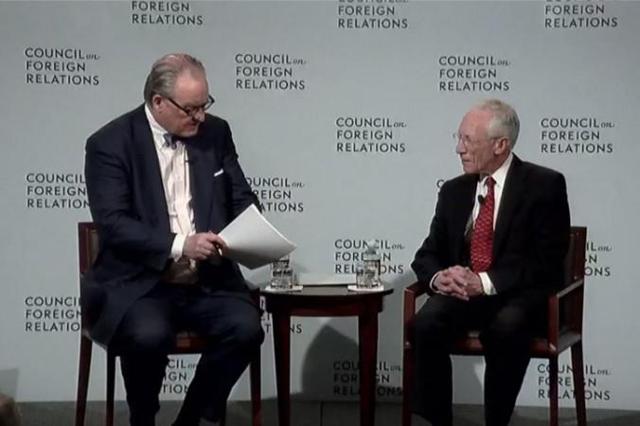 Federal Reserve Chairman Stanley Fisher (R) talks to Bloomberg editor at large Tom Keene (L) at the Council on Foreign Relations in New York on Feb. 1. (Council on Foreign Relations)
Of course, he did not say it exactly like that.
When Fed Vice Chairman Stanley Fisher spoke at the Council on Foreign Relations on Feb. 1, he said that "structural adjustments in China" were causing volatility in global assets markets.
"At this point, it is difficult to judge the likely implications of this volatility. If these developments lead to a persistent tightening of financial conditions, they could signal a slowing in the global economy that could affect growth and inflation in the United States."
Fisher, speaking in central bank parlance, means to say that stock markets around the world crashed in January because investors are finally waking up to the fact that the slowdown in China is here to stay and that it has far reaching consequences for the world economy.
What Fisher likely means with persistent tightening of financial conditions is the relentless selling of foreign exchange reserves by China, which has the reverse effect of quantitative easing.
China liquidated $513 billion worth of reserves in 2015. This is almost the same as a negative QE2 program, where the Fed bought $600 billion of Treasurys and mortgage bonds.
Like the market, Fisher thinks the value of the Chinese currency is key to understanding the country's problems. It dropped more than 5 percent against the dollar in 2015 and continued its slide in January of 2016.
But Fisher has hopes the Chinese will get things under control: "I'm sure that after a while they will reach a mechanism that is understood both by them and by the public."
The Fed doesn't like falling stock markets and low inflation in the United States, but it will likely wait for more concrete signs of stress to act. Or maybe Fisher can give one of his colleagues at the People's Bank of China a call to ask them to sort things out.
"The community of [central bank] governors is a rather remarkable institution and you can pick up the phone and call anybody in that community and have a serious conversation," he said, but did not comment on whether he was going to take advantage of that option.