This article focuses on some of the key facts and trends revealed by 4Q15 results reported by Enterprise Products Partners L.P. (NYSE:EPD). A brief description of EPD and its business segments is provided in a prior article.
EPD uses gross operating margin, a non-GAAP financial measure, to evaluate performance of its business segments. This measure forms the basis of its internal financial reporting and is used by management in deciding how to allocate capital resources. The principal differences between gross operating margin and operating income are that the former excludes: a) depreciation, amortization and accretion expenses; b) impairment charges; c) gains and losses attributable to asset sales and insurance recoveries; and d) general and administrative costs. Another difference is that gross operating margin includes equity in income of unconsolidated affiliates. Gross operating margin is presented on a 100% basis before any allocation of earnings to non-controlling interests.
Given the headwinds faced in 2015, EPD's results held up remarkably well. Operating margin increased in absolute terms over the prior year and declined only slightly measured on a per unit basis:

Table 1: Figures in $ Millions (except per unit amounts and % change). Source: company 10-Q, 10-K, 8-K filings and author estimates.
The contribution to gross operating margin by each of EPD's business segments is shown in Table 2:

Table 2: Figures in $ Millions (except per unit amounts and % change). Source: company 10-Q, 10-K, 8-K filings and author estimates.
Comparing 4Q15 to 4Q14 we see that gross operating margin increased at 3 of EPD's 4 segments (on July 24, 2015 EPD sold its offshore Gulf of Mexico business). Gross operating margin at the Petrochem & Refined products segment declined. The decrease was primarily due to lower propylene sales margins and volumes, as well as an unplanned outage in an octane-enhancement plant that began in mid-November.
Earnings before interest, depreciation & amortization and income tax expenses (EBITDA) decreased in the three recent quarters vs. the corresponding prior year periods when measured on a per unit basis. The declines in Adjusted EBITDA per unit followed 8 consecutive quarterly increases vs. the comparable prior year periods.

Table 3: Figures in $ Millions (except per unit amounts and % change). Source: company 10-Q, 10-K, 8-K filings and author estimates.
Growth in reported distributable cash flow ("DCF") and a comparison to distributions for the periods under review are presented in Table 4 below. The data excludes $1.53 billion of proceeds from the sale of the offshore business in 3Q15. Table 4 indicates a minimal (1.3%) drop in DCF per unit in 4Q15 vs. 4Q14.

Table 4: Figures in $ Millions (except % change). Source: company 10-Q, 10-K, 8-K filings and author estimates.
Although increases in distributions per unit for the past 4 quarters,have been accompanied by declines in DCF per unit, the pace of decline slowed significantly in 4Q15. Furthermore, the declines are mainly due large increases in units outstanding (~54.8 million units issued in October 2014 and ~36.8 million in February 2015) resulting from the Oiltanking acquisition. From a timing perspective, units outstanding increase immediately while DCF contribution from the acquisition generally builds up more gradually.
DCF is one of the primary measures typically used by a midstream energy master limited partnership ("MLP") to evaluate its operating results. Though not structured as an MLP, KMI's business and operations make it comparable to MLPs and DCF management believes it is KMI's best indicator of performance (as is the case for most MLPs). Because there is no standard definition of DCF, each MLP can derive this metric as it sees fit: and because the definitions used indeed vary considerably, it is exceedingly difficult to compare across entities using this metric. Additionally, because the DCF definitions are usually complex, and because some of the items they typically include are non-sustainable, it is important (albeit quite difficult) to qualitatively assess DCF numbers reported by MLPs.
Based on data provided in EPD's press release, Table 5 presents the manner in which DCF is derived: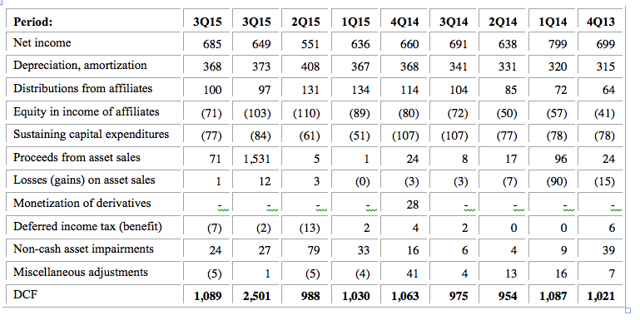 Table 5: Figures in $ Millions. Source: company 10-Q, 10-K, 8-K filings and author estimates.
DCF for 2015, excluding the proceeds from asset sales, provided 1.3 times coverage of the distributions declared with respect to 2015. Including $1.6 billion of proceeds from asset sales, EPD retained $2.6 billion of distributable cash flow in 2015 to reinvest in the growth of the partnership.
The only 4Q15 item I would regard as non-sustainable is proceeds from asset sales and insurance recoveries ($71 million in 4Q15 vs. $24 million in 4Q14). A comparison of 4Q15 to 4Q14 DCF sustainability should also take into account that 4Q14 included $28 million of proceeds from the monetization of financial instruments used to hedge interest rates. I will refine my qualitative assessment of EPD's DCF once it provides additional data as part of its Form 10-K.
Table 6 provides selected metrics comparing the MLPs I follow based on the latest results available for the trailing twelve months ("TTM"). Though not structured as an MLP, I include KMI as its business and operations make it comparable to midstream energy MLPs.
As of 2/1/16:

Price

Current Yield

TTM

EBITDA

EV / TTM EBITDA

IDR- Adjusted EV/

EBITDA

LT Debt to TTM

EBITDA

1-Year

Total

Return

Buckeye Partners (NYSE:BPL)

$57.39

8.19%

847

13.0

13.0

4.3

-20.08%

Boardwalk Pipeline Partners (NYSE:BWP)

$10.64

3.76%

692

8.8

8.9

5.0

-29.09%

Enterprise Products Partners

$23.94

6.52%

5,267

13.4

13.4

4.3

-32.30%

Energy Transfer Partners (NYSE:ETP)

$28.90

14.60%

5,636

7.2

8.9

4.7

-51.40%

Kinder Morgan Inc. (NYSE:KMI)

$15.19

3.29%

7,372

10.4

10.4

5.8

-60.13%

Magellan Midstream (NYSE:MMP)

$63.72

4.93%

1,162

15.4

15.4

2.9

-19.43%

Targa Resources Partners (NYSE:NGLS)

$13.15

25.10%

1,124

6.8

8.1

4.7

-66.04%

Plains All American Pipeline (NYSE:PAA)

$20.39

13.73%

2,199

8.5

11.3

4.8

-54.60%

Suburban Propane Partners (NYSE:SPH)

$24.58

14.44%

334

7.7

7.7

3.3

-34.75%

Williams Partners (NYSE:WPZ)

$20.48

16.60%

3,795

7.8

9.9

4.6

-51.13%

Alerian MLP Index (AMZX)

10.02%

-43.35%
Table 6: Enterprise Value ("EV") and TTM EBITDA figures are in $ Millions. Source: company 10-Q, 10-K, 8-K filings and author estimates.
Note that BPL, EPD, KMI, MMP and SPH are not burdened by general partner incentive distribution rights ("IDRs") that siphon off a significant portion of cash available for distribution to limited partners (typically 48%). Hence multiples of MLPs without IDRs can be expected to be much higher (see Table 5, column 5). In order to make the multiples somewhat more comparable, I added column 6, a second EV/EBITDA column. I derived this column by subtracting IDR payments from EBITDA for the TTM period. Other approaches can also be used to adjust for the IDRs of the relevant MLPs.
EPD's long-held practice was not providing guidance with respect to distribution growth. In the previously mentioned prior article, I noted that given EPD's strong coverage ratios and cash flows from new projects being placed into service, the current pace of quarterly distribution growth is not threatened. Due to recent freezes and/or reductions in dividends/distributions announced by some midstream operators, EPD departed from its practice and is now projecting a 5.2% increase in 2016 over 2015. This growth is supported by approximately $6.0 billion of new projects that will begin commercial operations and generate new sources of cash flow during 2016 on top of $2.7 billion of organic growth projects that were completed and placed into service in 2015. Given cash flows from new projects being placed into service, I do not see the current pace of quarterly distribution growth threatened at least through 2017.
EPD is my core MLP holding given its breadth of operations, strong & disciplined management team, portfolio of growth projects, low cost of capital, alignment of interests with management (no general partner incentive distributions), relatively low leverage, very strong coverage, excess cash from operations, low exposure to sub-investment grade customers, history of minimizing limited partner dilution and performance track record.
I am considering adding to my position in light of the recent sharp price declines, but have not yet done so.
Disclosure: I am/we are long EPD, MMP, ETP.
I wrote this article myself, and it expresses my own opinions. I am not receiving compensation for it (other than from Seeking Alpha). I have no business relationship with any company whose stock is mentioned in this article.