Gentex Corp. (NASDAQ:GNTX) seems well positioned to offset the headwinds faced by the broader auto-component space. With macro headwinds getting stronger and a great valuation, the industry fundamentals are ripe to reward bottom-up stock picking, thus is deserving of a closer look. For Gentex, investments in technology and financial discipline seem to have positioned the business to grab market share as customers gravitate towards affordable premium features in autos.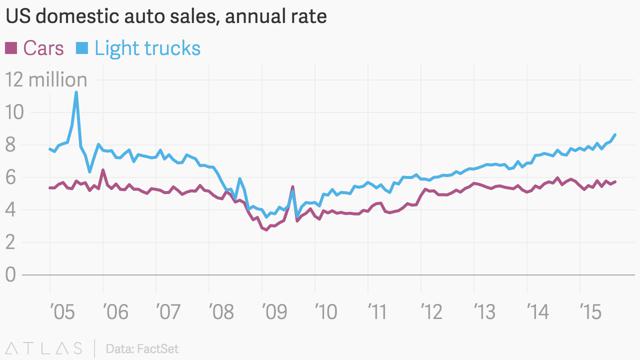 Auto ready for cyclical pressures.
Image source: Atlas Quartz
After multi-year growth, there is a widespread acceptance that the auto sector, especially the U.S.-based players, may face a slowdown. Looking at the sector cyclicality or the macroeconomic trends, there is little to argue against the notion, even though auto parts manufacturers have broadly performed better than the auto manufacturers over the past few years. Besides the broader slowdown, players, especially North America based, are facing major pressure from strong currencies, benefiting Asian and South American players. In the meantime, concerns over weak demand for luxury vehicles, well-covered regulatory issues at VW (OTCPK:VLKAY)/Audi (OTCPK:AUDVF), which was the largest customer (at 14% of revenue) for GNTX in 2014, and margin pressures in early 2015 have taken a toll on the Gentex stock as well.
But the market's overreliance on this top-down approach and painting all the players with the same brush offers an opportunity. The company has a strong pipeline for the next few years and is benefiting from new launches and increasing penetration. Technically, the offerings are strong enough to not just withstand the usual ASP pressure experienced by all equipment suppliers, but also shed off technological concerns against the use of mirrors in autos. The margins have started to show some improvement while the balance sheet is healthy enough to monetize the expected weakness and increased volatility in the sector. Overall, finances are in shape to allow the company to continue to create value for the shareholders.
The stock, like much of the space, suffers from a low multiple, in line with the low expectations of the sector. Since the growth guidance offered by the company is already based on more conservative estimates than the growth expectations offered by the well-respected research firm - IHS - the downside risk from resetting expectations may be limited. The market may have weakened from year-ago levels, but the share buyback has increased from near zero to the $100-120 million a year range, and looking at the finances, there is significant opportunity to increase buybacks as well as dividends.
Macro headwinds are strong, but Gentex can hold well
The North American auto component industry has been undergoing a major change for the last few years and not all of that has been favorable. The strong dollar and weak Asian currencies have helped the Asian suppliers, who also moved up the value chain, while acquiring American and European companies for technology and market share. Besides the competition, including its impact on the ASPs, technological shifts are rampant in almost every component, including mirrors, where the threat of a camera replacing the mirror has captured the news flow, even if making little impact on the ground.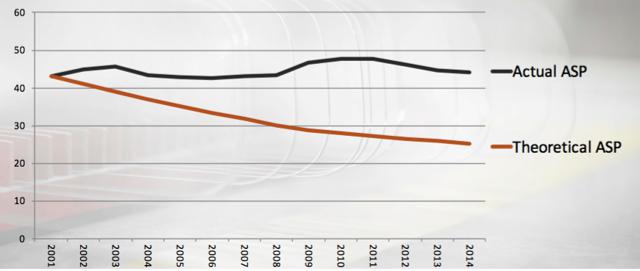 Image source: Gentex Corp. presentation
The macro issues are all valid and will be covered in detail over the next few notes (so keep reading SA), but as the chart above shows, the impact on Gentex has been limited, at least the negative impact of falling ASPs.
Secondly, the long-term threat from the camera seems to be holding back the trading multiple more than anything since hardly anybody expects the technology to make its presence felt over the next two years. The next generation of cars, partly due to active interest of technology companies entering the auto space, have drawn interest towards new fittings, both inside and outside the automobiles.
But there are some practical challenges of a camera with display replacing the mirror completely, considering the mirror is also used for cabin interior view and a camera with a display has yet to overcome technical issues like working at different times, weather as well as electronics failure. But even if one ignores practical issues, the threat of a camera replacing the mirror, without Gentex's participation, seems rather remote, since the company's offering like Full Display Mirror seems to be the only one that's been awarded in the industry, with a clear path of merging the camera and mirror functionality. More importantly, the offering is not limited to luxury brands, which is key for long-term revenue growth opportunity. Having been around for three decades, this is hardly the first product shift seen by this mirror company.
Enough catalysts to help deliver consistent growth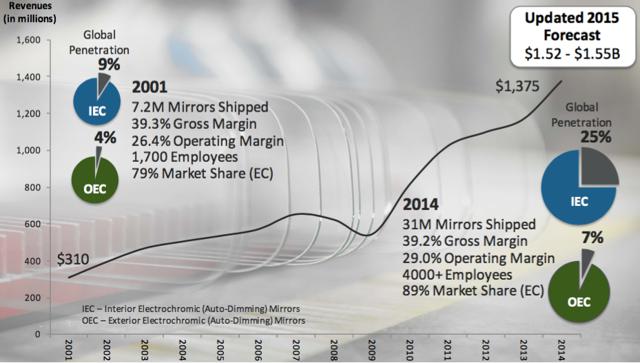 Source: Gentex Corp.
There is hardly anything to complain about the current momentum; the company is successfully outperforming the end-market growth rate, and the trend may just continue at the same pace.
| | | | |
| --- | --- | --- | --- |
| Growth | 2013 | 2014 | 2015 |
| Auto revenue growth | 7% | 17% | 12% |
| Auto dimming units | 10% | 11% | 14% |
| NA mirror unit | 6% | 6% | 13% |
| Intl mirror unit | 13% | 14% | 14% |
Looking at the market leadership enjoyed by the business and the stock trading around 10 times earnings, it looks like the market does not believe that the current double-digit unit growth and high-single-digit revenue growth is sustainable, but doubts may be unfounded. Other revenues, mainly mirrors for aircraft, etc., are small and volatile, but growing nicely.
A strong product pipeline, new technologies, new partnerships and increasing penetration rates support this growth thesis. The increasing electronic content and safety features, especially in the B and C segment, and a favorable mix of inside and outside mirrors are helping the growth and ASPs. Recently, at the SEMA Automotive Show and CES, the company announced a host of a new range of products, including full-display mirrors, exterior auto dimming mirrors and a rearward-facing video camera, supporting the long-term growth prospects.
Indeed, products with advanced features, including frame-less mirrors, SmartBeam, HomeLink, lighting technology and full-display mirrors account for almost half of the revenue growth, and almost 50% of the inside mirrors, which make up half of the total mirrors, shipped have at least one of the advanced features.
The adoption of electrochromic technology, championed by Gentex, is rising fast. The new vehicle launches with inside and outside electrochromic mirrors grew from 37 new launches in 2013 to 43 new launches in 2014 and 63 new launches in 2015.
The full-display mirror, which allows easy switch between reflector and a video screen, should position the company well to survive any shift towards the camera. Various OEM customers have been announced who will debut the full-display mirror in their vehicles over the next year and a half. General Motors (NYSE:GM) is expected to utilize FDM in three of its vehicles, including Chevy Bolt. By 2017-18 onwards, the product has the potential to contribute significantly.
In 2016, two OEMs are expected to launch HomeLink in China. Even though volumes may be low initially, growth may come from increased penetration levels over time. The partnership with TransCore Toll, for vehicle integrated tolling solution, is an example of how cross-licensing and co-development arrangements offer another growth engine that is somewhat unexplored so far.
Financially, enough room to allow continued value creation for the shareholders
| | | | | |
| --- | --- | --- | --- | --- |
| | 2012 | 2013 | 2014 | Q1-Q3 2015 |
| Book value/share | $3.9 | $4.6 | $5.3 | $5.6 |
| Tangible book/share | $3.9 | $2.3 | $3.1 | $3.5 |
| LT debt/share | $9.2 | $0.9 | $0.9 | $0.8 |
| Interest | $- | $1 | $4 | $3 |
| EBITDA/interest | NA | 428 | 142 | 137 |
The balance sheet is in great shape to enter a downturn/slowdown and so are the cash flows.
| | | | | |
| --- | --- | --- | --- | --- |
| Fiscal Yr. (All $M, except per share) | 2012 | 2013 | 2014 | Q1-Q3 2015 |
| Cash flow operations | $258 | $317 | $327 | $283 |
| Capital expenditure | $117 | $55 | $73 | $62 |
| Free cash flow | $140 | $262 | $255 | $221 |
| Adjusted EBITDA | $301 | $385 | $497 | $412 |
| Growth | 4% | 28% | 29% | 10% |
| Adj. EBITDA/share | $1.05 | $1.33 | $1.69 | $1.39 |
The company has already started to get active on the share repurchase front, moving from near zero to more than $100 million in a year and a half, but looking at the payout ratio, which has been declining over the last few years, there is decent room for dividend increases.
| | | | | |
| --- | --- | --- | --- | --- |
| | 2012 | 2013 | 2014 | 2015 |
| Payout ratio | 44% | 36% | 32% | 31% |
Both relatively and standalone, the company has been able to hold margins, especially against annual customer price reductions and foreign currency fluctuations experienced by most players. Indeed, last quarter's gross margins were the highest reported quarterly margins in more than a decade.
Reverse engineering the expectations

Fiscal year

2016

2017

Revenue growth expected

9.3%

8.2%

Revenue

$1,687

$1,826

Operating margin

30.2%

30.7%

Net Interest & Other

$(4)

$(4)

Tax rate

32%

33%

Shares (M) diluted

296

293

EPS

$1.18

$1.29

Street

$1.18

$1.29

*Keeping everything else steady

*Author's calculation. Only for academic purpose, actuals may vary significantly.
In light of conservative/realistic guided numbers, both top line and margins, achieving estimates may not be a tall order after all.
Note: Detailed proprietary model is not attached in this note for the sake of easy readability, but happy to help and provide more details to readers interested in understanding the calculations used in this note.
Disclosure: I/we have no positions in any stocks mentioned, and no plans to initiate any positions within the next 72 hours.
I wrote this article myself, and it expresses my own opinions. I am not receiving compensation for it (other than from Seeking Alpha). I have no business relationship with any company whose stock is mentioned in this article.