As an investment advisor, our mailbox is flooded by flyers and brochures of many investment providers. Email is a little bit better as it is typically only sent by companies you already do business with, with information that you requested (such as alerts for quarterly updates and fund commentaries).
The ones that really perk my attention are solicitations that I never signed up for, from funds I have never heard of. One such solicitation came recently from Trust & Fiduciary Management Services advertising their Master Income ETF (NYSEARCA:HIPS).
The email titled "ETF Shocks with Diversification" made me shuffle a few things and do some research on this fund. After all, I am always looking at a few good alternatives to one ticket income solutions such as UBS's (NYSE:UBS) ETRA-Tracs Diversified High Income ETN (NYSEARCA:DVHI).
Did the fund deliver "Shocking Diversification" or merely shocking results?
Let's take a look.
The Basics
Sponsor: Trust & Fiduciary Management Services, Inc.
Managers: Ernesto Tong, CFA, (2015)
AUM: $4.373 Million
Historical Style: Mid - Small Cap Pass Through Securities
Investment Objectives: The Master Income ETF seeks to track the total return performance, before fees and expenses, of the TFMS HIPS 300 Index.
Number of Holdings: 300
Current Yield: 8.1%
Inception Date: 1-7-2015
Fees: .87%
Source: Master Shares Income ETF
The Alpha
In reality, I have no clue what the "Alpha" here actually is. What the fund does provide as the selling point is diversification.
Key Features: The Master Income ETF is based on the High Income Pass-Through Securities Index which has the following objectives:

• Highly diversified: contributing to consistent performance.

• High liquidity: from diversification and exchange listing.
What the fund does offer though is an exchange-traded fund, that invests in companies in their parent sponsor's proprietary index.
The index is focused on companies organized in a pass through manner, where they are given tax benefits as long as they pass on the majority of the gains to the investors, such as BDCs & MLPs, thereby avoiding double taxation.
The one problem, particularly in the MLP space is the dreaded K-1, which requires additional forms for investors to complete. As such, many investors avoid such investments in order to make their accountant's job easier and the overall tax preparation bill lower.
By having those investments as part of this fund, and the story quite frankly for other investment providers offering similar funds, is that investors in such funds get one 1099 statement while still being invested in those asset classes.
The index itself is proprietary and there is not a lot of information on the screens used to complete the portfolio. What we do know is the following.
The Index is constructed to capture 300 high income securities, typically with pass-through structures, across the following sectors: ((i)) closed-end funds ("CEFs"), (ii) mortgage real estate investment trusts ("REITs"), ((iii)) commercial equity REITs, (iv) residential/diversified REITs, ((v)) asset management and business development companies ("BDCs"), and (vi) energy production and energy transportation & processing companies. Energy-related companies included in the Index are expected to primarily be structured as master limited partnerships ("MLPs"). CEFs included in the Index are limited to taxable, debt-based funds and may include CEFs that invest primarily in bank loans, high-yield securities (also known as "junk bonds"), foreign securities (including those in emerging markets), and mortgage- or asset-backed securities.
As of December 31st, 2015, the fund was broken down as follows: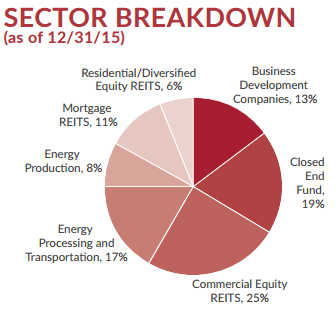 Source: HIPS Fact-Sheet
The Numbers
No matter how you slice it, the fund has been a failure both in the performance of the fund and the asset raise.
Over the last year, the fund has lost 24.6% on a total return basis.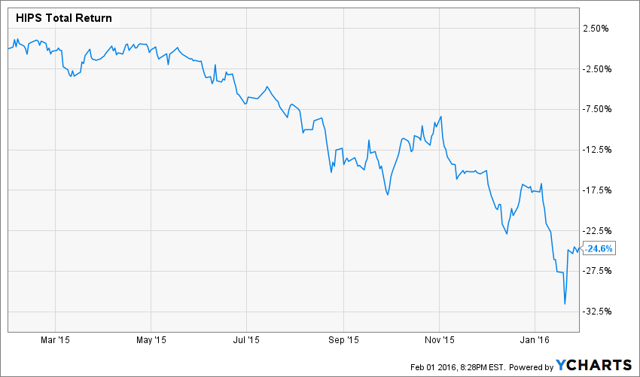 Looking at the underlying asset classes, we do see losses across the board. We look at PCEF as a proxy for the CEF allocation, the Market Vectors BDC Income ETF (BIZD) for the BDC space, the JPMorgan Alerian MLP Index ETN (AMJ) for the MLP space and the Vanguard REIT Index ETF (VNQ) for the REIT allocation.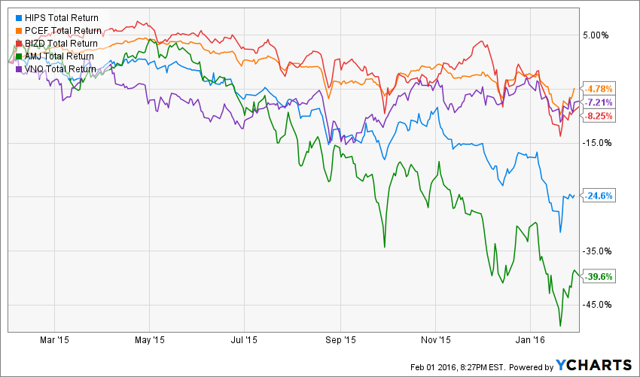 As you can see while many of the fund's sectors had losses, none of them came close to the overall loss experienced by the fund except the MLP/Energy space, suffering a 39% loss on a total return basis.
The question is, why did the fund suffer such massive losses? After all, energy was "only" 25% of the portfolio.
While this is not an article to rehash the merits of active vs passive management, the entire premise behind passive index/ETF investing is the transparency and lower fees.
While we have the transparency behind what is actually owned in the ETF, it is a black box, proprietary index and we do not know how the index constituents are screened to come to the final index portfolio.
The other issue is the short sighted view that many investors and even professionals will take with investments and not scratch beneath the surface.
While it is easy to understand energy, commercial and residential REITs, people make a huge mistake of classifying all BDCs and CEFs as their own asset classes.
Putting CEFs and BDCs into the Sector Breakdown is a mistake as it is like saying you should have an allocation to "mutual funds," "stocks," or "ETFs." You have to actually look at the underlying investments in those vehicles.
CEFs are structures that can vary from anything from domestic equities to emerging market bonds. BDCs are merely a tax code allowing pass through of profits, and can be either equity or income focused. Unfortunately, a good part of the CEF allocation and the BDCs may be allocated to energy. Quite a few of the BDCs are focused on senior loans, which include energy companies.
It is quite conceivable that you may be invested in the underlying company through their shares, again have it as holding of one of the underlying CEFs, and you may be lending money to the same company through one of the BDCs in the index.
This is one of the reasons why someone may want an actively managed investment, particularly with fixed income investments. With an index fund or ETF, YOU are the one ultimately responsible for wanting to be allocated to underperforming asset classes and securities. In an actively managed fund, you have a fund manager who is responsible for the portfolio and is held accountable for the performance.
The other disappointment for this ETF is the lack of a good capital raise. In over a year, the fund has only raised about 5 million dollars, generating a mere $28,688 for the sponsor through Nov 30th, 2015.
Source: HIPS Annual Report, Page 16
Based on that information, I have legitimate concerns about the ongoing viability of the fund.
Bottom Line
This is neither a pure passive, low cost, transparent ETF, nor a great performing fund. With an expense ratio of .87%, you are well above many high performing mutual funds and most of the income ETFs. If you are looking for diversified high income, you are also able to consider many of the UITs, or Unit Investment Trusts that do provide the benefits of active management, with the tax efficiencies and lower costs of passive investing.
Leave the passive investments for the large cap equity space, where it is tough for a large actively managed fund to outperform against the index, and where the low fees can actually make a difference.
As far as the volatile high income space, why pay such high fees and get none of the benefits that you would get from an active manager generating alpha? It is far tougher to generate alpha with 300 securities than if it were only 20 to 40, especially when many of those holdings are managed products themselves, that manage hundreds of underlying securities. (CEFs, BDCs, REITs).
If you want high income that is diversified, look at a CEF such as Nuveen Diversified Dividend & Income Fund (NYSE:JDD). You have your REITs and energy plays and you also have a management team; which is actually accountable for performance.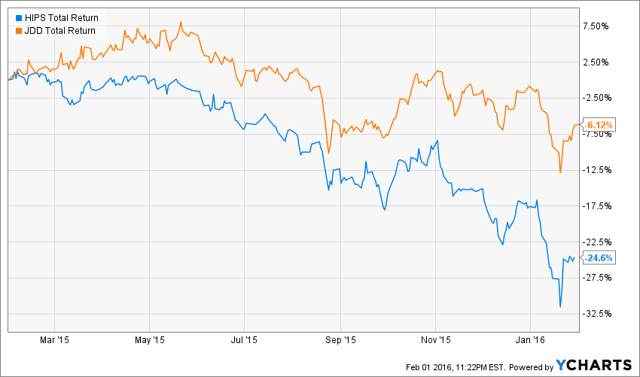 As far as this investment, if the ETF portfolio manager does not want to buy any shares of their own ETF at launch, as per the prospectus, why should you?
Over the last few years, I have seen a surge in retail investors investing in risky investments offering "high income" in exchange-traded products, such as the UBS ETRACS Monthly Pay 2x Leveraged Mortgage REIT ETN (NYSEARCA:MORL), the UBS ETRACS Monthly Pay 2xLeveraged CEF ETN (NYSEARCA:CEFL) and the UBS ETRACS Monthly Pay 2xLeveraged Diversified High Income ETN (NYSEARCA:DVHL), only to get hurt.
What I got a laugh out of was the sponsor's white paper that suggested that this is appropriate for an investor who is only holding cash.
Another way of looking at the opportunity offered by pass-through portfolios is to consider the investor with only cash, perhaps fearful of the volatility of stocks and the possibility of losing money in bonds. For this investor, a diversified pass-through portfolio offers a potential improvement in likely total return compared to bond portfolios, without the level of investment risk associated with equities.
Source: Trust & Fiduciary Management Services, Inc., Pass-Through Securities: a New Income Based Alternative Investment January 2015, Page 15.
I just hope you were not one of those investors.
Disclosure: I/we have no positions in any stocks mentioned, and no plans to initiate any positions within the next 72 hours.
I wrote this article myself, and it expresses my own opinions. I am not receiving compensation for it (other than from Seeking Alpha). I have no business relationship with any company whose stock is mentioned in this article.
Additional disclosure: Nothing in this article should be construed as investment advice. Please consult your financial professional to see how anything discussed here applies to you. This is not a solicitation to buy or sell any securities. This is not Tax Advice. Please consult your tax professional.