I don't usually write twice about the same company within a year. But I grant an exception to my own rule when I see a timely investment opportunity unfolding. MiX Telematics (NYSE:MIXT) is such an example. With shares dropping a whopping 30%-35% since I first wrote about the company in September 2015, and with fundamentals looking solid, I believe MIXT is no longer a mere buy, but a strong buy.
MIXT will report F3Q15 earnings on Thursday, February 4th. Although I tend to dispense little effort trying to decipher short-term trends, I expect the company to deliver another robust quarter and reinforce optimistic expectations for the near future. The expansion opportunities continue to be sizable, following the large, multi-year contract signed with Halliburton (NYSE:HAL) last quarter for 15,000 vehicles and considering efforts to enter the large U.S. and Brazil markets are still in the very early innings.
I also expect MIXT's gross margins to expand farther this quarter as the revenue mix shift toward high-margin subscription services continues to unfold. I would not be surprised to see margins land north of 70% once again-- a 440 bps or better improvement year-over-year. Should opex come in at 60% of total revenues, consistent with recent historic trends, I believe reported F3Q15 EPS could come in at $0.12, at the high end of the $0.09-$0.12 Street range (as reported by Yahoo Finance). Not a very high bar to jump over.
Looking beyond F3Q15 and turning to MIXT's core market, I see more reasons to remain optimistic about the company's future. In South Africa, where MIXT generates the majority of its revenues (but recently going through a diversifying trend), the telematics industry seems to be healthy. Research company Berg Insight has just reported that "the number of active fleet management systems deployed in commercial vehicle fleets in South Africa (should grow) at a compound annual growth rate of 10.8 percent," reaching 1.5 million by 2020 from 900,000 today. The same study states that the "top five (providers of telematics solutions) together represent as much as two thirds of the total number of active fleet management systems in use in the country today."
Let's do a back-of-the-envelope calculation. Because MIXT leads the pack among the top five telematics companies in South Africa, let's assume that it claims a market share of about one-third of the two-thirds controlled by the top five players. This would represent an overall market share of 22% (one-third times two-thirds) in South Africa. At 22% share, the 600,000 extra fleet management systems that Berg Insight expects to see installed in the country by 2020 would represent, for MIXT, an increase of 133,000 vehicles in its global subscriber base, from the current 540,000. At my estimated ASP of $160 per year (derived by dividing $82.6M in fiscal 2014 subscription revenues by the subscriber base of 512,000 vehicles at the end of that fiscal year), and applying Africa's 28% EBITDA margin attained last quarter, MIXT could see additional EBITDA of $6.0M per year by 2020 from the growth in South Africa's fleet management systems alone. Using a tax rate of 35%, and assuming that share count remains unchanged through 2020, the additional $6.0M in EBITDA represents an EPS growth of $0.12 per share - the equivalent of 8% EPS CAGR over the next four years. Not bad, considering that this earnings growth does not even take into account the expected sales growth from geographic expansion, gross margin improvement, share buybacks, possible market share gains, etc.
The investment case for MIXT becomes more evident to me when I look at valuations. The stock currently trades at only 10.3x the consensus FY16 EPS, while the peer group, as I presented in September 2015, trades at an average 25.7x. Let's also not forget that MIXT's net cash holdings ($64M as of last quarter, deducting the bank overdraft liability) accounts for over half of its market cap. So because of the large cash balance, maybe a better way to think of valuation is to look at enterprise value. The company's trailing EV/EBITDA is an astonishing 2.5x, a rock-bottom multiple that does not seem to reflect MIXT's fundamentals and future prospects. Regardless of valuation methodologies, I still think that shares have the potential to climb to the high single digits over the next 12-36 months, as I argued on my last MIXT article. I still consider $9.50/share to be the fair value of the company's stock.
"I'm tired of waiting for MIXT shares to climb"
If you are a MIXT investor, this thought might have crossed your mind recently. I don't blame you: shares have massively underperformed the S&P 500 in the past 6, 12 and 24 months. But investment decisions should not be made looking into the rear view mirror.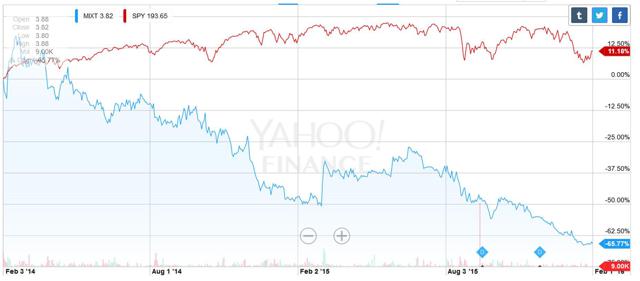 MIXT vs. SPRD S&P 500 ETF (NYSEARCA:SPY) chart. Source: Yahoo Finance
In my view, the upside potential of investing in MIXT today far outweighs the downside risk. In the most extreme scenario, the stock could drop another 40% or 45%, but realistically not below the company's net cash balance per share (take into consideration that the company has historically and consistently generated positive FCF, so I consider its cash reserves to be relatively safe). In this doomsday scenario, shares would be worth $2.00. More realistically, I think the bottom is no farther than 15% to 20% away from current levels, at about $3.00. On the upside, my $9.50 price target hints at a potential 150% return. Even if you believe I'm overly optimistic and doubt that MIXT will climb above $6/share, the upside-downside dynamic is still almost 3 to 1 in your favor.
Conclusion
I continue to feel comfortable holding MIXT for the long haul. With the majority of the revenues still coming from South Africa, the short-term exposure to the Rand (down 20% vs. the USD in the past six months) is still material, and making quick bets on the stock's movement can be tricky. But I'm willing and prepared to see MIXT's shares fluctuate in the short term. I continue to believe that the stock price will eventually catch up with the fundamentals of the company, and the rewards for the patient investor might be sizable.
Disclosure: I am/we are long MIXT, SPY.
I wrote this article myself, and it expresses my own opinions. I am not receiving compensation for it (other than from Seeking Alpha). I have no business relationship with any company whose stock is mentioned in this article.