Amazon (NASDAQ:AMZN) published a remarkable set of excellent results in Q4 and the whole of 2015. They demonstrate that enabling others to conduct their e-commerce results in much higher profit margins than when Amazon would only strive for growing is own online retail business.
Compare Amazon to the guys that sold tools and victuals to the fortune seekers going to Klondike during the gold rush. These were the firms that made the real money. This concept of what is the essence of Amazon is still little recognized. I may be wrong - nothing is certain in the field of investing. New ideas develop from unintended results. But I do believe that when Jeff Bezos started his venture in 1994, his mission was to be a new, revolutionary factor in bringing goods to consumers via the internet.
Sometime in the execution phase of this idea, the insight must have gradually taken shape that more had to be gained by making others retail (or "dig for gold") and that Amazon would be better off to sell to these guys all the unique tools and things Bezos had acquired and learned in the pioneering years. This initially vague notion has gradually become ever more clear with each step set on the road to serve other retailers. It turned into the crystal clear vision to see these other retailers not as competitors but as customers.
The amazing set of quarterly earnings figures that Amazon released on January 28 seemed to confirm this thesis. Services grew three times (47%) as fast in Q4 2015 than the sale of goods from Amazon's own stock (15%) resulting in a 22% overall growth in revenue of $36.7 billion. Operating earnings were up 87% to $ 1.1 billion, taking the operating margin to 3.1%. A memorable fact as it was the first time for the operating margin to exceed again the 3% level since Q1 2011.
Before, in the early years, Amazon had earned regularly between 4% and 5% and even 6.4% in 2004. That was the period in which Bezos must still have set his eyes firmly on becoming a big online retailer. As soon as he saw the light and realized that the real value of the company was embodied in the experience, knowledge and systems gained during the pioneering years and decided to exploit all this by making it available to any would be e-retailer in the world, things definitively changed. This idea must have been born short after 2004 when Bezos realized that an operating margin of slightly more than 6.4% was probably the maximum he could hope for.
While fulfillment for others (later termed FBA: Fulfillment by Amazon) began to take off earlier, Amazon Web Services (AWS) was launched in 2006. That year, Amazon's sales had exceeded the $10 billion mark. It would take another 4 years before Amazon would break out services revenue. In 2010, sales had tripled to $ 30.7 billion while services were reported to have been $3.4 billion. Ever since, while sales of goods rose in the next five years, services grew on average by an annual 52.1%.
This rapid expansion of services had to be supported by completely new software solutions developed in-house, fulfillment centers and data centers, cloud computing services, all marketed to millions of potential customers. What in fact was going on within Amazon must have been a complete reinvention. This naturally exerted heavy pressure on the operating margin that eroded to around 1%. At the bottom line, Amazon could just manage to break even. In the three years from 2012 through 2014, all efforts resulted in a combined loss of $6 million (a loss of $39 in 2012, positive earnings of $274 in 2013 and a loss again of $-241 in 2014).
2015 changed all that. Under difficult market conditions and extreme currency headwinds, demand for services accelerated and with 46.7% reached the highest growth seen in the last three years. Total operational profitability exploded to $ 2.2 billion. The first significant level of profit in years. While the operational income margin in Q4 was 3.1%, for the whole year it amounts to a still modest 2.1%, but I expect it to quickly and significantly improve in coming years.
I suspect that sales of goods that move over Amazon's own ledger, contributed hardly, if at all, to the encouraging earnings obtained in 2015. There is much in Amazon's financial reporting that can and must be improved but as least we know the level of profitability realized last year on the AWS' cloud computing services: 28.6% for the final quarter and 23.7% for the whole of the year.
But AWS accounted with a turnover of $ 7.9 billion for just 28% of Amazon's net service revenues which totaled $ 27.7 billion. The largest part of it stems from annual payments for Prime subscriptions and payments for a range of fulfillment services. From the current state of Amazon's reporting it can only be guessed how much the operational margin on these activities must have been, but I think there is all the reason to expect that the margin is high, and much higher than most investors probably assume so far. My best guess for the moment (as stock-based compensation must be allocated to the different activities) is that fulfillment activities are currently achieving an operational margin of around 10%, much higher than will ever be achievable with retailing sec.
One can only imagine how profitability will develop in coming years when the two components that make up Amazon's total revenue, merchandise and services keep following their distinctive growth paths. Merchandise will become even more irrelevant as a contributor to earnings (but still highly relevant as the base for extending services). Within five years, services may take over merchandise as Amazon's main activity in sales and the overall profitability may become a multiple of the 2.1% operational margin as seen over the whole of 2015.
2015 may go into the company's annals as the year in which Amazon really took off in becoming a highly profitable company. Early earnings were visible but not in the conventional way, showing up as EPS, but in terms of the number of customers, prime subscriptions, orders fulfilled, etc.
However, before they finally showed up as EPS, results had already become more and more visible at the cash flow level. In the final quarter of 2015 all three different free cash flow concepts which Amazon uses (for a more detailed discussion of them see my previous article "Amazon's Financial Reporting A Bit Opaque But Not Misleading") showed huge improvements. From the common definition of the free cash flow, which is net cash from operations minus capex, until the most inclusive definition that also subtracts spending on equipment purchases under financial and capital lease, all three measures have become widely positive. From $7.5 billion (+35% y/y) for the conventional FCF to $2.5 billion (+42% y/y) for the most demanding of the two alternative FCF measures.
There is a lot more to say about Amazon's latest set of earnings figures and why I think they give rise to a final take off to a definitively higher level of profitability. For that I need more than the about 1,000 words which seems to be the optimal size for an article on SA. I hope to elaborate in more detail on the various aspects that I have mentioned later on.
For now, I just give my estimates for the next couple of years in the table below. As can be seen, Amazon's earnings multiples remain still optically high, but it should be born in mind that these are figures strictly on GAAP basis. So far, Amazon does not care to publish its earnings on a non-GAAP basis, as most other internet firms do. If Amazon would calculate these non-GAAP earnings and P/Es would be calculated on basis of these, multiples for 2016 and 2017 would already be about half of those now shown.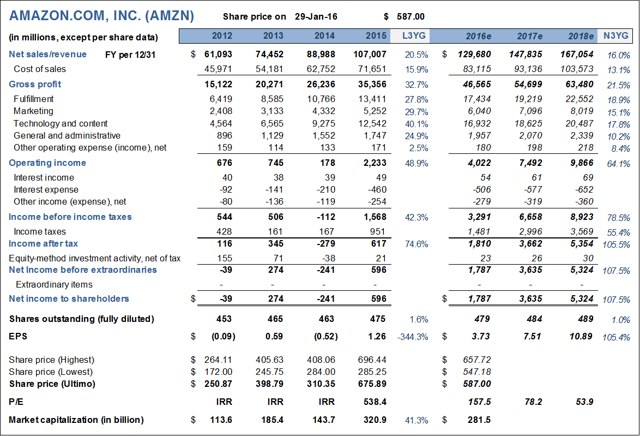 Disclosure: I am/we are long AMZN.
I wrote this article myself, and it expresses my own opinions. I am not receiving compensation for it (other than from Seeking Alpha). I have no business relationship with any company whose stock is mentioned in this article.