Hydrogenics (NASDAQ:HYGS) designs, manufactures, builds, and installs industrial and commercial hydrogen systems around the globe. Hydrogenics has two main product lines: On-Site Power Generation and Power Systems. They have several upside catalysts, not only in deals they have already closed on, but on some they continue to campaign towards, notably a power generation contract in Korea and extended range electric rail transport in Europe. Fellow contributor The Small Cap Authority provides some greater detail on the upside of these catalysts here so I will not detail them extensively in this report.
I want to focus on the issues I raised in my original article when I went short Hydrogenics and whether these have been addressed enough to make Hydrogenics a compelling investment at these levels.
Since my original piece on Hydrogenics, my short thesis played out as I had expected: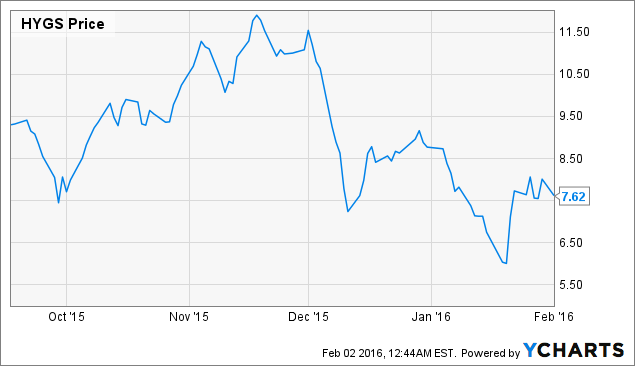 HYGS data by YCharts
In this article, I will address the key issues I had with Hydrogenics in September 2015, namely:
1. Liquidity
2. Operating Losses
3. Weakening Euro
Liquidity
The major problem I had with Hydrogenics in September was that they were beginning to run low on cash. With the long lead times on a number of their projects, they had a high cash burn rate in the near term and were not yet at the point of a profitable operation. As I noted:
HYGS is looking at a very significant equity raise in the near future, somewhere in the $15 to $20m range and likely occurring in 2015. If it were to do this all at once, this would mean an issuance of 1.6 to 2.0m shares, or a 16 to 20% dilution, which would be extremely significant to current shareholders and likely priced below current share price levels.
On December 16, 2015, Hydrogenics closed a private placement of 2.4m shares for proceeds of $17.9m. With 10.1m shares as at September 30, 2015, this represented a 19% dilution. In its press release, they had the standard wording that proceeds would be used for general corporate purposes but it also noted that it was including funding negative cash flow from operations.
One of the keys to an investment in Hydrogenics is understanding that they are in the midst of crossing over from the pre-revenue stage to the scaling phase. This is where products are no longer developmental in nature but are on the way to being a commercially viable product. This is necessary for the company to continue as a going concern as it will bring down the cost per kW, enabling Hydrogenics to produce better margins. In the chart below, management clearly feels this is the point where they are at: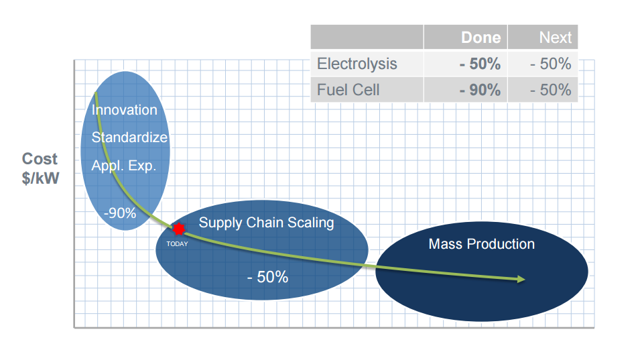 Source: Company Presentation
This particular slide is new to the company presentation. In my opinion, this is a good sign as they are educating investors that they are still working towards being a fully developed company. There are still some developmental and cost improvements that they are working to execute on and this slide makes it clear where they are at in the process.
The downside of being at this point in the company's lifecycle is that they are not yet at breakeven and are thus burning cash on a quarterly basis. In my original analysis, it was very clear that they were running in to financing issues: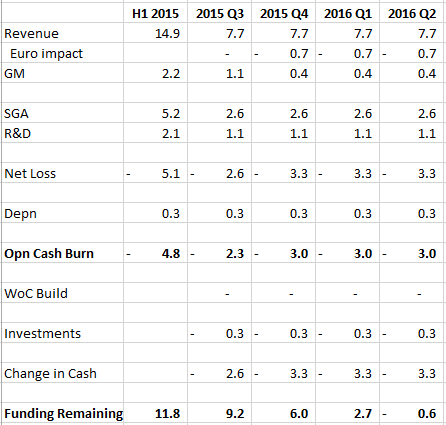 Source: Company Disclosures, Author Assumptions September 17, 2015
However, the December financing now alleviates their cash problem. It also removes the concerns about the potential dilution or concerns that they may use more debt to financing this stage of the company. Their Belgian credit facility has almost been tapped out; they still have $3.2m in room on their Canadian line in addition to their cash on hand and the money from the public offering
Fortunately, it looks like their cash burn has also improved from my projections above, which should give Hydrogenics a longer runway in order for its upside catalysts to fully be realized. My concerns about their liquidity have been put to rest for the time being.
Operating Losses
In its most recent quarter, Hydrogenics showed some improved margins from my original model (though they are down YOY). Part of this is due to its expense control; their cash costs were already largely under control, but they have gained an additional tailwind with having its headquarters based in Canada. With a rapidly devaluing Canadian dollar, its expenses become less costly on a USD base. The drop-off in the Canadian dollar has been very pronounced: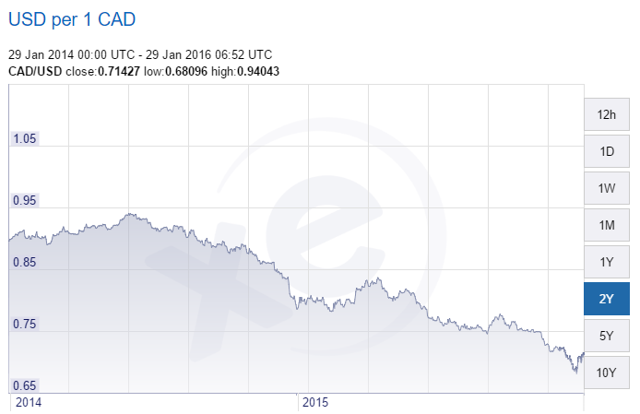 Source: XE.com
Additionally, some revenue wins were secured on top of their existing backlog, leading to higher forecasted revenues and gross profit than I had anticipated. As a result, I have re-rated the cash flow model to incorporate these improvements as well as the recent equity financing: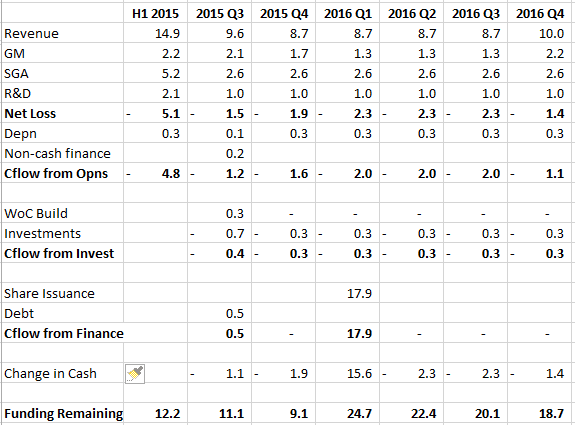 Source: Company Filings, Author Assumptions
With a projected cash burn of slightly over $8m in 2016, at this rate Hydrogenics will have the cash to get through both 2016 and 2017 at this current pace, assuming no other major contract wins.
If some of the projects in their pipeline come to fruition, not only will the revenue line improve substantially their input costs will be driven down through purchase rebates and negotiating leverage. Management has guided that the company needs somewhere between $50 and $60m in revenues annually to break even. It is not hard to see that at this level, profitability will improve substantially.
The recent addition of Sara Elford to the Board of Directors is also a good sign for the way forward. Ms. Elford served as an analyst at Canaccord for 17 years up until July of 2015, notably covering many of the leading edge clean tech companies. She has also joined the Board of Carmanah Technologies (OTC:CMHXF) and Pure Technologies. She will provide a good viewpoint of how the shareholder views strategic decisions. Her expertise will help Hydrogenics transition into an operating company.
My concern about the risk of increasing operating losses has been addressed by its improved operational performance, in conjunction with the removal of the liquidity risk already noted.
Weakening Euro
Since my original review of Hydrogenics, the euro has largely stabilized around 1.10: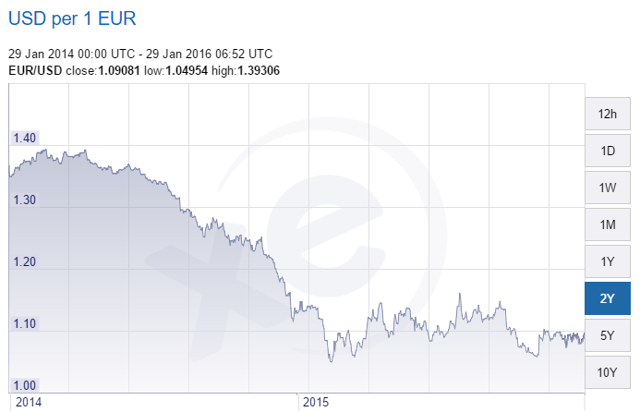 Source: XE.com
This stability is key, especially when we see how key the euro is for several of its key campaigns: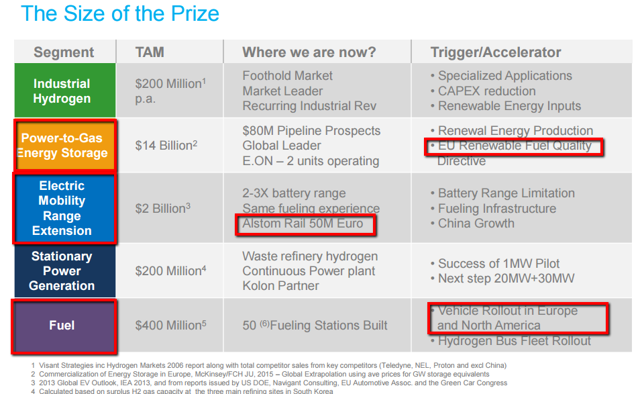 Source: Company Presentation
In the above, 3 of Hydrogenics' key catalysts are tied to the euro: the power-to-gas energy storage, the Alstom rail deal and a number of the fueling stations. The manufacturing of these will also be in euros, so they are partially hedged, but the gross revenue number will be impacted as well as the USD equivalent of its balance sheet positions, notably its receivables and payables. I don't think this risk has been eliminated, as increasingly volatile currency movements have become the norm. However, I don't believe this risk is significant enough to keep an investor away from taking a position in Hydrogenics.
Summary
While management could have raised funds at a higher price (hindsight is of course 20/20), they still have done well to have raised the required funding at the price they did, especially with the sell off in January 2016. Combined with a smaller drop in revenues than I had thought, resulting in lower cash burn, Hydrogenics has removed the downside risk I saw back in September. While their is still some risk in the currencies, that is a fact of life unfortunately and not something that should cause you to shy away from Hydrogenics.
The Outlook for 2016
The recent financing, while clearly dilutive, has solidified their balance sheet and removed it as a concern for at least the next two years. The focus for Hydrogenics now becomes to realize some, if not all, of their potential catalysts. Firmly on deck in 2016 to help drive revenues:
First commercial shipments on the Alstom contract (the prototype has already been provided) in early 2016
a $5m contract for their Celerity platform buses and trucks to Southern California to take place in early in 2016
A test in March 2016 by the Japanese government for Kurion's (Hydrogenics' partner) treatment of nuclear waste water by the removal of tritium from infected water from the Fukushima disaster
Hydrogenics has already provided Kurion with the electrolysis unit and fuel cell to be part of its testing and has survived an initial group of 180 proposals down to just three that are at the pilot stage
There is a chance for other projects to supersede the above items but these are the projects with the most clear milestones in front of them.
The bottom line is that Hydrogenics has been able to largely remove the concerns I had with its balance sheet. The financing gives it over two years to get to a cash flow positive position and with the substantial backlog already on its books (Alstom etc.) and the other pending campaigns, there is a lot of upside catalysts here with the time for them to develop. With shares trading at below the financing price, your downside risk level is largely mitigated; however, as with all investments, have a plan to cap your risk.
For continued discussion, please don't hesitate to comment below; I learn from your feedback. If you like what I'm doing, you can follow me by hitting the "Follow" button at the top of this article. Plus, you can follow me in real time by selecting that option. It might give you somewhat of a head start whenever I write an article, as to what actions I am taking and the reasons behind them.
Disclosure: I am/we are long HYGS.
I wrote this article myself, and it expresses my own opinions. I am not receiving compensation for it (other than from Seeking Alpha). I have no business relationship with any company whose stock is mentioned in this article.
Editor's Note: This article covers one or more stocks trading at less than $1 per share and/or with less than a $100 million market cap. Please be aware of the risks associated with these stocks.