Monthly nonfarm Job growth averaged 240 thousand during October, November and December. This is shown in the last point on the red line in the chart below.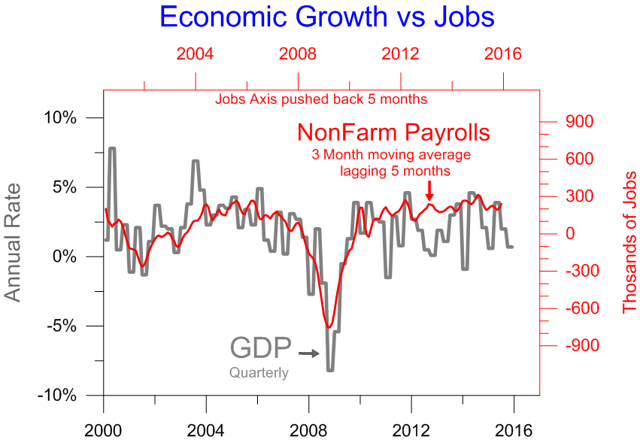 This last red point using the 5 month lead time actually correlates with the weaker Q3 GDP growth of 1.9%. In the context of the data in this chart 1.9% GDP growth would normally suggest about 50 thousand new Jobs rather than the 292 thousand reported for December. The discrepancy probably comes from variation in lead time and weak productivity. While the lead time with the strongest correlation is 5 months, it is not uncommon for the lead to be anywhere from 2 to 8 months. Also with the weaker than normal productivity growth it takes more workers to crank out a given growth rate of GDP.
While estimating 50 thousand new jobs for January is probably a bit low the consensus estimate of 180 or 190 thousand seems way too rosy. I am expecting something under 100 thousand.
Civilian Employment from the household survey has averaged increasing 191 thousand jobs for the last 3 months. This measure also lags quarterly GDP growth 5 months and tracks GDP a bit more closely.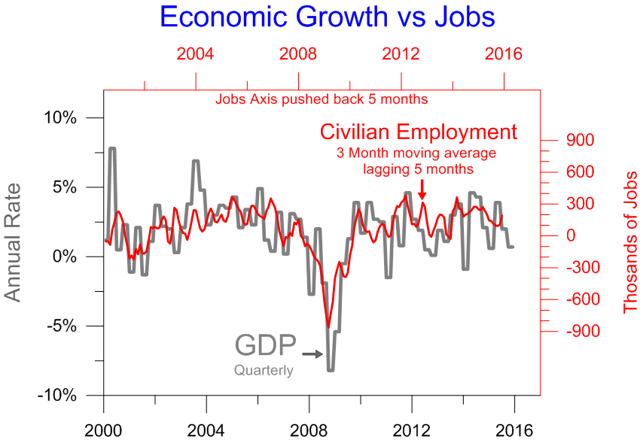 In this correlation the 1.9% Q3 GDP suggests job growth should run about 80 thousand a month the next two or three months.
The household survey is a smaller survey and the monthly numbers are a lot more volatile than the nonfarm jobs number from the establishment survey. However, using three month moving averages may make the civilian employment number a better indicator of job growth.
Conclusion
Job growth should trend weaker for at least the next 5 months. The 0.7% GDP growth of Q4 suggests job growth will turn negative in the spring of this year.
While market reactions to job numbers are not necessarily consistent, a weaker than expected jobs numbers should trigger a downward reaction from stocks (NYSEARCA:SPY) and the dollar (NYSEARCA:UUP).
While this is not the base forecast it is possible the large jobs numbers for December were so over done as to include people who would normally have been hired in January. So there is an outside chance January could have a negative jobs number. This is more of a likelihood on the civilian employment number than the nonfarm jobs number.
If / when the nonfarm number turns negative this late in the business cycle it will probably mean the expansion is over or near the end.
Disclosure: I/we have no positions in any stocks mentioned, but may initiate a short position in SPY over the next 72 hours.
I wrote this article myself, and it expresses my own opinions. I am not receiving compensation for it (other than from Seeking Alpha). I have no business relationship with any company whose stock is mentioned in this article.
Additional disclosure: There is no guarantee analysis of historical data their trends and correlations enable accurate forecasts. The data presented is from sources believed to be reliable, but its accuracy cannot be guaranteed. Past performance does not indicate future results. This is not a recommendation to buy or sell specific securities. This is not an offer to manage money.