Since the S&P 500 (NYSEARCA:SPY) went to its current five-hundred stock form in 1957, the January 2016 price return was the eighth worst start to the year in this index's sixty-year history.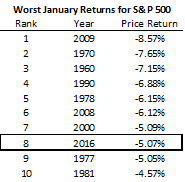 Source: Standard and Poor's; Bloomberg
In the ten worst Januaries for the stock market, seven of these years ended up producing negative annual returns. Two additional years produced only meager annual returns. The lone exception to this relationship was 2009 when January of that year followed up a historically bad 2008 with continued weak performance before a mid-year reversal.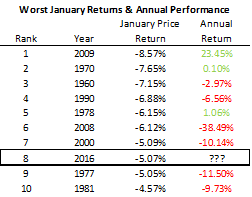 Source: Standard and Poor's; Bloomberg
In this sixty-year period, there have been only seventeen years (28%) when the S&P 500 produced a negative annual price return, so weak annual returns are well represented on this list. You also see a meaningful correlation with domestic economic recessions (1960, 1970, 1981, 1990, 2000, 2008, 2009).
If weak January returns tend to persist and turn into weak annual returns, does the same hold for strong January returns?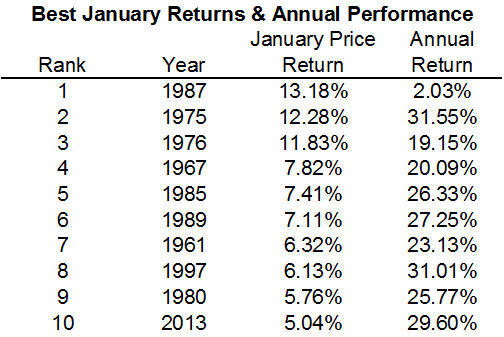 Source: Standard and Poor's; Bloomberg
The ten strongest Januaries have produced average first month price returns of 8.3%, and average full-year returns of 23.6%. No year produced a negative price return, and only one year - 1987 - produced a price return of less than 19%. This was a notable year as the strong start to the year was reversed by the stock market crash in October - the infamous Black Monday.
Both weak and strong starts to the calendar year tend to persist for the remainder of the year. Perhaps, this is a function of a cognitive bias where stock market participants anchor on a view of the market and fail to adjust over the course of the year. Efficient market proponents would hypothesize that any sustainability in the predictive power of early year returns on full-year returns could be arbitraged away over time. Despite this seeming efficient market violation, calendar effects have been pronounced in some markets historically (see the January effect in High Yield Bonds, and the Five Day Rule in U.S. Stocks).
Conversely, stock market and economic momentum may just be trending in one direction and holding for the full year, a rational explanation. In many past articles, I have shown that short-term momentum in returns tends to persist over one- to three-month horizons. This momentum may just be carrying over long enough to influence full-year returns. It could be possible that the relationship is purely spurious with no predictive value whatsoever.
While this relationship between January returns and full-year returns is imperfect, Seeking Alpha readers should understand the long-term relationship and potential explanations for its existence. A newsworthy and notably weak January may point to continued lackluster returns for the domestic equity market in 2016.
Disclaimer: My articles may contain statements and projections that are forward-looking in nature, and therefore inherently subject to numerous risks, uncertainties and assumptions. While my articles focus on generating long-term risk-adjusted returns, investment decisions necessarily involve the risk of loss of principal. Individual investor circumstances vary significantly, and information gleaned from my articles should be applied to your own unique investment situation, objectives, risk tolerance, and investment horizon.
Disclosure: I am/we are long SPY.
I wrote this article myself, and it expresses my own opinions. I am not receiving compensation for it (other than from Seeking Alpha). I have no business relationship with any company whose stock is mentioned in this article.