Background
Cal-Maine Foods, Inc (NASDAQ:CALM) has been crushing the S&P 500 so far year to date. Shares are up 4.60% compared to the S&P 500's -6.73% which has been huge for those holding CALM in their portfolios. Additionally, CALM is up roughly 38.29% in the last year compared to -4.41% for the S&P 500.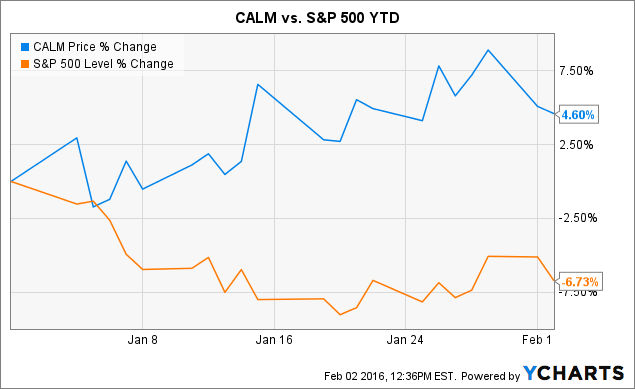 Not only has CALM share performance blown away the S&P 500, but CALM pays a much larger dividend yield as well. It should also be noted that demand for eggs is fairly inelastic, making CALM a commodity margin dependent company.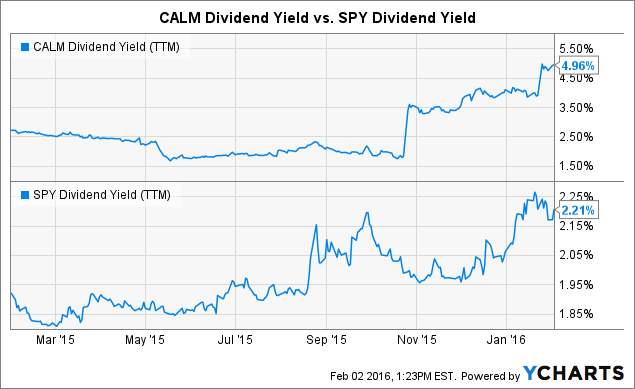 We dig through some noted market conditions for CALM to help everyone from investors to speculators better understand the current state of affairs for CALM.
Egg Margins are Widening
CALM is a full-vertical egg company. CALM's operations span all the way from production to distribution of eggs under a multitude of brands. Over the last few months, you will see that the U.S. Producer Price Index for eggs has gone down a whopping 66.5%.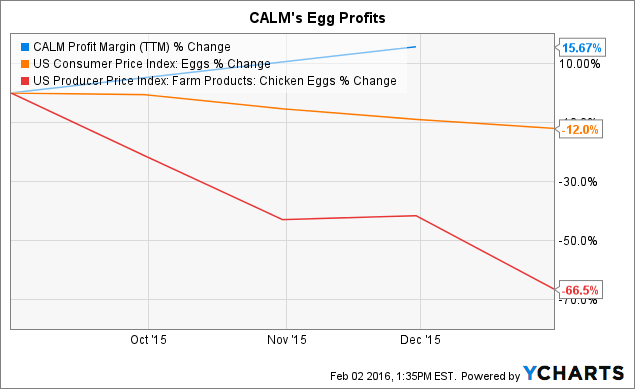 Meanwhile, the U.S. Consumer Price Index for eggs has only gone down 12% over the same period. This means that there is a serious widening in egg margins for companies like CALM, which is great for profits. Shown above, there has been a noted 15.67% increase in profit margins due to this phenomenon.
Short Interest
There is currently over 17 million shares held short of CALM which is roughly 35.75% of shares outstanding in CALM. That is pretty significant short interest for a company with such promising underlying commodity markets.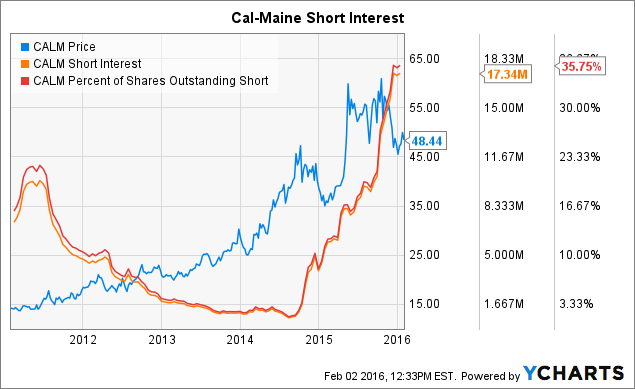 Based on average daily volume for CALM and current short interest levels, it could take an approximate 16.5 days to cover. While we are unsure of when shorts plan to cover this position, it is certainly a significant percentage of shares outstanding. This will cause a measurable and rapid rise in share demand for CALM.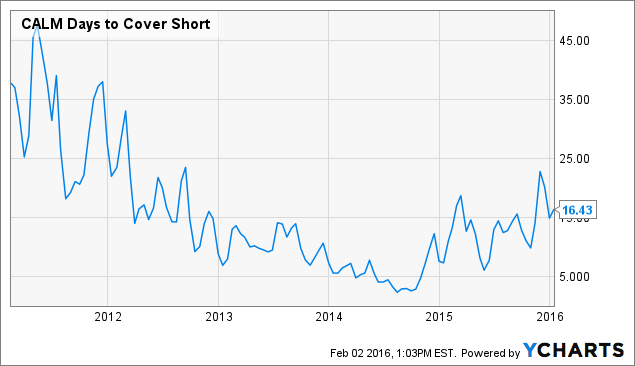 Big Yields From CALM
It should be noted that since shorts are borrowing shares, they must basically pay the dividend the lender. Based on a $1.92 trailing 12 month dividend payout, and current short interest of 17.34 million shares of CALM if dividends remain high, this short position could remain costly.
Short fees aside, it would cost over $33 million to hold this short stake for 1 year at current trailing twelve month dividend payouts. Shown below is CALM dividends over the last 5 years as well as the trailing 12 month yield for the same period.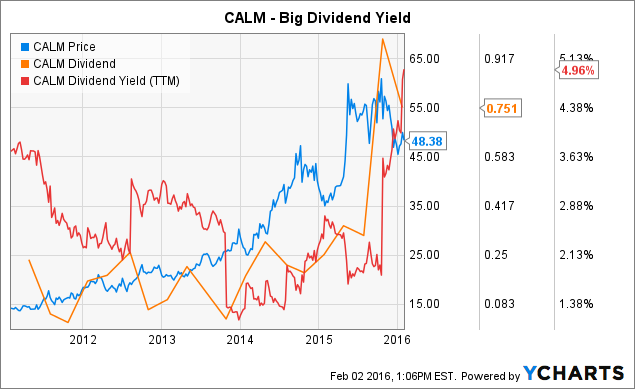 Conclusion
We hope that this visibility into the underlying egg producer margins that directly affect CALM's profit margins (as shown below in our bonus chart). As long as egg producer margins remain this wide, CALM will continue to be able to post solid profit margins, leading to the stability of a higher dividend payout for shareholders.
Our additional factor to consider is short interest given the significant percentage of shares outstanding. It is an expensive short to hold based on dividend yields and will have to cover eventually.
References
Shorts Pay Dividends - More Reading
Disclosure: I/we have no positions in any stocks mentioned, and no plans to initiate any positions within the next 72 hours.
I wrote this article myself, and it expresses my own opinions. I am not receiving compensation for it (other than from Seeking Alpha). I have no business relationship with any company whose stock is mentioned in this article.
Additional disclosure: Consult a registered investment advisor before making any decisions.