A recent article on SA claims that Intel's (NASDAQ:INTC) optical network fabric (Omni-Path) constitutes a locked door to the data center that competitors cannot enter. But the reality is that INTC's technology represents an attempt to enter an existing and mature market for data center network fabrics. The company's efforts in this area are akin to its efforts in wireless modems. It is coming from behind and attempting to take market share from more experienced incumbents.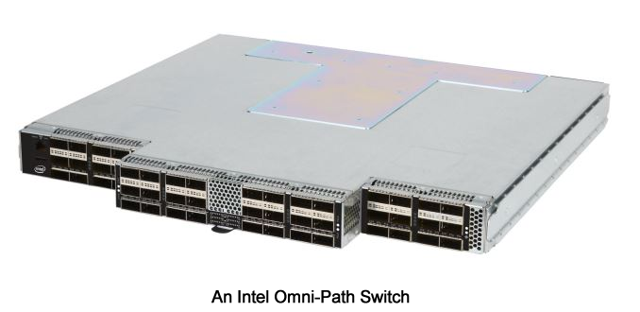 Source: AnandTech
Optically Obvious
SA contributor Arnold Frisch makes some good points about the need for fiber optic networking in his article Intel Optics Closes All Openings Into The Server Market. He points out that data centers have become very large and power-consuming enterprises. The sheer size and the ever increasing need for low latency and high data throughput communications make the use of copper wire cables impractical.
Frisch states the following:
Intel decided that the best solution would be to reduce the power dissipated in the network fabric by going optical. This would essentially eliminate power dissipation in all of the electrical wiring, carry the signals between the various server modules, memories, and system I/O. But this required development of key technologies and components.
The statement may be correct in itself, but it leaves the reader with the impression that Intel's "decision" to go optical is somehow unique to it. In fact, large data centers have been using fiber optics for years.
Data centers have been able to use a variety of fiber-based communications protocols and technologies, including 100 Gbs Ethernet over fiber, and fiber channel. For high-performance computing (HPC), InfiniBand optical network fabrics provide the highest performance.
These optical network fabrics are implemented through extremely high throughput switches similar to Ethernet switches. Mellanox (NASDAQ:MLNX) makes a line of InfiniBand fabric switches such as the SB7890.

As I'll discuss shortly, the key performance features of the Mellanox InfiniBand system are essentially reproduced by Intel's competing technology, called Omni-Path. The key difference between the Mellanox system and Omni-Path is that the Mellanox system is currently for sale, whereas the Omni-Path system is not yet available.
No Silicon Photonics
INTC recently previewed its Omni-Path switches at the Supercomputing '15 Conference, and AnandTech profiled the Intel offerings. Since the Omni-Path systems hadn't received FCC approval, there's no test data available, but from the specs, Intel showed with the display hardware, the performance of Omni-Path is equivalent to the Mellanox SB7890. Both systems feature 100Gb/sec throughput per port with about 100ns latency.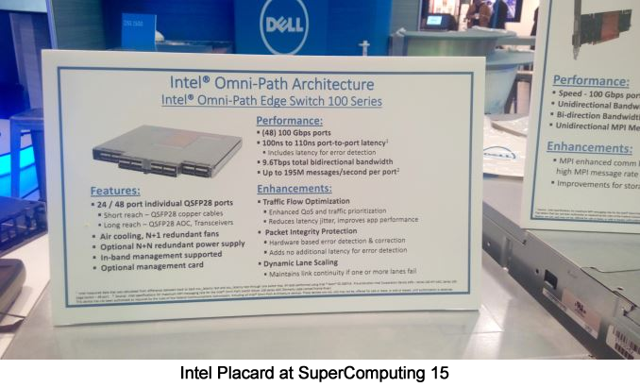 Both systems use an industry standard port connector called a QSFP28. As important as fiber optics has become in the data center, the ports of the InfiniBand and Omni-Path switches are electrical, not optical. If the cable only has to reach a few meters, it can be made out of copper wires. For longer distances, the QSFP28 connector will contain a fiber optic transceiver that converts the electrical signals into optical signals.
But what about Intel's much vaunted silicon photonics? Intel silicon photonics offers the potential to put optical interfaces directly on the processor chip, circumventing the electrical interfaces such as the QSFP28 connector. But this technology is nowhere to be found in any Intel Omni-Path offering. Instead, servers connect to the switch fabric with humdrum PCIE interface cards such as these shown at Supercomputing '15, which once again use the QSFP28 connector.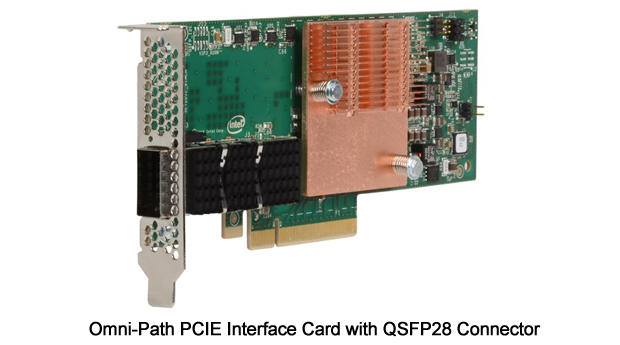 Intel has done some interesting work in silicon photonics, which involves integrating the optical laser for fiber communication directly onto the silicon die of the processor. There would be electrical power advantages in a fiber-to-the-processor approach. But I question whether it will ever be practical or cost effective.
Putting the lasers on the silicon is technically difficult in itself and will always be a cost delta compared to normal processor fabrication. Also, there's the problem of connecting the fiber output of the processor to the rest of the data center. The fibers would have to be "connectorized" at a patch panel so that the data center operator could have flexibility in making and breaking cable connections.
This actually turns out to be challenging, which is why the industry opted for the QSFP28 electrical connector instead. You can make and break electrical connectors like the QSFP28 a large number of times without signal degradation. Optical connectors are much more delicate and not nearly as reliable.
Investor Takeaway
Intel's silicon photonics research, as interesting as it is, has served as a kind of stalking horse to mask what is really a much more conventional move into data center networking. Here, Intel's push into the data center is reminiscent of its acquisition of Infineon and subsequent push into wireless modems. In 2012, Intel acquired QLogic's (NASDAQ:QLGC) InfiniBand business and the Aries Interconnect team of Cray (NASDAQ:CRAY). The merging of these organizations and intellectual property serves as the basis of Omni-Path.
Intel claims that the optical connection will migrate ever closer to the processor, but that may or may not happen. Its silicon photonics work may never provide the competitive discriminator assumed by Intel's supporters. In the meantime, INTC is left with trying to enter a market against a powerful incumbent, Mellanox. Intel is, in effect, trying to set up a proprietary network fabric product line in competition with an industry standard. Whether the data center industry will adopt Intel's proprietary standard is debatable.
Intel's Omni-Path, as currently implemented (and probably implemented for the next five years), would not preclude the use of competing processor technology based on ARM Holdings (NASDAQ:ARMH). Any system that provides a PCIE interface will be able to employ Intel Omni-Path. Far from being a lock on the data center, Omni-Path could be a high-risk venture with little real return. The conservatism of data centers that works so well in Intel's favor in processor technology works against it in network fabrics. Based on the long-term challenge faced by Intel's x86 architecture in PCs and the data center, I consider INTC a sell.
Disclosure: I/we have no positions in any stocks mentioned, and no plans to initiate any positions within the next 72 hours.
I wrote this article myself, and it expresses my own opinions. I am not receiving compensation for it (other than from Seeking Alpha). I have no business relationship with any company whose stock is mentioned in this article.