Source: Company Website
Company Description:
1347 Property Insurance Holdings (NASDAQ:PIH) is a property and casualty insurance company based in Louisiana. It offers four lines of insurance products: homeowners/dwelling, wind/hail, manufactured homes, and flood. All of these four lines are currently being offered in Louisiana, while only wind/hail and manufactured homes are being offered in Texas as the company has only started writing in Texas in 2015. The company is looking to launch the its homeowner's product in Texas at the beginning of 2016.
Company Strategic Plan:
The company's long-term strategic plan is to target states with high property premiums in U.S with favorable legislative environment.
Source: Company website
The company is also looking to expand to where industry giants have decreased their coastal risk exposure and where the state-run insurers are shedding their policies (depopulation program). Although the company was started with take-outs from Louisiana Citizen's, majority of the companies' current policies are organically obtained by its independent insurance agents. The company has demonstrated impressive growth over the last two years, with over 100% GPW growth from 2013-2014 and 38% GPW growth from 2014-2015. The company is forecasting a similar growth trajectory from 2015 to 2016.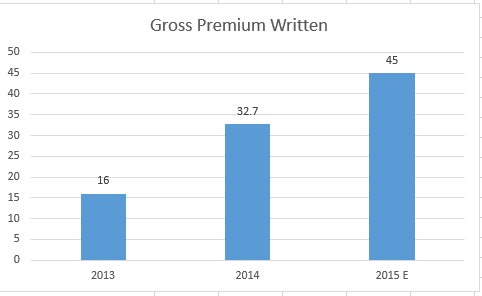 Source: Company Filings and my own estimation
Louisiana:
Before the company went IPO, it was targeting a 2-3% share of the Louisiana homeowners market. Louisiana has a homeowners direct premium written of approximately 2.6 billion, 2-3% represents approximately 78.9 million gross premium a year. The company has already achieved an estimated 45 million in gross premium written and it is well on its way to achieve its target.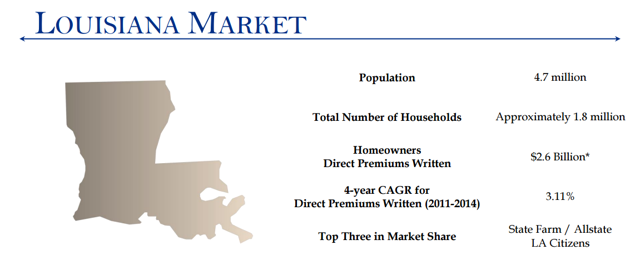 Source: Company Presentation
Texas:
Like Louisiana, the company is aiming for 2% of the Texas insurance market. The Texas insurance market is way bigger than Louisiana's with 11.4 billion of annual direct premium written, a 2% share would be 228 million.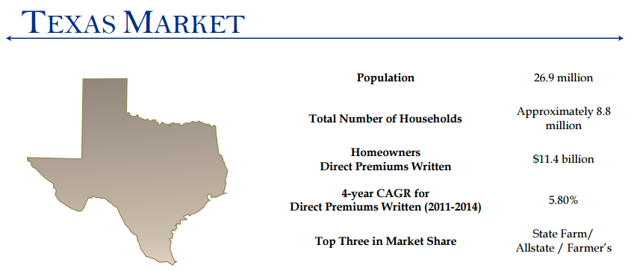 Source: Company presentation
Texas Operations:
In Q2 of 2015, the company entered the Texas market by announcing a joint-venture with Brotherhood Mutual that PIH will assume Brotherhood Mutual's wind/hail products. The company is also writing policies on its own with its independent agents. However, I think majority of the growth for Texas in 2016 will becoming from the depopulation program initiated by Texas Windstorm Insurance Association (TWIA). In 2014, TWIA has a GPW of 484 million and it is looking to shed policies to private insurers after Senate Bill 900 was passed. PIH is currently looking to participate in the depopulation program alongside with 14 other private insurers. The company hasn't announced the definite amount of policies that will be taken-out, but the CEO seems to be optimistic that the number of policies assumed will be significant to the companies' top-line.
It is very cheap:
Despite the impressive growth, the company is selling for at less than its "Net-Net" value. It is selling at 88% of its "Net-Net" or liquidation value.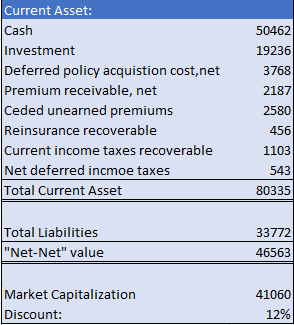 Source: Company filings and my own calculation
I have also conducted a P/E, P/B, ROE comparison (commonly used for financial companies) between its peers, mostly Florida insurers.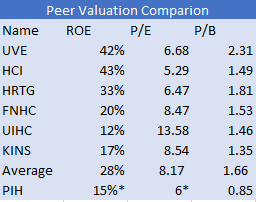 Source: Yahoo Finance and my own estimation
Universal Insurance Holdings (NYSEMKT:UVE), HCI Group (NYSE:HCI), Heritage Insurance Holdings (NYSE:HRTG), Federated National Holding Company (NASDAQ:FNHC), and United Insurance Holdings (NASDAQ:UIHC) are all Florida insurers. They have benefited from smaller than expected losses over the last year and their growth is expected to be slowed in 2015-2016.
On the other hand, PIH has suffered from severe weather condition in its 2015 fiscal year, I have adjusted its ROE and P/E to the management's guideline for a more normal comparison. PIH seems to be significantly undervalued once again. The company has issued a 500,000 shares buy-back program in 2014, it has already purchased 158,000 shares back.
Reason for market underpricing:
In my opinion, there are primary two reasons for market underpricing. First, PIH is a tiny company, it has a market capitalization of only 41.06 million. There is no analyst coverage,and the average trading volume is only 13,463 shares (very low liquidity). Kingsway Financials, insiders and hedge funds own around 70% of the total shares outstanding. On a side note: Legion Partner Asset Management, the second biggest shareholder of PIH, has a reputation of being an activist hedge fund.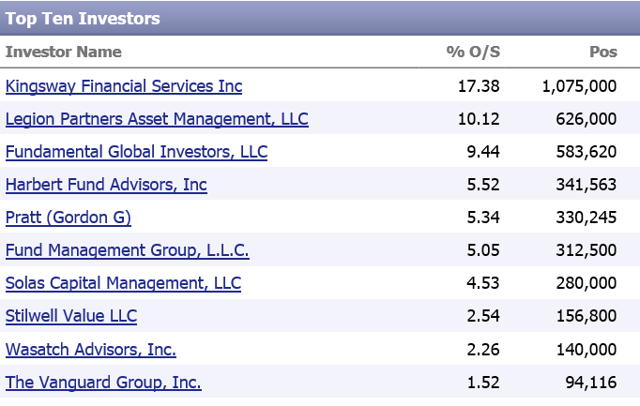 Source: Thompson One

Source: Thompson One
Net Loss in 2015:
The market is likely penalizing PIH for notably lower net income comparing to 2014 after being adversely affected by weather and its MSA termination. For the nine month ended in September 2015, the company reported a net loss before tax of 3,199 (including its MSA termination charges of $5,615) comparing to a net income of $4,413 in 2014 . These MSA charges, however, is a one-time buy-out fee to pay for Kingsway Financial Services Inc. for its advisory service pre-IPO. It should not impact the company's earnings going forward. The company should reach its target of a gross combined ratio of 85% for its Louisiana operations and 90% for its Texas operations going forward.
Risk:
Conflict of Interest:
PIH was a subsidiary of Kingsway and the MSA termination agreement that the management agreed on was rather unfair for PIH shareholders. PIH paid cash, preferred shares, and warrants worth north of 6 million to Kingsway Financials for advisory services in the past. I was worried about a conflict of interest between PIH and Kingsway Financials since it is still the largest shareholder in PIH. However, now with Legion Partners Asset Management and other hedge funds owning around 40% of the total company, this seems to be unlikely.
High Management Expense Ratios:
Currently the company has a management expense ratio that is around 10% higher than the Florida insurers. The insurance products that PIH writes is largely a commodity product, a higher management expense ratio means that PIH does not have a comparative advantage and might face higher than 100% combined ratios when the market hardens.
Reinsurance:
PIH relies heavily on reinsurance contracts to migrate its catastrophic risk. If the availability for these contracts disappear, PIH will face catastrophic risk that it cannot diversify away itself. Also, if the pricing for reinsurance has increased significantly, it will adversely impact PIH's bottom line as PIH might not be able to increase its premiums to a necessary amount or cancel its policies with the existing shareholders. Under regulation, they are obligated to continue offering its services for a certain number of years.
Cash Balance:
Currently, PIH has a significant amount sitting in cash, around 50 million. PIH is underlevered comparing to other insurers. PIH needs to continue to look for places to deploy their cash through M&A, or new market opportunities like the Texas expansion. The cash was received from its IPO back in 2014 when the initial the strategic plan was to expand into Florida. However, management pulled back these plans after realizing Citizen's take-outs opportunities have mostly dried up. Despite the fact that the management believes that they will be able to put most of its cash to work by the end of 2016, there is a possibility that PIH will not be unable to do so profitably.
Conclusion:
PIH at current valuation represents a tremendous buying opportunity for small retail investors as it is trading below its liquidation value. Moreover, unlike most of other "Net-Net" companies, PIH is growing at a rapid rate and trading at a significant discount to its peers. With activism on the board, and massive market opportunity in Texas, catalysts have already presented themselves. PIH is a truly an undiscovered gem in the market.
Disclosure: I am/we are long PIH.
I wrote this article myself, and it expresses my own opinions. I am not receiving compensation for it (other than from Seeking Alpha). I have no business relationship with any company whose stock is mentioned in this article.
Additional disclosure: Investors please do you own due diligence before investing. And follow me if you would like to see more detailed analysis on small-cap value stocks.
Editor's Note: This article covers one or more stocks trading at less than $1 per share and/or with less than a $100 million market cap. Please be aware of the risks associated with these stocks.