AbbVie (NYSE:ABBV) is one of the best combinations of growth, value and dividend yield that I know of within the current market. After posting earnings growth of north of 30% year-over-year in FY2015, the consensus has this biotech/pharma giant delivering profit gains of 15% to 20% on the back of a mid-teen increase in revenues this fiscal year.
The company recently reported quarterly results that largely met expectations as it delivered $1.13 a share in earnings on slightly better than 18% increase in revenues. Sales from its hepatitis C treatment Viekira Pak were disappointing with an almost 20% dip in sequential revenues. Humira which does some $14 billion in annual revenues currently and makes up 55% to 60% of current overall sales saw revenues increase a solid 10.5% year-over-year. AbbVie guided to $4.90 to $5.10 a share in profit in FY2016.
Late last year the company outlined a five-year plan to grow revenue at an average clip of 10% annually while increasing margins over the same time frame from about 36% currently to 50%. AbbVie projects $18 billion in sales from Humira in 2020, $5 billion from its blood cancer drug IMBRUVICA it jointly owns with Johnson & Johnson (NYSE:JNJ) and $3 billion from Viekira Pak (It recently guided this treatment will do $2 billion in sales in FY2016) as its core revenue drivers. This plan, if successful, would bump earnings per share up past $10.00 a share by 2020 and make the stock incredibly cheap at a current $54.00 a share.
Although investors like the company's pipeline in general and growth prospects of its core products, they took these projections will a large grain of salt simply because it relied on Humira to continue to grow sales as it is approved for further indications. Their skepticism was buttressed by their belief that this biologic would start to face competition as it came off patent domestically by 2019. The projection by the company is the year 2022 for when Humira would start to face new entrants in Humira's markets in the United States.
The U.S. patent office recently ruled against Amgen's (NASDAQ:AMGN) petition around Humira. Amgen had asked the patent office to review two formulation patents on Humira with the argument that they shouldn't have been granted. These arguments were rejected. Afterwards, AbbVie reiterated its view that Humira would not face competition for this biologic in the United States until 2022. BMO Capital has this to say after the ruling, "We believe this decision strengthens AbbVie's argument that its IP and litigation strategy could protect Humira from biosimilar entry in the U.S. until 2022 (we currently estimate 2019-2020)". The analyst firm also reiterated its Buy rating and $77.00 a share price target on ABBV.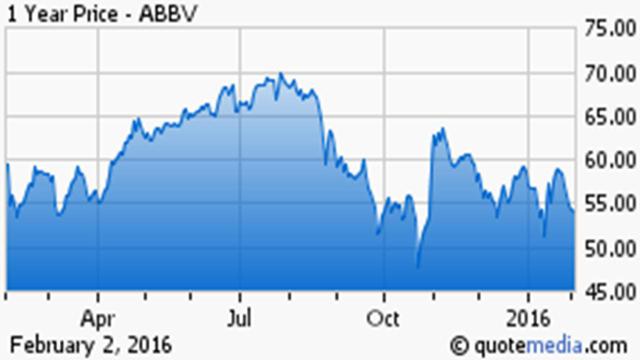 The 15 analysts that cover the company have a $73.00 a share median price target on ABBV at the current time, some 35% above its current price. This is not too far above where AbbVie was trading this summer before the current bear market in biotech began. Humira's patent in Europe does not expire until 2018. It should be noted that given Humira is a biologic, sales are not going to fall off a cliff like in small molecule drugs as biologics are harder to manufacture and competition is much more limited.
The stock is currently going for approximately 11 times forward earnings and the shares yield north of four percent as well. It seems the stock is priced for maximum pessimism even if Humira starts to face competition in the United States in 2019. Once sentiment improves on biotech, I think ABBV could start to climb back to the levels it traded at before the downturn in biotech began this summer. If the company is correct and it does not see U.S. market entrants until 2022, the stock is severely underpriced. STRONG BUY
Disclosure: I am/we are long ABBV, AMGN.
I wrote this article myself, and it expresses my own opinions. I am not receiving compensation for it (other than from Seeking Alpha). I have no business relationship with any company whose stock is mentioned in this article.