ConocoPhillips (COP) was supposed to be one of my less-risky investments back in November 2014. Ever since then, it faced a significant drop. Therefore, I plan to closely monitor its earnings results.
COP is expected to deliver its earnings report on Feb. 4 before the market opens. The fourth quarter of 2015 was a very critical quarter for COP. Shares suffered a lot from the continuous drop in the price of oil, which temporarily bottomed in December.
In the last two years, the stock price lost 43% of its value. In the most recent month alone it went down by 17%, following the weakness in oil prices. My purchase price was $70.4, which is almost 2x the current $38 price.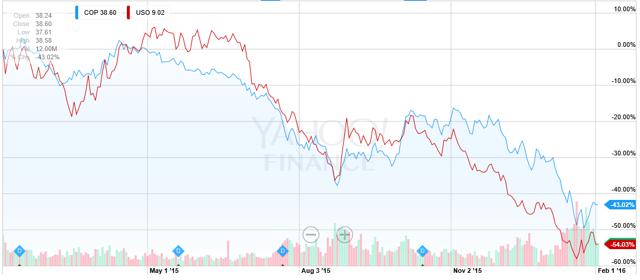 The consensus among analysts is for COP to generate ~$9.1B of revenue this quarter and deliver EPS of -$0.64. If you add the average consensus revenue to the $24.1B of revenue that COP generated in the first three quarters of 2015, you get a total yearly revenue of $33.2B. This would be the third consecutive year of revenue declines since the spin-off of Phillips 66 (PSX) back in 2012.
It would be very interesting to examine some of the Profit and Loss (P&L) elements delivered in the quarter. The table below captures the actual quarterly P&L since Q3 2013 and an expected Q4 2015 P&L, based on the consensus average.

Source: Created by author.
Here are a couple of elements I would like to monitor when the report comes out:
Direct Spending: COP is committed to take cost-reduction action. I currently assumed flat spending for Q3 2015. It will be interesting to see by how much the company is able to reduce its operation spending following its multiple efficiency projects.
Gross Margins: The margins in Q3 2015 were at 32%, the lowest that were seen since the formation of the current company. It would be interesting to see how far the margins can improve due to the lower capital and cost of goods spending.
Cost of Goods Sold: The higher revenue should require higher levels of cost of goods sold. It will be interesting to see how much the company can optimize its costs in order to deliver better margins over time.
In the company's recent quarter earnings report, COP's management gave some indications about 2016. The commitment to maintaining the dividend was set as a top priority. That escalates the issue of long-term debt and the debt/equity ratio, in a situation where cash flow will not support the required dividend payout.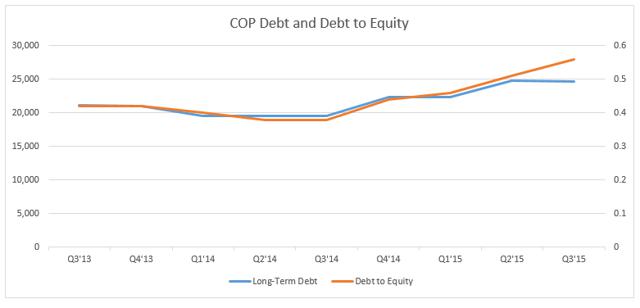 If management indicates that it is willing to have higher levels of debt, it would overburden the future cash flow and indicate that future earnings would be volatile as well. If debt grows in the coming year, it would be highly interesting to see where the company expects to find growth in an environment where the oil price hasn't found a bottom and has a high likelihood of reaching the $20 level yet again.
The low oil prices would have implications on costs. It would be interesting to hear of any additional actions that will be taken in the existing projects, especially in the costly ones, to reduce capex and spending in the coming years.
I, for one, would be very surprised to see a situation where all the stars are aligned and COP is able to maintain its dividend, while controlling its debt and delivering growth. Especially while the price of oil is still under tremendous pressure. I would like to see management acknowledge that in its plans, as this is the most likely scenario for the coming years.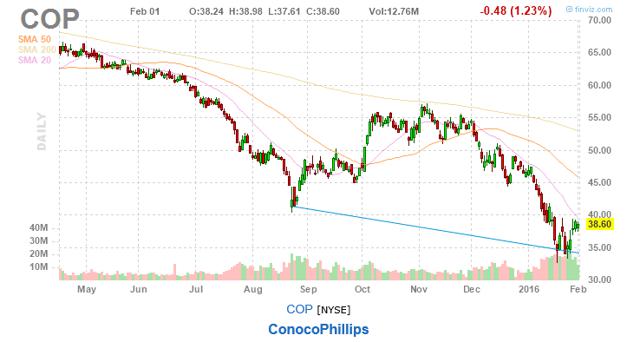 Conclusion
COP is in a very delicate situation. Its business is mostly dependent on the price of oil, which doesn't appear to be able to sufficiently recover in the foreseeable future. The coming earnings session will be very interesting regarding COP's performance through the last quarter of 2015, as well as its plans for 2016-17. Based on the inputs discussed above being addressed during the earnings call, I will be able to reassess my holding in this company.
Disclosure: I am/we are long COP.
I wrote this article myself, and it expresses my own opinions. I am not receiving compensation for it (other than from Seeking Alpha). I have no business relationship with any company whose stock is mentioned in this article.