The EIA estimates that 13.82 million barrels per day of oil equivalent was used during 2015. That is 5.044 billion barrels for the year. If each barrel holds 42 gallons, then the yearly use would be 211.848 billion gallons. Should energy costs decline by $1.00 per gallon, that could translate into savings of $211.848 billion for businesses and consumers. Should the cost of energy fall by $2.00 per gallon, then the savings would increase to $423.696 billion.
Saving $200 billion to $400 billion would be nice, if it was not for the costs. Some might consider the savings to be like a tax cut. It is not like a tax cut. A tax cut increases after-tax income for the individual or business. For a business, lower energy prices (with everything else remaining equal) would increase profits. That would increase taxes and be an effective tax increase. For individuals, the energy savings would not change their after-tax income. However, it could alter the allocation of their income. If less is spent on energy, then the difference might go into savings, food, or healthcare.
Energy Firms Have Seen the Value of the Equity and Debt Decline
Exxon Mobil (NYSE:XOM) reported having 4.194 billion shares outstanding on Jan. 31, 2015. The stock closed that day at $87.42. On Jan. 29, 2016, the stock closed at $77.85. The loss in market value exceeds $40 billion - should investors view this as a tax cut? This loss in market value represents 10% to 20% of the so-called tax cut savings from lower energy prices.
Chevron (NYSE:CVX) reported having 1.880 billion shares outstanding on Feb. 5, 2015. The stock closed at $109.31 that day. On Jan. 29, 2016, the stock closed at $86.47. The loss in market value exceeds $42 billion.
Kinder Morgan (NYSE:KMI) reported having 2.130 billion shares (class P) outstanding on Feb. 2, 2015. The stock closed at $41.62 that day. On Jan. 29, 2016, it closed at $16.45. The loss in market value exceeds $53 billion.
Schlumberger (NYSE:SLB) reported having 1.275 billion shares outstanding on Dec. 31, 2014. The stock closed that day at $85.41. On Jan. 29, 2016, it closed at $72.27. The loss in market value exceeds $16 billion.
The four stocks listed above have lost a combined $151 billion in market value, or 37% to 75% of the so-called tax-cut savings.
Williams (NYSE:WMB) sold $1.250 billion of the 4.550% bonds due June 25, 2024, on June 19, 2014, at 99.74% of par. They closed Feb. 1, 2016, at 64.25% of par, as per FINRA. Investors have seen the market value of the bonds decline by over $440 million.
SandRidge Energy (OTCPK:SDOC) reported 484 million shares outstanding on Feb. 20, 2015. The stock closed at $2.32 that day and closed Jan. 29, 2016, at $0.03. The loss in market value exceeds $1.1 billion. SandRidge offered $825 million of the 7.500% bond due Feb. 15, 2023. It was at 64.5% of par on Dec. 29, 2014, and closed at 0.83% of par on Feb. 1, 2016. The loss in market value exceeds $525 million.
(click to enlarge)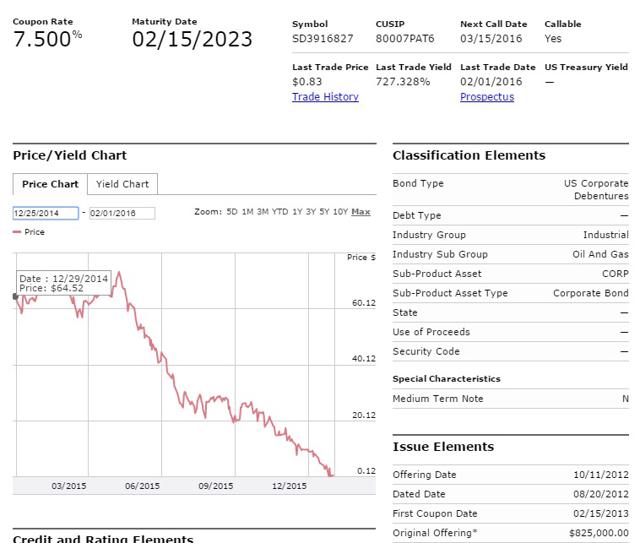 Source: FINRA.
Some other energy-related stocks and bonds have suffered massive losses. Should investors be happy that they have enjoyed at tax cut due to lower market values and less wealth? I think not.
Oil and gas employment is on the decline.
(click to enlarge)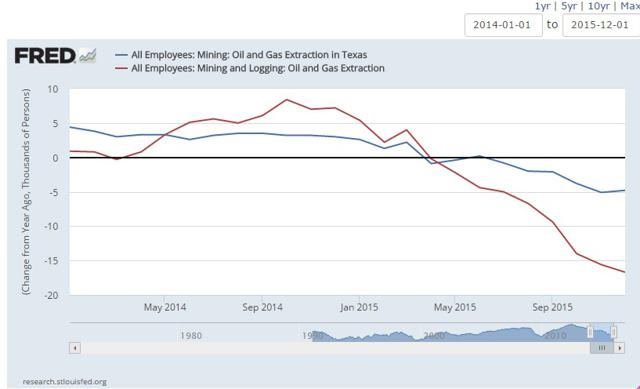 There will be industries and individuals that benefit from the decline in energy prices. However, lower commodity prices might result in less revenue for the government, and that might mean it will look for other revenue sources paid by all.
On Dec. 2, 2014, an article titled, "The Economic Risk of Falling Crude Oil" was published:
Bottom Line:

The fall in crude oil and energy prices has winners and losers. It is not an all win situation. The sharp decline in the price of crude oil could be the tonic that ignites US and world growth and helps to offset the decline in oil-related revenues. The risk is that the plunge in price triggers margin calls and or forced or panic selling that migrates across asset classes and world economies. Falling asset prices would make debt service more of a challenge as the real cost of debt would increase. This might be unwelcome news for common stockholders and the world's stock markets.

Crude oil prices are expected to stabilize near current levels. Should crude oil price fall further, the economic damage may be greater than many expect.
The price of crude oil did stabilize somewhat before heading to the downside in July 2015 (see chart below):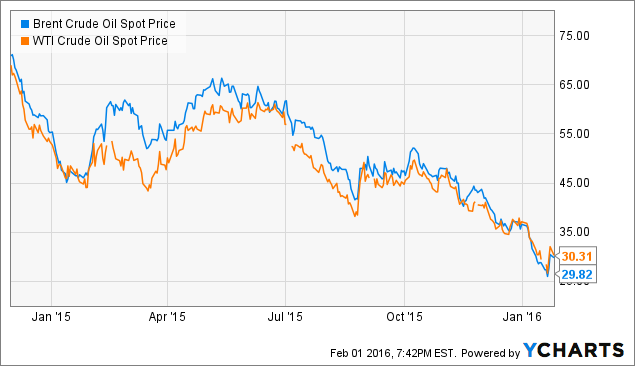 Brent Crude Oil Spot Price data by YCharts
Final Thoughts
Now that lower energy prices are here, the question becomes how long will they last. Gasoline prices rebounded last spring and summer (see chart below):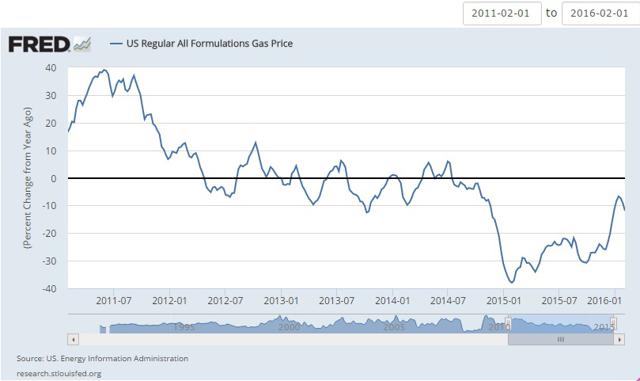 The Federal Reserve appears to be in a tough spot. Should the "hawks" push through another increase in the federal funds rate, then it could place further stress on the energy sector. The fallout could result in unwelcome political developments during this election year.
The so-called energy "tax cut" has been tough on the stock market. The SPDR S&P 500 Trust ETF (NYSEARCA:SPY) has declined since Dec. 1, 2014 (see chart below). A tax cut should provide a tailwind for the financial markets and the economy.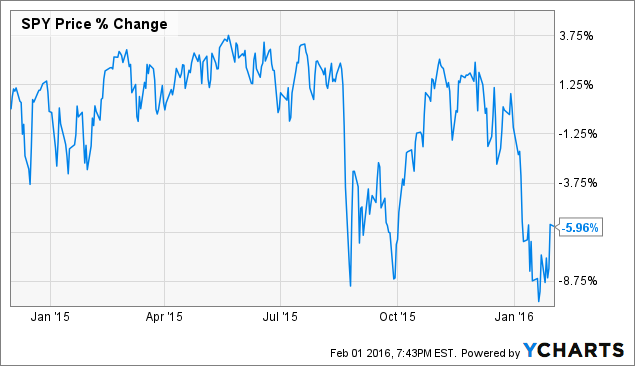 SPY data by YCharts
The market appears concerned regarding lower energy prices. Should the energy markets stabilize or move slightly higher, the stock market might rebound. The bond market is suggesting that the economy faces headwinds. The 10-Year U.S. Treasury yield is expected to move slightly higher as the energy sector stabilizes and the stock market improves.
Disclosure: I/we have no positions in any stocks mentioned, and no plans to initiate any positions within the next 72 hours.
I wrote this article myself, and it expresses my own opinions. I am not receiving compensation for it (other than from Seeking Alpha). I have no business relationship with any company whose stock is mentioned in this article.