Frankly, most investors are not going to be thrilled after looking at their January 2016 brokerage statement. However, some equity REITs performed quite well to kick off the New Year. Here is an update on one simple REIT strategy, and some individual REIT picks, which happened to outperform the broader market.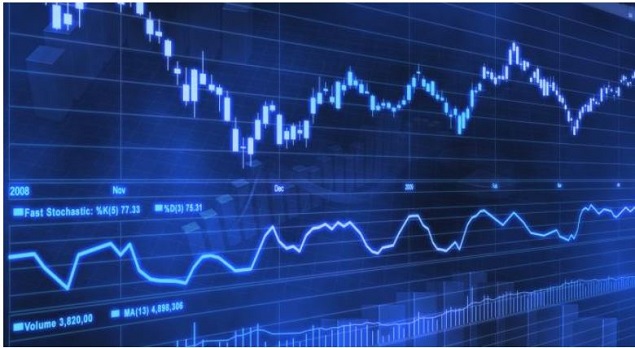 Source: Benzinga
First, here is a bit of REIT "housekeeping" news. If you have been using a spreadsheet or other method to track REIT sectors, NAREIT has changed the way it is keeping the score.
The FTSE/NAREIT "Diversified" category has now been whittled down considerably from 30 REITs in November (shown below) to just 14 REITs in the December 2015 table.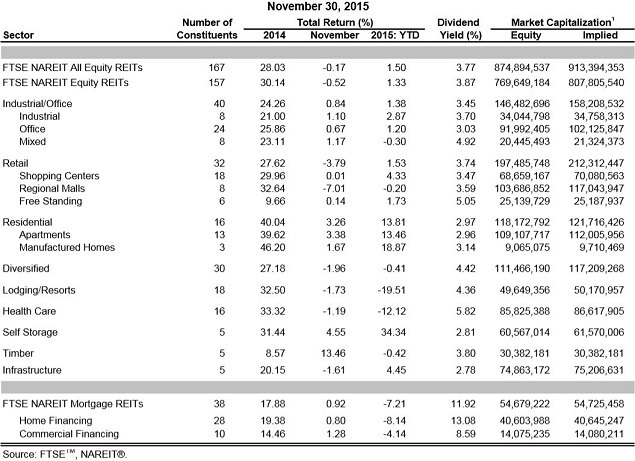 Source: NAREIT - reit.com
The biggest change that I noticed from the November data was that NAREIT broke out the six data center REITs as a separate sector as of December 2015.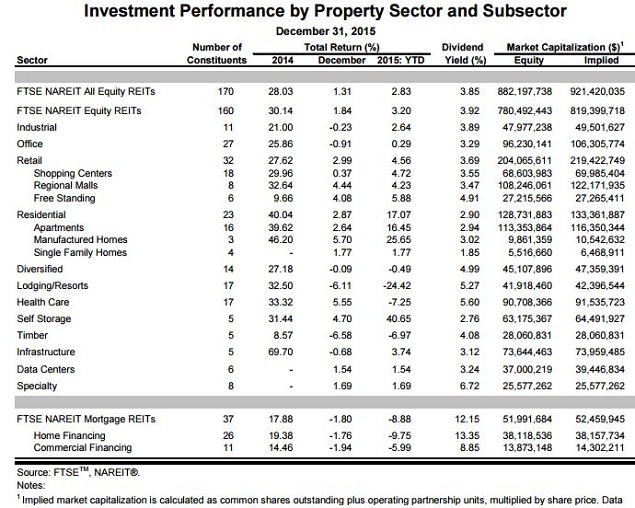 Source: NAREIT - reit.com
It couldn't have come at a more opportune time from my point of view since I made data center REITs my top sector for 2016.
Data Center REITs - Top Sector Pick
The REIT strategy that I recommended was to overweight data center REITs for 2016. It turned out that data center REITs happened to outperform the MSCI REIT Index (RMZ) in January 2016, by a fairly wide margin.
An added bonus was my data center "DIY Smart Beta" strategy also outperformed the S&P 500. SPX finished January 2016 down 5.07%, after a series of volatile trading session to kick off the New Year.
Notably, colocation- and cloud-focused QTS Realty Trust (NYSE:QTS) closed at an all-time high of $46.20 on January 29, the last trading day of the month.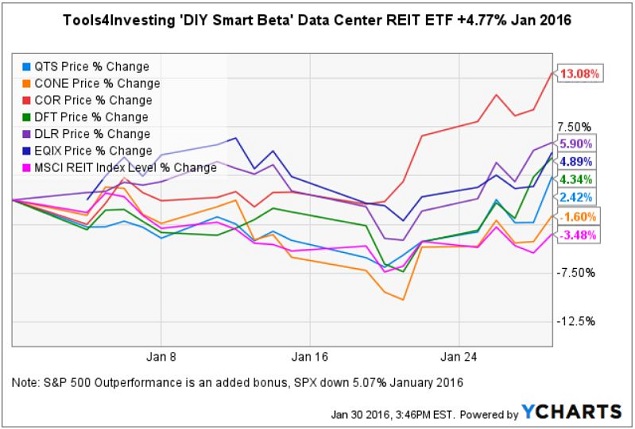 Connectivity-focused CoreSite Realty (NYSE:COR) led the way with a ~13% jump in price. CoreSite benefits from the continued growth of Amazon's (NASDAQ:AMZN) AWS public cloud, and other colocation tailwinds, which I pointed out in a recent Seeking Alpha focus article.
However, the short answer is that CoreSite has been able to consistently deliver high-teen ROIC on its phased data center build-outs. On December 2, COR announced a 26% quarterly dividend increase, boosting the annual dividend up from $1.68 to $2.12 per share. Most notably, this impressive January performance for the company is on top of a 50% shareholder return for FY 2015.
Digital Realty (NYSE:DLR) is the "grizzled veteran" with an impressive track record of over 10 years of consecutive increases in the dividend distribution. Digital is the only data center REIT with a BBB investment-grade rating. This combination makes it a top choice for many DGIs, or dividend growth investors.
I recently covered DLR's Citi presentation for Data Center Knowledge in early January. The presentation highlights included:
Telx integration updates and expansion plans.
Leveraging strategic partnerships with key customers including IBM (NYSE:IBM) SoftLayer and AT&T (NYSE:T) to deliver services and market digital colocation solutions.
The inevitable migration of enterprise customers toward a hybrid private cloud "end state."
A more detailed write-up can be found here.
The newest member of the data center REIT sector is Equinix, Inc. (NASDAQ:EQIX), an S&P 500 company with an $18.2 billion market cap. Equinix had a 17-year track record in the technology sector prior to becoming a REIT in mid-2015. EQIX began as a carrier-neutral meet-up location for Internet service providers and remains a global leader in interconnection and colocation.
Initiatives targeted to growing the number of enterprise customers are a main focus for Equinix in 2016. Signing up these customers can present unique challenges for colocation providers, as the solutions and IT architecture can vary widely from one industry to another.
I covered Equinix CEO Steve Smith's Citi presentation in January for Data Center Knowledge, which provides some additional color on capital allocation, colocation, and cloud computing growth initiatives.
Small-Cap Picks Are Top Performers
The tandem of freestanding retail net-lease landlord Agree Realty (NYSE:ADC), and the newest member of the self-storage REIT sector National Storage Affiliates (NYSE:NSA) crushed the Russell 2000 performance in January.
In a nutshell, both of these picks could be labeled as GARP, or growth at a reasonable price.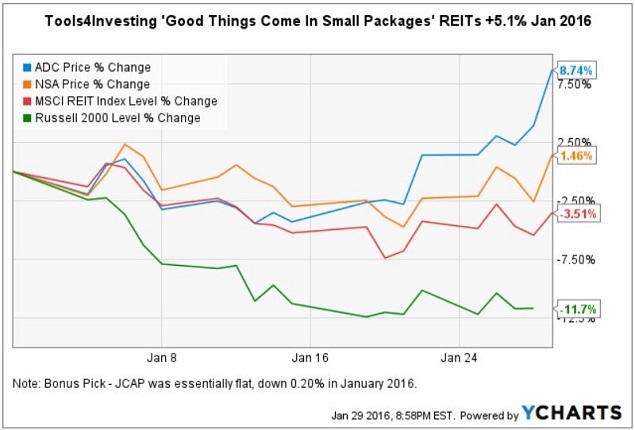 I wrote up my rationale for picking these two "rising stars" in an SA article: "My Top REIT Ideas For 2016: Good Things Come In Small Packages."
CEO Joey Agree has led the transformation of an "old school" shopping center REIT into a single-tenant, net-lease REIT backed by a 40+ year history of paying dividends. Agree Realty also holds the distinction of being the only 100% retail focus triple-net REIT with an in-house development program.
Notably, ADC's balance sheet and key REIT metrics also compare quite favorably to its larger peers National Retail Properties (NYSE:NNN) and retail investor favorite Realty Income (NYSE:O). Building on a smaller base of assets makes it easier for Agree to move the growth needle on a percentage basis.
Recent Self-Storage IPO
The National Storage IPO was nicely timed to take advantage of the tailwind from the "Big 4" self-storage REITs in 2015. A quick check of the December 2015 NAREIT stats shows that this red-hot REIT sector delivered an average of 40.65% price appreciation last year.
The entire self-storage REIT sector was in the green closing out January. Sovran Self Storage (SSS), which flies the Uncle Bob's flag, led the pack with a 5.8% rise in share price. While the valuations of the Big 4 storage REITs may seem frothy, there is still a long runway for growth from consolidating this fragmented industry.
Investors willing to bet on the newest and smallest member of the sector have an opportunity to get in on the proverbial ground floor. Notably, NSA has already raised its dividend multiple times during its short history as a publicly-traded REIT. National Storage also has a unique business model which it hopes will attract additional platform companies to join the founding six "PRO" regional operators. However, the low acquisition cap rates for this popular asset class make cash offers from the Big 4 a serious competition for NSA's "sell it, but still run it" alternative for these coveted operations.
NSA has excellent near-term earnings visibility because the six founding PROs own and manage self-storage properties outside of its "umbrella." These properties are effectively a captive growth pipeline for this small-cap storage REIT.
Shining The Spotlight On Income And High Yield
Mr. Market wasn't particularly kind to this group, which included healthcare REITs, commercial mREITs, and high-yield/special situations during January. This group was NOT intended to be a portfolio, as I previously wrote:
"Historically, dividend income has represented a significant part of total returns for shareholders in publicly traded equities. My goal in writing this article was to identify some higher-yielding alternatives for investors to consider on a case by case basis.

I am not recommending constructing a portfolio comprised of all of these investing ideas."
The results below help illustrate how reaching for yield can be a risky business. However, I fully expect some of these names to perform much better as 2016 unfolds.
"Big 3" Healthcare REITs
This troika of healthcare REIT blue-chips, including Welltower (HCN) and HCP, Inc. (NYSE:HCP), underperformed the broader REIT sector, down 5.5% in the aggregate.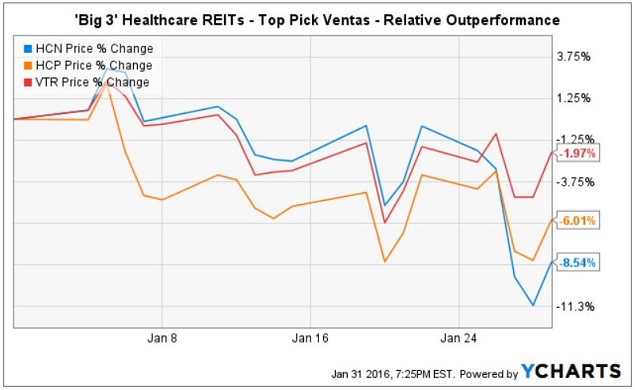 If you initiated a position in Ventas, Inc. (NYSE:VTR) after reading Shining The Spotlight On Income And High Yield, the good news is that my top pick for 2016 performed better than its peer group, the RMZ index and the S&P 500.
Concerns about oversupply in some of the senior housing markets have been one of the main reasons for the Big 3's poor performance in January. More good news is that income investors looking for a steady and growing dividend distribution now have a more attractive entry point. The tailwind of 10,000 baby boomers celebrating their 65th birthday each day will eventually help these REIT stalwarts to gain some traction with investors again.
Meanwhile, Welltower, Ventas and HCP distributions are currently yielding 5.25%, 5.26% and 6.25% while you wait.
Commercial mREITs
The saving grace for Blackstone Mortgage Trust (NYSE:BXMT) and Starwood Property Trust (NYSE:STWD) is that they are each paying out yields of 10 percent.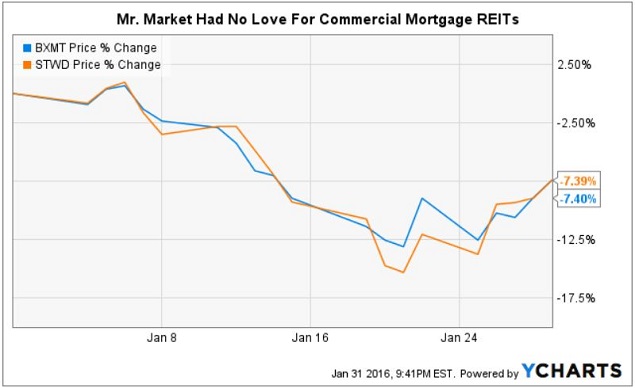 Both of these REITs have portfolios which will actually perform better in a rising rate environment. However, during January, that has not been much of an attraction for investors.
The weakness in the global economy has eased investor jitters regarding a rising rate environment in 1H 2106. As of this writing, the 10-year note interest rate stood at 1.93% and the 30-year Treasury bond interest rate was only 2.75%.
Externally Managed REITs Got Crushed
Dedicated REIT investors prefer internal management aligned with shareholder interests. They also like simple stories, and single asset-class portfolios.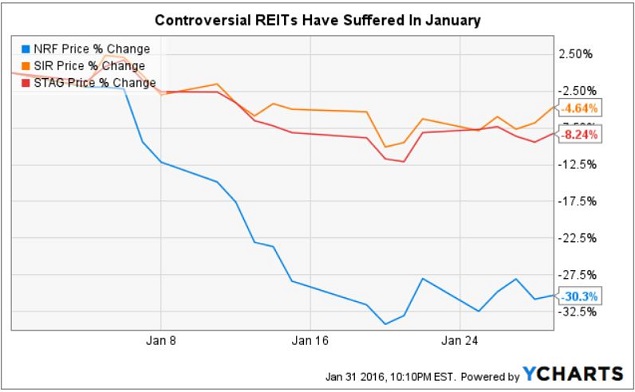 NorthStar Realty Finance (NRF) is a REIT special situation that is currently paying an annual $3.00 distribution, now yielding an incredible 25%. NRF is an externally managed, diversified equity REIT that still has 15% of its legacy mREIT securities on the balance sheet. However, NRF's shares are trading irrationally lower than any reasonable estimate for valuing its portfolio of real estate assets.
My controversial bullish thesis on NorthStar continues to be in play, as external manager NorthStar Asset Management (NSAM) is exploring "strategic options" with investment bank Goldman Sachs (NYSE:GS).
NorthStar Realty Finance announced regular distributions for its preferred shares last week; however, as of this writing, there has been nothing announced regarding the status of the $0.75 quarterly distribution for common shareholders.
Activist hedge fund Land & Buildings has been agitating for a change at NSAM, and last week, proposed a slate of six directors for NorthStar's shareholders to consider. Stay tuned.
Select Income REIT (NYSE:SIR) now pays a distribution with a forward yield of 10.6%. The past actions by external manager RMR Group, Inc. (formerly known as REIT Management & Research) continue to be a headwind for SIR's share valuation.
STAG Industrial (NYSE:STAG) is a special situation with a yield of 8.3%. This REIT has become controversial since last summer when it was downgraded to a Sell by a UBS analyst, who also lowered his target price significantly. The crux of the matter is that STAG is a single-tenant landlord which owns older buildings in many secondary markets with a weighted average lease term of 4.1 years. These buildings will either be 100% leased or completely vacant as leases roll over.
This is a conscious strategy intended to outperform other industrial REITs through higher initial yields on acquisitions. By owning properties diversified by tenant, industry and geography, STAG hopes to deliver better risk-adjusted returns than its peers.
The question which needs to be answered in 2016-2018 is whether or not STAG can retain tenants and grow same-property NOI through higher re-leasing spreads.
Bonus Picks
Two of the high-yield picks I pointed out as options for investors were not REITs but happen to derive earnings from real estate, and related securities. Leading alternative-asset manager The Blackstone Group (NYSE:BX) is one of the largest private owners of global real estate assets. Notably, real estate is only one of four major business groups for Blackstone.
However, I follow BX closely because of the insights that can be gained regarding the real estate cycle, as well as M&A activity. Blackstone regularly buys undervalued REITs and takes them private.
Because performance fees and asset realizations are "lumpy," the BX dividend distributions will naturally vary from quarter. Blackstone's institutional limited partners take a long-term view, and I suggest retail investors do the same with BX shares. Based upon the most recent distribution, Blackstone's shares are yielding under 8% as of this writing. Market volatility and dislocations in capital and commodity markets should create excellent opportunities for Blackstone to deploy tens of billions of dollars of "dry powder" in 2016.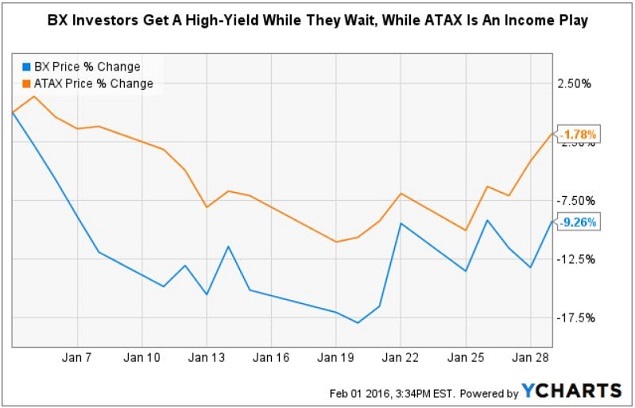 I primarily view the small-cap America First Multifamily Investors (NASDAQ:ATAX) as a tax advantaged income play, with minimal share price appreciation potential. ATAX's performance is backed by a portfolio of low-income mortgage securities and multifamily communities.
ATAX's units are primarily held by retail investors looking to receive a $0.50 per share distribution each year. The current 10%+ tax advantage yield is the main attraction. The company is organized as a partnership which distributes K-1s to unitholders at year end.
However, with ATAX trading below the $5.00 per share level for a good part of January, investors who began to accumulate shares may see some share appreciation during 2016.
Investor Takeaway
My Tools4Investing DIY Smart Beta data center portfolio, my T4I small-cap REIT picks, and my healthcare blue-chip pick Ventas all performed pretty well.
Many high-risk/high-yield income names certainly disappointed investors, but remember that the volatility is a dual-edged sword. I expect to see some significant gains in share price - up from these disappointing January levels - as 2016 continues to unfold. Meanwhile, the distributions each quarter are not insignificant.
I will be updating this group of REITs at the end of each month. If you follow me on Seeking Alpha, you will receive "real-time" email notifications when my articles are published.
Disclosure: I/we have no positions in any stocks mentioned, but may initiate a long position in ATAX, NSA, BX, VTR over the next 72 hours.
I wrote this article myself, and it expresses my own opinions. I am not receiving compensation for it (other than from Seeking Alpha). I have no business relationship with any company whose stock is mentioned in this article.