If you stayed long Corcept Therapeutics (NASDAQ:CORT) even as others advised you against it, you deserve that profitable smile. Wear it proudly all the way to the bank.
Shares of Corcept Therapeutics Inc. surged as high as $4.90 and managed to close up over 48% higher on Tuesday after the company received regulatory approval for Korlym, the first available treatment for high blood sugar in patients with the endocrine disorder Cushing's Syndrome who cannot have surgery.
As we told you in early February, the drug discovery company focused on the development of treatments for metabolic and psychiatric disorders had their flagship product on tap for FDA review as a treatment for Cushing's Syndrome and is also being developed (in phase III trials) for the treatment of psychotic depression.
Corcept's research and clinical development has been focused on antagonizing or blocking the GR-II receptor for cortisol, a hormone implicated in a broad range of psychiatric and metabolic diseases. Its first-generation compound, Korlym, also known as mifepristone, was set to target Cushing's syndrome as well as Psychotic Depression.
Interestingly, Mifepristone was first discovered in 1980 in France by Roussel Uclaf. Because it blocks the progesterone receptor as well as the cortisol receptor, mifepristone causes the termination of pregnancy and is approved in the United States and internationally for that purpose. The dose for termination of pregnancy is different than the one Corcept used in its studies. The composition of matter patents surrounding mifepristone expired in 1998, but Corcept licensed intellectual property from Stanford University that protects important methods of use of the compound.
What made Korlym particularly interesting as a biotech play was the fact that there were no FDA approved treatments for this syndrome after surgery, radiation, and chemotherapy. In addition, since Cushing's Syndrome has been granted orphan status in the United States (meaning that it is officially a "rare" disease with fewer than 200,000 affected), Corcept will be given special privileges for Korlym during the approval and marketing process not limited to seven years of marketing exclusivity, tax credits, fee waivers, and assistance from the FDA. In fact, the Menlo Park, Calif., company said it plans to make Korlym available by May 1 and that because the drug had been designated an orphan drug, Corcept will have exclusive marketing rights until February 2019.
This will be Corcept's only product on the market and while some are taking profits from the FDA approval trade, we think that if the company is able to execute, they could see some nice profits from this drug after it hits the market. In addition, the possible market potential for Korlym far outweighs the current market cap for the company itself, so we would not be surprised to see smart money take positions after the post FDA approval euphoria quiets down here.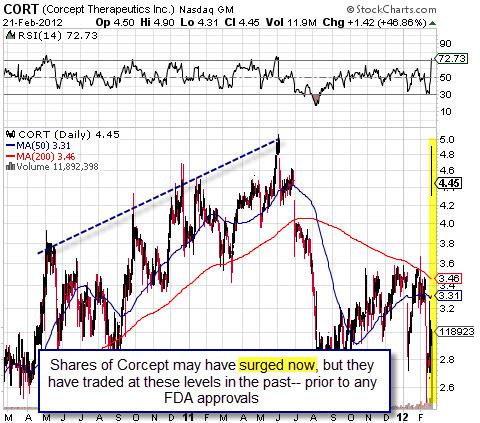 Taking a brief look at milestones for Corcept on the BioMedReports FDA Calendar, we see that the company has been busy enrolling patients in their Phase Ib/IIa multi-dose safety and proof of concept study of CORT 108297, one of their selective GR-II antagonists, since December 2010.
According to one of their 8K filings last year, the study is evaluating the compound in models of antipsychotic-induced weight gain and changes in biomarkers induced by prednisone, a commonly prescribed glucocorticosteroid associated with metabolic effects.
They are also advancing their second selective GR-II antagonist, CORT 113083, towards an Investigational New Drug submission. The company anticipates submitting their IND for CORT 113083 in the first half of 2012.
Corcept owns world-wide rights to these compounds through composition of matter and other patents that extend through 2030.
Disclosure: I have no positions in any stocks mentioned, and no plans to initiate any positions within the next 72 hours.