Introduction:
Becton, Dickinson and Co (NYSE:BDX) is expected to announce first quarter 2016 results today, on the 3rd of February. I will be looking out for a few things, specifically, 1) whether they are delivering on the high or low end of their 4.5% - 5% organic growth target; 2) impact of currency on their results and; 3) integration efforts of CareFusion.
Key things to watch for
(I) Will they deliver at the low- or high- end of their organic growth target?
The acquisition of CareFusion (NYSE:CFN) allowed BDX to leverage on their portfolio and accelerate the reach of their products in China. I think investor's will be concerned about whether BDX can realize the crucial revenue synergies from their biggest acquisition in history. Management has guided for a 4.5% - 5% organic sales target and I will be watching whether they can exceed the growth of 4.7% they managed in FY15. At this point, I am cautiously optimistic that they will be able to do so. Management has a very clear road map in terms of how they intend to achieve revenue synergies and have historically managed to beat analyst's expectations.
(II) Impact of currency on their results
The stronger dollar will negatively impact the results of BDX as international sales account for more than 46% of their total sales. BDX has the largest exposure to the Euro, which depreciated in the last quarter. When management provided the guidance for EPS this year, they guided for $8.37 - $8.44 that was based on the Euro being at $1.13. The Euro traded for much of the end of 2015 at the $1.09 to $1.10 range. I will be watching whether management will revise their guidance for FY16 downwards in the latest results.
Moving forward, speculation is rife that the European Central Bank (ECB) will embark on more aggressive monetary easing policies in March next month, which could see further pressure on the Euro. Should the above scenario happen, then we are likely to see a negative earnings revision guidance from management.
(III) Integration Efforts of CareFusion
For FY16, management has guided for operating margin improvement from cost synergies with CFN. For FY16, they have guided to do 21% - 22% operating margin. If we take the mid-point of this guidance, this means that they are expecting to realize 40 basis points this financial year. I have said before that the highly complementary nature of their portfolio should allow them to easily meet this target. Should BDX report operating margin higher than the 21.1% they managed last year, I think this will be a major driver to their share price as this will abate fears of their integration of CFN.
Key Operating Metrics: Valuations
Based on their last closing price on the 2nd of February, BDX is trading at 22x earnings vs. the 26x in the sector. I think that current valuations do not justify the accelerated growth that they are getting from the CFN acquisition.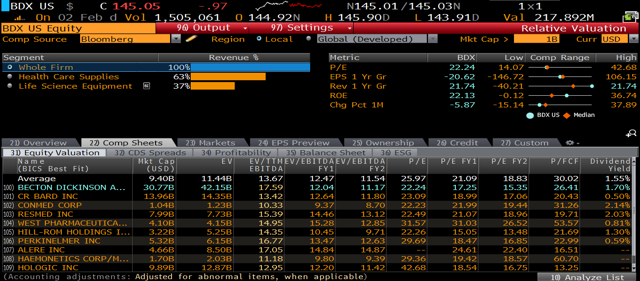 Source: Bloomberg
Conclusion
Despite the uncertainties and headwinds facing BDX, they are still expected to grow top-line by 4.5% - 5% every year. Their expanding profile in China could also accelerate growth for BDX moving forward. I am long BDX and will be looking to add on any weakness.
Disclosure: I am/we are long BDX, HOLX.
I wrote this article myself, and it expresses my own opinions. I am not receiving compensation for it (other than from Seeking Alpha). I have no business relationship with any company whose stock is mentioned in this article.