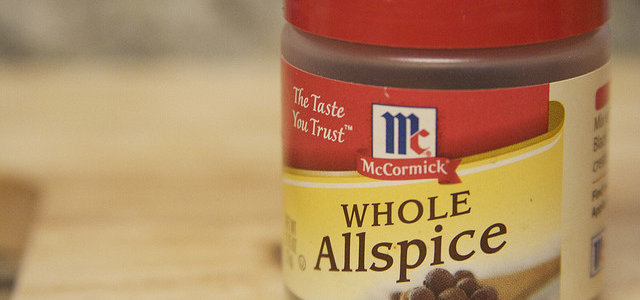 Herbs and spices play McCormick & Co (NYSE:MKC) has been interesting to me for some time. It first came to my notice when I started thinking about businesses which I found myself using more often during the great recession. Realizing that I started cooking at home more often, McCormick dropped onto my radar with its herbs, spices and mixes littering my kitchen.
Late last month, it released its Q4/final 2015 results. They were pretty good, beating estimates and shoving the share price nearly 7% higher since and hitting all-time highs: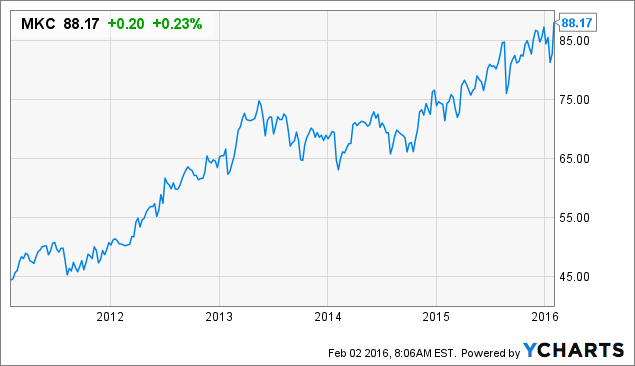 MKC data by YCharts
It is therefore a good time to review the company as part of my "Food Fight" series comparing food sector companies against their peers. What becomes apparent is despite a rather galling valuation, this high-performing stable business remains surprisingly fairly valued for the long-term investor.
Let's take a look why.
Diversification
First, let's take a look at the make-up of the business itself. The company has managed to diversify its sales significantly. According to its 2014 annual report, its sales are nicely split both geographically and between consumer and industrial business.
Geographically, McCormick is an international operation which holds a massive 22% market share of the $10 billion global packaged spice and herb sector - that is a massive 4 times larger than its nearest competitor. Impressive.
When we look at the geographic split, it does look quite nice: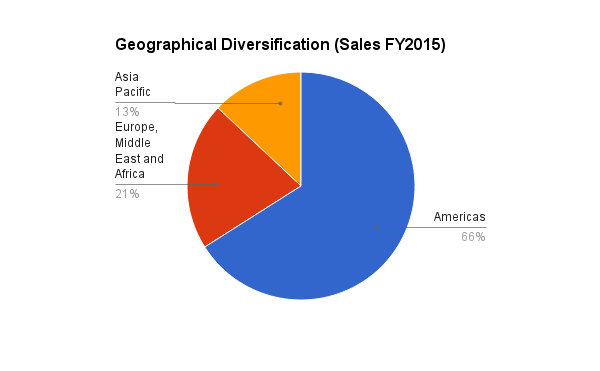 Clearly, the Americas is by far its largest (three times larger than the next region). Hidden behind this is a nice looking 17% of all sales coming from emerging markets (well ahead of the 7% in 2007).
However, this generous geographic mix has its downside. Especially when the USD is riding high as it is at present. For 2015, McCormick reported rather lackluster revenue growth of 1.3%. When broken down, it was clear the strong USD pulled down what was a much stronger performance: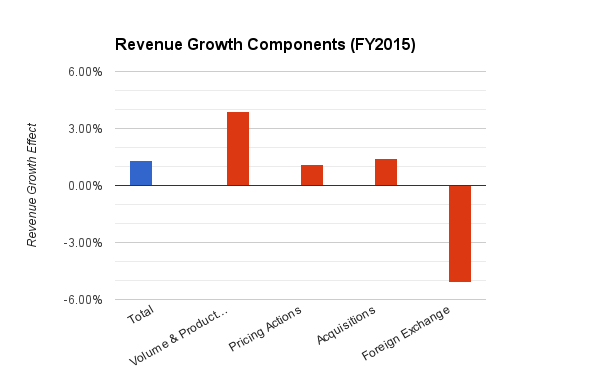 Foreign exchange headwinds chipped off 5.1% of McCormick's revenue growth. This contrasts sharply to 2014 which saw it take away just 0.6% of revenue growth. For me, this underlying performance, although dented by its wide international exposure, is very attractive for the long-term investor.
Similarly, although mostly deriving its sales directly from consumers, McCormick also has a sizeable industrial business segment: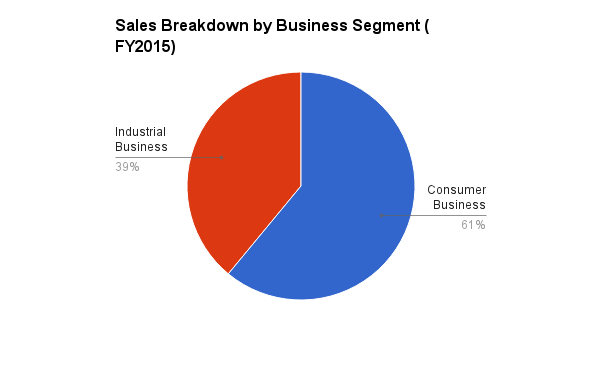 There is little not to like here. McCormick has a nicely spread revenue mix; not overly exposed to any specific geographical area nor too closely tied to industrial or consumer revenues.
Revenue
Revenue growth wise, McCormick has also performed well. Built on this diverse sales mix, McCormick has done well in consistently pulling out revenue growth over the last few years. Since 2011, it has generously built up its sales: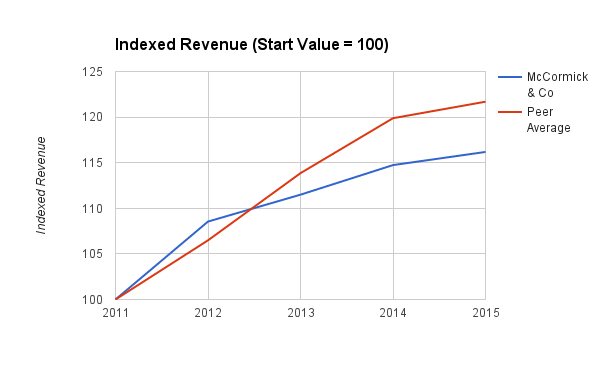 Indeed, its revenue growth has outperformed its peer group despite its own impressive record. Nor are its revenue-growing glory days behind them; revenue is expected to continue shifting upwards even if at a slightly slower pace than before.
Operating Profit Margins
Underpinning these solid revenue growth figures are solid operating profit margins. The company has also managed to consistently produce margins ahead of its peers: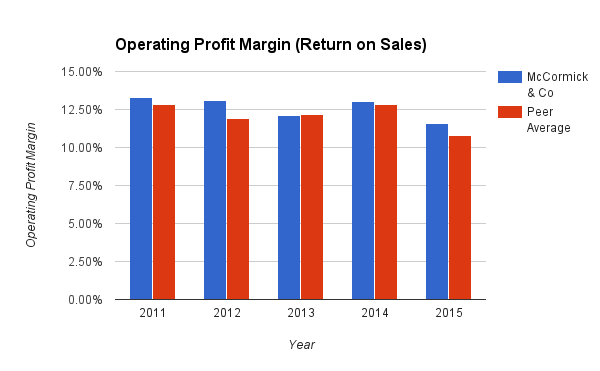 Margins have compressed at Q4 2015 time, but less so than amongst its peers. Indeed, the pricing hikes which helped push revenues up show that McCormick's brands have a pricing power many companies can only dream of pushing their margins ahead of their peers further.
Cash Flow
McCormick has also proven itself very good at growing its FCF: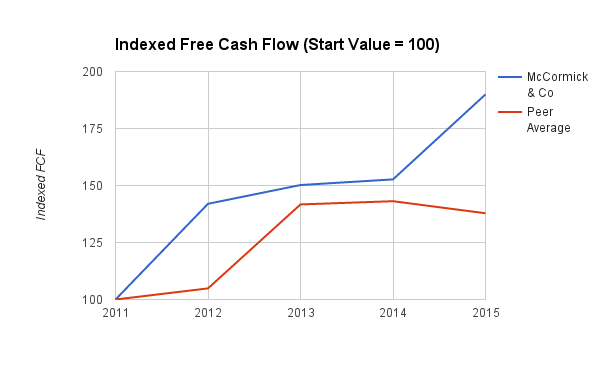 In turn, McCormick has increasingly managed to produce this FCF more efficiently. This can be judged by its CROIC (Cash Return on Invested Capital). This is its FCF divided by the sum of its debt and equity. McCormick has, from a five-year perspective, been a slight laggard in the food sector: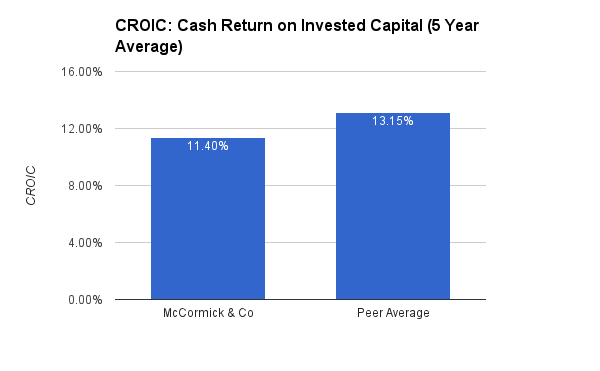 In other words, for every $1 invested, McCormick produced $0.11 in FCF compared to the peer average of over $0.13. However, the five-year average hides the true value of McCormick's cash generation: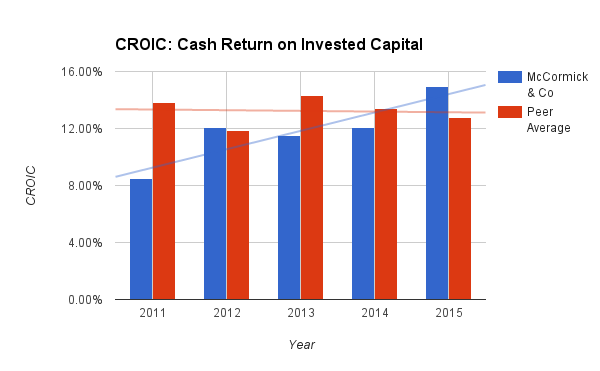 When we break down the results for each year, it is clear that McCormick has been increasing its CROIC consistently over the last few years. This is a great trend to see. Indeed, in 2015, it easily produced more FCF from invested capital than its high-performing peer group - nearly $0.15 in every $1.
This is precisely what I like to see. A company generating cash more and more efficiently. I looked forward to seeing whether future quarters show a similarly efficient performance. I have little doubt that there is still the potential for this to occur.
Debt
McCormick has also proven itself efficient in generating growth without over-leveraging itself. Indeed, the food sector tends to be a fairly highly leveraged sector. But McCormick has, consistently, retained debt to equity levels noticeably below its peers: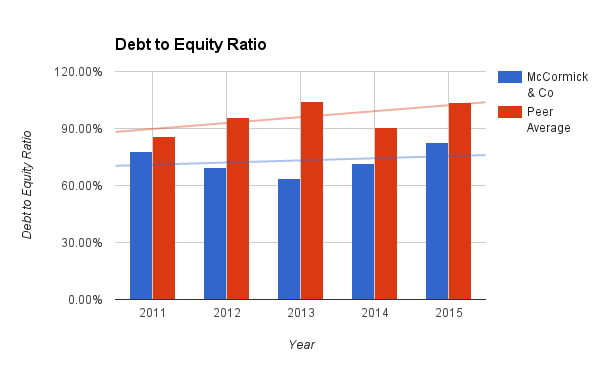 Despite this relatively light leveraging, McCormick's FCF coverage of this debt actually underperforms its peers a little: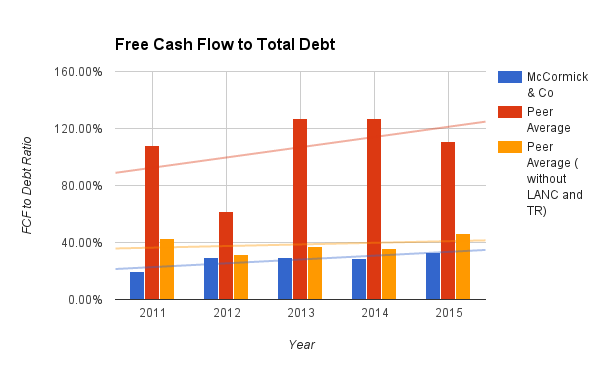 Taking the entire peer group analyzed, McCormick heavily underperforms its peers with a 33% coverage compared to a peer average of 111%. However, as noted in previous analyses in this series, there are two outliers - Tootsie Rolls (NYSE:TR) and Lancaster Colony (NASDAQ:LANC) - which distort this figure with their extremely low to non-existent debt levels.
Stripping them out of the comparison, we see that McCormick is a lot more in line with its peers coverage average of 46%; much more in line with McCormick's 33%.
What this means in principle is that McCormick could repay the entirety of its debt using only its FCF in about three years. In contrast, its peers could do it in a little over two years. For me, McCormick has a good coverage, with anything above 25% a very good figure.
This seems reflected in McCormick's credit rating. The spice-play manages to produce a credit rating much higher than its peer average (to read how I normalise credit ratings, head here):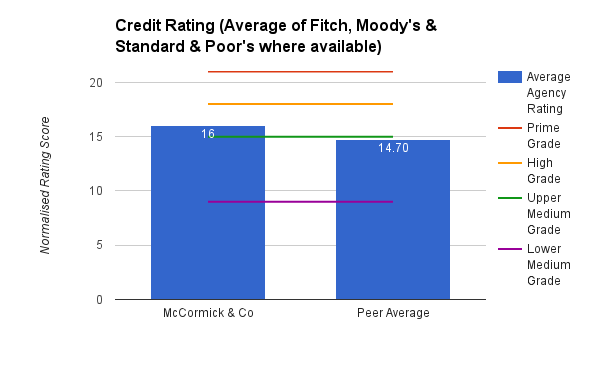 I like McCormick's debt profile. It compares well to its peers and its resilient cash flow record gives me great confidence in the strength of its debt position over the long term.
Dividends
Then to the all-important dividends. The company is edging towards an impressive 30-year history of dividend increases. It is therefore comfortably a dividend aristocrat and with little sign that this record looks threatened: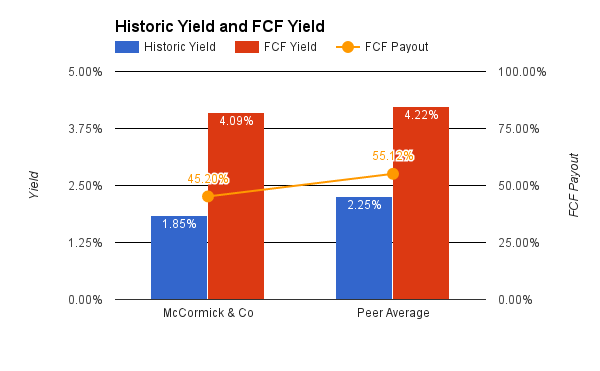 McCormick has a modest FCF payout ratio of about 45%, leaving plenty of scope for growth. Over the last five years, it has seen its dividend grow at a CAGR or 7.8%. With EPS set to grow more rapidly in coming years, we could see this dividend growth speed up to 10% per year over the next couple of years. This is great news.
What is more, if the FCF payout was in line with its peers, we would see a yield pretty much precisely that of its peer average. From a dividend perspective, therefore, McCormick is although hardly a standout performer, is a very solid dividend growth stock.
Buybacks
But McCormick has also been undertaking a fairly sizeable share repurchase project. In April 2013, it announced a $400 million buyback program. This was completed in Q4 2015. The effect of this on shareholders' return is pretty impressive:
Buybacks
Dividend
Shareholders' Yield
Purchased/(Issued)
Yield
Paid
Yield
2011
$31
0.48%
$149
2.30%
2.78%
2012
$79
0.92%
$165
1.92%
2.84%
2013
$133
1.47%
$180
1.99%
3.47%
2014
$213
2.25%
$192
2.03%
4.28%
2015
$113
1.03%
$205
1.86%
2.89%
1.23%
2.02%
3.25%
However, in March 2015, the company announced an additional $600 million buyback which still has $570 million remaining to go.
Based on the current share price of around $88 and the 128 million outstanding shares in issue, this suggests that investors can expect to see an additional 5% return on share repurchases over the next few years in addition to the dividend.
What this underlines is just how shareholder friendly this well-run business is for the long-term investor.
Valuation
But then we come to a sticking point: the valuation. Historically, McCormick has traded ahead of its peers in the PE stakes: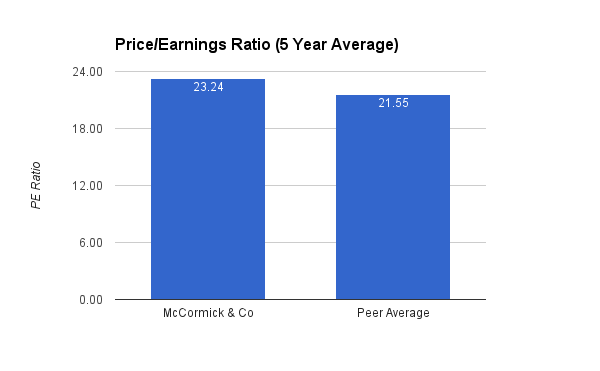 With its peer-beating revenue growth over this period, this higher valuation is perhaps to be expected. And this trend continues to today: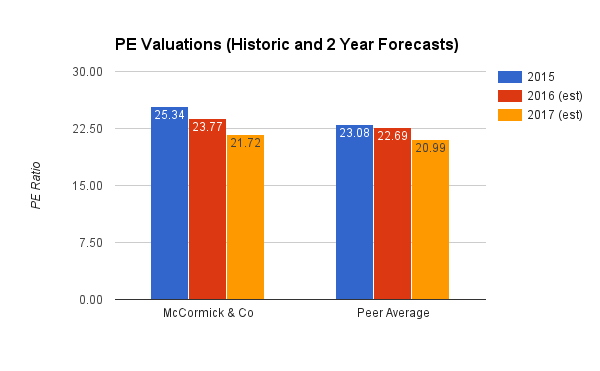 A combination of continued growth and repurchased shares are expected therefore to see the PE valuation come down more rapidly for McCormick than its peers. Nonetheless, I am still unsure it warrants this lofty valuation in calculating my fair value price.
I calculate my fair value by taking the average PE over the last five years noted above (23.24) and multiply this by the average EPS figure taken for the next two years' consensus predictions.
Doing so provides us with a:
Basic fair value of $90.29
I then adjust this by the amount of cash carried on its books. Doing so provides us with a:
Cash-adjusted fair value of $90.89
What this suggests is that, despite its lofty valuation, courtesy of its continued anticipated revenue growth and sizeable share repurchase program, McCormick looks pretty fairly valued at present.
Conclusion
I like McCormick a lot. It has proven itself a resilient performer in a stable and reliable industry. Its 2015 results also suggest that there is a rosy looking future ahead. Its revenue growth - despite currency headwinds - was good. What is more, it continues to improve its cash generation efficiency and now sits ahead of its peers.
With revenue set to continue to grow, EPS looking to accelerate aided by a further hefty share buyback program and a dividend, which although hardly world-beating is largely in line with its peers, and very secure that it should serve its investors as well in the future as in the past.
Its valuation is rich on an absolute basis, but relative to its peers and its own consistently high historic average, it does appear to be (believe it or not) pretty fairly valued at present for the long-term investor despite sitting near its all-time highs.
You may want to wait to see whether it comes down a little from its post-results highs just shy of $90 and heads back down to a mid-$80s price. However, I strongly suspect this stock will not drop much without some negative catalyst. But for those investing today, as long as you have a long-term horizon, I expect to see a solid return despite its high valuation.
Notes
The companies compared are: Tyson Foods (NYSE:TSN), Unilever (NYSE:UL), Hormel (NYSE:HRL), Campbell Soup Company (NYSE:CPB), Mondelez (NASDAQ:MDLZ), Lancaster Colony, Hershey (NYSE:HSY), Nestle (OTCPK:NSRGY), Kellogg Co. (NYSE:K), J. M. Smucker (NYSE:SJM), ConAgra (NYSE:CAG), Mead Johnson (NYSE:MJN), Danone (OTCQX:DANOY), Tootsie Roll and General Mills (NYSE:GIS). In each comparison, the company being specifically analyzed is not included in the peer average.
Unless otherwise stated, all graphs and the calculations contained within them were created by the author. Creative Commons image reproduced from Flickr user kona99.
Disclosure: I am/we are long UL.
I wrote this article myself, and it expresses my own opinions. I am not receiving compensation for it (other than from Seeking Alpha). I have no business relationship with any company whose stock is mentioned in this article.