Last week, STAG CFO Geoffrey Jervis announced his departure. He had taken the role as CFO in July of 2014 after being the former Chief Financial Officer of Blackstone and Blackstone Mortgage Trust's Real Estate Debt Business. His tenure at STAG was two and a half years. Prior to Jervis, Gregory W. Sullivan was CFO from since STAG's IPO in 2011. Sullivan's tenure was only a bit longer. Looking at these conditions and comparing them to STAG's performance over the past 5 years - does this sudden change call for action?
As an investor, you never like to see turnover at the CFO level and while it can raise some questions and concerns, the most important question to ask yourself is whether the company and the reason you have invested in the company have changed. CFO turnover is nothing unheard of as we see below in the chart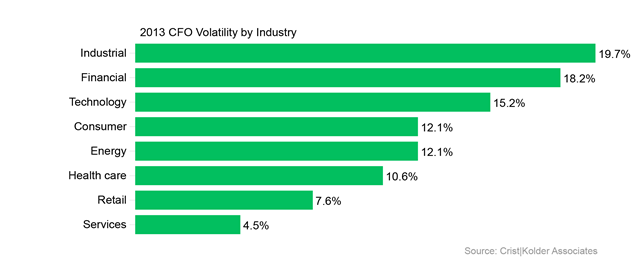 Monmouth Real Estate Investment Corporation (NYSE:MNR) experienced a a change at the CFO position when Kevin S. Miller was appointed CFO in 2011 after his predecssor had health issues. Before becoming CFO, Miller was serving as the company's Chief Accounting Officer, the same position that Crooker held previously with STAG Industrial. At that time MNR was trading at $8.58 and closed today at $10.13, an 18% increase in the stock price and most recently an increase in the dividend from $0.15 to $0.16. While these numbers lag the S&P for the same time period, let's examine the case for STAG and its new CFO and whether the company will continue to grow its portfolio, increase its dividend, and remain financially responsible.
I have been invested in STAG now for about 8 months in my Roth IRA and was alerted to it by following the well-known and highly-regarded Brad Thomas here on Seeking Alpha. After doing my own due diligence, I initiated a position in STAG based on the thesis that this REIT is poised to excel based on several components that have been executed well over the previous years:
The diversified single tenant model
The company's name, STAG, is an acronym for "Single Tenant Acquisition Group" and they have proven this model to be effective in mitigating risk by taking a diversified approach to the market with properties across the United States with a variety of tenants in a variety of business sectors. Of these tenants, no single tenant accounts for more than 8.3%, and with the top 10 tenants accounting for 15% of the annualized base rent. A new CFO does not immediately change the fundamental of diversification in geographical, tenant, or industry sector that STAG currently has in place.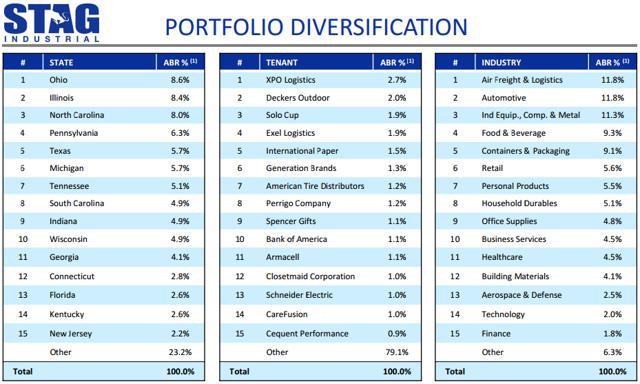 Continued Growth and Careful Acquisitions
STAG focuses in secondary markets which have lesser levels of intense competition and lower barriers to entry. Competition in primary markets for multi-tenant properties is fierce. While it takes more effort to identify these opportunities in secondary markets, STAG has a detailed approach that they are able to execute to secure opportunities when they present themselves. Acquisitions have continued to occur and the dividend has grown despite previous turnover at the CFO position and I believe these two items will continue to trend in the right direction moving forward.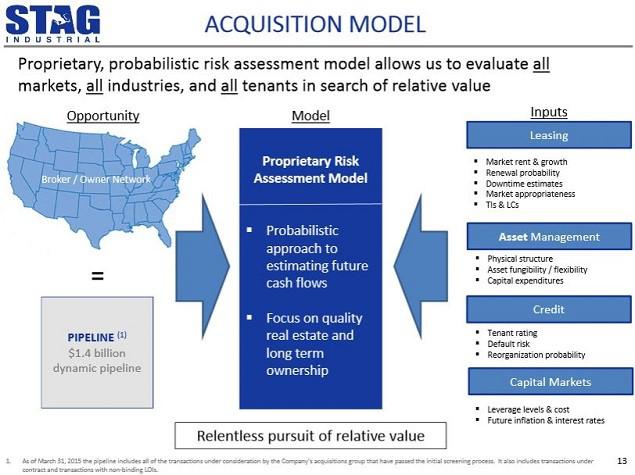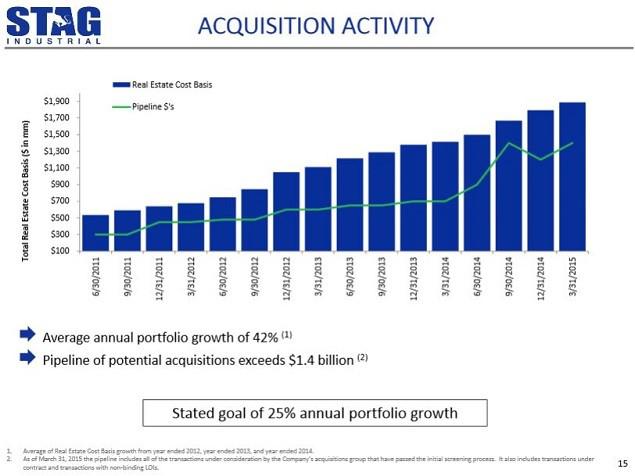 Before, and twice after offers are made, deals must go through approval of the investment committee comprised of legal, accounting, engineering, underwriting, with a combined experience of over 100 years. Note that the new CFO will be sitting on this committee, but with the remaining members still in place I see no cause for alarm and that Crooker has been with STAG since its inception in 2011 and is well versed in the company's activities.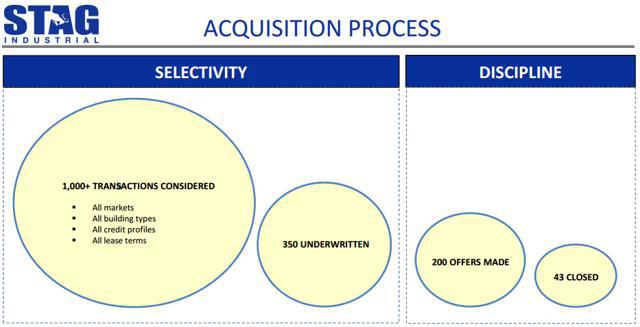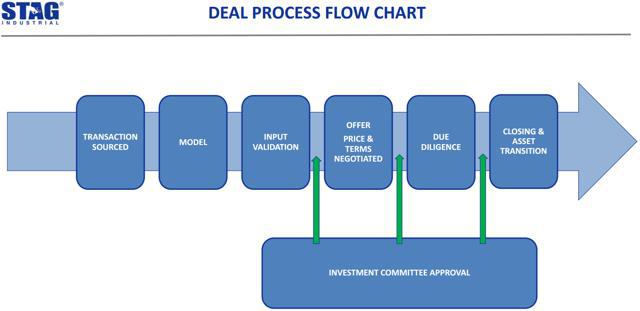 This committee has proven effective in selecting favorable deals, as the STAG default rate has dropped from nearly 4% in 2011 to 0% since 2014. As we can see from 2014 through Q1 of 2015, when Geoffrey Jervis took over as CFO the non-investment grade default rate remained at zero.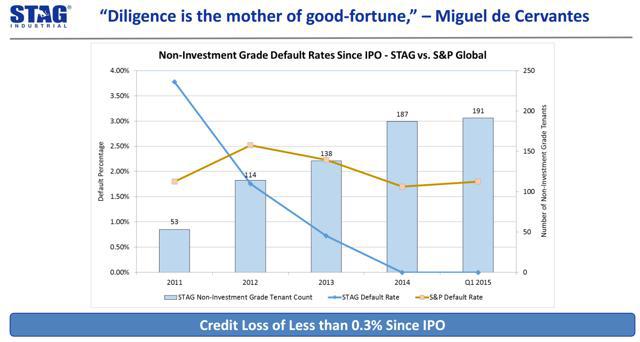 Responsible Financials
STAG has a BBB/Stable outlook rating from Fitch and is responsible with their financial resources, with favorable ratios with a favorable financing mix of 37% debt, 57% common equity, and 6% of preferred equity. Their payout ratio remains favorable as well averaging 92% TTM, all the while STAG has been consistently growing their dividend since the IPO and through the turnover that has occurred at the CFO position.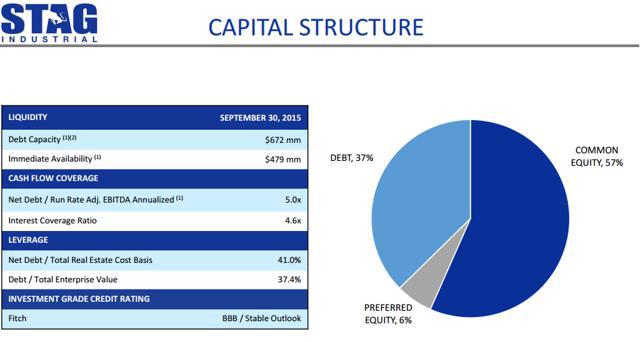 Conclusion
Great companies lose great people on a daily basis. While turnover in the c-suite is cause for checkup, this one justifies no action currently based on the precedence that STAG has experienced turnover in the CFO position before in 2014, with no negative outcomes and continued growth in the company. My confidence in STAG industrial being a great company with a great approach to its business remains unchanged, and I will happily maintain my current position in STAG and look to increase it in the future when appropriate, while monitoring future acquisitions to see that the new CFO is serving well in his role on the investment committee.
Disclosure: I am/we are long STAG.
I wrote this article myself, and it expresses my own opinions. I am not receiving compensation for it (other than from Seeking Alpha). I have no business relationship with any company whose stock is mentioned in this article.