I say to hell with diversification. The only reason to diversify a portfolio is because the stock picker doesn't know the companies well enough (because he's lazy and spends his time scouting Maseratis or just lacks the discipline) and so he thinks that by choosing "the best" group of stocks, he stands a better chance of beating the market. Why would anyone want to do business with someone like that? Well, over three-quarters of Americans trust him with their entire savings and retirement accounts.
In the end, it's all just a gamble. No one has the opportunity to foresee the future of a stock with 100% certainty. There is always some value of risk involved. In reality, there is not a huge difference in the stock market and a casino, as I've come to realize. In a casino, however, the house always has the advantage, meaning that the odds are not in your favor for winning. The only difference is that you can increase your chances in winning in the market substantially if you play the right moves.
Let me ask you something - What if I told you you could choose to place a bunch of numbers on the roulette table and you had a reasonable amount of confidence that at least some of them would win, would you place your bets evenly and hope that one of them would win big? What if you had done your research and figured out with utmost confidence that the number you chose would be the winner and you placed all of your bets on that one; which option would you choose? My guess is that because you could win big with great confidence you would choose the latter rather than winning a small amount with less confidence.
It's the same way with investing. I have no idea whether or not the company I invest in is going to go up in flames the next day with millions of dollars in cash in their safe (unrealistically). However, I do know that the company I choose is going to have incredible odds in its favor of outpacing the market and leaving everyone else in its dust. If I have this much confidence in a company that I know inside and out, why wouldn't I invest as much as I could in its future prospects? Why should I listen to someone who I don't know banter about the negative outlook of a company that is almost guaranteed to succeed? It's not like 99% of them were ever right in their predictions, anyway. It's not like they ever bring their failed predictions up in conversation at the cocktail party his investment banker buddy is throwing.
To sum it up, I put all of my eggs in one basket. I know the company and the future better than anyone else, and I'm willing to invest in their future even if no one else will. My reasoning is that the company is extremely undervalued and that when the rest of the market realizes that, they will have no choice but to agree with me.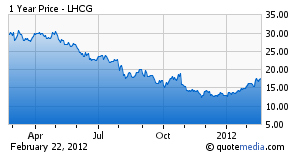 Take my recent purchase of LHC Group (NASDAQ:LHCG) for example. I bought it with 90% of my capital. I saw a company that everyone else wrote off as a company that was "too risky". They had to pay $60 million in settlements to the government because they spent too much of their Medicaid. What many investors saw was a huge dent in cash, slower growth, and an uncertain future. What I saw was an extremely well-managed company that had a minor road-block on its path to success.
People get old and sick, and when that happens LHC Group is there with home-health services. The fact of the matter is that LHC Group is going to be around for a VERY long time, especially as the baby boomers start to get older. I bought it in December for around $13. Now, just a little over a month, it's closed at over $17. We'll see who's right on this one.
Honestly, there may be one position change in a year for my portfolio, but when it does change it's a big one.
Over the past year, I've rambled on about the state of the economy, the value of the stock market and the future direction of equities. I hope you remember the dark days of August and September when the market was in hysteria and everyone was nervous about going into another recession (fear drives the market). The economy, especially, was nervous about the position of Bristol-Myers Squibb (NYSE:BMY) stock. Those were the times to get really excited from my point of view. There was absolutely no way in hell that the economy was not going to dig itself out.
Yet, today people are still getting nervous about something that is unrealistic. The truth of the matter is that people are always going to strive for excellence in this world, and it's a fool's game to bet against an average Joe who wants the best for his family and will work his butt off day-in and day-out to make his family's dream happen. The next panic in the market (there will always be panics) is likely to be a big one. When it happens, imagine average Joe working hard to dig out himself out, and picture me with a big grin on my face.
Disclosure: I am long LHCG.