Chipotle (NYSE:CMG) has certainly been a battleground stock for the last few months ever since the news broke that it had widespread food safety issues in its stores. The company's shares are off from their October highs of $757 to just $450 after Q4 results were released and it surely has some value investors sniffing around to pick up this once-premium franchise on the cheap. Back in December I said that the company's PR crisis amounts to a similar crisis that countless other businesses have faced in the history of business and that the storm would eventually pass. After the CDC investigation was declared complete, I have to think the brand will begin to be repaired sometime soon.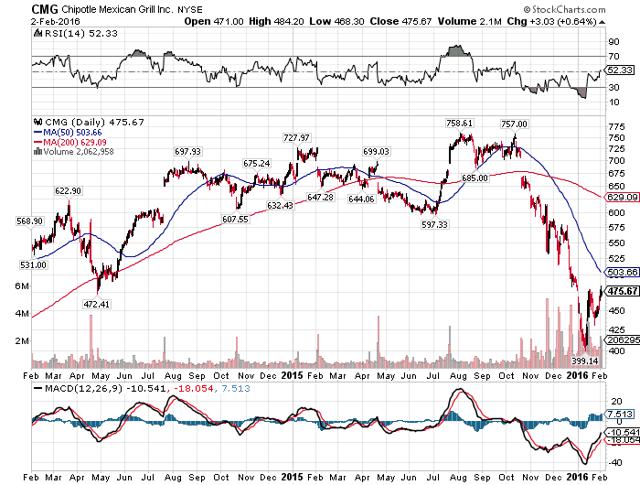 I said back in October that CMG had hit its traffic ceiling as comp sales began to slow markedly. The stock was continuously pricing in rapid comp sales growth into the stratosphere but I felt then that this assumption was far too bullish. This was a big reason I was bearish on CMG at its highs but the outbreak situation has afforded investors the opportunity to pick up CMG at a place where its traffic has significantly decreased. Indeed, I think this is the biggest piece of the bull case at this point; CMG is no longer bumping up against physical limitations of its buildings as people queue up at peak times. In other words, it is almost as though the clock has been turned back and we are looking at CMG from a couple of years ago in terms of traffic.
The specifics of Q4 are nothing short of ugly. The company reported its first ever quarterly drop in revenue as that number fell almost 7%. New stores helped pick up some of the slack but comp sales plummeted 14.6%. Obviously, the outbreak was still very fresh in consumers' minds in Q4 so to see a number like that isn't really all that surprising; it could have been worse, in fact. Q1 is likely to be more of the same as CMG attempts to repair its brand one customer at a time so I'm not expecting any miracles from CMG in the Q1 report.
In addition, costs of the outbreak weighed very heavily on operating margins, crushing profitability in Q4. The company's unit-level operating margins fell 700bps to 19.6%, still a very strong operating margin number, just not by CMG's standards. The beating was due most to costs involved with mitigating the outbreak and deleveraging of fixed costs as comp sales fell precipitously. The good news is that food costs fell 120bps during the quarter as certain inputs continue to fall in price. That is great news and it means that the company's operating margins aren't structurally impaired; the factors that caused the number to fall in Q4 are transitory and over the course of 2016, should be repaired. The eye-popping loss of operating margins is scary but I don't think it is permanent by any means.
On the valuation front, analysts seemingly haven't been able to cut their respective EPS targets for 2016/2017 quickly enough in recent months. Three months ago CMG was expected to earn almost $21 in 2016; that number is now $12.80 and after last night's report, it will surely fall more as analyst digest it. The story is similar for next year as CMG's estimate of more than $24 three months ago is now just $16.74. Because of this, despite the fact that the stock has fallen a long way, the company's shares are still relatively expensive on a forward PE basis. CMG is trading for about 35 times this year's earnings and 27 times next year's earnings. Those are certainly not cheap valuations by any stretch but in order to buy CMG here, you have to think those estimates are too low. Certainly, analysts have priced in a significant slowdown in CMG's business and rightfully so, but is the brand impaired that much?
Other major brands have suffered crises before due to willful negligence instead of what seems like a terrible accident, as is the case with CMG. Indeed, what Volkswagen has done to itself with its emissions scandal is far worse on many levels than what CMG has done and yet, it is ludicrous to think people will never buy Volkswagens again. CMG's issues are due to bad luck (from what I can tell) so I think consumers will be more willing to give it another shot after they are confident the situation has been cleaned up. The weight of the evidence suggests that CMG's brand is strong enough that it can withstand this crisis and move on. I think that by 2017 this will all be behind us and no one will be talking about it anymore.
That being said, CMG's sales estimate for $4.6 billion in 2016 seems like it is probably at risk right now. After Q4 I can see analysts slashing it down closer to $4 billion than it is now. New stores will help CMG produce more than that but for now, I think estimates will come down. However, I also think that CMG will see an improvement in sales in the back half of the year as the crisis fades and safety measures are implemented. That could lead to some material upside potential as CMG works through its issues and that is the story I'm buying here. Things look bleak for CMG right now but if they didn't, shares would still be $700+.
The new buyback will help as CMG now has almost half a billion dollars lined up for share repurchases but I think the importance is more symbolic than in actually moving the needle on EPS. The remaining authorization is good for about 3% of the float which is nice but will not be a significant source of EPS growth this year. I still like it though because management is putting excess cash to use and telling the market that they think the stock is worth owning.
Overall, CMG is a turnaround story of sorts that requires some faith. My bullishness relies on the idea that the outbreak was just a horrible mistake and not willful wrongdoing because if it was the latter, the brand repair will be much more challenging and take a lot longer. But no evidence suggests that is the case so for now, I'm giving CMG the benefit of the doubt. The stock is expensive by current estimates but I think once a few months have passed consumers will begin to thaw on perceptions about CMG. That should lead to some sales upside to estimates in the back half of the year and that is why I'm still bullish on CMG.
Disclosure: I am/we are long CMG.
I wrote this article myself, and it expresses my own opinions. I am not receiving compensation for it (other than from Seeking Alpha). I have no business relationship with any company whose stock is mentioned in this article.