Company and sector allocation shouldn't be a concern for investors that are just starting out on their investment journey. However, once a portfolio reaches six figures I think allocation needs to start coming into play. Sector allocation shouldn't be the be all and end all of portfolio construction; however, paying some attention to it is part of the portfolio building process. If you don't believe me just ask how investors that were overweight energy over the last year or the financials in 2008/9 feel about it in retrospect.
Each component of the series can be found here.
Today I want to wrap things up by looking at the CCC list in its entirety and compare my current portfolio to see if there's any changes that I should/could make in order to optimize my dividend growth portfolio. By applying a few filters to the CCC list we can get a general overview of sector allocation among its members to help with allocation decisions for our own portfolios.
I wouldn't recommend that anyone try to reach a target allocation based on the CCC list or any other group of stocks. A portfolio's sector allocation is just one concern of the individual investor and should be tailored to meet their own risk tolerance.
As such that doesn't mean that this process does not have value. The CCC list is comprised of 753 companies that have grown their dividend at least 5 consecutive years, 357 companies that have grown their dividend at least 10 consecutive years, and 107 companies that have pushed their streaks to 25 consecutive years and beyond. For dividend growth investors this is a great place to look at for individual investment ideas as well as bigger picture portfolio building.
Once again I want to say thank you to David Fish for maintaining this very valuable resource for dividend growth investors.
All data referencing the CCC list is sourced from the list downloaded on January 12, 2016.
Sector Breakdown
The CCC list contains 753 companies that have grown dividend payments for at least 5 consecutive years. The following pie chart shows the breakdown of these companies as grouped by their respective industry sector.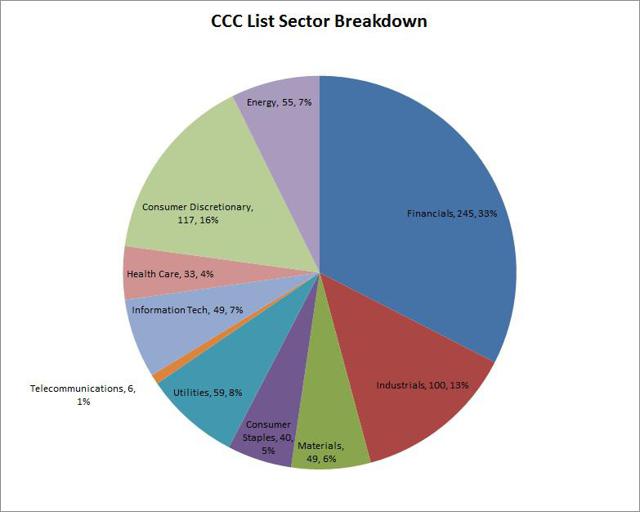 Among the entire universe of the CCC list it's no surprise that the Financials are the largest contingent since they led on all three individual lists. What's really shocking to me is by how much they lead. They are more than double the second largest group, Consumer Discretionary.
The top 3 sectors see a bit of a shakeup compared to the individual lists being comprised of Financials, Consumer Discretionary, and Industrials. Combined they account for 61% of the CCC list as a whole.
The remaining 39% is split up fairly evenly among the remaining sectors except for Telecommunications which only has a total of 6 representatives in the entirety of the CCC list.
Consumer Staples and Health Care both had less representation than I expected to see given their status as dividend growth favorites.
Consecutive Years of Dividend Growth
All of the members of the CCC list have shown an inclination to reward investors with higher dividends year in and year out. However, when looking at entire population of the CCC list we can maybe see which companies are truly built for the long haul.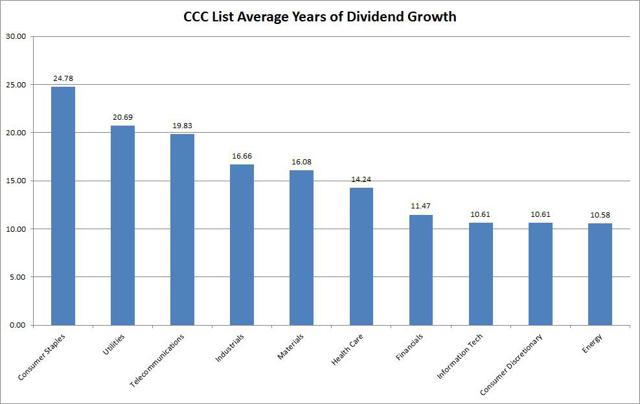 The average dividend growth streak for the CCC list as a whole sits at a shade under 14 years.
While Consumer Staples have less representation than I expected on the CCC list the quality of the ones that are there is high. The average Consumer Staples company found on the list has a dividend growth streak of just a hair under Champion status.
This shouldn't come as much of a surprise since Consumer Staples are wired to deliver consistent growth year in and year out. Volume and pricing gains lead to profit gains lead to dividend gains. They also produce consumable items that lead to continued purchases on a regular basis.
I was a bit surprised to see a rather stark difference between two similar sectors, Materials and Energy. Materials representatives carry an average dividend growth streak that is about 55% longer than the average Energy representative. Both of these industries have to differentiate themselves through operations rather than their product quality. Maybe the Materials companies found on here are truly excellent companies in need of further research.
How's the growth?
Seeing as how the CCC list contains dividend growers let's examine what the average dividend growth rate is for each sector.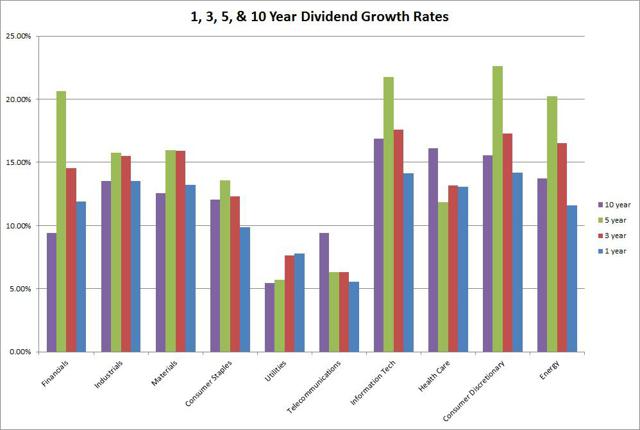 One thing to note is that the 10 year dividend growth only covers the Champions and Contenders. Some Challengers do have a 10 year growth rate; however, since they don't have a 10 year growth streak I've removed them from the 10 year averages.
The following table shows the sectors with the highest average 1, 3, 5 and 10 year growth rates among the entire CCC list.
| | |
| --- | --- |
| Dividend Growth Period | Sector |
| 1 Year | Consumer Discretionary |
| 3 Year | Information Technology |
| 5 Year | Consumer Discretionary |
| 10 Year | Information Technology |
I'm none too surprised to see Information Technology among the fastest dividend growers. Historically the sector has not paid dividends on a consistent basis which means the majority of the companies on the CCC list are early in their dividend growth streaks with just an average streak of 10.6 years and an average 10 year growth rate of 16.9%. Younger dividend growth streaks generally have higher dividend growth rates.
Consumer Discretionary companies are in the same boat as Information Technology. The average Consumer Discretionary representative has a 10.6 year dividend growth streak and a solid 15.6% 10 year dividend growth rate.
Six of the ten sectors, as found on the CCC list, have average dividend growth rates that are 10% or higher across the 1, 3, 5 and 10 year periods. Those sectors are the Industrials, Materials, Information Technology, Health Care, Consumer Discretionary and Energy.
The Financials and Consumer Staples just miss the mark with a 9.4% 10 year growth rate and a 9.9% 1 year growth rate, respectively.
As expected the Utilities and Telecommunications sectors have the slowest average dividend growth rates. These are two slow growth industries as a whole. However, the lower growth is typically compensated for by the market with higher dividend yields.
One surprising thing to me was that Utilities were the only sector that showed acceleration of their average dividend growth rate, i.e. 1 year > 3 year > 5 year > 10 year. However, on average the Telecommunications sector is the only one to show a market decline in dividend growth.
The other 8 sectors are holding fairly steady with slight declines in the 1 year growth rate as compared to the 10 year growth rate. The 1 year growth rate doesn't tell us too much since management at each company could be bracing for more uncertain economic times. 3 year dividend growth rates are actually showing improvements as compared to the 10 year growth rates for all sectors except for Health Care and Telecommunications.
Comparison to My Portfolio
Now comes the time to see how my own portfolio stacks up and what prospective changes I could make.
The following chart depicts the weightings of each sector by number of companies for the Challengers, Contenders, Champions and Entire CCC list. The weights for my own portfolio were calculated using the market value of each sector at the close of trading on January 29. I've arranged the sectors by weight within my own portfolio.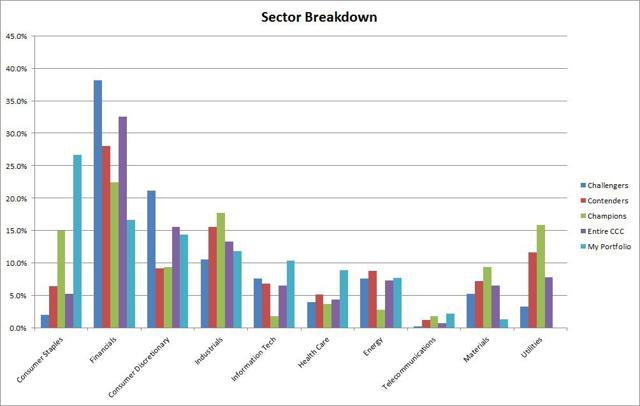 Consumer Staples:
Consumer staples are by far the largest sector by market weight within my portfolio. They represent 26.6% of my portfolio compared to just 5.3% of the entire CCC universe of stocks, although 15.0% of the Champions are Consumer Staples.
Consumer Staples make for excellent investment candidates for dividend growth investors because they generally have consistent, stable and recession-resistant earnings streams. I won't be altering my strategy of being overweight the Consumer Staples and would actually prefer to increase my weighting to between 30-35%.
Financials:
Financials represent the second highest sector concentration within my portfolio despite having the largest representation on each of the CCC list categories.
I haven't specifically been avoiding Financials which encompass a wide variety of companies; however I also haven't been actively exploring them. Everything from regional banks, to Too Big to Fail banks, to real estate investment trusts (REITs), to asset managers, to insurers and a whole host of other sub categories fall under the main Financials sector.
My exposure to Financials will likely increase over time although it will likely be limited to the asset managers, insurers and REIT sub-sectors. I like the business models of all three of those sub-sectors and currently have very little allocation to the asset managers and insurers. REITs represent the largest sub-sector of my Financials exposure.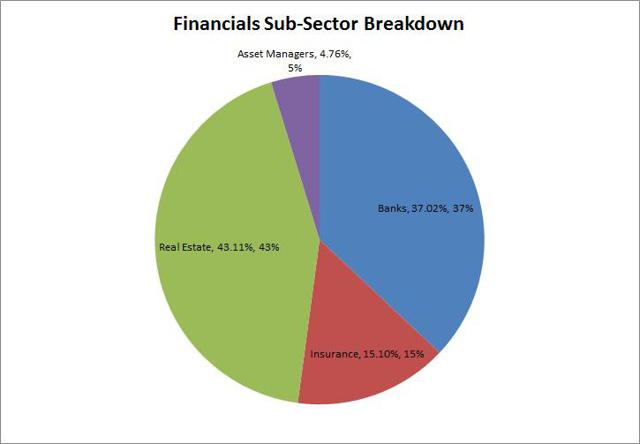 Ideally my Financials sector allocation would end up between 15-20% with sub-sector concentrations from high to low of REITs, asset managers, insurers, banks. This would fall well below the weightings of the CCC list; however, I'm more comfortable with a lighter allocation to Financials.
Consumer Discretionary:
The Consumer Discretionary allocation is about on par with their makeup among the CCC list; however, it's slightly higher than my ideal allocation to the sector. Within the sector I'm primarily invested in the retail giants, Wal-Mart Stores (NYSE:WMT) and Target Corporation (NYSE:TGT), and fast food restaurants such as McDonald's Corporation (NYSE:MCD) and YUM Brands (NYSE:YUM).
Brick and mortar retail and fast food both have their own issues over the long run due to competition and health, respectively. Being reliant on the somewhat fickle nature of consumers can lead to larger variances in earnings.
There's still plenty of wonderful options in the Consumer Discretionary sector. On the retail side I prefer companies that provide the goods sold rather than the sellers themselves. That means companies like V.F. Corporation (NYSE:VFC) and Nike (NYSE:NKE). Starbucks (NASDAQ:SBUX) is another great option in the food/beverage space of the sector. I currently have a small allocation to all 3 of these companies that I plan to increase over the coming years.
My ideal allocation to the sector would be around 10% of my portfolio. By limiting my exposure to the to higher variance side of consumer spending I believe I'll be more comfortable over the long run.
Industrials:
The general theme for my portfolio is conservative and steady growth. I prefer a steady march upwards rather than growth that comes in waves. However, the Industrial sector makes up a rather large cohort of the CCC list with 10.6% of the Challengers, 15.6% of the Contenders, 17.8% of the Champions and 13.3% of the entire CCC universe. As such I believe the Industrial sector is one that warrants acceptance of the inconsistent year to year dividend growth but solid growth throughout the business cycle.
My portfolio currently consists of 11.9% allocation to the sector and that's just slightly higher than my ideal allocation of 10.0%. The benefit of the more cyclical names on the CCC list is that their valuations/share prices tend to fluctuate more than say the Consumer Staples. That allows for the market price one pays to vary more from the true business value and outlook.
Information Technology:
On closer inspection of my portfolio I am more exposed to the Information Technology, "IT" sector that I previously thought. Currently 10.3% of my portfolio is allocated to the IT sector and ideally I'm aiming for only 5.0% allocation to the sector. For reference, the CCC list ranges from 1.9% to 7.6% weightings.
The IT sector has a higher likelihood of significant disruption which leads to unnecessary wipeout risk. Due to the possibility of a technology becoming obsolete and the constant need to create the next great thing I want to have a lower allocation to the sector than the CCC list implies to suit my own personal risk tolerance.
Health Care:
Health Care is one of the few sectors where I'm dramatically in my current allocation compared to the CCC list. My own weighting to the sector works out 8.9% which is almost double the CCC list weights that range from 3.7% to 5.2% and my ideal allocation would take the difference up higher to around 12.5%.
The Health Care sector has several positives associated with it. For starters it's an extremely vital sector because everyone uses and needs access to the sector.
Population trends are also a firm tailwind that bodes well for the sector. The developed country populations across the globe are aging and those aged 65+ account for larger percentages of the respective populations every day. Health care costs are a largely skewed to the first few years of life and to old age so an aging population should continue to benefit the health care companies.
Emerging/Developing, "E/D" economy trends are also a significant tail wind for the sector. As more of the E/D population moves up the economic ladder into their respective middle classes that means access and use of health care services will rise as well. What's the point in being in better financial/economic categories if your health fails?
It's because of those three big trends for the sector that I want to be overweight the entire Health Care sector over the long term. One issue with the plan of being overweight, as compared to the CCC list, is that there's currently only 33 companies to choose from in the sector among all of the CCC list cohorts broken down into 16 Challengers, 13 Contenders and 4 Champions.
Due to the reduced selection of Health Care companies that have shown a willingness to raise dividend payouts each year, an overweighting toward the sector could lead to specific company risk. This will be something that I'll have to balance as my portfolio grows over the years.
Energy:
The Energy sector has seen a lot of volatility over the last year which has led me to question my tolerance of the sector. My portfolio's weighting is in line with the 4 CCC weightings which range from 2.8% to 8.8% and even my desired allocation of 7.5%.
I won't be making any significant additions to my Energy allocation because in reality I'm overweight the sector. If you remember the weightings for my own portfolio are market weights whereas the CCC list is by number of companies. My Energy holdings have seen significant declines which has reduced my capital exposure to the sector.
Telecommunications:
Telecommunications is one of the sectors that I'm overweight compared to the CCC list universe. My own allocation is 2.2% of my portfolio with the CCC list ranging from 0.3% to 1.9%. I likely won't stray from the big players in the sector, AT&T (NYSE:T) and Verizon Communications (NYSE:VZ) which are my only exposure to the Telecommunications sector. Currently the weighting is slightly below my ideal allocation of 2.5%, but is within the range of variance given a fluid portfolio.
Materials:
My allocation to the Materials sector sits at 1.3% which is fairly underweight compared to the 4 CCC list weightings which range from 5.3%-9.3%. Glancing through the companies listed under the Materials sector I frankly don't find much that I'm interested in for potential investments; admittedly though it's a sector I don't follow closely. My current allocation to the Materials sector is slightly below my ideal weighting around 2%.
Utilities:
The CCC list sections range from 3.3% to 15.9% allocation to the Utilities sector while my own portfolio has no skin in that sector. That's partially been by design since Utilities quickly became favorites of income investors and as such saw their valuations get out of line with the fundamentals of the businesses.
I'll slowly add Utilities for stability and predictability of earnings as well as dividends up to 5% of my portfolio as valuations and opportunities allow. Although I'm in no rush to reach that allocation since I have a desire for higher growth over the next 5-10 years.
Conclusion:
Constructing a portfolio is a complicated process with many factors to consider. There's your own personal risk tolerance, timeline for needing the capital/income, company allocation, sector allocation and once you decide all of that then you have to make the decision of which company offers the best value for your investment capital.
Without any planning my own sector allocation came in the ballpark of the sector allocation of the CCC list. For my own portfolio I seek stability, consistency and the ability to sleep well at night so I place a higher weight on companies and sectors that have more stable characteristics in their operations. Sectors like Consumer Staples, Health Care and Telecommunications.
However, at just 32 years old I can't afford to go ultra conservative and need long term dividend growth to help grow the passive income that my portfolio churns out. As such I still have allocation to sectors such as Consumer Discretionary, Information Technology and Industrials.
Many of my holdings and potential investment candidates blur the lines of strict sector allocation often crossing into two or even three sectors. There's Visa (NYSE:V) which is a quasi Financial as well as Information Technology company. Many REITs are a cross between Financials and Consumer Discretionary, Realty Income (NYSE:O), or Financial and Health Care, Ventas REIT (NYSE:VTR) and Omega Healthcare Investors (NYSE:OHI). There's even Starbucks which one could rightfully claim falls under 3 different sectors, Consumer Discretionary, Financials and Information Technology.
The CCC list can serve as a guide to making sector allocation decisions for your own portfolio but should not be the be all end all of allocation. By examining the sectors that have long term trends that favor continuous dividend growth year in year out you can compare your own portfolio to your risk tolerance and make better allocation decisions in the future.
Disclosure: I am/we are long MCD, SBUX, YUM, VFC, NKE, T, VTR, O, TGT, VZ, OHI, V, WMT.
I wrote this article myself, and it expresses my own opinions. I am not receiving compensation for it (other than from Seeking Alpha). I have no business relationship with any company whose stock is mentioned in this article.
Additional disclosure: Investing involves risk. Any mention of companies in this article is not meant as investment advice. Please consult a financial professional prior to investment and do your own due diligence.