Background
The only full vertical female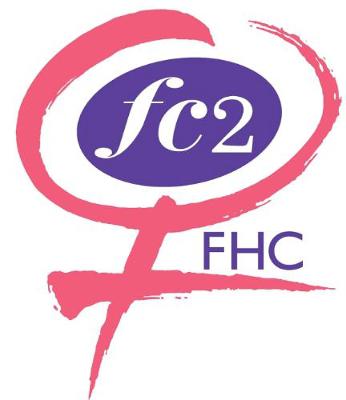 condom company on the public markets
is none other than The Female Health
Company (FHCO). When people think of condoms being bought/sold, Church & Dwight Co's (NYSE:CHD) Trojan brand or Reckitt Benckiser Group's (OTCPK:RBGPF) Durex brand on shelves at CVS Health (CVS), Rite Aid (RAD), and Walgreens Boots Alliance (WBA) my come to mind. However FHCO makes, markets, and distributes their patented FC2 female condoms all over the world to 144 countries and counting.
Never heard of them? Not surprising, as most of their product is sold to organizations such as the United Nations and World Health Organization and their affiliates, while a portion of sales direct to consumer go through stores such as CVS & WBA. We will dig into FHCO's pros and cons, and we hope investors find this a useful spotlight on a less analyzed micro-cap company that is worth some attention as investors await news regarding acquisition targets.
Monopolistic Companies Are The Best Companies
FHCO holds the reigns over the female condom market, as its FC2 condom is the only FDA approved female-controlled condom. Additionally, the FC2 condom is approved by WHO/UN organizations for purchase which brings in opportunity for massive foreign aid package contracts etc.
Since FHCO's design and more is protected by multiple patents, it would be extremely difficult for a competitor to enter the female condom market without significant research and development dollars being spent. Additionally, this market is expected to only grow. According to FHCO's Chief Executive Officer, O.B. Parrish:
"We believe long-term demand for female condoms continues to increase for two reasons. First, the global need for effective ways to prevent sexually transmitted infections, including HIV/AIDS, and unintended pregnancies continues to expand. And second, the organized advocacy on a gender equity basis by independent women's and other groups for increased investment in and availability of female condoms continues to gain momentum. Women account for more than 50% of all new HIV/AIDS cases, and AIDS remains the leading cause of death globally among women 15-44 years of age."
On The Hunt To Acquire Product/Company
FHCO has been making moves signaling at some major growth in the quarters to come. First, FHCO just recently (01/04/16) announced a secured $10 million credit revolver for a 2-year term with BMO Harris. FHCO can choose to tap into this facility whenever it deems necessary, most likely to finance an acquisition.
Based on quotes from FHCO's Chief Executive Officer, O.B. Parrish, regarding the announcement of the credit facility, it seems an acquisition is imminent.
"The new credit facility significantly expands our financial flexibility and can be used to fund acquisitions subject to the terms of the [credit] facility."

"We are actively evaluating a number of exciting opportunities to add to and diversify our product offering. We believe the new [credit] facility will strengthen our ability to consummate a transaction." - O.B. Parrish, Chairman & CEO
Additionally, according to FHCO's most recent annual meeting presentation (03/20/15), FHCO claimed to have evaluated >75 different products/companies.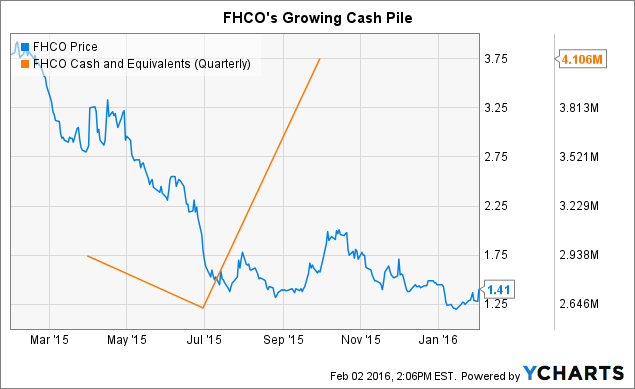 Shown above is FHCO's growing cash pile as they prepare for bidding. Higher cash balances paired with FHCO's lack of debt makes this company's balance sheet a virtual blank slate ready for expansionary measures without over-leveraging assets.
No Debt
One of the best characteristics of FHCO is that the company currently has zero debt. As shown below, FHCO has not issued debt since the late 90's with long term debt levels peaking in the late '90s. Recent reorganization and expansion efforts of FHCO led to the halting of dividends and share repurchases as shown further down.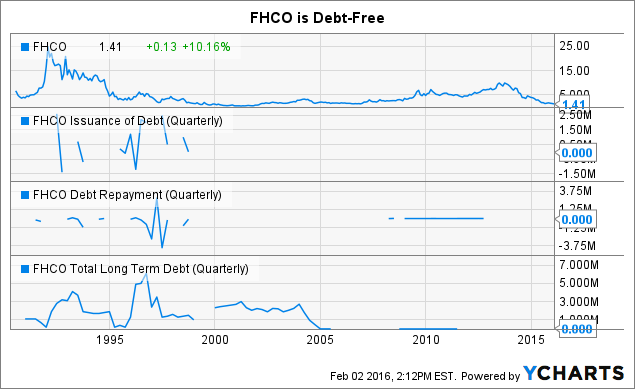 Once A Solid Dividend Payer
Rather than loading on unnecessary levels of debt for the planned expansion, they decided to reroute cash flows from things like dividends and share repurchases accordingly. Doing this allowed FHCO to plan to cover any potential acquisition using the credit facility detailed above.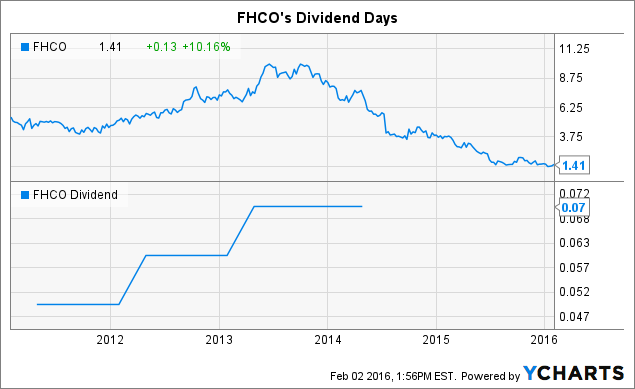 FHCO used to be a far more popular stock when it paid dividends. Not only that, FHCO even raised dividends multiple times. Starting in 2010, and paying their last dividend in April of 2014, FHCO shares have fallen off significantly since then.
Hopes are that eventually following the re-strategization efforts, the dividend will resume or be supplemented by share buyback programs to provide more returns to shareholders.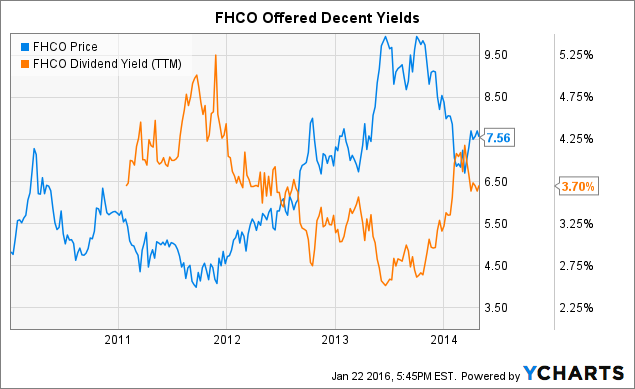 Share Buybacks Stopped Too
Stopping even before dividends did for FHCO, is share repurchases. Shown below is trailing 12-month FHCO buybacks compared to stock price, and the relationship is clear. Both dividend yield and buyback yield are ways to attract shareholders, yet FHCO has halted these actions in recent quarters. As shown, share prices have fallen from roughly $10 to lower than $1.50.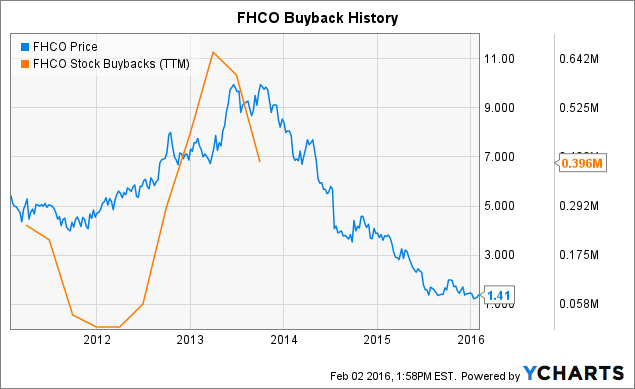 Conclusion
We hope that this has been a useful spotlight on FHCO in light of February 2nd's positive earnings release. We hope to have shed light on a relatively less talked about company, while also bringing its potential growth trajectory into the discussion. We look forward to keeping investors posted as more information on the matter is released.
Resources
FHCO Investor Relations Website
Revolving Credit Facilities Explained
Further Reading on Condom Companies
Disclosure: I/we have no positions in any stocks mentioned, and no plans to initiate any positions within the next 72 hours.
I wrote this article myself, and it expresses my own opinions. I am not receiving compensation for it (other than from Seeking Alpha). I have no business relationship with any company whose stock is mentioned in this article.
Additional disclosure: This article is not investment advice. Please consult your investment advisor.
Editor's Note: This article covers one or more stocks trading at less than $1 per share and/or with less than a $100 million market cap. Please be aware of the risks associated with these stocks.