Atwood Oceanics (NYSE:ATW) has just released its quarterly results. The company reported net income of $39.1 million on revenues of $307.8 million. The company also released its fleet status report, which is much more important in the current environment. The fleet status report contained no new information on contracts. In my view, this fact could fuel another leg of downside for Atwood's shares.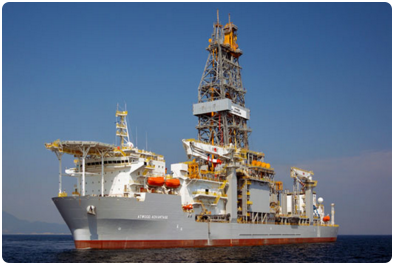 Atwood Advantage; Source: Company website.
The company's biggest problem remains the lack of contract coverage beyond 2016. For 2017, Atwood has work only for the Atwood Advantage (at a dayrate of $581,000) and for the Atwood Achiever (at a dayrate of 495,000). In the extreme case, when new deepwater activity freezes and Atwood gets no contracts, 2017 will be likely be the last year of viability for the company.
It's probably too early to look at the absolute nightmarish scenario, but 2016 might also be difficult for Atwood Oceanics. The company started the year with $116 million of cash -- not the kind of cash cushion you would prefer to see in the current price environment. On the other hand, Atwood Oceanics could still borrow around $500 million from the existing credit facility, which could be a vital option in a prolonged downturn scenario.
The company delayed the delivery of newbuilds Atwood Admiral and Atwood Archer, but this came at a price -- holding costs of $35,000 per day and financing charges of $15,000 per day. That's a $100,000 daily hit on the bottom line after Atwood Archer is ready in July 2016. I calculated the worst-case scenario for Atwood in 2016 (no new contracts) and I arrived to the conclusion that there is no way in which the company can run out of money in 2016. However, it also does not look as if Atwood will have any sufficient cash cushion before the start of 2017.
Speaking about Atwood's fleet perspective, I'd argue that having a specialized ultra-deepwater fleet now is hardly an advantage. In this light, I expect that even if Atwood is able to find work for the rigs, there will be a significant gap between jobs. Also, one can expect deep cuts to current rates. The adjusted dayrate for Atwood Advantage ($240,000 vs. the previous $581,000 for 120 days) shows the size of possible cuts. Seadrill's (NYSE:SDRL) CEO recently stated that he was willing to accept a dayrate of $300,000 for a floating rig on a contract of more than 12 months, but I think he is constantly off by around $50,000 in his projections (previously, he spoke about $350,000 - $400,000).
Given that Atwood has little contract coverage beyond 2016, it is helpful to assess how much the company can get for its rigs in the current environment, and then compare this number with the existing debt load. Atwood's debt stood at $1.6 billion at the end of the fourth quarter. While I have doubts about the value of the company's two semi-subs, as they were built back in the 1980s, I think that the total result of the fire sale will be less than the current debt load in any case.
Given all that, Atwood is no different from any other offshore driller. However, the relatively low debt load and a favorable maturity profile suggested that there could, perhaps, be a situation where the company's valuation dropped too low even compared to the fire sale scenario. In my view, this means Atwood will need to show new contracts before the company's shares have any upside when oil stays below $40 per barrel. I remain skeptical about the prospects for drilling contracts in the current oil price environment.
The only chance to get contracted in 2016 will be blend and extend opportunities with massive dayrate cuts. Only time will tell whether I am right or not in my gloomy predictions. Currently, I think that Atwood's share price will remain under pressure due to backlog problems and overall uncertainty about the future of the deepwater drilling market.
Disclosure: I/we have no positions in any stocks mentioned, but may initiate a short position in ATW over the next 72 hours.
I wrote this article myself, and it expresses my own opinions. I am not receiving compensation for it (other than from Seeking Alpha). I have no business relationship with any company whose stock is mentioned in this article.