Build-A-Bear Workshop (NYSE:BBW) is a speciality toy retailer. It is unique, because it not only sells stuffed animals, but also sells its customer experience.

When customers go shopping at Build-A-Bear stores, they will go through eight incredibly interesting processes to make their own stuffed animals and fit them with beautiful outfits of their choice. Build-A-Bear has always worked to improve the in-store shopping experience by updating its signature shopping process. A new "Love Me" section was added to the shopping process in 2012, and a new Discovery Store concept was introduced in 2014, making the in-store experience even more interesting. This incredibly fun in-store shopping experience and the drive for ever-better customer experiences are the keys of success for Build-A-Bear, leading Build-A-Bear to make more money and achieve higher stock value.
However, in the second half of 2015, a disappointing third quarter earnings report and the death of the brick-and-mortar retail industry caused BBW share price to fall rapidly. However, neither of these are able to hurt Build-A-Bear's business foundation.
Disappointing Third Quarter Earnings Report
Build-A-Bear had a very disappointing third-quarter report; revenue was down 1.5%, from $85.6M (3Q 2014) to $84.3M (3Q 2015), and pre-tax income was down 33.52%, from $2.1M (3Q 2014) to $1.4M (3Q 2015). The company said the earnings were down, as some major stores were closed for remodeling. Many investors thought that was a bad signal, because earning decline plus store remodeling will lead investors to become concerned about Build-A-Bear's profitability. However, the truth is that BBW is remodeling stores, not because of profitability decline, but because of profitability growth.
Since the implementation of Build-A-Bear's turnaround plan in 2012, there has been a significant increase in profitability, which can be indicated from the financial statement. From 2012 to 2014, Build-A-Bear's gross margin grew from $145M to $177M (22% increase), and gross margin in percentage changed from 38.9% to 45.6% (6.7% increase). As Gross Margin in Percentage is one of the most important indicators to measure profitability, Build-A-Bear shows a very outstanding answer in this number. Benefit from Profitability increase, the company managed to generate $65M cash on hand.
Build-A-Bear Selected Financial Data

| | | | |
| --- | --- | --- | --- |
| | 2012 | 2013 | 2014 |
| Revenue | $381M | $379M | $392M |
| Retail Gross Margin | $145M | $153M | $177M |
| Retail Gross Margin in % | 38.9% | 41.1% | 45.6% |
| Cash and Cash Equivalent | $45M | $45M | $65M |
In 2014, with the successful turnaround plan and amount of cash on hand, BBW changed its business strategy from sustain profitability to increase profitability. In this new strategy, a new Discovery Store concept was introduced. Some major Build-A-Bear stores were closed in third quarter in order to remodel into the new Discovery Store, leading to a huge decline of earnings in third quarter.
Since store remodeling is not going to last forever, this earnings decline is temporary. Once the remolding is done, there will likely be a profitability increase follow-up, because every time Build-A-Bear improves its store design, same-store sales increased, as well. Build-A-Bear improved its store design and shopping processes in both 2013 and 2014.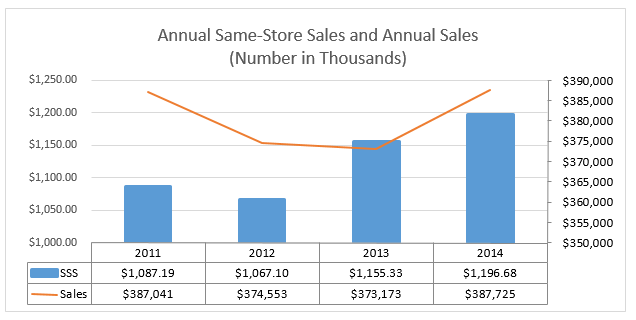 Same-store sales increased an average of 6% annually from 2012 to 2014. As same-store-sales is another important measurement for profitability, Build-A-Bear shows a very good result, based on past store improvement. So, we have strong reason to believe the new store concept can be expected to have good results in the future.
Death of bricks-and-mortar stores
Customers are very likely to be attracted by the in-store experience of Build-a-Bear, so getting customers into the stores became more and more important. Build-A-Bear uses TV commercials, social media commercials, and fancy store appearance to attract customers, but the death of the brick-and-motor retail industry is always there, offsetting all of these marketing strategies.
In recent years, online shopping developed very quickly and successfully took significant market shares from traditional brick-and-mortar stores. The mall industry was heavily affected too. According to Green Street Advisor, 15% of the malls in North America will go out of business in the next 10 years. People are just going to malls less. Unfortunately, Build-A-Bear is a mall-based retailer; nearly all of its stores are located in malls. The business environment is slowly, but surely, changing. Although the business environment changes, Build-A-Bear reacts to it perfectly by:
improving store profitability
closing unprofitable stores
opening new stores in outlet mall, where more and more people have been going in recent years, and tourist locations, another place where families usually go
creating online community
All of these strategies are working, but they just need time to make the effort.
In the meantime, the mall industry is also trying to adjust to the current business environment. In the 1950s, the automobile revolution led to the growth of shopping malls to satisfy people's shopping demand. These days, people have too many ways to shop, and malls are not the only choice. To survive, malls are becoming more entertaining, because entertainment is another big reason for people to come to a mall in modern days. Class A malls, with dining and entertainment, are improving their business, according to data from Green Street Advisor and REITs.
Sales growth since 2010 for Class A mall REITs versus Class B malls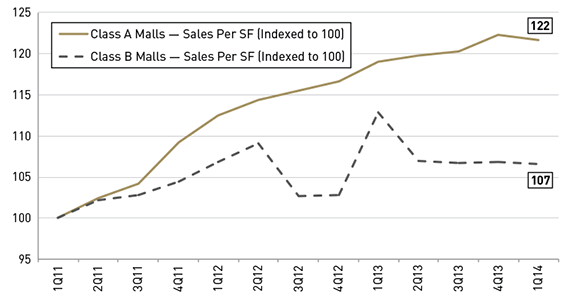 People like to socialize face to face. No matter how fast online shopping is developing, people will always build a place to spend time together. It can be shopping malls, outlet malls, or tourist locations for today; it may be some other kind of place in the future. The beauty of the Build-A-Bear business is that, no matter what kind of place it is, they just need to open stores there. The only thing they need is time to make the adjustment. As long as BBW keeps opening new stores in high traffic areas (Class A Malls, popular tourist locations, and outlet malls) and closing stores in low-traffic areas, its business will never be hurt in the long run.
Valuation and recommendation
Relative Valuation
Based on the two points above, we could say that Build-A-Bear's business foundation is not hurt by its recent troubles. Build-A-Bear just needs some time for its adjustment to work. Once the troubles are gone, their earnings will bounce back, and that is very likely to happen in 2016.
Current BBW price is $13.08 (01/29/2016) and P/E ratio is 12, which is far below the industry average (Specialty Retailers Industry 3Q 2015 Average P/E: 16.79, according to CSIMarket). If we consider the potential of Build-A-Bear's growth and the success of its management, they should at least have the same P/E as the industry average. Therefore, Build-A-Bear's target price should be $18.3 or higher from the relative valuation perspective.
Absolute Valuation-DCF model
Estimate of the next five-year average earning growth rate - 5.5%
Estimate of Build-A-Bear's long-term growth rate - 3%
WACC - 11.10%
Estimate price - $17.99
Relative valuation and absolute valuation drive us to a target price range between $17.99 and $18.3, and this price range will provide investors a 64% margin of safety. My recommendation will be to buy. Because we need to wait until the BBW troubles are gone, I would recommend investors buy and hold the stock until company's 2016 annual report is made public.
Disclosure: I am/we are long BBW.
I wrote this article myself, and it expresses my own opinions. I am not receiving compensation for it (other than from Seeking Alpha). I have no business relationship with any company whose stock is mentioned in this article.