Finance deals with the future performance of capital allocations made today, i.e., expected return. Risk, on the other hand, is any variation from the desired future outcome.
It stands to reason that because the future is uncertain, there is risk associated with it. And because financial markets deal with the future, these are risky.
While this may sound obvious (and Yogi Berra -like), it is necessary pointing out, as not even two days ago an FOMC member was complaining about heightened volatility and its potentially negative effects on the U.S. economy.
Is volatility (as measured by the VIX) abnormally high?
No, compared to normal. What is normal? Measured since 1/1/1990, the median VIX is 18, the average VIX is 19, and for many years (before 2008) a VIX between 20% and 30% was considered "normal." Yesterday's VIX printed around 22%.
Since the beginning of the year, the VIX barely increased above 30, and subsequently dropped to around 20. These are hardly elevated levels for the VIX (or volatility in general) and well within the pre-crisis "normal" interval.
Yes, the S&P 500 is giving back some gains - but is that so surprising after the one in a century performance of the last years? Is it realistic to expect asset prices to continue rising with virtually no volatility?
Consider the charts for US bonds (Barcap US AGG) and S&P 500 since 2009, and this is exactly what happened. Both indices were propelled by QE, i.e., both bonds and stocks went up, which is not exactly normal (portfolio theory diversifies between stocks and bonds with the hope that one asset class performs when the other doesn't).
The chart shows incredible performance for very little risk, as the S&P 500 returned almost 150% since 1/1/2009. Bonds had a total return of 34%, but did almost as well as stocks, if not better, if you adjust for the lower volatility (on a risk-adjusted basis).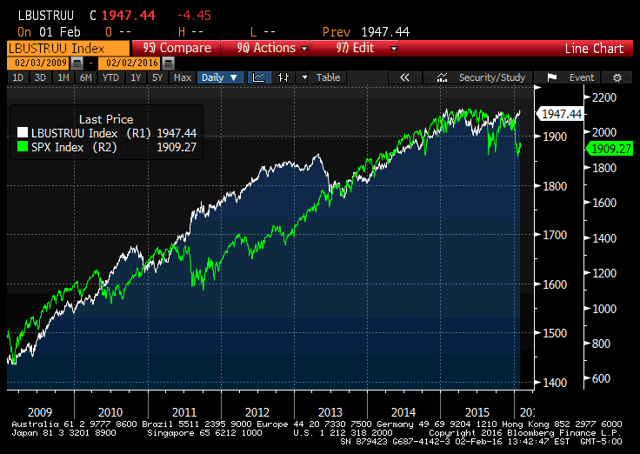 In this context, a standard 60/40 allocation would have been very hard to beat (as many hedge fund managers have found out). In fact both bonds and stock - individually - have outperformed the HFR Global Hedge Fund Index.
The same QE distorted the performance of risk factors, which in turn confounded many hedge fund models. The buy-and-hold crowd in balanced funds had only to sit back and let the Fed do the job. Unfortunately, after 2008, retail investors largely stayed away from markets and did not benefit from this rally - mostly institutional investors did.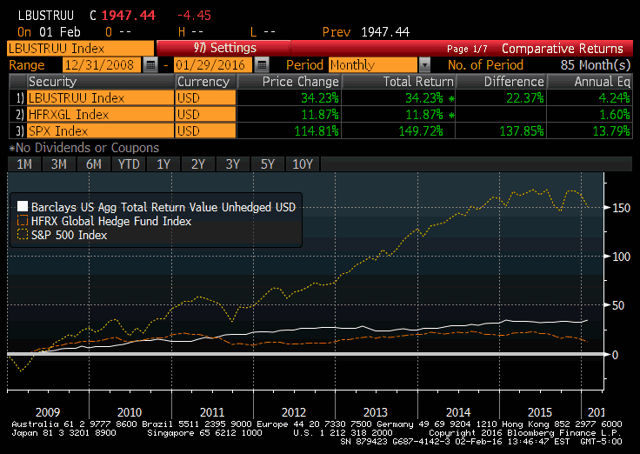 The Fed's own Fisher recently expressed concern about volatility and its effects on the economy. This is strange, as volatility is within normal limits. Rather than worrying about indirect effects, shouldn't the Fed be worried about ailing growth and the very real risk of deflation?
Since 2009, ongoing interventions removed risk from markets, and when that happens, the market is no longer functioning properly, and prices distort, rather than reveal information.
After years of QE - during which volatility was kept artificially low - it is safe to say that the prices of many assets are "distorted." To return to normal, some assets have to correct; it is a necessary evil.
As long as markets bleed lower (i.e., no disorderly sell-off), this correction is well within the scope of what markets should be doing - sell overpriced assets and buy underpriced assets. The expectation of continuously increasing prices with no volatility belongs to the realm of illegal investment schemes.
Yet, recent comments would indicate that Fed is trying to abolish volatility altogether, as FOMC members are concerned about volatility and its effect on the economy. If that is not the case, why talk about volatility?
Is it meant to divert attention away from asset price inflation, the deflationary risks and the weakening growth picture? Volatility is within normal parameters; inflation is not, as the 10-year breakeven inflation chart shows.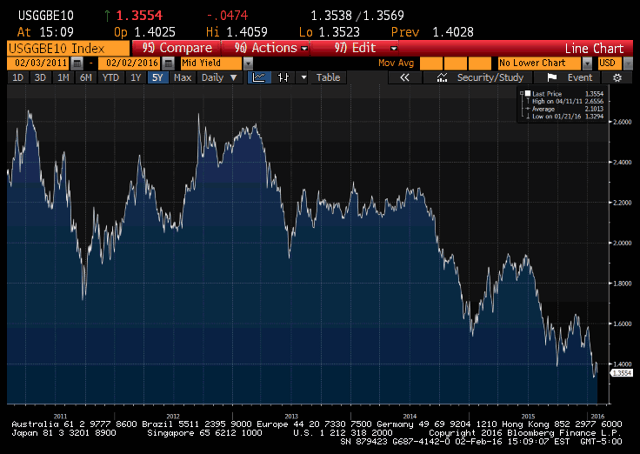 Bullard warned about bubbles last fall and argued strongly to raise rates in December, despite weak economic data (the FT article did sound alarmist). Rates were raised and risk assets started correcting and Bullard - in his latest statements is concerned about low inflation and falling oil prices, although very little has changed since December.
Was there an expectation that a interest rate increase would somehow produce inflation?
The December rate hike spelled the end of a 5 year momentum trade that may have pushed assets (both bonds and stocks) well beyond "fair value". Now volatility returns to normal and prices correct; it's not the end of the world, just how markets are supposed to work.
Disclosure: I/we have no positions in any stocks mentioned, and no plans to initiate any positions within the next 72 hours.
I wrote this article myself, and it expresses my own opinions. I am not receiving compensation for it (other than from Seeking Alpha). I have no business relationship with any company whose stock is mentioned in this article.