This morning's ADP employment report could tell us a lot about the current economy. Analysts had expected 190,000 jobs added for January In this morning's report showed 205,000 jobs added, a difference of 15,000 positive. December's report showed 257,000 jobs gained for comparison.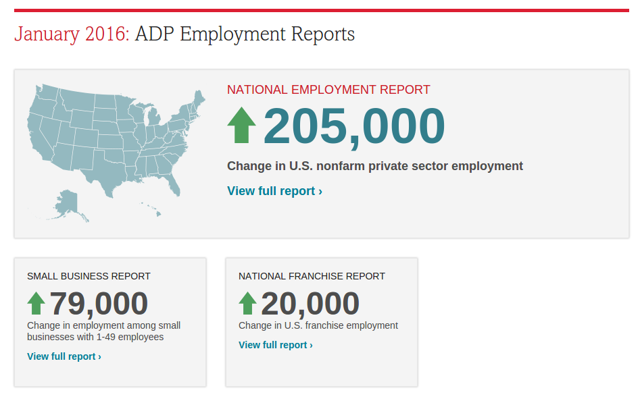 In summary, small businesses added 79,000 jobs, mid-sized businesses added 82,000 jobs, and large businesses added 44,000 jobs. By sector, the service sector provided the largest gain with 192,000 jobs added, followed by the goods producing sector with just 13,000 jobs.
In the past 13 months, only 3 months have had higher job gains than January 2016. Those months were January 2015 (220,000), June 2015 (231,000), and December 2015 (267,000).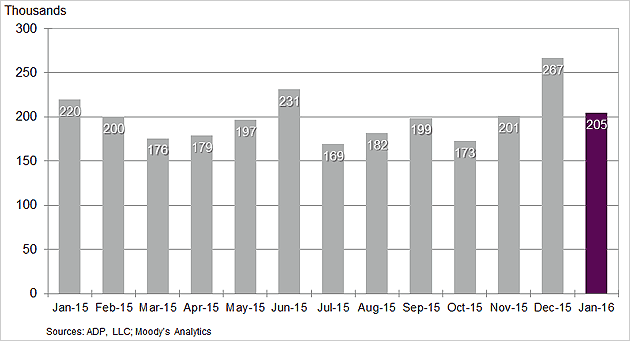 The ADP report has showed consistent job gains near 200,000 per month for about the past 5 years.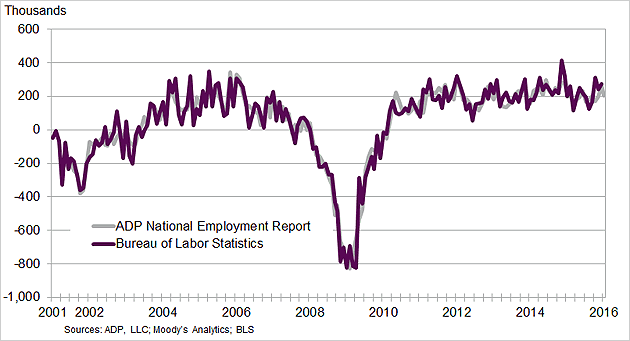 Earlier this week economic data showed that personal income rose 0.3% which was higher than the market expectation. And later this week will also get information on non-farm payrolls , including hourly earnings which may also show an increase.
From a strategy perspective, investors should be watching these income reports in addition to the employment reports and inflation reports to determine if the Fed is still on a track to raise interest rates. Inflation will be muted until wage gains begin to put pressure on prices.
Yesterday, the Federal Reserve actually asked banks to look at negative interest rates in their stress test results. This could be a harbinger of things to come. Especially, if European Central Banks and the Bank of Japan continue on their negative rate path and China continues to weaken their currency. If the Federal Reserve is the only central bank to be raising interest rates in this environment, then the strong dollar will hurt economic results for most US companies doing business abroad. For the time being, the Fed says that negative rates are just a stress test scenario and not necessarily any sort of indication about future Fed policy.
Taking Action
We may actually be drifting into uncharted area where good news is good news. The old meme of "bad news is good news" may be overdone. There is no more "Bernanke put" from the Fed. If employment gains are taking hold, interest rates will move up, but only if inflation takes hold as well. The short-term trade on Treasuries through shorting the iShares 20+ Year Treasury Bond (NYSEARCA:TLT) may make sense, but only if inflation picks up to the 2% threshold and the dollar weakens against other currencies. In fact, in this environment, we might actually see rates drop while the economy expands.
Disclosure: I/we have no positions in any stocks mentioned, and no plans to initiate any positions within the next 72 hours.
I wrote this article myself, and it expresses my own opinions. I am not receiving compensation for it (other than from Seeking Alpha). I have no business relationship with any company whose stock is mentioned in this article.