Over the past month, we have witnessed an attempt by GeoInvesting, through a series of blog posts (which occurred 3 days prior, 2 days prior, and 1 day prior to L&L Energy (NASDAQ:LLEN) options expiration in January, and two days prior to options expiration in February - see here) to place uncertainty in the minds of investors of LLEN regarding LLEN's well documented ownership via SEC filings of Ping Yi. GeoInvesting and their affiliates and friends (a colleague of GeoInvesting did call T Squared to let them know they sell research to investors prior to releasing such reports to public consumption) have disclosed they have a short position in the stock and will benefit if the stock drops as a result of their actions.
The crux of their argument has relied primarily on:
Conversations with an anonymous and unverified individual named Mr Wu that were not independently validated and questionable in integrity.

A suspicious testimony of an individual who claims to be a minority owner of Ping Yi, who read from a pre-arranged script and included this person asking the director/camera operator when he should actually begin reading from the script. Given the nature and appearance of the interview, we fundamentally and fully question GeoInvesting's intentions and the integrity of this individual and believe he was simply acting out his role (actors typically get "paid money" for their role).
Missing from GeoInvesting's analysis is the presence of actual "on-the-ground" due diligence, something we would have expected any research firm to conduct prior to releasing such an opinionated and "conclusive" report. Given the basic fundamental need of this type of due diligence, the lack of actual on-the-ground due diligence and unbelievable incompleteness of GeoInvesting's work leads us to believe in ulterior motives, but that is not the point of this article.
The point is that we have actually been on-site at Ping Yi, several times, and for extended periods of time. We have reviewed actual bona fide documents and have proof of actual footage and pictures that show, among other things, the ownership of Ping Yi by LLEN. During our various times at Ping Yi, LLEN management has both been there with us, and we have been there in absence of any senior management. This clearly allows us to verify independently with the personnel at the mine sites, the local government officials, suppliers, and customers - people both introduced to us by LLEN, and those who don't have a relationship with LLEN senior management.
As an example of what we have as true "on-the-ground" due diligence, below are just a few of our many pictures from our trips to Ping Yi in particular. While we have other pictures of the Ping Yi operations, we decided to focus specifically on the pictures in our collection that show LLEN's ownership in everyday life at the mine. These pictures were taken over the course of several of our trips to Ping Yi. We translated the signs and posters that appear:
Picture #1: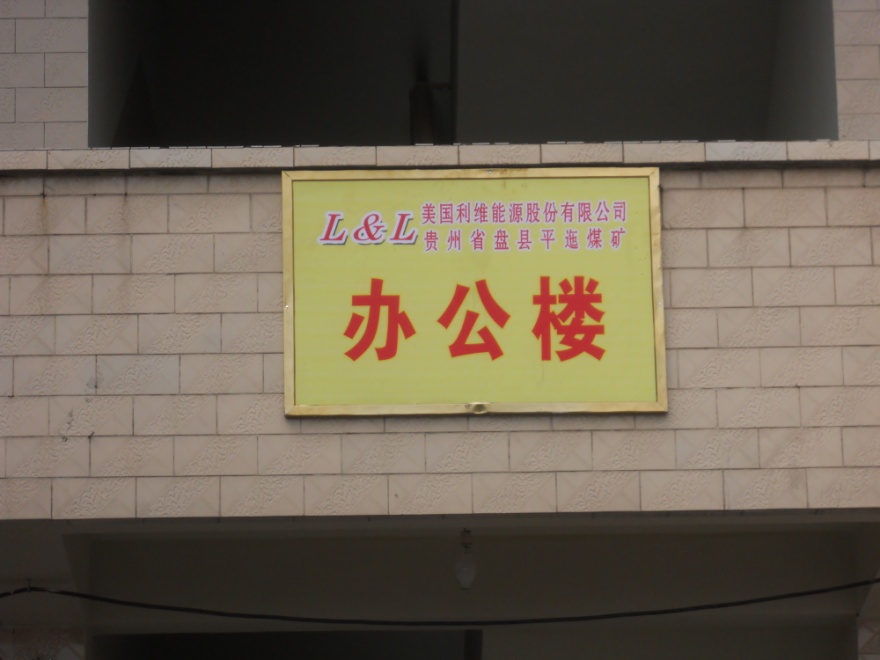 English: L&L; U.S. L&L Energy Co., Ltd.; Guizhou Province Pan County Ping Yi Coal Mine; Office building
Picture #2: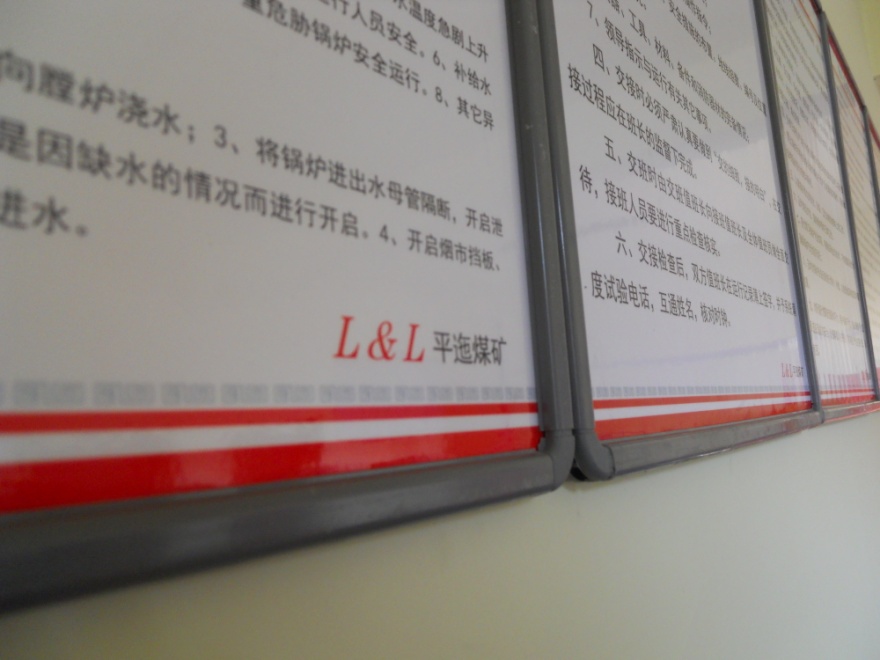 English: L&L Ping Yi Coal Mine
Picture #3: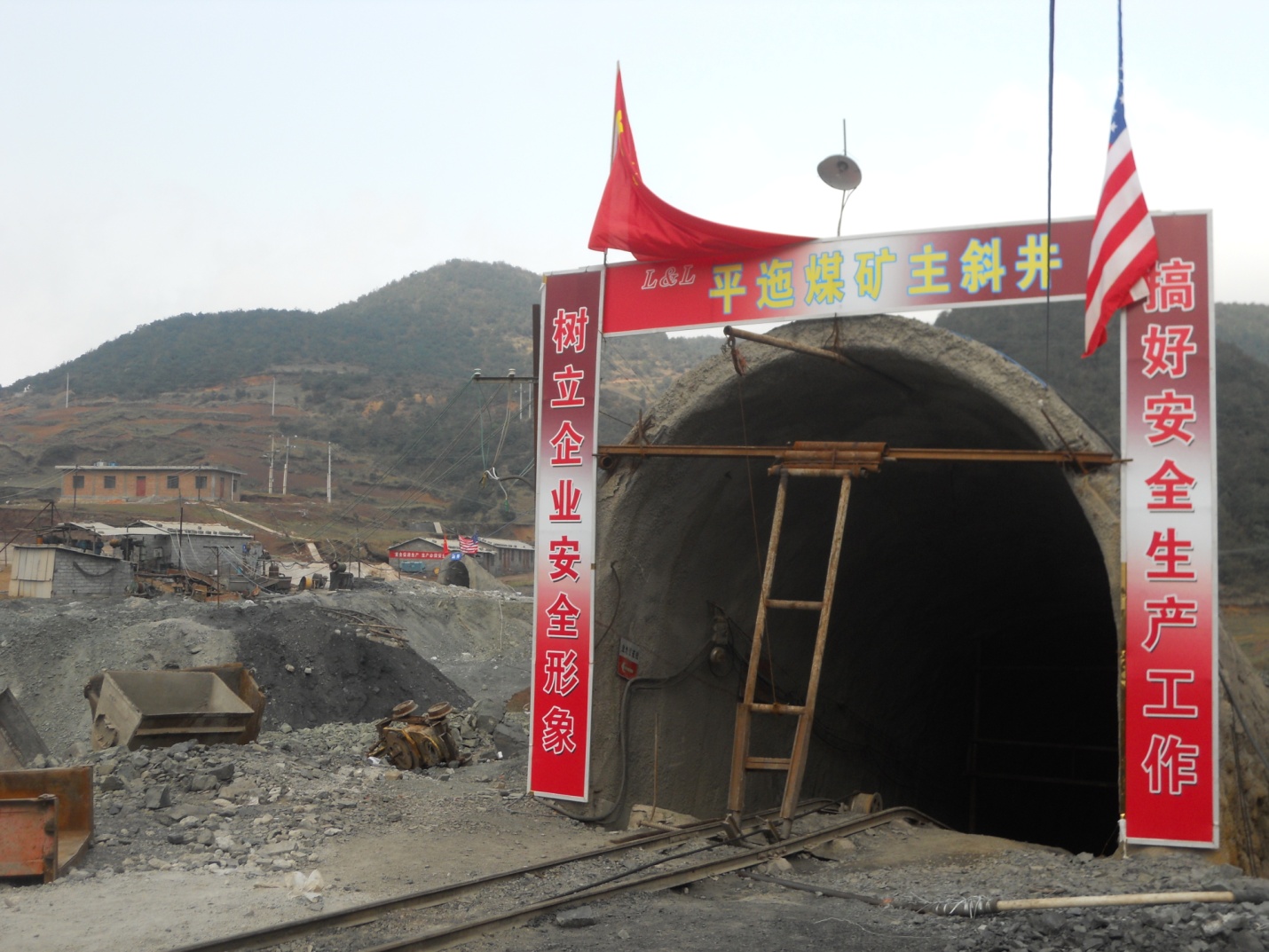 English: Establish a corporate safety image; L&L Ping Yi Coal Mine main inclined shaft; Do a good job of working safely
Picture #4: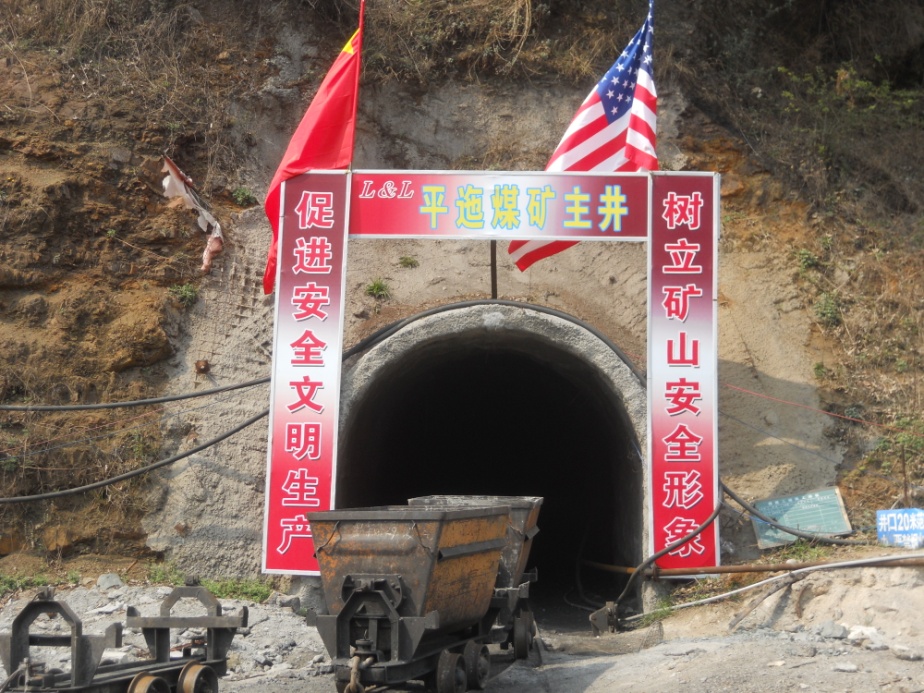 English: Promote a safe and civilized production; L&L Ping Yi Coal Mine main shaft; Establish a mine safety image
Picture #5: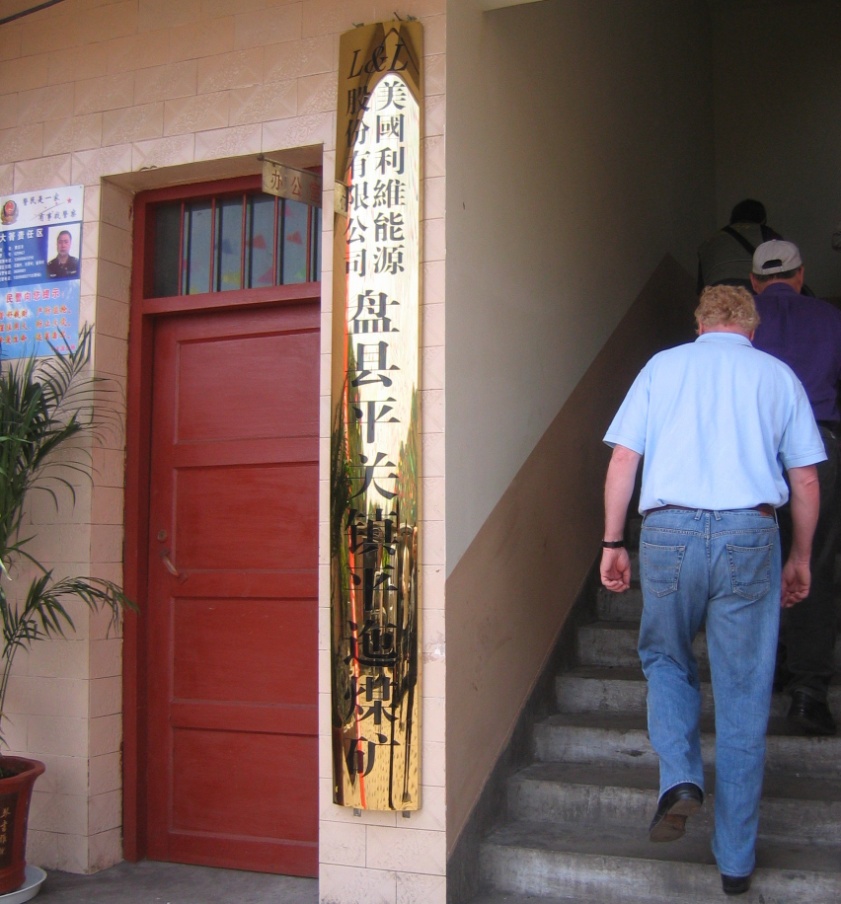 English: L&L Co., Ltd.; U.S. L&L Energy; Pan County Ping Guan Town Ping Yi Coal Mine
Picture #6:
English: Ping Yi Coal Mine 60 tons capacity coal washing plant; Sichuan Weiyuan Silver Star Company Design and Manufacturing General Contractor
As you can see in the above, there are multiple signs at Ping Yi which have been up and seen in existence over an extended period of time since we first started visiting the property until as recently as a few months ago. These signs clearly and undeniably indicate that LLEN is the owner and operator of the mine. These signs were not temporary; they were consistently at the site when we visited both announced and unannounced. Confirmation of LLEN's ownership is to be expected, as the company has:
a published agreement with Ping Yi;
a legal opinion from one of the largest law firms in China (Dacheng Law, as discussed by Ed Moy in the latest company presentation) stating they own Ping Yi;
an independent auditor verification that they own Ping Yi;
conducted an investor visit that allowed anyone to visit Ping Yi to verify the operations themselves; and
consistent third party independent verification of the same.
Clearly if GeoInvesting's purported owner of Ping Yi never sold his mine to LLEN as GeoInvesting would like shareholders to believe, then we find it quite odd that LLEN would, over extended, uncorrelated periods of time, have signs on the property that state that Ping Yi is owned by LLEN; strange that GeoInvesting's purported owner would enter into agreements saying LLEN owns the mine; peculiar that he would allow one of the largest law firms in China to provide a legal opinion (directly to LLEN's auditor without the involvement of LLEN) stating LLEN owns the mine; and equally unusual that GeoInvesting's purported Ping Yi owner would let LLEN operate the mine and develop a second mining shaft that we believe will result in production resumption in the near future. Maybe GeoInvesting should also tell their Ping Yi "owner" that he should remove the U.S. flags at Ping Yi, since GeoInvesting claims Ping Yi is not owned by a U.S. company.
Aside from our factual and truthful due diligence, we should note the character of GeoInvesting: that they are currently under lawsuit by other companies for share price manipulation and defamation. While these are allegations, we still think this is worth noting as it helps frame the character and integrity of their firm.
Should LLEN pursue similar actions, they would have our full support, as it is clear to us that their motives are not to finding the truth, but one of deceit to profit from share price manipulation for their own trading accounts and the accounts of those that pay to front run the release of such negative allegations. GeoInvesting's actions have clearly damaged the integrity and trust of the markets, and we feel that any action against them, either civil or criminal, would only serve to help restore ethics and accountability in the markets.
As a side note: immediately after GeoInvesting posted on their blog about LLEN, we offered to have a representative of GeoInvesting meet us on-site at Ping Yi to do joint actual "on-the-ground" due diligence to discuss mutual findings. GeoInvesting outright declined such offer with no valid reason given.
Additionally, should anyone want to see more of our pictures of Ping Yi or other mines of LLEN, we can typically accommodate such requests.
Disclosure: We are long LLEN and intend on transacting to acquire additional shares or options.