(Editor's Note: Investors will have to trade on the German exchange under the ticker WDL).
Windeln.de (WDL) listed on the German exchange in the summer of 2015, hoping to emulate the success of other online retailers such as Zalando. Its name translates to "diapers.com" which pretty much explains the niche it is targeting - mothers with babies. It was founded in 2010, with an eye on its US counterpart whose parent company Quidsi was duly bought by Amazon (NASDAQ:AMZN) for US$540m that year.
The business model is classic loss-leader driven growth - the company ensures its nappies and baby-milk consistently show the lowest price on the internet and hopes to entice customers to then buy higher margin products on the site. This naturally leads to initial losses with the promise of profits once scale and diversification have been achieved.
As with many such businesses, the real profits come from selling the story to investors at inflated prices. Goldman Sachs and Deutsche Bank led a pre-IPO financing round in January. Only 6 months later, in June, Goldman and Deutsche managed the IPO in which they sold a significant share of their stock at a 231% premium. Along with the other underwriters, they charged the company E5m in fees.
The timing was opportune for the sellers, as the IPO occurred at the precise peak of windeln.de's growth in popularity. It shot up from being the 35,000th most visited website in the world according to Alexa.com, to 7,000th in the run-up to the IPO. Once the money was in the bag, it immediately started dropping, even as competitors continued to gain ground.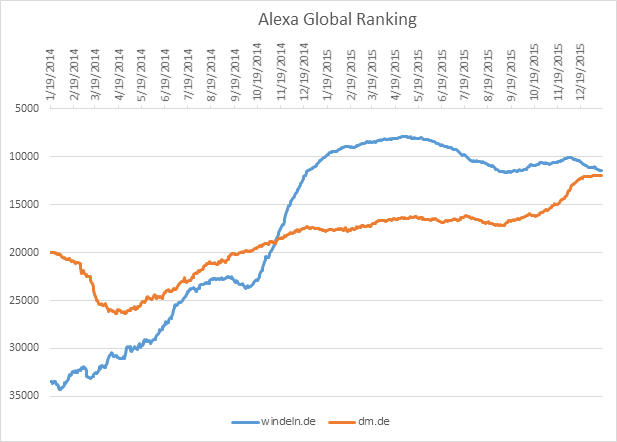 The stock never traded at its 18.5 IPO price, halving within three months. It is covered by one global investment bank analyst (unsurprisingly, Goldman Sachs) - naturally with a buy recommendation.
The key question is whether at less than half the IPO price there is value in the business. The company now has a (shrinking) cash position of over E100m and a market cap of E250m leaving an EV of around E150m for the actual business. While this appears inexpensive for an online retailer with E180m of sales, there is a big qualitative question mark outstanding.
Along with the cash pile, you get the core windeln.de website which sells diapers and baby products largely to German and Chinese consumers, some international sites selling the same in Poland, Spain, Switzerland and Italy as well as a kids flash sale business called Nakiki (just re-branded from windelbar.de).
As befits a fast growing concept stock, the company has never made a profit and is unlikely to in the near future. Its value will be determined in its ability to survive losses and eventually prove its business model as viable.
Profitability
In 2014, WDL reported a gross profit margin of 23.1%. This is similar to Amazon's historic margins (although these have now risen to over 30% thanks to growth in services). SG&A expenses including marketing amounted to 34% of revenues (against Amazon's 6.8%), leaving an operating shortfall of over 10% - not a viable business as things stand. Either gross margins need to rise substantially or SG&A need to grow a lot slower than revenues, thus diluting down fixed costs.
Low gross margins are a result of selling predominantly branded consumer staples at the most competitive price. Brand owners Nestle (OTCPK:NSRGY), Procter and Gamble (NYSE:PG) and Danone (OTCQX:DANOY) tend to make all the money on these, while distributors almost have to pay them to get the product. This attracts price sensitive consumers to the site, giving WDL a shot at selling them other, higher margin products during the 3 odd years during which they require diapers (although, hopefully, some will extend this period by having more than one baby). While there has been some improvement (gross margins moved from 18.9% to 20.9% and 23.1% in 2012, 2013 and 2014) as the product mix has changed from over 80% to less than 50% of sales from consumables (low margin diapers, milk, wipes), progress seems to have stalled post-IPO. After a peak gross margin of 27% in Q2, it dropped back down to 24% in Q3.
Amazon can dilute its fixed costs across US$100bn of revenue and benefits from cross-selling to lifetime customers. WDL will never reach even a fraction of that scale but should in theory benefit from some operational leverage.
WDL fulfillment (shipping) costs account for around 11.3% of revenue in the first three quarters of 2015 (although significantly higher in Q3 due to direct shipping to China). This is unlikely to decline - in fact, it could rise along with gross margins. As WDL points out, windeln.de has a low returns rate of 6% against almost 50% for clothes retailers such as Zalando. This keeps shipping and logistics costs down - but as the mix changes to more clothes, toys and furniture, so will the rate of returns and total logistics cost.
The challenge then is to bring down remaining (marketing and central) costs from over 20% to well below 10% of revenues. Despite rapid revenue growth, this has not been evident with marketing + other SG&A costs rising to 21% of sales in Q3 2015, from 19.9% in the same quarter in 2014. Over the past 9 months, marketing spend has increased to 6.9% from 5.2% of sales in the same period in 2014, even as organic growth has slowed. In fact, revenues in Q3 only grew 1.5% over Q2 once you strip out the acquisition of feedo - a far cry from previous double-digit quarterly growth rates.
Churn
Of course, rapid growth is absolutely crucial if the business is to achieve the economies of scale required for profitability. Whether this growth can be maintained even as its needs to continuously replace its rapidly churning client base of babies turning into children is a major question mark. The company provides client lifecycle information which, with a little reverse engineering shows that the average clients' revenue contribution halves by year 2 and drops to near zero in year 4 (x-axis shows year after customer joining, y-axis is annual revenue in Eur). This is the opposite of what you would look for in a successful consumer business, where new customers increase their spending over time.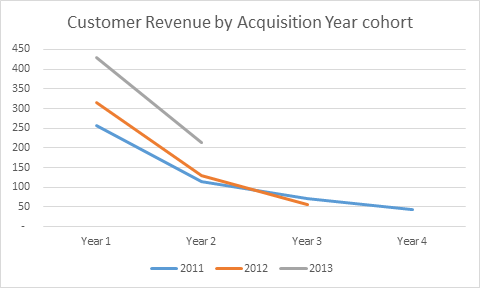 WDL claims 743,000 "active" customers, although that includes anyone who has transacted in the last 12 months. Using their total transactions and transactions per customer statistics we see that in fact 213,000 customers were active in Q3 2015, making an average of 2.7 transactions. As any parent will attest, nappy and milk purchases are a very regular transaction - a large portion of the 530,000 customers who had purchased within 12 months but not in the last quarter have probably gone for good.
WDL has addressed this disappearing customer base problem in two ways. It is building up a flash sale kids business and expanding across Europe.
The flash sale business (think vente-privee.com without the grown-up stuff) was originally branded as windelbar.de. The hope was to attract and retain windeln.de customers. It is not clear that this has worked out given they have now changed the name to nakiki.com and relaunched the site. The business is heavily loss making (EBIT margin of -35%) despite growing revenues to an annualised E20m. It is not clear what competitive advantage it has in a crowded marketplace, other than a link from the windeln.de website.
The European expansion is a mix of acquisitions and new businesses. For example, Feedo is a Czech based baby supply retailer with the majority of revenue derived from the much larger Polish market. WDL paid E8m in cash + E2m in shares with a further potential earn-out. The company is expected to generate E10m in revenues in FY 2015 and is fully consolidated from Q3 onwards (accounting for E2.5m of revenues in Q3). It significantly lags market leader smyk.com for children's products however and its competitive advantage is unclear, especially as its domain name is entirely meaningless in Polish. Not unlike windeln.de in the run-up to its IPO, feedo.pl experienced rapid growth in popularity in the run up to its acquisition, only to tail off subsequently, even as its largest competitor continued to gain share. Note that the smyk.com numbers are on a different axis, and the site continues to dwarf feedo.pl in Poland.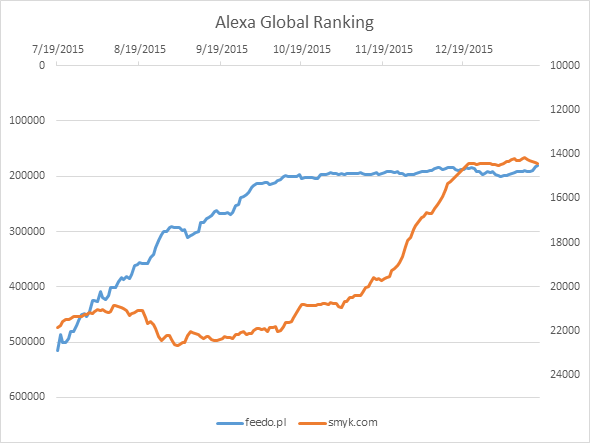 WDL has also bought a Spanish site called bebitus and launched an Italian site pannolini.it - Italian for diapers. Growing European volumes to achieve economies of scale and dilute costs is clearly the goal here. Unfortunately, there are established competitors across Europe and making inroads may not be as easy today as it was five years ago in Germany.
China
Despite all this, WDL is not a European business. The company is hugely dependent on selling baby milk into China. In Q3 2015, over 60% of sales from the core windeln.de site went to China, the majority of which was baby milk. In the IPO prospectus, the company discloses that Chinese sales have higher margins than the rest - the contribution to profitability is therefore overwhelming. WDL's other International sites and flash sales are small and heavily loss-making. This is a company built on selling to China, benefiting from a well-known phenomenon of distrust.
Following a number of tainted milk scandals, Chinese middle-class mothers mistrust domestic baby-milk brands and retailers. Even foreign brands bought in China can be suspicious - as with all products, forgeries abound. A huge industry has sprung up of Chinese abroad buying baby milk to send to China and sell at 2-4x the price in European, US and Australian stores. Chinese parents are willing to pay the premium for peace of mind. Authorities turn a blind eye for now, and packages below RMB1,000 (around E140) of value are exempt from customs duty and VAT on import. Windeln.de has jumped right in on the trend by offering Chinese consumers the ability to purchase European manufactured baby-milk from a European retailer directly through windeln.de. After the IPO, they even set up a Chinese language overlay for the website and started offering direct shipping to China.
While in the short term it is unlikely that demand for foreign baby-milk will suffer, WDL is starting to face significant competition from better funded and connected Chinese rivals. While JD.com (the Chinese equivalent to Amazon) and Alibaba (NYSE:BABA) (via Tmall and Taobao platforms) have been hampered by association with fake products, specialist sites are becoming more of a threat.
Mia.com, founded in 2011 received a US$150m investment from Baidu (NASDAQ:BIDU) (the Chinese Google) in September. The site specializes in importing genuine foreign baby products and signed partnership deals with Nestle, Danone etc., in July, allowing it to buy directly from manufacturers overseas. Perhaps even more threateningly, China's dominant baby and child website babytree.com received $300m from investors including Jumei.com. Jumei's specialty is importing foreign cosmetics and the money is primarily earmarked to develop babytree's e-commerce platform. Building on babytree.com's 10m daily user base and significant brand value could also increasingly displace marginal players with no domestic presence, such as WDL.
Mapping windeln.de's ranking against these aggressive new entrants in China may go some way to explaining a weaker growth and higher marketing spend (note the separate axis and differing scales on both charts).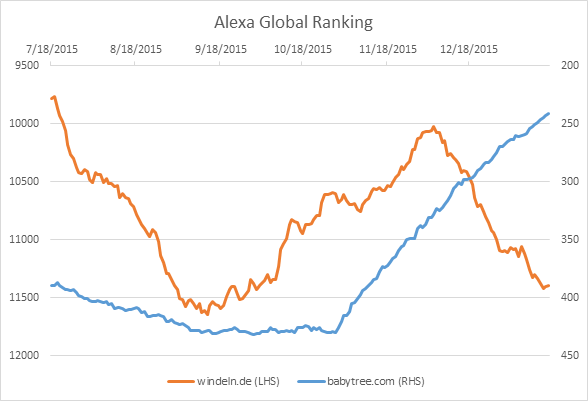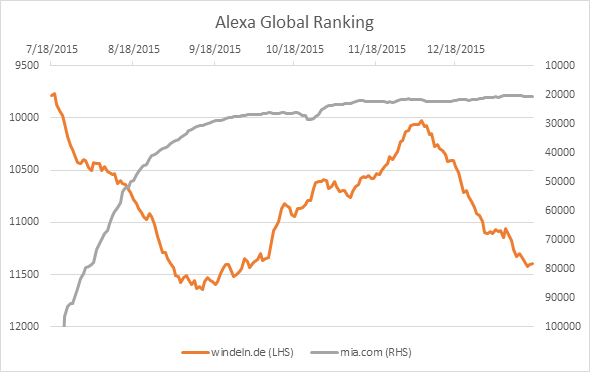 The Chinese government is actively promoting this "onshoring" of cross-border e-commerce. A trial cross-border e-commerce zone in Hangzhou (where Alibaba's Tmall is located) is now being replicated across 5 other regions.
There are longer term issues with the grey market as well. The Chinese domestic industry (manufacturers and retailers) suffers lost sales and the government suffers lost taxes. Most importantly, the milk producers themselves (Nestle and Danone) who have Chinese operations are losing higher margin domestic sales to uncontrolled parallel imports of their own product. While they may accept to work with companies like mia.com, it is questionable whether they will consider a German company with no presence in China a suitable distributor for that market in the long term.
Germany
As shown in the first chart, windeln.de seems to be losing audience share to dm.com - the online business of Germany's leading drugstore. It highlights the competitive pressures that come to bear on a niche online retailer built around its name. DM benefits from its scale and breadth as a retailer in central Europe and has such a strong brand that it has even been copied in China, like the fake Apple stores. While DM may have been slow to respond to windeln.de's growth in 2014, it has been able to catch up in popularity over the past year. This, despite refusing to offer free delivery for online purchases.
On the other side is Amazon, currently the 4th most popular website in Germany and one of the largest retailers of diapers in the country. Amazon offers diaper subscriptions which give up to a 20% discount to headline prices, which are typically only 1c above windeln.de's market leading price. Windeln.de does offer a loyalty programme for frequent users but this remains less attractive for the price conscious frequent buyers.
While Amazon ultimately bought diapers.com parent Quidsi during a land-grab phase, the purchase only happened after they had squeezed the business through a price war. Presumably, WDL would have been shopped around prior to the IPO and there were no takers. Given Amazon revenues in Germany are around E10bn while more than half of WDL's E170m sales go through the grey market to China anyway, it is unlikely they would be spending much time looking at such a deal.
It is very difficult to see what competitive advantage WDL has in any of its key markets. While the company consistently prices nappies to be the cheapest available on the internet in Germany, it is able to attract price-comparison shoppers. Almost by definition, however, these are likely to jump ship as soon as someone else lowers their price. The windeln.de and windeln.ch domain names certainly have value in generating organic search results. This should reduce WDL's marketing cost in German speaking countries, although the company doesn't own windeln.com.
Balance Sheet
Thanks to the exceeding generosity of IPO investors, the business does have a significant cash buffer and no debt. Quarterly operating cash burn is running around E6m, excluding acquisitions although this may accelerate as investments are made into other European countries and the flash sales business. At the end of Q3, the cash balance was E112m. This potentially gives them around 4 years to turn the business around - certainly a long runway.
Conclusion
Despite a very solid balance sheet and an impressive historic growth record, it is hard to escape the impression that the business model simply doesn't add up over the longer term. A valuable business needs to be able to retain its customers and sell its products at a healthy profit. WDL has not yet demonstrated this ability and there are good reasons why it may not be able to do so in the future.
The company will report its maiden full year results on March 17th. Investors should closely examine the interplay between sales growth and profitability, especially as the environment seems to have become more competitive.
While there is no danger of WDL needing additional financing in the near term, there are many examples of half-baked business ideas gradually burning through cash and into irrelevance. This is the potential fate that investors should be concerned about.
Additional Disclosure: I am short WDL.