Introduction
In October of last year, I wrote an initial article about Whirlpool (NYSE:WHR) and I claimed this was a company whose stock should be bought with a longer-term vision in mind. Even though Whirlpool was free cash flow negative in the first nine months of the year, I argued that Whirlpool's working capital position fluctuates per quarter and this situation is traditionally being rectified in the last quarter of the financial year. As Whirlpool has now released the final and full results of the last quarter, I wanted to see if my investment thesis is still holding up.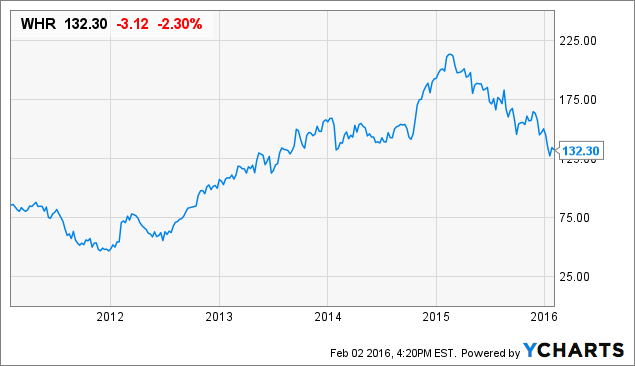 WHR data by YCharts
Yep, the negative impact on the working capital was almost completely wiped out in Q4
As expected, Whirlpool's fourth quarter results were pretty good. Despite a 7% revenue drop to $5.56B in Q4, the gross margin fell by just 2.5% to $1B, on the back of a lower production cost. As Whirlpool did an amazing job to nip its SG&A expenses in the bud (which fell by a stunning $150M) there was plenty of margin to cover the higher amortization and restructuring expenses, and the operating profit increased from $281M to $380M.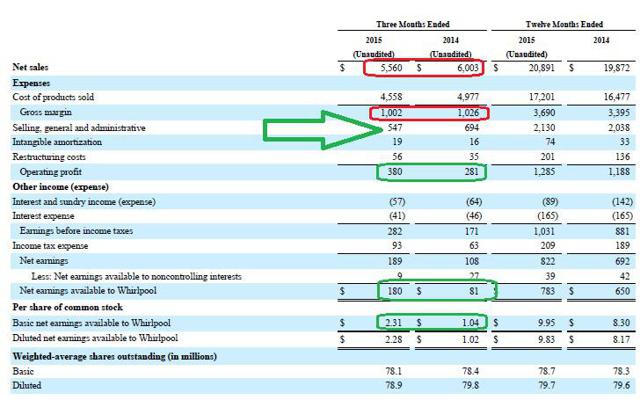 Source: SEC filings
As you can imagine, this had an amazing impact on the operating margin as the operating income increased by 35% whereas the revenue fell by almost 8%. The Q4 operating margin was 6.83%, compared to 4.68% in the fourth quarter of last year, and I think this comparison already tells you a lot of how the company's financial results have improved on the back of a strong Q4 on the operating level.
Whirlpool is also taking advantage of the lower interest rates as its total interest expenses fell by $12M and despite a 50% higher tax charge, Whirlpool's bottom line shows a stunning increase in its net income as the attributable net profit has more than DOUBLED (to $180M, coming from $81M in Q4 2014, a 122% increase)!
Of course, an income statement is nice to look at (and to drool over when you see the net income increase by a stunning 122%), but I care more about a company's cash flows, and the cash flows were also a corner stone of my original investment thesis.
Indeed, back in October I argued the company's negative free cash flow status was caused by the negative impact of changes in the company's working capital, as the adjusted operating (and free) cash flows were much higher once you exclude the impact of the WC changes. I expected to see Whirlpool generate approximately $750M in adjusted free cash flow in 2015, so let's see how the company performed and if it was indeed able to meet my expectations.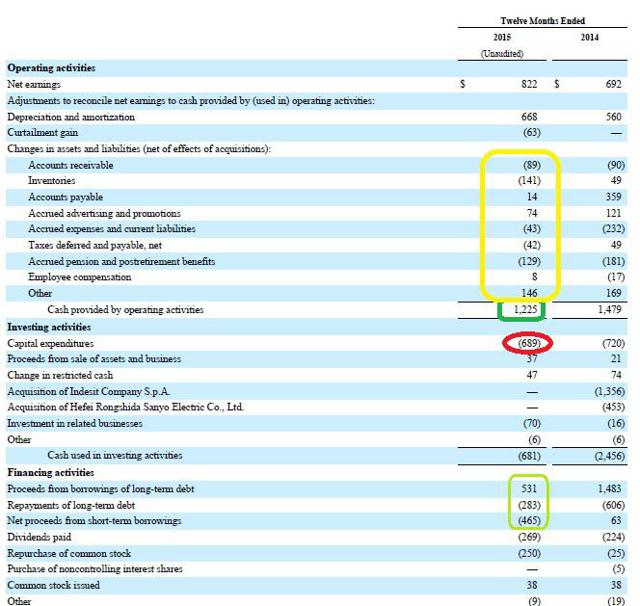 Source: SEC filings
This now seems to be confirmed in the full-year cash flow statements. The headline operating cash flow moved from a negative $157M in the first nine months of the year to an absolutely positive $1.23B [game]. As the capital expenditures remained limited to $689M, approximately $550M in unadjusted free cash flow was generated [set] and once you 'ignore' the changes in its working capital position, the adjusted free cash flow increases to $738M [match]. Game, set, match, indeed, as Whirlpool continues to generate a massive amount of free cash flow although the recent share price action (-37% in just one year) suggests the company is in severe distress.
2016: A record year?
So, yes, 2015 was a great year and this seems to have gone unnoticed by the financial markets. But there's more. Whirlpool has no intention at all to tread water here and the company's management team has already provided an outlook for 2016.

Source: press release
It now expects to generate an EPS of $11.25-12/share based on the GAAP-principles. If you'd exclude the impact from the restructuring expenses as well as transaction costs for business combinations, the adjusted EPS will increase to $14-14.75 per share. If you'd use the mid-point of the adjusted EPS projections and the adjusted EPS of $12.38 in 2015, Whirlpool is heading towards a substantial 16% increase in its net profit per share.
On top of that, Whirlpool also expects its free cash flow to increase quite substantially to $700-800M despite spending more cash on capex ($700-750M vs. $689M in 2015), and as this guidance is discussing the unadjusted free cash flow, this basically means the unadjusted cash flow could increase by 30%, which would most definitely be something great to accomplish, and I think you're now starting to understand my excitement.
So where will the growth come from? Surprisingly enough, not from the developing countries but from the developed countries. From the conference call:
And by that, we mean, we expect that emerging markets will continue to be weak or decline, but we do see that largely offset by growth in our developed markets. We also anticipate that the strong dollar era that we're experiencing will continue into this year. So within this environment, our focus in 2016 is to continue to grow revenues and we see great opportunities to expand our operating margins.
And looking at the progress the company has made in 2015, I have very little doubt the $700M in unadjusted cash flow (and potentially $850M+ in adjusted free cash flow) will be reached.
Investment thesis
Whirlpool has now delivered on all fronts. I expected a full-year free cash flow of $750M and it's nice to see the company has almost met my expectations by posting an adjusted free cash flow of $738M (less than 2% from my target). As Whirlpool continues to incur restructuring expenses, its cash flows were actually a bit lower than on a normalized basis as the company is now trading at just 9 times its expected net profit for 2016 on an adjusted basis.
If one would use the unadjusted cash flow guidance, Whirlpool is trading at a free cash flow yield of 7-8% and remains on track to post a 10% free cash flow yield before the end of this decade. $200M of this free cash flow will be spent on share repurchases which could increase the FCF/share by approximately 1%, and I do expect the share repurchase authorization to increase once the cash flows are dripping in. I already have a long position, but my fingers are itching to write another put option on Whirlpool, as I think the company's share price is offering a great opportunity here.
Disclosure: I am/we are long WHR.
I wrote this article myself, and it expresses my own opinions. I am not receiving compensation for it (other than from Seeking Alpha). I have no business relationship with any company whose stock is mentioned in this article.