Following an excellent earnings result that caused its shares to jump 12%, we believe its not too late to ride 1-800-FLOWERS.COM (NASDAQ:FLWS) higher, as growth in the gourmet food and gift basket industry should provide consistent revenue growth for a number of years.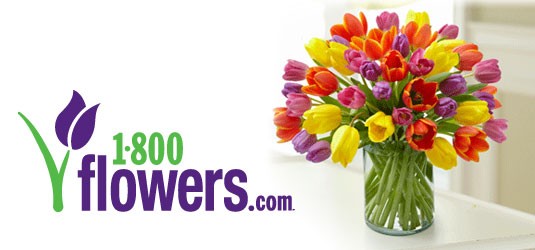 What might come as a surprise to readers is that flowers are not the biggest revenue stream for 1-800-Flowers. For FY 2015 the Consumer Floral segment accounted for 38%, whereas the Gourmet Food & Gift Baskets segment brings in 55% of its revenue. The remaining 7% is from the BloomNet Wire Service segment. The BloomNet service provides professional florists worldwide with support and education.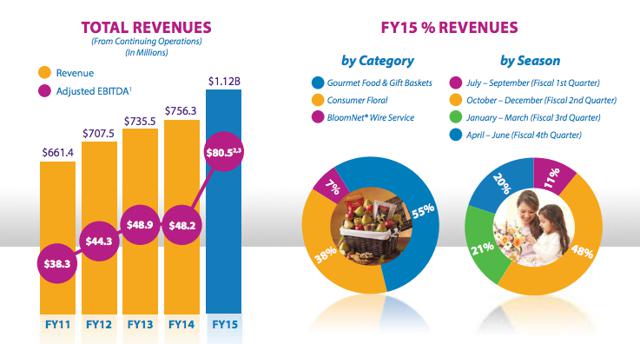 Source: Company Report
We find this to be very encouraging because although the floral industry is very lucrative, we feel there are limitations on the number of potential recipients. Whereas gourmet food and gift baskets have an appeal that extends to almost any type of person, at any time of the year.
In our opinion the company does a great job of covering all bases through its portfolio of gourmet food and gift baskets brands. 1800Baskets.com, FruitBouquets.com, Cheryls, Fannie May, The Popcorn Factory, Harry London, Wolferman's, and Harry and David all provide consumers with gift options at different price points for every demographic conceivable.
We see Amazon (NASDAQ:AMZN) as a major competitor and one that the company will have to battle it out with in the long run. The Harry and David brand is generally the first result in Google (NASDAQ:GOOG) (NASDAQ:GOOGL) when searching for gift baskets, and 1-800-Flowers has the same result when searching for flowers. This puts them in a great position with Valentines Day on the horizon.
The rise of the gourmet food and gift baskets segment is fantastic to see because it was only a few years ago that the industry was on a decline. In fact, at one point Harry and David were close to bankruptcy, but how things have changed since FLWS bought it. Recent research estimates that the industry is growing by 4% per year and we feel there is no better positioned company to capitalize on this than 1-800-Flowers. As consumer retail habits continue to evolve online, we see the industry maintaining this growth long into the future.
Looking at the most recent results shows that the company is benefiting from the industry growth. The gourmet food and gift baskets segment increased 4.75% from $414.67 million to $434.32 million year-over-year in the second quarter. Overall revenue in the quarter grew by 2.6% year-over-year to $548.4 million.
On the bottom line, earnings per share grew by 35.3% to 92 cents per share. The 24 cents per share increase year over year is what got the markets excited, catapulting the shares up to $7.10. The second quarter is of high importance to the company as it constitutes almost half of the company's annual revenue. So a great result in the second quarter sets the company up brilliantly for the rest of the year, considering the next two quarters traditionally tend to be run close to a loss.
The analyst consensus for full-year earnings according to Nasdaq is 40 cents per share, but we feel it will beat this.
On the bottom line 1-800-Flowers expects to increase full year earnings per share by 20% from the 33 cents it reported in FY 2015. We feel it is being modest here and anticipate earnings per share of 42 cents. The way the company has been managing its product, marketing, and distribution costs has been fantastic. As inputs costs rise, to be able to offset them as they have done, is a testament to the quality of the management team.
We do feel that the top line will need to accelerate in the future though to support share price growth in the coming years. Its Harry & David acquisition has proven to be a success, helping the Gourmet Food & Gift Baskets segment to its great result this quarter.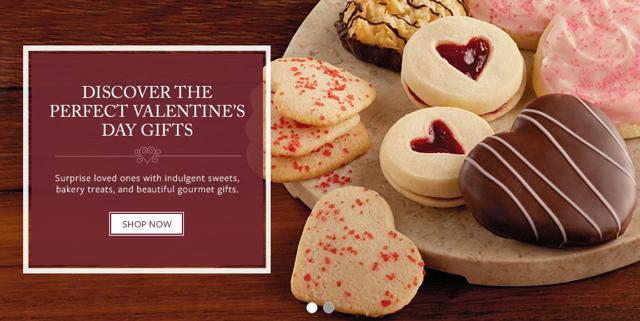 Source: Harry & David
We believe this quality brand will continue to grow at a high rate in the future, thanks to the high quality of the produce that Harry & David offer and its strong online presence. A great acquisition which we believe will provide a great IRR.
Wunderlich analysts upgraded the shares to a buy rating with a $9.00 price target. This might just be a little out of reach in our eyes this year, and believe a target closer to $7.91 is more reasonable. We see this as easily achievable and fully expect it to reach this target by the end of its fourth quarter. We believe that 0.45 times sales is a fair valuation for the stock. It has traded in and around this level for the last three years. As the company grows bigger we expect it will start to ascend to 1 times earnings, but for now 0.45 seems about right.
Based on our revenue estimate of $1.178 billion and predicted shares outstanding of 67 million, we arrive at a target price of $7.91. This represents a return of 6.75% from the latest price of $7.41.
For us this represents a great return on a quality small cap stock. The company has good levels of liquidity (Current Ratio 1.342), positive free cash flow generation ($28.5 million), manageable levels of debt ($124 million), and a healthy cash balance ($108 million).
We believe the 6.75% return that we expect to receive in year one is going to be the start of many years of similar returns. It is our view that going long with 1-800 Flowers could be a great investment for a balanced portfolio.
Disclosure: I am/we are long FLWS.
I wrote this article myself, and it expresses my own opinions. I am not receiving compensation for it (other than from Seeking Alpha). I have no business relationship with any company whose stock is mentioned in this article.