Introduction
This is the first of a series of articles that illustrates how investors can invest in some of the leading equity funds without direct access or being exposed to "di-worsification". The latter refers to excessive portfolio diversification, frequent trading, and high fees, all of which eat into the alpha potential of active equity funds over the long-run.
Three Problems With Active Mutual Funds
Excessive Diversification: Although academic evidence suggests that concentrated portfolios with relatively few positions provide the greatest opportunity for returns, most portfolio managers seek the comfort of overly diversified portfolios. With a diversified portfolio, they reduce sizable deviations (positive or negative) from the index, avoiding embarrassment or career risk from poor "relative" investment results.
Under-utilization of Best Ideas: According to various studies including one published by Yeung et al (2012), portfolio managers often fail to leverage their own stock-picking skills when constructing diversified portfolios. Findings show that the absolute return from the concentrated portfolios outperformed the diversified portfolios from which they were derived. This means that higher return potential ideas are usually under-sized, and lower return ideas are over-sized.
High Turnover: Many funds suffer from excessive turnover and trading, which not only increases expenses within the fund but also sacrifices the additional potential returns from holding on to names for longer. For example, excessive position management (i.e. marginally adding/trimming positions) tends to add little value over the long-run. Fund managers are often better off scaling back on trading and practice a lower turnover philosophy.
A Case Study: Sands Capital Management
Based in Arlington, Sands Capital is a well-regarded equity manager that has generated strong returns since 1992. The firm practices a growth-style of investing and primarily manages capital for institutional clients. A team of 39 investment professionals conducts fundamental research on companies with a long investment horizon. The firm manages three strategies using the same investment approach: Select Growth (US equities), Global Growth (Global equities), and Emerging Markets (EM equities). The domestic strategy, Select Growth, is the firm's longest running fund and has been closed to investors for the past two years.
Despite a strong long-term track record, performance of the flagship Select Growth has slipped in recent years despite no change in the investment process or key personnel.
As believers of alpha reversion (see our previous article), we believe that talented managers going through rough patches provide investors the greatest opportunity to earn excess returns in the following years.
Accessing Sands Capital
With the belief that Sands can continue to deliver alpha, what is the best way to access this manager? For the purposes of our analysis, we will focus on the domestic equity Sands Capital Select Growth Fund (MUTF:TSNCX) (MUTF:PTSGX) (MUTF:CFSIX) (MUTF:TSNAX) and compare its performance to three clone portfolios based on 13-F filings:
13-F Top 20 disclosed positions, variable-weighted
13-F Top 10 disclosed positions, variable-weighted
13-F Top 5 disclosed positions, equally-weighted
For each 13-F based portfolio, the positions are selected and rebalanced 46 days' post each quarter's end. The returns are calculated and presented in total returns. Variable-weighting assigns weightings based on the dollar value of the position in the context of the total dollar value (Top 20 or 10).
The results, dating back to January 2012 (using available fund data from Morningstar.com), is presented below.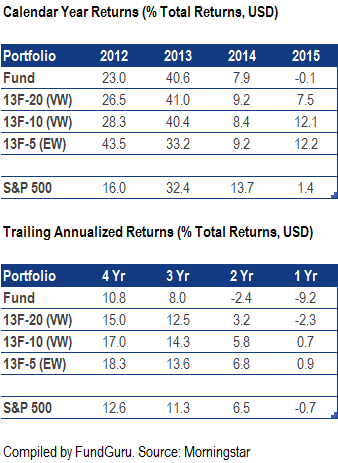 The results are interesting. The main observations are:
All 13-F based portfolios have outperformed the main fund and the market index
Portfolio returns decreased as the number of stocks increased
Increased concentration has not led to meaningfully higher volatility than the main fund over this four-year period
The simplest portfolio that takes just the top 5 disclosed positions and equally-weighting stocks has yielded the best results
For the purposes of transparency, below are the stocks in the portfolio at the last four rebalancing dates. There appears to be very little turnover as the highest conviction names do not change often.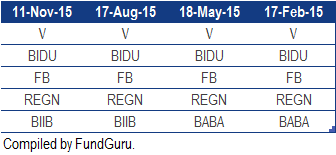 Concluding Thoughts
Our analysis of Sands Capital shows that it is possible for investors to replicate a leading mutual fund themselves with great results.
Pros:
Simplicity: Just buy the top 5 stocks, and rebalance four times a year to coincide with the release of quarterly 13-F disclosures
Higher Alpha Potential: Historical backtests have shown this approach has generated greater alpha than the actual fund
Accessible: Some of the best mutual funds are reserved for institutional clients only, and/or are closed to new investment
Cons:
Volatility: With just five names, investors will be exposed to higher volatility on a month-to-month basis from individual names. Investors are encouraged to take a long-term view when investing in a concentrated portfolio.
Disclosure: I/we have no positions in any stocks mentioned, and no plans to initiate any positions within the next 72 hours.
I wrote this article myself, and it expresses my own opinions. I am not receiving compensation for it (other than from Seeking Alpha). I have no business relationship with any company whose stock is mentioned in this article.