It seems like BlackBerry (NASDAQ: BBRY) is making headlines again. Damian Tay, a top BlackBerry executive, shocked everyone yesterday when he revealed that the company may shut down its BlackBerry 10 mobile platform, eventually transitioning entirely to Google's (NASDAQ: GOOG) (NASDAQ:GOOGL) Android operating system for its mobile devices going forward.
This certainly comes as a huge blow to BlackBerry enthusiasts, enterprise clients and retail consumers as BlackBerry 10 OS is considered to be the USP for the company, and touted as one of the safest mobile platforms out there in terms of security. But how does this eventuality impact the smartphone vendor's business as a whole? Let's take a closer look.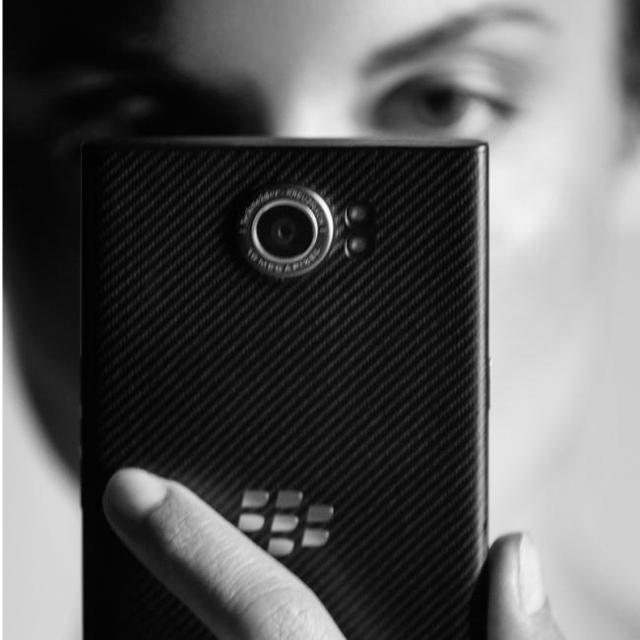 (Source)
Some background
To begin with, BlackBerry or its management has never formally announced in the past that the BB10 platform will be discontinued. In fact, it was only last month that John Chen reaffirmed his commitment toward the BlackBerry 10 platform in order to address market speculation. So Mr. Tay's contradicting revelation comes as a shocker and validates for the most part what bears have been saying all along.
I'd like to add that Mr. Tay holds a very senior management position at BlackBerry - senior director of Asia-Pacific product management - and his words are to be taken seriously. He's not just another market participant commenting about the company. Given his job profile, he qualifies as an insider and is required by the SEC to be truthful with his disclosures and public announcements relating to BlackBerry at all times. So we can take Mr. Tay's announcement as a possible indicator about where BlackBerry wants to be going forward.
Although full details haven't been made available, I believe the shut down of the BB10 platform and the eventual shift to Android OS may take a year or two to materialize. BlackBerry would have to showcase the security features of its Android offerings to its government clients across the globe. It would get the necessary clearances and certifications for the subsequent switch to the Android platform only after addressing the concerns of its federal enterprise clients. This could end up being a time consuming process.
Now let's evaluate the pros and cons of this potential shut down from the perspective of BlackBerry shareholders.
The Pros
Let me start by saying that maintaining an OS is a financially strenuous affair. Companies have to hire competitive think tanks and coding workforce tasked specifically to update, maintain and provide tech support for their operating systems. This generally inflates capital expenditures, R&D expenses and operating expenses for companies. The chart attached below indicates that BlackBerry's R&D expenses, in comparison to its revenues, have recently been higher than its peers. So the potential suspension of the BlackBerry 10 platform should theoretically bring down its R&D spending closer to its peers.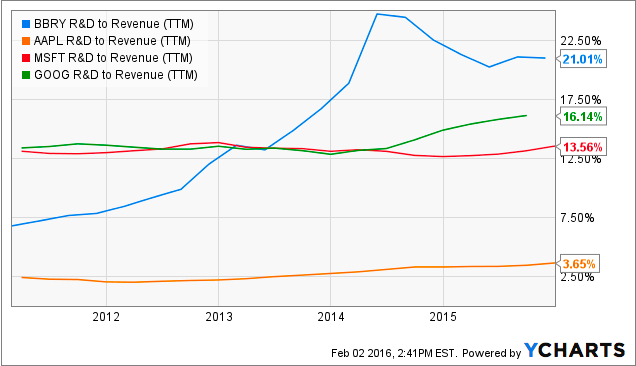 (Source: YCharts)
Adding further, its handset division has been struggling due to limitations posed by the BlackBerry 10 OS. Consumers have stayed away from the brand altogether due to the lack of app availability and this has, in turn, hurt its hardware sales. But with the potential discontinuation of the BB10 platform, and the subsequent switch to Android, such limitations would cease to exist. The fate of its handset business would depend on factors such as aesthetic appeal, price points and security apps of its Android devices. This may contribute toward de-risking BlackBerry's overall business and promote the introduction of new users into its ecosystem.
Another point worth considering is that BlackBerry has so far been battling it out to grow its app store. The smartphone vendor wasn't able to organically expand its app store offerings so it struck a licensing deal with Amazon back in 2014 to do the same inorganically. With the potential switch to Android going forward, the smartphone vendor may not have to fight this battle anymore. Its offerings will support the full suite of Google Play store offerings as long as their hardware meets the minimum requirements.
Lastly, and most importantly, switching entirely over to Android may give BlackBerry's handset division another chance to survive. BlackBerry's BB10-based handset division has been hemorrhaging cash so far and John Chen has made it clear that if it doesn't become profitable during 2016, it will have to be shut down. The potential switch to Android could bring along increased user adoption, reduced capex budget and lower operating expenses which should, in theory, contribute toward making the hardware business leaner. This may give the handset business a second life.
The Cons
Everything may not be necessary be rosy, however. The discontinuation of the BB10 platform and the subsequent shift to Android may require certifications and clearances from government clients. What would happen if half of BlackBerry's clients agree to switch to Android while the other half refuses? It may leave BlackBerry in a fix as to whether to make the switch or not. This might also result in the loss of business, as clients who don't wish to move to Android may switch to iOS devices.
The potential abandoning of the BB10 platform altogether may give BlackBerry a bad reputation among enterprise clients. For instance, I'm informed about the IT policy at YKK India (the world's largest manufacturer of fasteners). Management over there has strictly instructed its employees to not go for BlackBerry devices as their corporate phones over concerns relating to the termination of support. This was just one instance - several more enterprises might issue company-wide notices such as this going forward.
BlackBerry would have to introduce more Android-based devices at varying price points to fill the void left by discontinued BB10-based devices. This would result in increased capital expenditure.
One of the key things to note here is that if this goes through, BlackBerry would be operating in an extremely competitive market. It will be competing directly against other Android-based offerings from Samsung (OTC:SSNLF) and HTC, in segments that are already overcrowded with competition. BlackBerry has historically been able to charge a premium for its devices but its pricing power could fade away after the complete switch to Android. It could end up becoming just another Android device manufacturer.
Looking at the bigger picture
If this goes through, I believe that the discontinuation of the BB10 platform would result in the loss of established clients over the short-term time frame. It may even hurt the smartphone vendor's brand image in the enterprise community. But ditching the BB10 platform would potentially make BlackBerry a financially leaner company due to the aforementioned reasons, and it might as well save its handset division from being shut down going forward.
Author Update - February 4, 2016: After Mr. Damian Tay's interview with the Economic Times, BlackBerry published an official release on its blog, reassuring everyone that it remains committed towards the BB10 platform. The PR agency of BlackBerry politely asked me to update the article with this part as, and I quote them, "there is no doubt BlackBerry remains committed to the BlackBerry 10 platform." You can find the official release here.
Disclosure: I/we have no positions in any stocks mentioned, and no plans to initiate any positions within the next 72 hours.
I wrote this article myself, and it expresses my own opinions. I am not receiving compensation for it (other than from Seeking Alpha). I have no business relationship with any company whose stock is mentioned in this article.