Summary
Peabody Energy (NYSE:BTU) is a coal producer and owns interest in 26 different mines in the US and in Australia.
Source: 2014 Annual Report
Back in the heyday, before an increase in regulations and harsh competition from renewables, BTU was considered a stalwart and held high esteem in dividend investors' portfolios. However, as the coal industry started to falter, so did the stock price.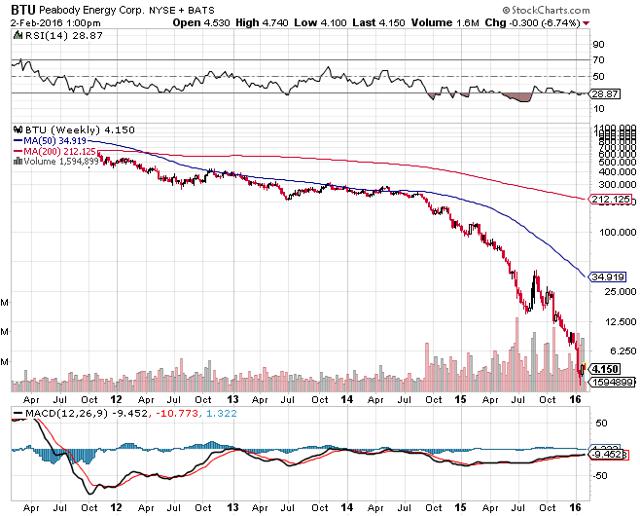 Today BTU has a market cap ~$76mm. Yes, that is right, BTU is now considered a microcap stock.
In my opinion, there are two ending solutions for BTU. First and foremost, if liquidity, solvency, and expenses are not dealt with in a proper timeline, the company has a high chance of declaring bankruptcy. In the second ending solution, liquidity, solvency, and expenses are dealt with. If the former happens, BTU may become a very profitable turnaround story.
Secular Downturn in the Coal Industry
There is no denying it, the coal industry is in a secular decline. The industry shift to cleaner energy sources, coupled with a push from governmental regulations has resulted in an overall decline in the consumption of Santa's stocking stuffer.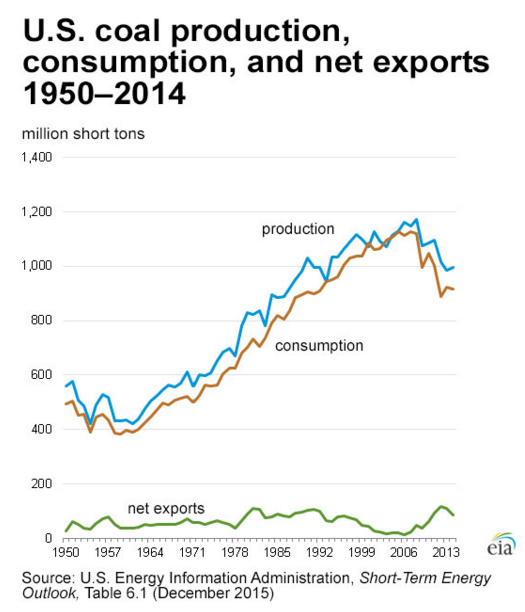 What I find very interesting about the overall coal industry is that more than 90% of all coal produced in the US is used by the electrical industry (power plants), in order to generate electricity. However, in 2007, coal's annual net share of electricity generation was ~50%, yet in 2014, it has declined to 39%. Based on this single fact, one must really start to contemplate if the coal industry is in a secular decline.
Don't get me wrong, coal-fired generation still makes up the vast majority of electricity produced in the US.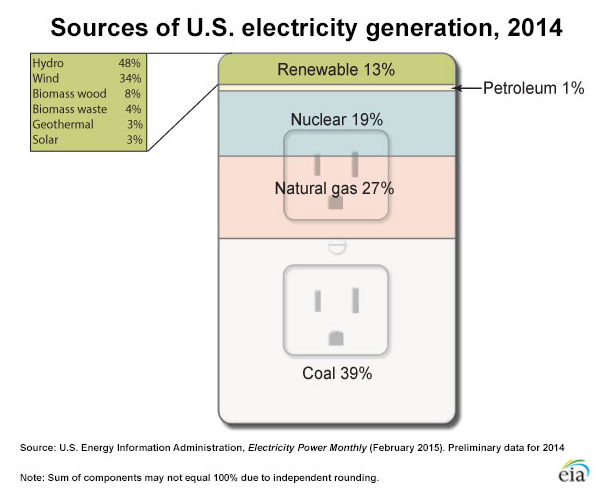 However, coal-fired generation is declining, and at a pretty decent pace. Why exactly is the electrical power industry shifting use from coal to other types of electrical demand? Well, that's not really a straightforward answer, and is a combination of multiple things.
The first headwind facing the coal industry is the slowed down growth in electricity demand. There are a few key reasons for the slowdown in US electricity use. Structural changes such as technological innovations on buildings (think green buildings), more efficient equipment, and better insulation today than yesterday, have reduced the overall demand for electricity.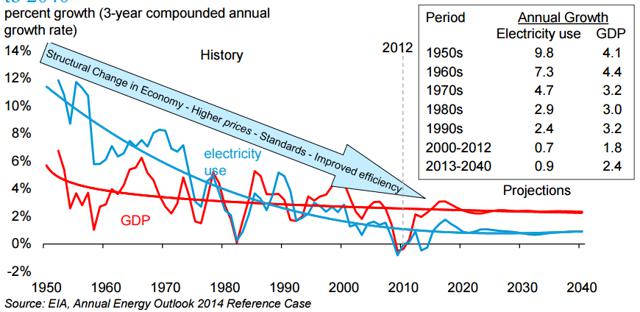 As we continue to advance as a society, the demand for electricity should in theory continue to decline. Maybe one day we will become so advanced as a society that declines in electricity demand will force some sectors into structural unemployment (if that is not already happening).
A second headwind facing the coal industry is fueled by strong competition in coal's counterpart, natural gas. Since the 1950s, the consumption of natural gas has incrementally increased, despite the hiccup from the 1970s-1985.

Source: EIA Nat Gas Consumption
Interestingly, in April of 2015, natural gas consumption (for the electrical generation industry) exceeded coal-fired generation for the first time since 1973 (1973 was when the EIA's monthly generation data started). Though, coal-fired generation surpassed natural gas in the next month, this is not a good sign for the bulls of coal. Furthermore, historically low natural gas prices, make it economically attractive to utilize natural gas over coal, especially during low electrical demand periods.

Source: EIA Nat Gas Prices
Adding to the woes of the coal industry is an increase in governmental regulations, which will help fuel secular declines even further.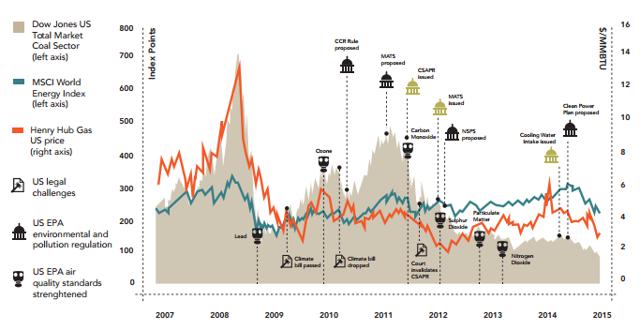 Source: Carbon Tracker
As a society, the majority of us have decided it's time for a shift to cleaner energy generation. Whether we like it or not, the government has intervened into the private sector (once again) and indirectly put pricing pressure on the price of coal. A few notable regulations facing the coal industry are…
Surface Mining Control and Reclamation Act
The SMCRA Abandoned Mine Land Fund
Clean Air Act
Proposed NSPS for Fossil Fuel-Fired Utility Generator Units
Proposed Rules for Regulatory Carbon Dioxide Emissions from Existing Fossil Fuel-Fired EGUs
Judicial Challenge to the EPAs Greenhouse Gas Regulations
Cross-State Air Pollution Rule
Mercury and Air Toxic Standards
Clean Water Act
National Environmental Protection Act
Resource Conversation and Recovery Act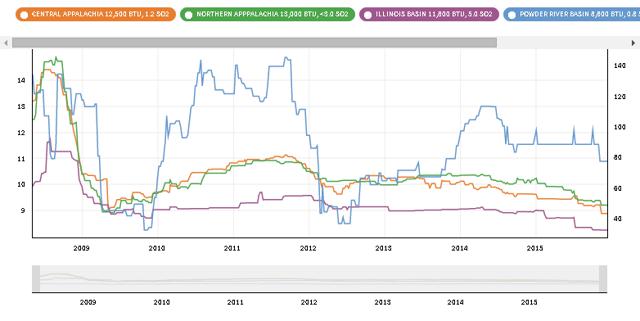 Source: Quandl
Another negative item that is continuing to put pressure on the coal industry is overall negative global coal consumption growth.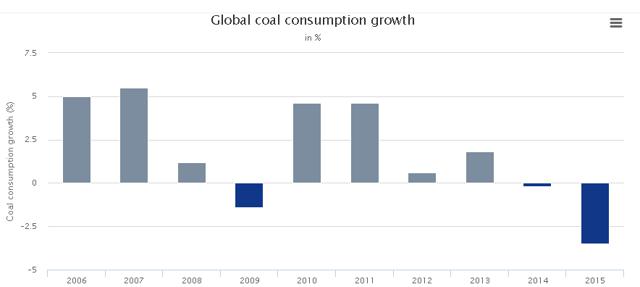 Source: Energy Desk
Furthermore, one of the biggest consumers of coal, China, has recently been consuming less coal.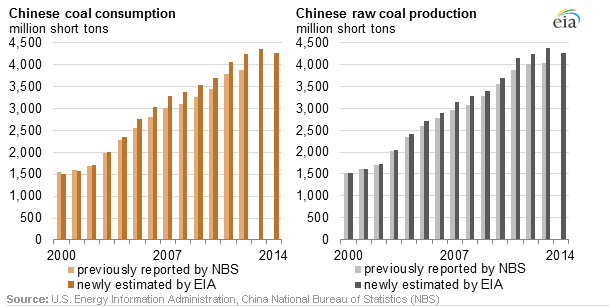 In fact, in 1H15, coal consumption in China fell by 3-5%, which accounted for more than half of the world's coal reduction. I also expect net exports of coal consumption in China to continue falling due to new regulations from the Chinese State. Regulations in China such as a legal framework to cap coal consumption, will continue to put further pressure on the overall coal industry. Finally, there is speculation that steel production and demand in China may have already peaked, which could be considered a minor headwind.
Overall, there are a significant amount of macro headwinds that are adversely affecting the coal industry. I expect the majority of these headwinds to continue in the future, if not get stronger (regulations, lower electricity demand and reduction in coal for electrical use). A bull in the coal industry must realize these headwinds without letting any former beliefs into blinding him/her.
Peabody's Issue
In my opinion, the biggest near-term issue that BTU has to deal with is their high fixed costs, derived by their long-term debt position.

Source: 2014 Annual Report
If you take a look at BTU's interest expense for Q3 and the first nine months of 2015, you can see that BTU's interest payments are taking a big bite into the net income…

Source: Q3 Report
Interestingly, if you exclude non-cash charges in the first nine months of 2015 (asset impairments and depreciation, depletion and amortization), BTU would have broken even, if not for the high interest expenses. If BTU does not address the high fixed costs associated with their current business model, this could put the company in a liquidity crunch.
Another issue facing BTU at the moment is the negative FCF run-rate the company has had in the past several years.
| | | | | | |
| --- | --- | --- | --- | --- | --- |
| | TTM | 2014 | 2013 | 2012 | 2011 |
| Operating Cash Flow | -4 | 337 | 722 | 1,515 | 1,633 |
| Capex | -449 | -488 | -726 | -1,158 | -847 |
| FCF | -453 | -151 | -4 | 357 | 786 |
In millions
From 2013-2014, the reason for the negative FCF was due to high capex expenses. However, in the TTM, operating cash flow took a negative hit, which was like a double edged sword to FCF. Stated in the company's recent presentation, the company is expected to generate $685mm in annual cash outlays in the next two years.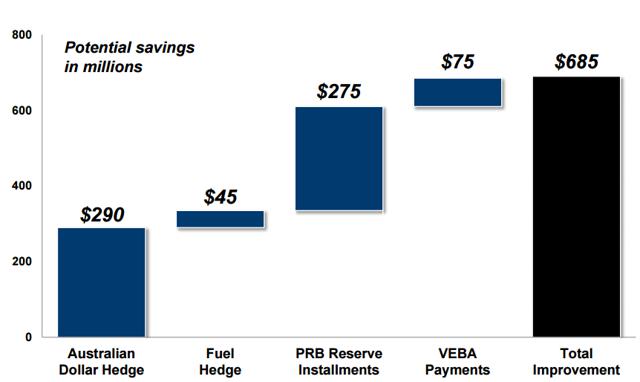 Source: 2015 Investor Presentation
Interestingly, and somewhat concerning, the vast majority of these expected cash outlays are from hedges, which may not transpire in the way the company needs them to (Murphy's Law may step in). Investors should also note that the company will not realize benefits from the VEBA Payments until January of 2017. Furthermore, BTU will still need to fork up an additional $75mm and $250mm in 2016 in regards to VEBA and LBA payments, respectively.
Despite a high fixed cost profile, coupled with negative cash flow, and additional negative cash outflows, the company does have decent short-term liquidity…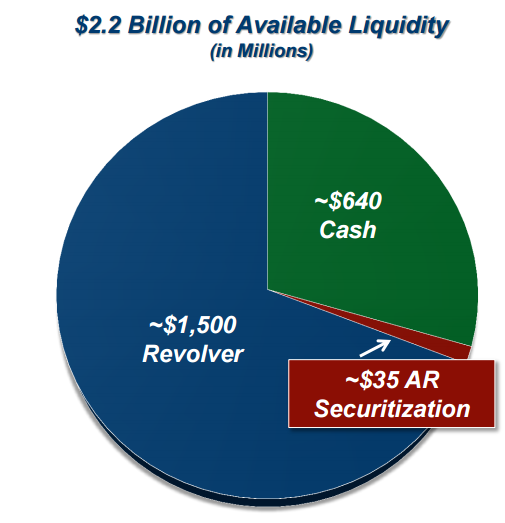 Source: 2015 Investor Presentation
In fact, with the company's recent refinancing of their 2016 Senior Notes, they have added a little cushion to their liquidity (no real significant maturities in ~3 years).
Furthermore, on November 20th, 2015, the company came to a purchase agreement with a subsidiary of Bowie Resource Holdings to sell their El Segundo and Lee Ranch coal mines for $358mm in cash. Moreover, in October they came to an agreement with another purchaser to sell their Willkie Creek mine for ~$20mm. Finally, the company may be able to raise $150mm and $250m secured by their Australian assets. Although, no definite agreement has come to transpire with any of the above noted deals, these do provide hope for the bulls.
And the Million Dollar Question is; can BTU Make it?
There is a lot of very real negative headwinds associated in the coal industry. However, BTU does have a fighting chance to turnaround and come out alive. If the former happens, there could be very substantial upside potential for long investors.
Continual expense cuts, more asset sales, early termination of long-term debt and maybe a little shareholder dilution, could save this company. Furthermore, if natural gas prices start pushing >$2.50mmbtu, and hold their ground above this price level, BTU may start to see an increase in demand and an increase in the price of coal.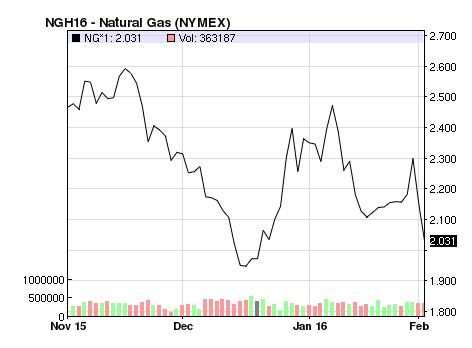 Source: NASDAQ NAT GAS
However, betting the farm on an increase in natural gas prices may be reckless and doesn't bode well for a firm thesis that protects downside. Moreover, if we continue to experience warm weather, the price of natural gas will most likely not revert to historical highs. Nevertheless, a price increase in natural gas (a headwind for majority use natural gas generators), could become a major tailwind for coal related companies.
So what should investors do? If you are not invested in BTU, you may want to stay out of the company, depending on your situation. Although, if you feel like you want to hold a company facing secular declines, with potential for bankruptcy or multi-bags, I would like to suggest a few things.
First, protecting your downside is just as if not more important on focusing on upside. A way to somewhat protect your downside is by buying the debt. If I was looking for a position in BTU, I would try to focus on acquiring the highest senior debt I could. Thus, if there is a bankruptcy around the corner, I may be able to recover some of my losses.
Another way to protect your downside is by not letting BTU make up any more than 1% of your portfolio. A gigantic position in BTU, may make you a very rich individual if the long thesis plays out. However, if the long thesis fails to transpire, a heavy loss may not bode well.
Finally, you could attempt to hedge your position in BTU. Hedging may give you less of an upside if the thesis performs, but it will help offset losses if you were wrong about the thesis.
Closing Thoughts
The coal industry is a very interesting industry filled with a significant amount of turmoil. In my opinion, the industry is going through a secular shift that will cause a rampant amount of bankruptcies and consolidation. As a whole, the industry really needs higher natural gas prices, more demand and overall higher coal prices. Higher demand may come from seaborne trade via India and other emerging countries. However, one must think; will more demand from emerging countries offset declines in matured markets?
BTU is a very interesting security, with either significant upside from a turnaround, or total loss. Maybe to help offset the price declination in coal, you can stop punishing your kid and start rewarding him or her for bad behavior.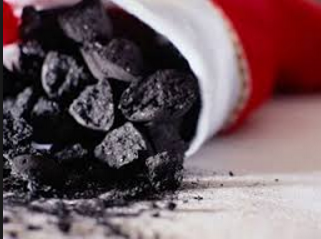 Source: Soda Head
Maybe all the coal industry needs is an increase in bad behavior from today's youth. But then again, I could be wrong…
Disclosure: I/we have no positions in any stocks mentioned, and no plans to initiate any positions within the next 72 hours.
I wrote this article myself, and it expresses my own opinions. I am not receiving compensation for it (other than from Seeking Alpha). I have no business relationship with any company whose stock is mentioned in this article.
Editor's Note: This article covers one or more stocks trading at less than $1 per share and/or with less than a $100 million market cap. Please be aware of the risks associated with these stocks.