I recently took meetings regarding new, potentially disruptive tech names and one name in particular stood out from the pack. So much so that I'm considering meeting management in roughly a week if I can find the travel time. But it wasn't this particular name's flash or even its unique idea that caught my eyes and ears - actually quite the contrary.
It was that this name is doing something already being done by larger competitors, that this name is doing something that has already shown to have huge, market-driven demand, that this name is doing something that, like the programmatic ad space before it, will likely show to have much individual player accumulation in time, and that this name is winning customers and contracts all the while.
I know, interesting.
The name I found interesting was Covata Ltd. ADR (OTCPK:PMLDY). Covata, to be clear, trades over the counter, has essentially zero liquidity, and has only recently begun to market to US-based investors. This US-based move for the company does include new office opens in San Francisco and Washington, D.C., it should be noted. If you're considering this name, you should consider it an opportunity to invest in what is essentially a private company. Of course Covata isn't private - actually it's quite public and trades with liquidity on the ASX (ticker "CVT") - but like all microcaps the opportunity to exit a position at a large uptick in realized price might only result in the instance of a buyout (if not holding for long, long durations).
Unlike most microcaps (despite most microcaps pitching this as a realistic exit strategy), however, I actually believe this to be a serious possibility for Covata. I'll try to make this case within the body of this note. It should also be noted before moving on that Fidelity International - yes, Fidelity with it's ~$258 billion in assets under management - recently decided that Covata had something of realistic monetization potential as well. Fidelity recently made a ~$7 million investment in Covata via ordinary, common shares. I take that as a huge vote of confidence in the company considering its early stages of maturation and development. That matters to me and I think it matters to the story.
So, first things first - what does Covata do. Covata is an EFSS company or Enterprise File Synchronization and Share company. Put another way, Covata provides services substantially similar to Box (NYSE:BOX) and (private) Dropbox. Microsoft (NASDAQ:MSFT), Google (NASDAQ:GOOG) (NASDAQ:GOOGL), and Apple (NASDAQ:AAPL) also provide some form of the services Covata offers but in lite versions. Box and Dropbox should be considered Covata's closest comparables and should be considered its direct competitors. But, the fact that the trio of larger, always acquisitive competitors also offer similar services is helpful in providing the potential for a larger scale monetization event - this is a case I've made in prior coverage of Box. To be fair, I also noted that any larger competitor would be crazy to acquire Box/Dropbox/(insert Covata) prior to the names differentiating themselves. That too should be discussed.
Box and Drobox might as well be the same company - I think any reasonable, objective analysis would prove that statement out. Yes, these companies offer "different" products by different names but mechanistically (and really in every other way) the product set at the two companies is substantially similar. Everything from governance to collaboration to integration. We're talking about the same things.
Covata largely fits into that same statement. Covata has a total platform that it sells to customers (we'll break this out shortly), but it's product set is easy enough to confuse with that of Box and Dropbox. Couple that with the fact that the market currently believes that these service would be easy enough for Microsoft/Google/Apple to replicate (whether right or wrong this is the popular narrative and that matters in the equity trading of each respective EFSS provider) and you have yourself a commoditization image/conversation problem. Again, an argument I've made in the "avoid Box" thesis I've had on since its IPO. Directionally, this thesis has been right as Box has made a series of lower lows (and has yet to find any technical support).
So then, with all that proving headwinds and risk why even bother looking into Covata?
The answer is simple: size and maturation. Covata is small enough that it's still growing into its, what I believe will eventually be huge, valuation (e.g. Box has a $1.36 billion valuation even having been more than halved since its IPO while Dropbox recently raised money at a greater than $10 billion valuation). That matters. What I mean by this is that Covata is still growing valuation, the company is currently valued at just $140 million, on the back of each new customer win and on the back of each market acceptance. And you better believe the company is winning customers and growing market acceptance.
Recently Covata won a 20,000-seat enterprise deal (via telco distribution partner (Deutsche Telekom subsidiary) T-Systems) with Barmer GEK, one of Germany's largest public health insurers. Covata's telco distribution partners shouldn't be overlooked either. Covata also calls Cisco (NASDAQ:CSCO) and major shareholder TPG Telecom (ASX ticker symbol "TPM") partners as well. It was also granted clearance by the UK Government for a marketplace known as G-Cloud - a substantial availability win for the Covata Safe Share platform. Finally, Covata's Safe Share platform was accepted by Colt Technology Services (London Stock Exchange ticker "COLT"), a €1.7 billion market cap provider of European network, voice, data center, and managed cloud services, as a product to be offered on the Colt Financial Services Extranet - a marketplace of services that Colt customers can leverage in daily operations. All of these wins move the needle from a valuation standpoint primarily because they matter in setting the table for large revenue derivation at Covata but secondarily because Covata is still very young and very immature in development. Every single win still moves the financials in ways that they no longer do at, say, Box and Dropbox. There's value in small size and immaturity - even in spaces that the market might currently be defining as having "commoditization" issues.
(SOURCE: covata.com)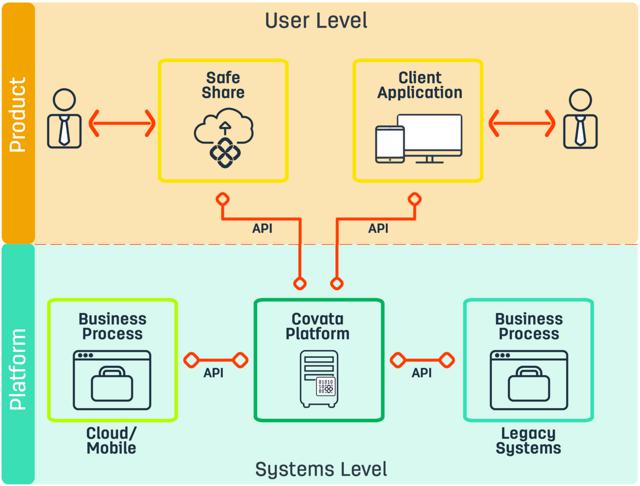 Also, as Covata matures, and as the EFSS space matures, I believe the space will become more acquisitive. Why? Similar to the highly acquisitive nature of the programmatic ad space before it - yet another "commoditization" narrative having space - the EFSS space should soon become a top of funnel customer grab for companies with higher margin products to "funnel" down to. This is already taking place to some degree with both Box and Dropbox having formed major partnerships with Microsoft, IBM (NYSE:IBM), etc.
Both of those companies, to use two examples, see massive opportunity in cross-selling into the respective customer bases of Box and Dropbox. These partnerships also allow the partners - we've used Microsoft and IBM - to leverage the very real technological value-adds of the EFSS companies partnered with. That matters as well. Presumably, they (the non-EFFS partners) might also be familiarizing their customer bases with the product sets at Box and Dropbox for future M&A. Of course, that statement involves a large degree of speculation. Still, it makes sense.
(SOURCE: Personal Research)
COMP AD-TECH M&A TRANSACTIONS:
Adap.tv: acquired by AOL for $405 million in September 2013
MoPub: acquired by Twitter for $350 million in October 2013
JumpTap: acquired by Millennial Media for $200 million in November 2013
BluKai: acquired by Oracle for $400 million in February 2014
FreeWheel: acquired by Comcast for $360 million in March 2014
Spotxchange: sold 65% of itself for $144 million in July 2014
Ooyala: acquired by Telstra for $300 million in October 2014
Brightroll: acquired by Yahoo! for $650 million in November 2014
Conversant: acquired by Alliance Data for $2.3 billion in December 2014
Put simply, in the same way that offering free email became a customer grab (in the early days), to use one example of a mission critical service being "commoditized" and then consolidated into maturation, I too believe that EFSS could eventually become this type of growth/retention mechanism for larger players. Luckily for the EFSS players, at least the comp set I've been detailing within this note, EFSS is much less of a commodity than email. I put EFSS right alongside what I believe is a highly comparable programmatic ad space from a commoditization and barrier to entry standpoint.
But the broader point to be made is that this comparable set is well ahead of what could be a coming wave of new competitors and that too will matter from an exit standpoint. Box, Dropbox, and Covata - in that order to be clear - should prove out to have huge customer aggregation head starts on the "new wave" of potential entrants. Covata happens to have an Eastern hemisphere advantage as well - inclusive of Europe which is no joke from an entry standpoint.
I'm not denying that the comparable company set detailed could eventually operate longer-term as standalone companies, with differentiation from each other and with prove out of barrier to entry (clearly the market is doubtful of this - SEE: Box's post-IPO performance), or that there isn't a single service provider (maybe we see massive consolidation within the space rather than from ancillary spaces) within this company set that can't prove itself out as the Salesforce.com (NYSE:CRM) of EFSS. Salesforce.com, for those unfamiliar, has survived an onslaught of new entrants and commoditization to become the go-to provider of CRM services across tech. But what I am saying is that isn't a major pillar in my Covata bull thesis (or soon to be bull thesis - I'd like to see some liquidity).
If I decide to get long Covata it's going to be from a "run and gun" position of ownership. I'm going to want to own what I believe should be a rapidly growing customer and revenue base. I'm going to want to own the rising tide of EFSS that I believe is and will continue to lift all boats. I'm going to want to own Covata offering Box or Dropbox market share in markets that they don't have strongholds in. I'm going to want to own what is an impressive Board - inclusive of a former Assistant Director of the FBI, PE investors, Managing Directors of financial advisory firms, and founding partners of law firms. All of that is good enough for me.
For now, I'm going to watch Covata and potentially meet with management in person. If I decide to pass on the in-person meeting I'll look to get a Q&A with management by phone or by email. If I can secure that, I'll post my results to Seeking Alpha for reader evaluation. Covata is an idea I'm intimately familiar with and one I'll be closely following.
Good luck everybody.
Disclosure: I/we have no positions in any stocks mentioned, and no plans to initiate any positions within the next 72 hours.
I wrote this article myself, and it expresses my own opinions. I am not receiving compensation for it (other than from Seeking Alpha). I have no business relationship with any company whose stock is mentioned in this article.