As the oil downturn geared up and as prices hit a bottom (at least temporarily) last month, so too has natural gas been hit hard. The fear facing many investors is likely that the downturn in the oil market also justifies a downturn in natural gas, whether it is caused by concerns over a glut in this market too, the potential for lower demand to take shape, and/or the possibility that low oil prices will otherwise displace natural gas if such a glut with oil persists. No matter the cause, this has had negative consequences for the share prices of many companies in this space, including Linn Energy (NASDAQ:LINE) / LinnCo (NASDAQ:LNCO), and BreitBurn Energy Partners (NASDAQ:BBEP), even though both Linn and BreitBurn have very little price exposure to the space near term. In what follows, I will dig into the numbers associated with natural gas and show that there is little basis in reality for the low prices we are seeing today.
A look at the supply situation of natural gas
There is no denying right now that natural gas prices are incredibly low. In the graph below, you can see that prices are trading near the bottom of their 19-year range at around $2.1 to $2.2 per MMBtu. To put this in perspective, with the exception of a brief stint in 2012 and another around 2009, this is the lowest that prices for natural gas have been since about 2003, a sign that sentiment in this area is incredibly poor.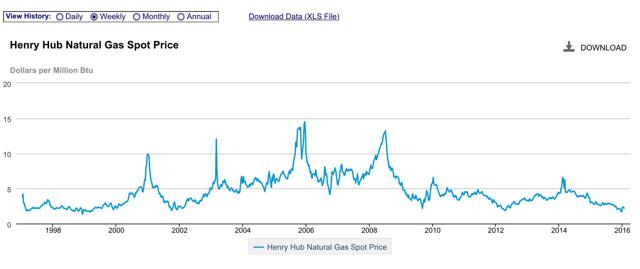 One justification for the price of natural gas being low might revolve around a glut in the industry. However, I don't see any such evidence for this. In the graph below, you can see the historical supply of dry natural gas (this is the production of it on a weekly basis after accounting for losses associated with procuring it) and the historical consumption of it. The graph is extremely volatile from a consumption standpoint due to the seasonality of natural gas demand, but this can be simplified by looking at the supply/demand imbalance over specific periods of time. Since January of 2014 (ending in November of 2015), we've actually experienced a deficit of production less consumption of 969,000 Mcf per month of the product. Between January of 2015 and November of 2015, the surplus stood at just 570 Mcf per month.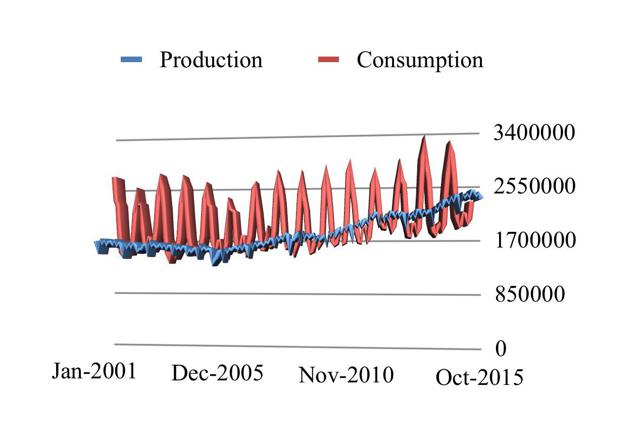 To support this, we need only look at storage data. In the graph below, you can see that storage in the lower 48 states does appear to be within its historical range (though toward the upper end of that range) or just a hair above it. In a scenario where a glut exists, you would expect to see this trend diverge meaningfully, just as it has in the case of oil and petroleum products. However, this is not the case and makes it challenging to justify a year-over-year decline in price totaling 25.4%.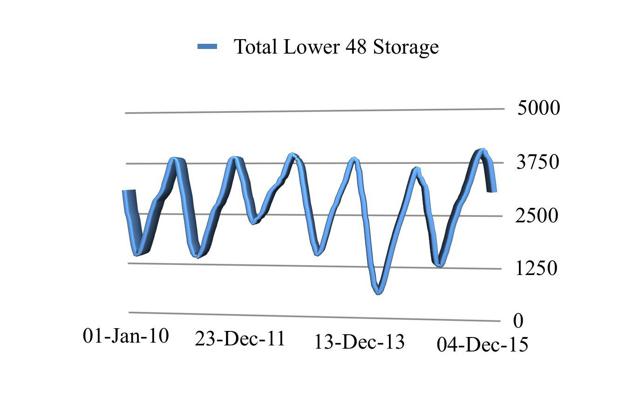 If not a glut, how about low demand?
Another major justification for low prices would be fear that natural gas demand is weakening. Certainly, if storage is slightly elevated and demand drops, this would be enough to justify falling prices not only in oil but also in natural gas. This does not, however, appear to be the case. In the graph below, you can see that natural gas demand has been rising year over year for a while now. Between 2013 and 2014 (the most recent full year available), consumption climbed 2.1%.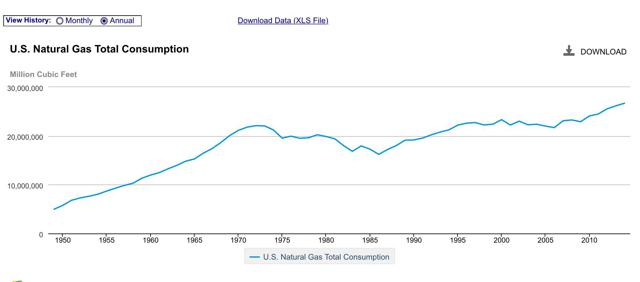 However, I would be a fool if I said that 2014 demand data is all that relevant when 2015 has already passed by. Unfortunately, official December data for 2015 is not yet out but we can see, in the table below, what the year-over-year trend has been for natural gas demand for January through November of last year. Only two months, January and November, saw year-over-year declines. According to the data provided, aggregate demand for these 11 months totaled 24,863,027 per MMcf. This compares very favorably to the 24,010,087 MMcf consumed during the same 11 months a year earlier and implies an annual growth rate of 3.6%, handily outpacing 2014's growth over 2013.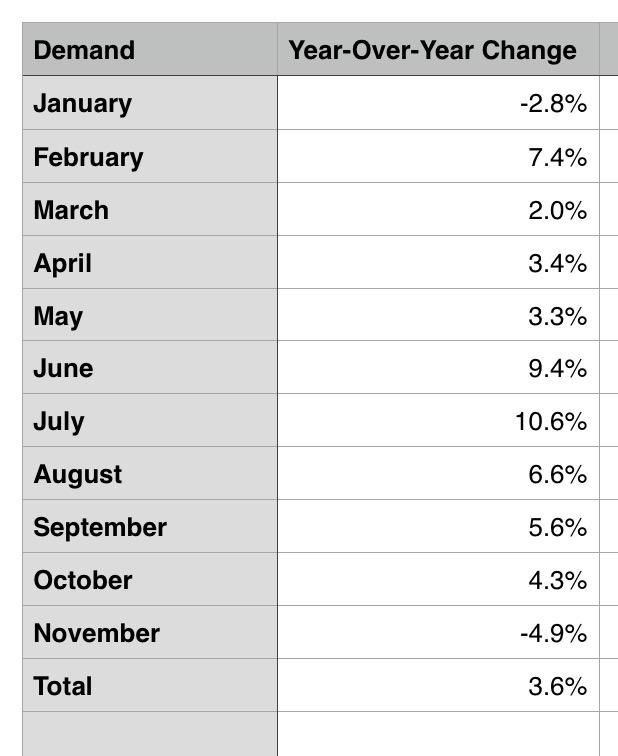 On top of all of this, I suspect that there's a high probability that natural gas production will fall meaningfully some time this year. I am currently in the process of writing some pieces on the topic but one takeaway is that the huge drop in rig count will, if it persists, drive production lower this year. As of the last week of January this year, according to Baker Hughes (NYSE:BHI), the natural gas rig count in the U.S. stood at 121 units, down 62.1% from the 319 units seen the same period a year ago, while the Canadian rig count stood at 105 units, down 45.9% compared to the 194 units seen this time last year.
Takeaway
Right now, there seems to be no justification that I can see for the drop in the price of natural gas. As of the time of this writing, there appears to be no glut in this space and demand growth has been fairly impressive in recent months and years. In addition to this, the rig count for natural gas is much lower than it was just one year ago, which should imply a drop in production. If anything, this all is more likely to result in a natural gas shortage than it is a glut, a sign that should be bullish for investors in this space moving forward.
Disclosure: I am/we are long LINE, BBEP.
I wrote this article myself, and it expresses my own opinions. I am not receiving compensation for it (other than from Seeking Alpha). I have no business relationship with any company whose stock is mentioned in this article.
Editor's Note: This article covers one or more stocks trading at less than $1 per share and/or with less than a $100 million market cap. Please be aware of the risks associated with these stocks.