Record high farmland values and strong farm income were highlighted in the Federal Reserve Bank of Kansas City's recent fourth quarter survey of Agricultural Credit Condition. The survey detailed several indicators of farm financial conditions in the 10th District including farmland values, interest rates on farm loans, and credit supply and demand.
Rising Farmland Prices
2011 posted a record high, 25% increase year-over-year in farmland values. The value of nonirrigated and irrigated cropland in the District climbed 8.9% and 7.5%, respectively, compared to third quarter gains of 2011. District ranchland values increased 3.1% in the fourth quarter marking a year-over-year increase of 14%.
Farmland values soared to record highs due to strong farmer demand. Absentee land owners saw this increase in demand as an opportunity to sell their land, and did so. Farmer purchased farmland jumped to 73% of total sales in 2011 compared to 60% in 2005. Outside investor interest remained high for productive cropland, although the volume of farmland bought for recreational and development use declined. A third of District bankers expect farmland prices and the amount of farmland for sale to increase throughout 2012.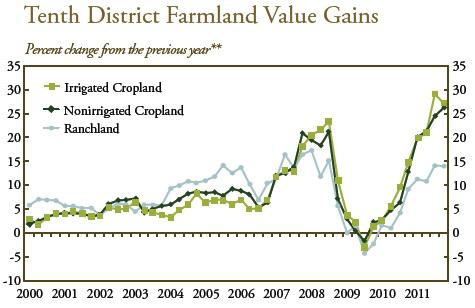 Annual cash rental rates for cropland increased 18%, well above the 6% increase last year. Ranchland rental rates increased moderately by 10%, compared to a 4% increase in 2010.
Farm Income
Farmland income in the 10th District strengthened in the fourth quarter and is expected to remain strong throughout the first quarter of 2012. Crop prices remained strong through the fourth quarter supporting farm income in regions with successful harvests. However, farm income varied in 2011 due to regional weather events such as the droughts in Oklahoma and Kansas where producers had decreased income as crop insurance claims were relied on.
Livestock prices in the fourth quarter continued to outpace prices from a year ago. Elevated prices are attributed to drought-induced herd liquidations, pushing cow inventories to historic lows. Farm income for livestock operators depended on their ability to manage elevated feed costs.
Farm Loan Portfolio
Loan demand picked up in the fourth quarter as more equipment and capital improvements were purchased and the capital spending index increased after a six month decline. Purchases increased due to the 2011 federal tax rules on bonus depreciation allowances. Bankers indicated that sufficient funds were available for loans in the fourth quarter; less than 1% of loans were refused. Looking forward, loan demand is expected to rise modestly in the short-term, as farmers prepare for spring planting.
Another factor affecting loan demand is low interest rates. The fourth quarter interest rates averaged 6.3% for farm operating loans, and fell below 6.0% to 5.9% for the first time in the survey's history on farm real estate loans.
Disclosure: I have no positions in any stocks mentioned, and no plans to initiate any positions within the next 72 hours.