Magna International (MGA), as one of the largest automotive supplier, seems to be stuck in a unique position, where the headwinds faced by the global auto industry are about to hit the business, but the benefits reaped by a big portion of the auto component industry mostly bypassed the company. The business seems to be facing a 'too large to deliver' problem and the stock has so far failed to present any catalysts that can help avoid the 'value trap' classification. The fundamentals, of industry and the business, are taking a turn for the worse, thus deserving a closer look.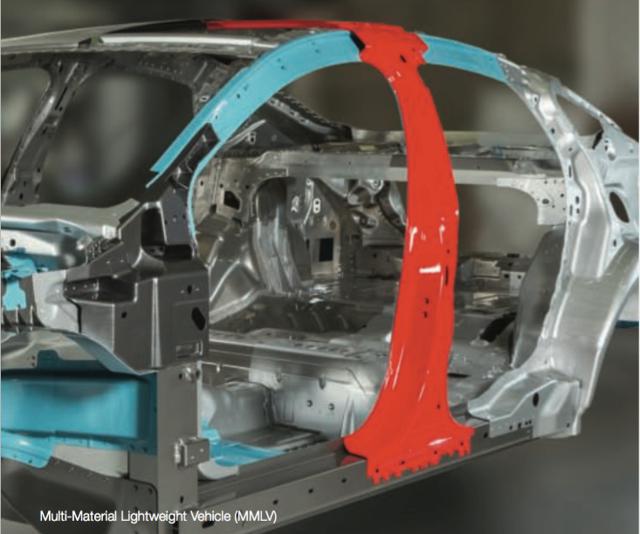 Image Source: Magna International annual report
With more than half a dozen product capabilities - body, chassis, exterior, interior, seating, Powertrain, electronics, vision, etc., the company can very well be labeled as one of the most diversified auto equipment supplier. Added to this safety quotient is the cheap valuation, especially based on historical financial metrics and current Street estimates. No wonder, the bulls may like to tout the name as a safety trade, with the stock down 30-40% over the past six months, and the business generating almost a billion dollars in free cash flow. The news about share repurchases, acquisitions and other ways to flex to balance sheet may continue to drive investor interest and volatility.
But aside from valuation, the stock seems to offer little to the investors. The business is large enough that the fortunes of the company are tied to the industry, with any single exciting product, e.g. SmartLatch or EYERIS, may not be able to change much. Macro headwinds are only gaining pace for the industry, be it the expected slowdown in U.S. auto demand after years of strong performance, the rise of the Asian players or unfavorable currency trends. For Magna, the impact of some of these pressures may be even more pronounced, partly due to poor customer mix, wide range of low-margin offerings and operational inefficiencies suffered by the business. The balance sheet may be decent for now, but as the industry separates between players focused on particular product category and large consolidated players out of Asia, a few billion dollars to grow more than half a dozen product categories may not do much.
For the stock, valuation alone may not work for long, which any Apple (NASDAQ:AAPL) shareholder will attest. Since the Street estimates are relying heavily on buyback and fundamentals are deteriorating, it may not be long before estimates hit realism, maybe over the coming weeks, as analysts refine estimates. As for buyback and dividends, there is limited room for growth after the announced 40 million shares buyback, if the company sticks to its targeted leverage levels of 1.5 times EBITDA. The trading multiple may look extremely low based on historical finances, but then cyclical names do at the peak of the business cycle.
Tied to the industry dynamics, which may not be a good thing this time
As covered in my previous note on Gentex Corp. (GNTX), the industry dynamics are ready to separate 'wheat from the chaff' and bottom up stock picking may be rewarded.
There are a few major themes playing out in the space, especially in the North American auto component space.
Consolidation
Currency
Economic cyclicality
The consolidation is all over the auto food chain, be it companies like Johnson Controls (JCI) getting out of the business or Icahn's active interest in building up a portfolio of auto parts retail asset with Pep Boys (PEP). The reasons are easy to spot, years of good auto demand, especially in the U.S. and Asia, improved balance sheets and favorable credit markets. Indeed, equipment suppliers seem to have performed better than the auto companies themselves, partly by moving up the value chain, by developing more high-tech parts, and diversifying geographical exposure. The acquisition of Getrag, a technology leader in transmissions, by Magna is a step in that direction, but too little to make any major impact on more than $30 billion in revenue.
But within the consolidation trend, the thing that stands out is the rising influence of Asian players. Players like Yanfang Automotive (from China) and Motherson Sumi (from India) are still largely unknown to the U.S. markets, but gaining significant influence, in scale and product offerings, posing a major competitive threat.

Image Source: India brand equity foundation
A strong dollar is playing right into this disadvantage. Even though Magna is headquartered in Canada, the recent currency impact on the top line and weak margins highlight the extent of the problem. Not just currency, but the company has even failed to fully monetize the falling commodity prices, at least looking at the margins. Even though weaker than earlier levels, the Indian auto component industry improved operating margins by 180 bps, while growing exports, and most industry analysts expect the improvement may hold on. No wonder the share of the imported content/vehicle in the U.S. has increased by more than 15% since 2008.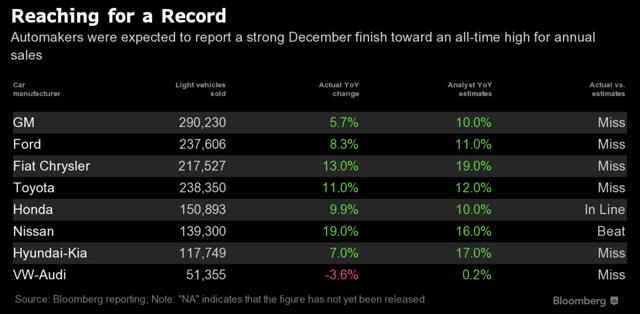 Image Source: Bloomberg
Now that macroeconomic concerns are surfacing again, the pain may just accentuate. The carmakers have started to report disappointing numbers, relative to estimates. Ford's (F) December sales, highest yearly growth in nine years, fell short of estimates. Similarly, other players saw multi-year high revenues, but worse than expectations, not a good sign for turning business cycle. For Magna, General Motors (GM), Fiat (NYSE:FCAU), Ford, BMW (BAMXY), Daimler (OTCPK:DDAIF) and Volkswagen (OTCPK:VLKAY) made up close to 83% of the revenue in 2014, and as the chart above shows, that may not be all that good news. The start of the rise in U.S. interest rates and difficult credit markets, especially after years of liberal financing, may add to the cyclical headwinds.
Not well prepared for the weather
Usually, auto component players have successfully moved up the value chain, penetrating into diversified customer base and strengthening balance sheets, but Magna's effort in this direction seems to have been too little too late.
| | | | |
| --- | --- | --- | --- |
| Growth | 2013 | 2014 | Q1-Q3 2015 |
| North America | 9% | 9% | 1% |
| Europe | 13% | 1% | -20% |
| Asia | 35% | 18% | -1% |
| Rest of world | 7% | -22% | -26% |
| Total External production | 12% | 6% | -7% |
| Complete vehicle assembly | 20% | 0% | -28% |
| Tooling, Engineering. & Assembly | 22% | 5% | -8% |
Most core growth metrics look bad, partly due to currency, but even excluding the currency impact, things are far from impressive.
| | | | | |
| --- | --- | --- | --- | --- |
| As % of rev. | 2013 | 2014 | Q1-Q3 2015 | Latest Qtr. |
| Gross profit | 13.1% | 13.7% | 14.2% | 14% |
| Selling, Gen. & Admin. | 4.6% | 4.7% | 4.4% | 4.7% |
| Operating profit | 5.4% | 6.6% | 7.3% | 6.6% |
Margins, which have been improving for years, have started to show strains. Although the company blamed operational inefficiencies due to capacity constraints and new launch activities, the path back to margin improvement is still uncertain. There is hardly any leverage visible on the SG&A expense, and even though the cost of material constitute around 70-75% of the cost of goods, there is no major benefit visible on the gross profit line from the falling commodity prices. As the production volume declines, the pressure may only mount.
| | | | | |
| --- | --- | --- | --- | --- |
| | 2012 | 2013 | 2014 | Q1-Q3 2015 |
| Book value/ share | $17.4 | $20.8 | $20.0 | $21.3 |
| Tangible book/ share | $14.2 | $17.7 | $16.9 | $18.3 |
| LT debt/ share | $0.9 | $0.8 | $2.3 | $3.9 |
| Interest | $16 | $16 | $29 | $27 |
| EBITDA/ Interest | 151 | 196 | 121 | 91 |
The balance sheet is in a relatively great shape, but the benefits may accrue only if the company leverages a bit, which the current management seems less keen on.
| | | | | |
| --- | --- | --- | --- | --- |
| Fiscal Yr. (All $M, except per share) | 2012 | 2013 | 2014 | Q1-Q3 2015 |
| Cash flow operations | $2,206 | $2,567 | $2,792 | $1,316 |
| Capital expenditure | $1,274 | $1,169 | $1,586 | $987 |
| Free cash flow | $932 | $1,398 | $1,206 | $329 |
| Adjusted EBITDA | $2,416 | $3,128 | $3,522 | $2,462 |
| Growth | 27% | 29% | 13% | -5% |
| Adj. EBITDA/ Share | $5.14 | $6.78 | $8.13 | $5.94 |
Besides management reluctance, a high level of capital expenditure due to a constant requirement for modernizing plants and a vast portfolio, requiring large acquisitions to make any difference, may restrict any major improvement.
Reverse engineering the expectations

Fiscal year

2015

2016

Revenue growth expected

-11.5%

9.0%

Revenue

$32,427

$35,346

Operating margin

7.7%

7.5%

Net Interest & Other

$30

$30

Tax rate

26%

26%

Shares (M) diluted

415

380

EPS

$4.39

$5.14

Street

$4.39

$5.14

* Keeping everything else steady

* Author's calculation. Only for academic purpose, actuals may vary significantly.
In the meantime, a quick back of an envelope calculation should highlight that earnings growth or Street estimates may have to rely heavily on the expected buyback of close to 40 million shares. Otherwise operating margins may have to improve by at least 60-70 bps to deliver a similar type of earnings growth.
Earnings sensitivity analysis (Approx.)

Change of

Metric

EPS Change *

1%

Revenue

4-6 cents

1%

Gross margin

60-70 cents

1%

Operating Margin

60-70 cents

* Keeping everything else steady as % of revenue.

* Author's calculation. Only for academic purpose, actuals may vary significantly.
Note: Detailed proprietary model is not attached in this note for the sake of easy readability, but happy to help and provide more details to readers interested in understanding the calculations used in this note.
Disclosure: I/we have no positions in any stocks mentioned, and no plans to initiate any positions within the next 72 hours.
I wrote this article myself, and it expresses my own opinions. I am not receiving compensation for it (other than from Seeking Alpha). I have no business relationship with any company whose stock is mentioned in this article.