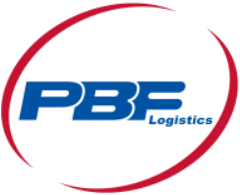 PBF Logistics (NYSE:PBFX) announced its first ever third-party transaction with an agreement to buy four refined products terminals in the Philadelphia area from Plains All American Pipeline (NYSE:PAA) for $100 million. This is the kind of acquisition MLP investors like to see: an attractive multiple, accretive, fee-based cash flow, and valued-added optionality to the general partner - PBF Energy (NYSE:PBF). The acquisition essentially doubles the partnership's storage capacity and greatly expands its terminalling footprint while concurrently establishing significant third-party revenue streams. It was an excellent deal for PBFX.
Prior to this transaction, the company had been traveling down the typical drop-down associated with most MLPs linked to a refining GP. Since the IPO in May of 2014, PBFX had invested over $450 million to expand its asset base - primarily through drop-downs with a few organic growth projects on the side. As a result, DCF has more than doubled, and distributions have grown at a 17% CAGR. The result was an MLP with a stable, fee-based revenue stream and a number of quality midstream assets as shown below: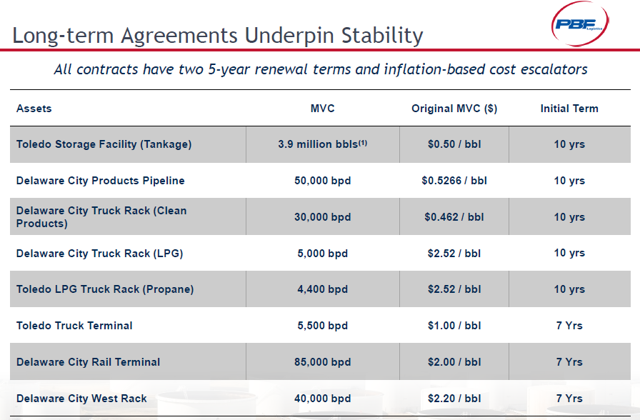 Source: January presentation
However, distributable cash flow stagnated a bit between Q2-15 and Q3-15 (essentially flat at $22.1-22.2 million) with all the assets shown above being tightly aligned with the general partner PBF Energy. It was clearly time for another drop-down to re-accelerate growth. Or, alternatively - a third-party acquisition. Luckily, for PBFX shareholders, it was the latter - because this transaction is a game changer for the company.
The assets being acquired from Plains All American are as follows:
57 product tanks with a total shell capacity of ~4.2 million bbls.
Pipeline connections to the Colonial, Buckeye (NYSE:BPL), Sunoco Logistics (NYSE:SXL) and other proprietary pipeline systems.
26 truck loading lanes.
Marine facilities capable of handling barges and ships.
Prior to the deal, PBFX had 3.9 million bbls of storage at the Toledo storage facility. Not only does the deal double the effective shell storage capacity, but it also does so in the eighth largest metropolitan area within 100 miles of ~1.3 million bpd of refining capacity on the East Coast. As if that wasn't good enough, the terminals and storage assets are connected by a pipeline to every major pipeline system in the Philadelphia area. All this for $100 million.
Including an investment of $5 million in cash on hand to improve the infrastructure in order to increase the throughput capability and synergy opportunities at the new terminals, the acquisition is expected to generate ~$15 million of pro forma EBITDA, of which approximately two-thirds is expected to be from third-party customers. That equates to a price-to-EBITDA multiple of 7x, extremely attractive for a midstream acquisition which is typically in the range of 8-10x. In addition, the strategic nature of terminals and storage assets connected to major pipelines like Colonial and Buckeye cannot be understated for added supply optionality. After supply interruptions due to the Superstorm Sandy, New York City did a study of the metropolitan area's "liquid fuels supply" infrastructure. The graphic below came from that study and shows the critical role both the Colonial and Buckeye pipelines, as well as regional refineries and marine deliveries, play in delivering refined products to end-use consumers: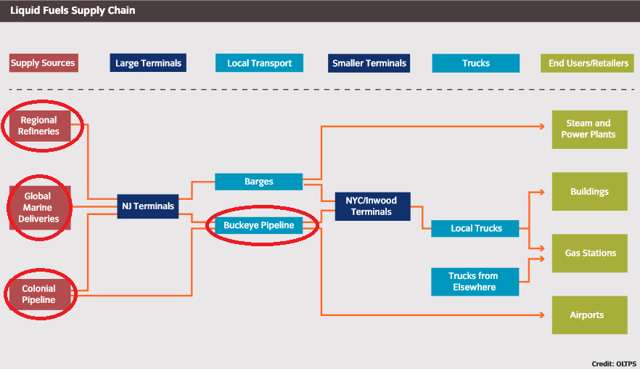 Source: NYC Liquid Fuels Study
The Colonial Pipeline is one of the largest refined products pipelines in the US and typically delivers an average of 100 million gallons per day to communities and businesses. The ability to connect to Colonial will enable PBF to effectively connect its Chalmette Refinery on the Gulf Coast, which it purchased from Exxon Mobil (NYSE:XOM) and Petroleos de Venezuela last November, to the partnership's new assets and refineries on the East Coast.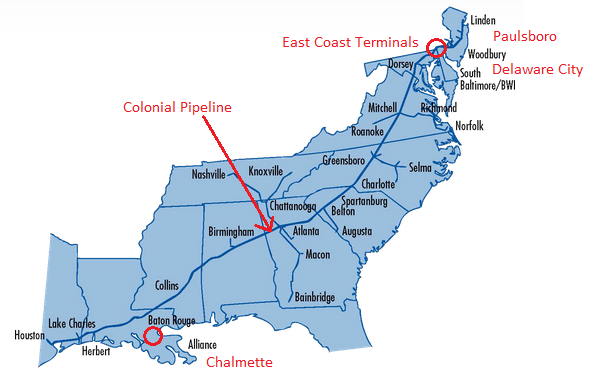 Source: Colonial Pipeline Company map
Chalmette is an 189,000 bpd, dual-train coking refinery with a Nelson Complexity of 12.7. It is capable of processing both light and heavy crude oil. The facility is strategically positioned on the Gulf Coast with strong logistics connectivity - including both the Colonial and Plantation pipelines - two of the largest refined products pipelines in the US. Being just outside New Orleans on the Mississippi River, Chalmette also has the potential to export products.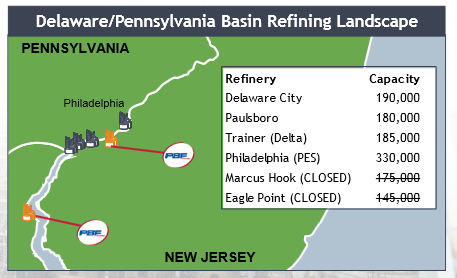 Source: PBF Energy presentation
And of course - as shown in the above graphic - the newly acquired East Coast assets in the Philadelphia area are in very close proximity to PBF Energy's Paulsboro, NJ, and Delaware City, DE, refineries. So the new terminals and storage assets acquired in this deal - and their connection to the Colonial Pipeline - are strategic in that they will enable additional optionality across three of PBF Energy's five refineries. In addition, the ability to make trade-offs between third-party deals and partnership utilization of the assets is also a positive catalyst. Note that two-thirds of the expected annual EBITDA from the newly acquired assets will be coming from third-party contracts. The increased revenue diversification reduces risks to the partnership.
The partnership broke down the acquisition's EBITDA as follows:
| | |
| --- | --- |
| Reconciliation of East Coast Terminals Forecasted | |
| Net Income to pro forma EBITDA: | |
| | |
| Forecasted net income | $8.7 |
| Add: Depreciation and amortization expense | 5.3 |
| Add: Interest expense, net and other financing costs | 1.0 |
| Pro forma EBITDA | $15.0 |
PBFX had cash and cash equivalents of $252 million at the end of Q3, so it is more likely it will not issue any new debt for the deal. The interest expense noted above likely reflects the new East Coast assets' share of the existing debt load.
Bottom line, this deal looks extremely beneficial to PBFX's unitholders. Like many MLPs, Plains All American has been under extreme pressure over the past year as units have declined by 70%. PAA's current yield of 13% is higher than the average midstream MLP and indicates stress. PAA recently borrowed $1.6 billion at 8% - a relatively high rate. The point is, PAA was likely motivated to sell non-core assets in order to shore up its balance sheet. This may explain the very attractive 7x multiple that PBFX was able to achieve. In other words, it looks to be an opportunistic deal on the part of the partnership.
Risks
As mentioned earlier, PBFX's Q2 to Q3 2015 DCF had stagnated. This was primarily the result of significantly lower volumes at the Delaware City rail rack. While the rail rack is covered by MVCs as shown earlier, it is clear the reduction of WTI/Bakken to Brent spread has made rail deliveries less justifiable. Indeed, just today RBN Energy reports rail delivery of crude continues to decline (See: Slow Train Coming):
This development has obviously taken the shine off the Delaware City rail terminal. While the MVCs certainly help protect cash flow, it is clear there is little if any EBITDA upside to the rail terminal and the value of the asset itself has been diminished.
In addition, this week, PBF Energy reported a recent storm had damaged the Delaware City refinery and caused an unplanned shutdown. As a result, PBF has decided to move forward its scheduled turnaround of the Delaware City coker and other related units. PBF expects the turnaround work will be completed by the end of the quarter. The impact is that PBF now expects East Coast throughput to be ~280,000 to 300,000 bpd for Q1 and 320,000 to 340,000 bpd for the year. That compares to a total capacity of 370,000 bpd. While it is a temporary condition, the shutdown will likely negatively impact all of PBFX's Delaware City operations during Q1.
Summary & Conclusion
The short-term Delaware City refinery issues aside, the future looks bright for PBF Logistics. In addition to this recent deal with PAA, the general partner recently agreed to buy two large refineries - Chalmette and Torrance. These two refineries diversified the partnership's geographic footprint to include the Gulf and West Coasts and added to the inventory of potential MLP drop-downs for PBFX - increasing its growth opportunities going forward. Meantime, the accretive East Coast deal was done at a very attractive 7x multiple and will increase PBFX's Q3 annualized EBITDA by ~13%. That will insure continued distribution growth going forward. Meantime, the market is apparently more focused on the short-term Delaware City refinery issues than the excellent deal with PAA and has pushed the units lower. They are now yielding 8.9%. This is a very attractive yield considering that PBFX offers excellent long-term potential for distribution growth due to its relationship with refiner PBF Energy. The low price of both gasoline and diesel should translate into higher volumes for most MLPs linked to refiners including PBFX.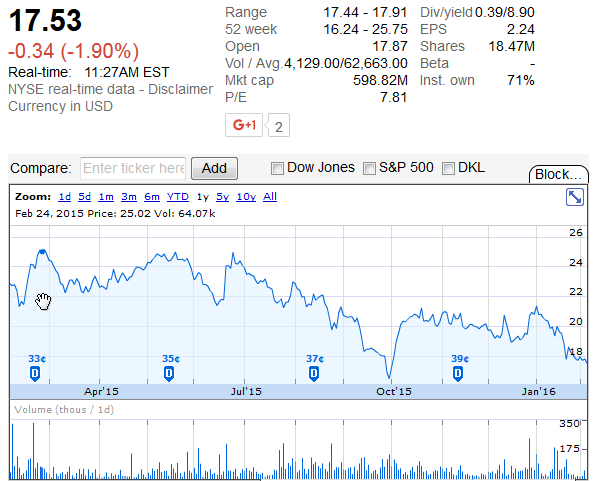 Disclosure: I am/we are long XOM, PBFX.
I wrote this article myself, and it expresses my own opinions. I am not receiving compensation for it (other than from Seeking Alpha). I have no business relationship with any company whose stock is mentioned in this article.
Additional disclosure: I am an engineer, not a CFA. The information and data presented in this article were obtained from company documents and/or sources believed to be reliable, but have not been independently verified. Therefore, the author cannot guarantee their accuracy. Please do your own research and contact a qualified investment advisor. I am not responsible for investment decisions you make. Thanks for reading and good luck!