On Tuesday Exxon Mobil (NYSE:XOM) reported fourth quarter and full year 2015 results. Exxon Mobil faced huge revenue and earnings declines, but remains profitable and was able to grow production. Exxon Mobil remains the safest and best positioned oil major, but has substantial downside risk, I believe.
Numbers recap
Exxon Mobil grossed revenues of $60 billion in the fourth quarter, $28 billion below last year's number. With $2.8 billion in net income (-58 percent yoy) the company's earnings per share were $0.67.
For the full year Exxon Mobil's revenues totaled $267 billion, which was $143 billion below 2014's number. Full year net income declined 50 percent to $16.2 billion, earnings per share for the full year were $3.85.
The positives
Exxon Mobil was able to grow production substantially in the fourth quarter, as well as for the full year: Oil-equivalent production grew 4.8 percent from Q4 2014, with liquids production growing 14 percent and natural gas production dropping six percent. This is a very strong result per se -- production growth of almost five percent is something Exxon Mobil's shareholders haven't seen in a long time. The different production trends in liquids (upwards) and natural gas (down) are not too surprising, since Exxon Mobil has focused on liquids growth over the last years. When we look at the charts for oil and natural gas, it is pretty easy to understand why: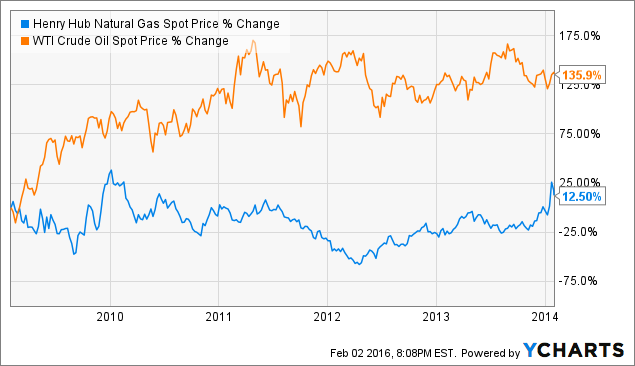 From 2009 to 2014, thus in the years when the decisions for major projects which are coming online now were made, we have seen very strong appreciation for the price of oil, whereas gas prices did not increase much. At the same time gas prices were very volatile, dropping by more than fifty percent from 2010's level at one point. Since Exxon Mobil's XTO acquisition did not turn out as the best acquisition money could buy, it is not surprising that Exxon Mobil chose to focus on oil investments in the last few years. When the projects that are coming online now were approved and started, management did not know yet that oil prices would crash the way they did. I nevertheless don't see Exxon Mobil's focus on liquids as a negative, the price of crude oil could easily increase by a substantial amount, e.g. if OPEC (maybe together with Russia) decided to cut production, as has been rumoured.
Exxon Mobil's focus on the most profitable upstream plays is also paying off now, as the company's upstream division remains profitable despite the very weak oil prices we have seen over the last months: In the fourth quarter Exxon Mobil's upstream business reported net income of $900 million, whereas Exxon Mobil's competitor Chevron's (NYSE:CVX) upstream division, as well as almost every E&P company, had to report losses.
The next positive I see is the positive effect of Exxon Mobil's diversified operations: Upstream operations remained positive, but earnings declined by eighty percent. This was, however, absorbed by Exxon Mobil's downstream and chemicals operations, which are not dependent on high oil prices: With downstream earnings rising by more than $900 million and chemicals earnings coming in at $960 million for the fourth quarter, Exxon Mobil' bottom line did not decline by nearly as much as eighty percent (as did upstream earnings).
Exxon Mobil's cash position remains strong as well: For 2015 the company produced operating cash flows of $32.7 billion, which was enough to cover the company's capital expenditures of $31.1 billion and have free cash flows of $1.6 billion remaining. This leaves Exxon Mobil in a better position than almost every other energy company, with Exxon Mobil's competitors such as Chevron or Total (NYSE:TOT) reporting negative free cash flows for 2015, as did basically every pure upstream company.
The negatives
Despite some positives for Exxon Mobil, there are some negatives as well. The company remained free cash flow positive, but free cash flows were not high enough to fund all of Exxon Mobil's shareholder returns. With $12 billion in annual dividends and $2 billion in annual share repurchases Exxon Mobil's shareholder returns totaled $14 billion, which was about $12 billion above the company's free cash flow mark -- Exxon Mobil was able to fund all of its capital expenditures with operating cash flows, but had to use cash reserves and take on additional debt to fund its shareholder returns.
Exxon Mobil has suspended its share repurchase program (recent pace was 500 million per quarter), I see this as an opportune decision based on the fact that these share repurchases did not have a material effect on Exxon Mobil's share count, but this will mean the company won't have to take on additional debt of $2 billion a year to buy back less than one percent of its share count a year. With a dividend growth streak of more then 25 years it seems likely that Exxon Mobil will continue to pay (and possibly increase) its dividend over the next years, even if it means additional debt on the balance sheet.
The next negative I see is not related to the fourth quarter, but to the current quarter: Exxon Mobil's earnings will likely be even lower in the current period than in the fourth quarter.
I base this assumption on two key factors:
- Oil prices are lower than in the last quarter
- Crack spreads are lower than in the last quarter
Exxon Mobil's net income depends on the performance of its three divisions: Upstream earnings are related to oil prices, downstream earnings are related to crack spreads, whereas chemical earnings are rather independent from both of these metrics.
With crude oil prices well below the Q4 average of about $45 right now, the average crude price for the current quarter will very likely be below last year's number (so far the first quarter's average is about $35, more than twenty percent below last quarter's number). This will mean lower upstream earnings (or possibly upstream losses) for Exxon Mobil, as it will affect every oil producer.
At the same time crack spreads (the price differential between refined products and crude oil) are tracking lower each month, with crack spreads for the current quarter well below the Q4 average: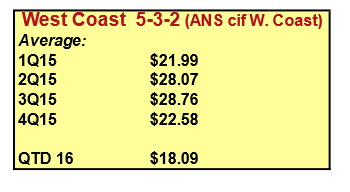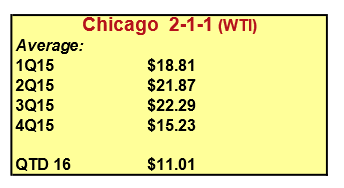 When we look at Howard Weil's data we see that crack spreads for Chicago, the West Coast (both pictured above), as well as for other key regions such as Gulf Coast and Europe are pretty low right now. If crack spreads for the current quarter remain below last quarter's numbers, this will mean lower earnings for Exxon Mobil's downstream division, which in turn could be a huge negative for the company: Lower upstream earnings and lower downstream earnings hitting Exxon Mobil's bottom line at the same time will mean a huge decrease in profitability -- not huge enough to make the company report losses, I believe, but this could still hurt.
As I now established that the earnings outlook for the next quarter is not too good, and that profits will likely continue to decline, we get to another negative: Exxon Mobil's valuation is not really low, which could mean substantial downside from the current level.
Exxon Mobil trades at $75 right now, which is more than ten percent above the 52 week low from August, and not even twenty percent below the 52 week high. On the one hand one could argue that the stability of Exxon Mobil's share price is a positive for investors, but I believe the fact that Exxon Mobil's shares held up over the last months could be a negative: When the market realizes that the earnings outlook is not good at all (and certainly a lot worse than in August, when Exxon Mobil was trading at $66), the company's shares could decline to the levels seen last summer, or even lower. This does not have to happen, but I believe it is possible, and a fifteen percent price drop could wipe out four years of dividends. For anyone looking to buy Exxon Mobil waiting thus may be the better alternative, since better entry points could lie ahead.
Takeaway
Exxon Mobil is recognized as the most stable oil major, and the latest results show why: Exxon Mobil remained profitable and free cash flow positive through the fourth quarter, unlike peers such as Chevron or Total. With production growing by five percent the company's huge investments over the last years are starting to pay off, but there are negatives as well: Exxon Mobil can't fully fund its dividend with organic cash flows, and the earnings outlook is pretty dim: Lower upstream and lower downstream earnings are very possible for the current quarter, and with Exxon Mobil's shares trading well above last August's lows I believe there is substantial downside risk. For those looking to buy waiting may be the better alternative for the time being.
Disclosure: I/we have no positions in any stocks mentioned, and no plans to initiate any positions within the next 72 hours.
I wrote this article myself, and it expresses my own opinions. I am not receiving compensation for it (other than from Seeking Alpha). I have no business relationship with any company whose stock is mentioned in this article.