The most vital resource on the planet is already scarce
Only few people realize the importance of water in our daily energy use, or the energy required to heat, treat, and supply water. Powering one 60-watt bulb for 12 hours a day over the course of a year can require 3,000 to 6,000 gallons of water, which is enough enough to fill a large tanker truck.
Most companies' are extremely dependent on water resources. The automotive industry, for instance, create products that consist of metals, chemicals, oil, and gas, which are among the most water-intensive industries. Others, including technology and telecommunications companies, are major customers of - and suppliers to - those industries. Almost everyone plays its own part in this game. But the bitter point that the abuse and mismanagement of the most vital resource on the planet is already making it scarce.
Already today roughly 35% of global population (2.5 Bn people) live in water-scarce regions and 22% of the world's GDP is produced in those areas. As wee see from the picture, the most "red" regions are dominantly the Middle East and Southeastern Asia, where the water scarcity has already provoked serious political and economic problems (it was a pretext of the Syrian Civil War and the decades-old conflict between Israel and Palestine).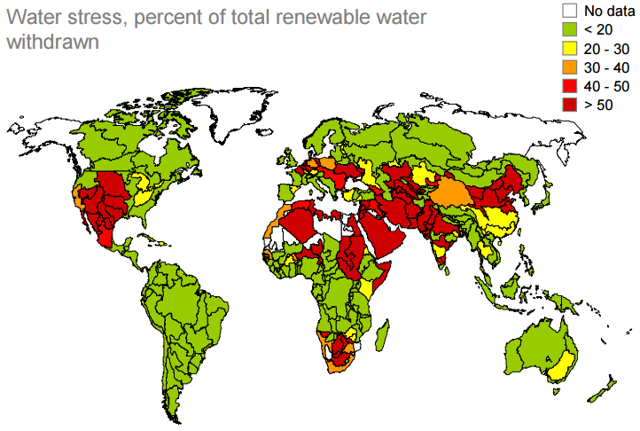 Source: International Food Policy Research Institute
And it seems that this is only the beginning: the world's demand for water is likely to surge in the next few decades. Rapidly growing populations will beget increased consumption by people, farms and companies. More people will move to cities, further straining supplies and increasing demand. Climate change is also expected to make some areas drier. As precipitation extremes increase in some regions, affected communities face greater threats from droughts and floods.
Projections for 2030 and 2050
We can see from the chart below that the population is growing at a fast pace (expected world population in 2030 - 8.3 bn, in 2050 - 9.1 bn) with India, China, Sub-Saharan Africa being at the forefront. By 2030 the population of India, China and Africa will be 2, 1.4 and 1.5 bn. By 2050 - 2.3, 1.4, 2 bn respectively.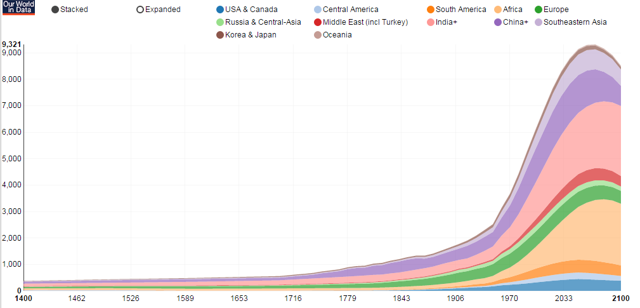 Source: Our World In Data
I've decided to find out how the already water-stressed areas will affect the global economy in 2030-2050 under moderate scenario (so called the Business as usual scenario). The following assumptions have been made:
Domestic sector shows moderate improvements in leakage reduction and water efficiency gains.
50% of water productivity levers are achieved in industry.
Energy demand increase at ~19% in OECD and ~110% in Non-OECD countries, with corresponding water use.
Energy mix with slight shift towards renewable energy mix, but with high share of conventional thermal electric generation.
2030
By 2030 the estimated global population will be 8.3 bn, 57.83% of which will be living in water-scarce areas. The water-scarce areas will account for 53% of the global GDP (China, India and Pakistan are expected to grow more than twice their size today). Both new and old superpowers will be drastically affected by the rising water scarcity due to natural disasters and dominance of conventional electric generation (US) mixed with the population growth (China, India, Pakistan). The Middle East and Africa will continue to suffer predominantly from the natural phenomena of water shortage in these areas.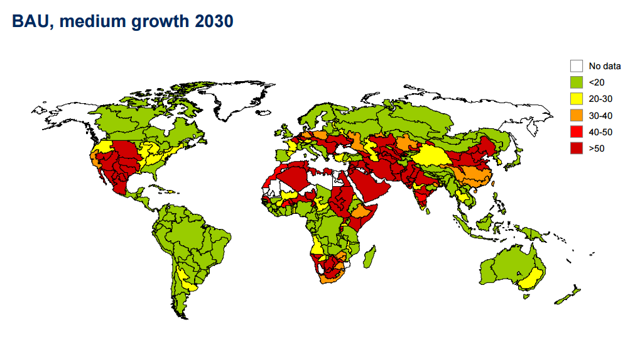 Source: International Food Policy Research Institute
By the same year roughly 70% of the water-scarce areas population will have no water access whatsoever.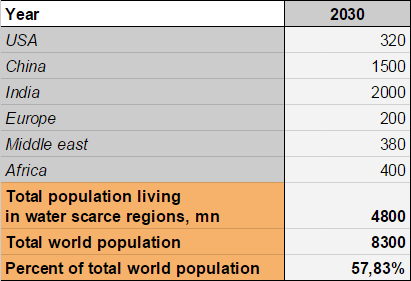 2050
By 2050 the global population will increase up to 9.1 bn, of which 61.76% (roughly 4% up from 2030, which is 800 mn people in absolute terms) will be living in water-scarce areas. The water-scarce areas will account for 57% of the global GDP.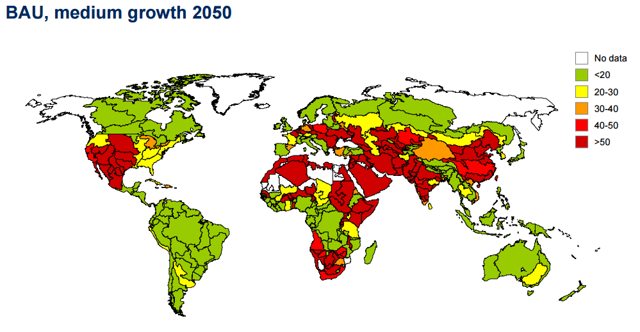 Source: International Food Policy Research Institute
The biggest increase of population living in water-scarce areas is expected to occur in India and Africa due to colossal population growth rates as well as traditional water scarcity (the absence of water sources).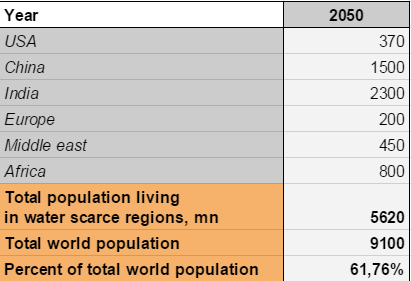 Most valuable players
With that all being said, the water equipment manufacturers seem to already step in. Demand for water treatment equipment in the US is forecast to grow 5.9% per year to $13.0 billion in 2017. According to a comprehensive global report, titled "Water and Wastewater Treatment Equipment" and published by Global Industry Analysts, Inc. (GIA), the global market for water and wastewater treatment equipment is forecasted to reach $53.4 billion by 2020.
Equipment manufactured for the water industry includes:
Catchment and drilling systems (pumps)
Transport (connection, pipes, filters, taps, etc.)
Treatment (filters, membranes, ventilators, basins)
Disinfection (clarifiers, desanders, bioreactors and non-collective sanitations systems)
Measurement (sampling, analyses, metrology, monitoring, recording)
Process equipment
The stocks of the most valuable companies in the industry are bunched together in ETFs. I would opine that water equipment ETFs are a preferable choice in this case considering the long investment horizon. (up to 50 years). The volatility of the industry mixed with long-term nature of the investment make ETFs more reliable and enticing than common stocks.
The US-traded ETFs which include such companies are:
PowerShares Water Resources ETF (NYSEARCA:PHO).
The ETF is issued by Invesco (NYSE:IVZ) and based on the NASDAQ OMX US Water Index. It comprises common stocks and American depositary receipts (ADRs) of companies in the water industry that comprise the underlying Index.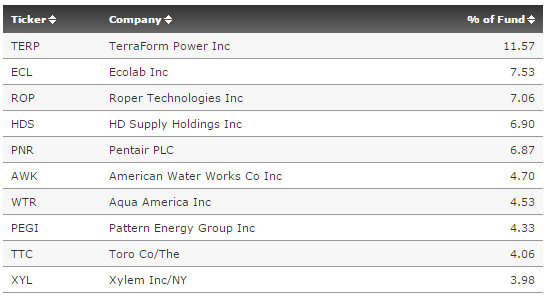 Source: Invesco
Over the last 5 years, the ETF has shown unimpressive performance, delivering a 5-year average return of 3,38%.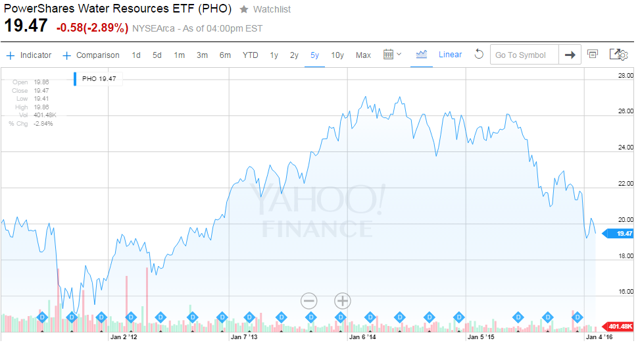 Source: Yahoo Finance
The largest share (11,57%) in the ETF is attributed to TerraForm (NASDAQ:TERP), a diversified owner of solar, wind and water assets located in the U.S. and other developed markets. The shares has slid significantly over the last 2 years as a result of spin-off conducted by SunEdison (NYSE:SUNE).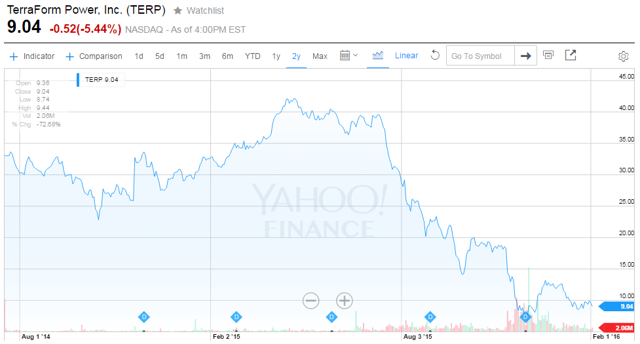 Source: Yahoo Finance
With a market cap of $31 bn, the second largest company in the ETF is Ecolab Inc (NYSE:ECL) (7,53%). Over the last 5 years, the stock has risen from $50 to $105, peaking at $120 in October 2015. Ecolab is a global leader in water, hygiene and energy technologies and services, supplying food service, food processing, hospitality, healthcare, oil and gas industries.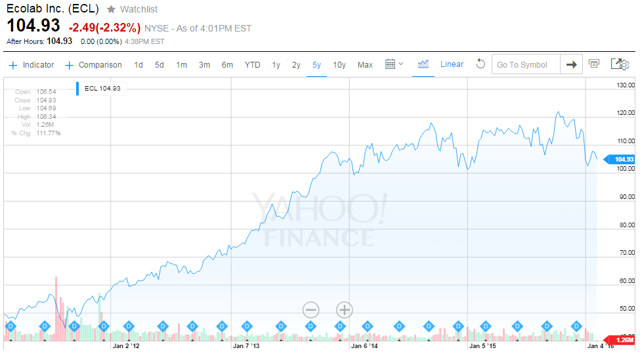 Source: Yahoo Finance
Roper Technologies (NYSE:ROP) is in third place, with a current market cap of $16 bn. During the last 5 years, the stock prices have doubled, from $83 to $158, peaking at $190 a share in November 2015. Roper is a diversified technology company with annual revenues of $3.2 billion. It provides engineered products and solutions for global niche markets, including software information networks, medical, water, energy, and transportation.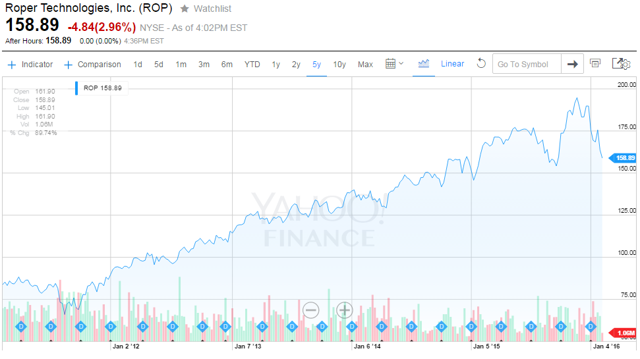 Source: Yahoo Finance
Guggenheim S&P Global Water ETF (NYSEARCA:CGW)
The Guggenheim S&P Global Water Index ETF seeks investment results that correspond generally to the performance of an equity index called the S&P Global Water NR Index. The index is comprised of 54 equity securities selected from a companies listed on global developed market exchanges. It's a newly formed ETF and we can trace its performance data only from October 2015 on.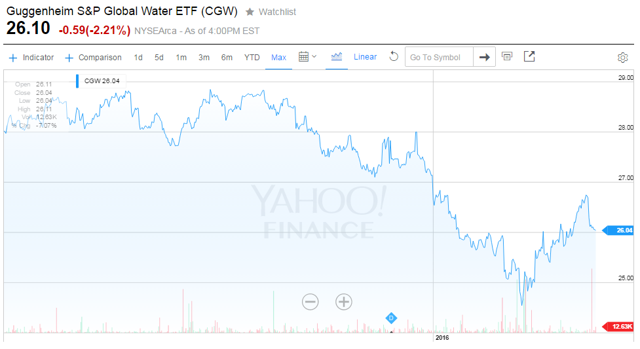 Source: Yahoo Finance
The largest companies in the ETF are Geberit AG (OTCPK:GBERY) (8.11%) and American Water Works (NYSE:AWK) (7.19%).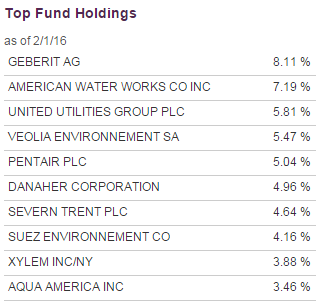 Source: Guggenheim Investments
The Geberit shares are listed on the SIX Swiss Exchange and since 2012, the Geberit share has been included in the SMI (Swiss Market Index). The share price has doubled over the last 5 years. The company is a European leader in the field of sanitary products. Geberit operates as an integrated group with a very strong local presence in most European countries, providing added value when it comes to sanitary technology.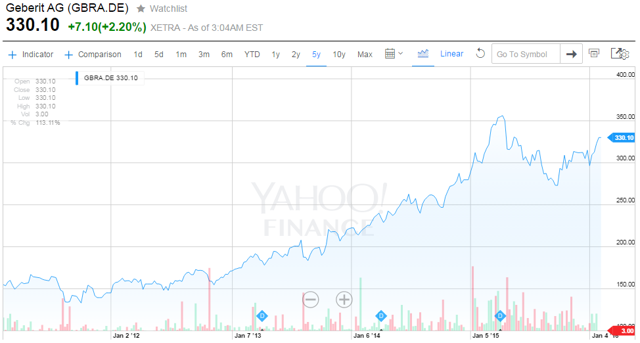 Source: Yahoo Finance
American Water Works is also looking good: over the last 5 years, the shares price have tripled, from $26 to $65 per share. Most of American Water's services are locally managed utility subsidiaries. American Water owns subsidiaries that manage municipal drinking water and wastewater systems under contract and others that supply businesses and residential communities with water management products and services.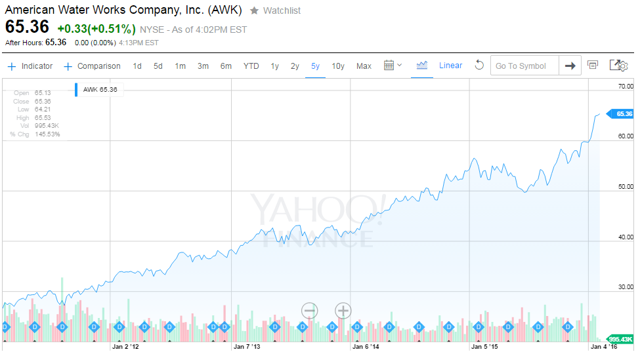 Source: Yahoo Finance
PowerShares Global Water Portfolio (NYSEARCA:PIO)
Similar to , is issued by Invesco, but embraces international markets as well. It has had moderate moderate performance over the last 5 years (3-year average - 6,74%, 5-year average -2,5%).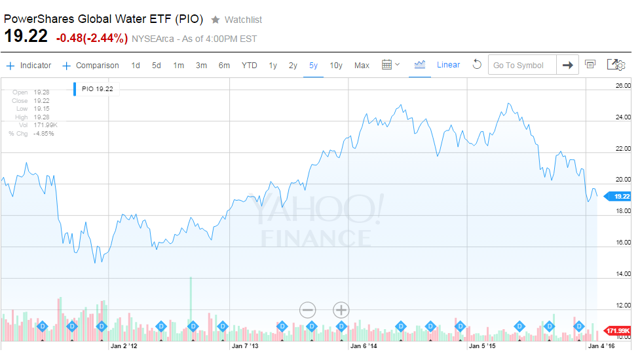 Source: Yahoo Finance
The largest companies included in the ETF are Geberit, Veolia (OTCPK:VEOEY) and Ecolab. Two of them have been mentioned above.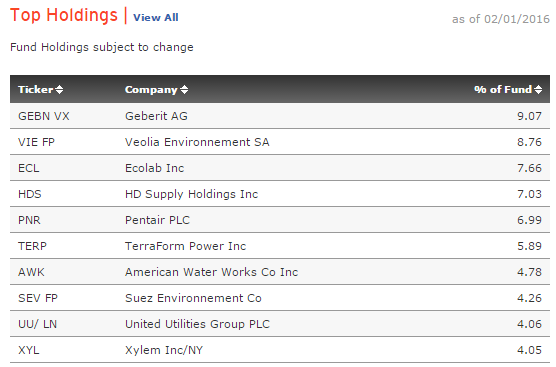 Source: Invesco
Veolia provides solutions related to water, energy and materials - with a focus on waste recovery - to promote the transition toward a circular economy. The company designs and deploys specialist solutions to provide, protect and replenish resources. The stock has performed well over the last 5 years, tripling the price during 2011-2015.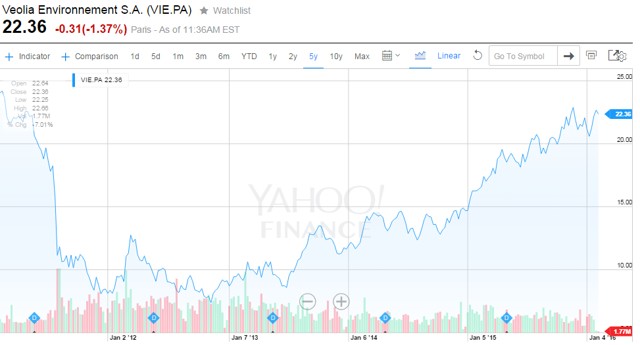 Source: Yahoo Finance
First Trust ISE Water ETF (NYSEARCA:FIW) is another water equipment ETF. The obvious bonus is that it has low volatility and yields solid money (for an ETF). Over the last 5 years, 5-year average return has been 7,2%.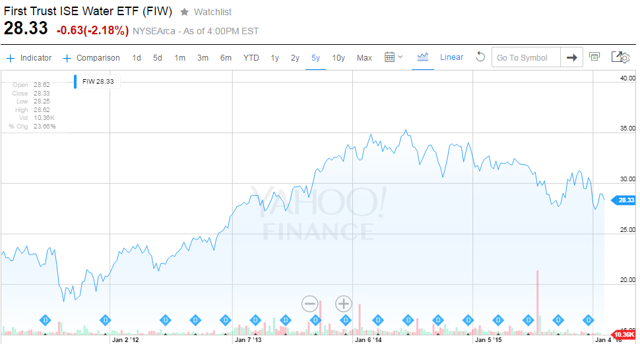 Source: Yahoo Finance
That being said, it's a nicely balanced ETF: the weights are distributed equally.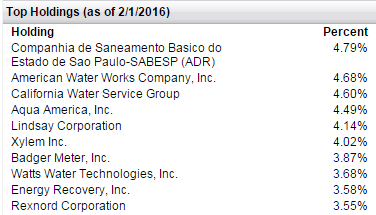 Source: First Trust
Bottom line
Water is essential to every living organism on our planet, but, sadly, we underestimate the importance of it. By 2030, as well as 2050, every other person on the planet will suffer from the water scarcity. Hence, the water investment becomes a vital one in the long-term. Now it has both low volatility and yield, but great demand for water and water equipment is a matter of time. So one should consider buying these ETFs now. As a bonus, these ETFs are very handy hedging instruments: most performed much better than S&P during 2007-2008.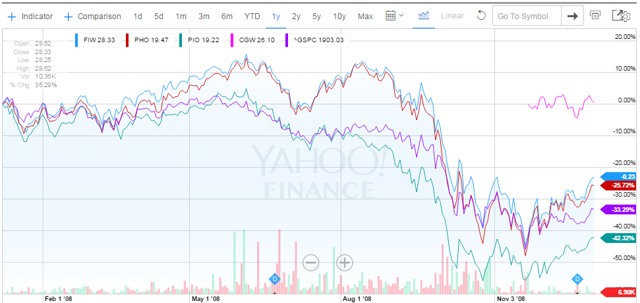 Source: Yahoo Finance
Disclosure: I/we have no positions in any stocks mentioned, but may initiate a long position in PIO, PHO, CGW, FIW over the next 72 hours.
I wrote this article myself, and it expresses my own opinions. I am not receiving compensation for it (other than from Seeking Alpha). I have no business relationship with any company whose stock is mentioned in this article.
Editor's Note: This article discusses one or more securities that do not trade on a major U.S. exchange. Please be aware of the risks associated with these stocks.