Ally Financial Inc. (NYSE:ALLY) is a financial company with revenue of $6.67B and a market cap of $7.76B. Enterprise value of the company is $75.21B. With a market cap between $2B and $10B, many investors might consider this stock a mid cap. Some value metrics for this stock may indicate the stock is deeply undervalued.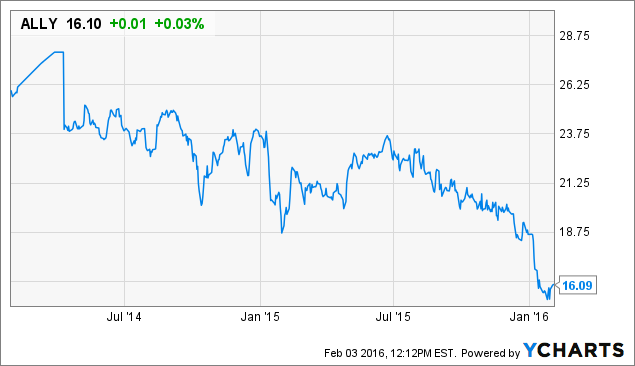 ALLY data by YCharts
One concern for investors is found in the income statement. During the 3rd quarter of 2015, the company increased its provision for loan losses to $211M. This was a 106% increase versus the prior year quarter. The company also took a $354M loss on the extinguishment of long-term debt in 2015, but this may not be a negative.
The company just reported earnings this week. From the recent earnings call, the CEO provided his opinion:
"Now to hit the highlights, we posted net income of $263 million for the quarter and $1.3 billion for the year. From a core pre-tax income basis, we delivered $446 million for the quarter and $1.8 million for the year. This reflects increases in profitability on all fronts... I do want to spend a minute on the stock price. I hope it goes without saying that I'm obviously disappointed by the performance of the stock, which I believe does not reflect the strength in results, the quality of this company and our leading franchises, the ability to deliver real returns for shareholders."
Further, management added:
"There may be some technical dynamics, i.e., a transitioning investor base impacting us. There may be some elevated auto fears impacting us. Frankly, I don't care to make excuses and make guesses. I care about delivering results that create value. We continue to do things everyday from an operational and financial perspective that will create shareholder value over time. We continuously explore all options for value creation and daily stress test our outlook and thesis. This management team has been relentless in delivering what we promise and 2016 will be no different in that regard. I have seen new investors coming into the stock including more natural long-term holders in addition to our current shareholders adding to their existing positions, which does provide some validation of the path we're on despite the day-to-day fluctuations in equity prices."
Valuation

Trailing P/E ratios are simply the current stock price divided by the last four quarters of earnings. A low ratio is best. In this case, the company just reported full-year net income of $1.3B, and that's about $2.70 per share. At the current price, the trailing P/E is 5.93, a very low value.
Many value investors may delight in the forward P/E ratio of 6.03, which is also exceptionally low. To understand, forward P/E ratios, you must know that it is a simple division of a stock's price by estimated earnings. Sometimes estimates may be revised.
Another simple measure of value is the price-to-book ratio, which measures market value of a stock versus the accounting value of the company's equity. The company currently has $28.62 per share in book value. With a P/B ratio of 0.56, this stock could be undervalued.
Value investors sometimes look at the price-to-earnings growth ratio (also known as the PEG ratio). Because this ratio takes into account earnings growth, it may give a more complete picture of value. A value argument is evident from the exceptionally low PEG of 0.45.
Technical Perspective

Technical data can help an investor understand the stock's current momentum and pricing trends. With the stock trading near $16.09 per share, the stock is about 10.58% above the 52-week low of $14.55. In the past 52 weeks, the stock traded as high as $23.83 and the current price level is 32.48% lower than that high. With the current price below the 20 DMA ($16.28), 50 DMA ($18.07), and 200 DMA ($20.71), there has been a large selloff beyond technical support levels in the past few days and months. If a stock is trading significantly below the 52-week high, it may indicate value. However, there may be a good reason for a significant drop. Furthermore, a stock trading at the top of a 52-week range may not be overvalued.
Price Target
A forward P/E ratio of 10x may be appropriate for this company. Based on that target, the stock should trade near $26 per share. During this period of market weakness, investors should average-in to their positions to limit downside and lower their basis during volatility.
Disclosure: I/we have no positions in any stocks mentioned, and no plans to initiate any positions within the next 72 hours.
I wrote this article myself, and it expresses my own opinions. I am not receiving compensation for it (other than from Seeking Alpha). I have no business relationship with any company whose stock is mentioned in this article.