In an article on January 19, I had advised investors to buy shares of Yamana Gold (NYSE:AUY) which were trading at 52-week lows when I wrote that article. The reason behind my thesis was Yamana's focus on lowering its cost profile and potentially better gold prices. Now, it looks like in just two weeks since that article, my thesis has already started playing out as Yamana has gained over 17% since January 19.
Looking ahead, I believe that Yamana is capable of recording more upside due to better gold pricing, which will allow the company to improve its margin and cash flow on the back of lower costs. But, apart from the end-market improvements, Yamana's upside will also be aided by the company's robust fundamentals. In this article, we will take a closer look at Yamana's fundamentals, which clearly indicate that it will be able to make the most of the improvement in gold prices.
A closer look at the balance sheet
A cursory glance at Yamana's balance sheet might lead you to conclude that the company carries a lot of debt. This is true to some extent as Yamana's debt is close to $2 billion, which is way higher than its cash position of $249.2 million and operating cash flow of $386 million generated in the past year. Additionally, Yamana's operating cash flow has declined in the past year on the back of weakness in gold prices.
However, on taking a closer look, it will become evident that Yamana is well positioned as compared to its rivals, and it should not have much difficulty in servicing the debt. Take a look at the following chart for example: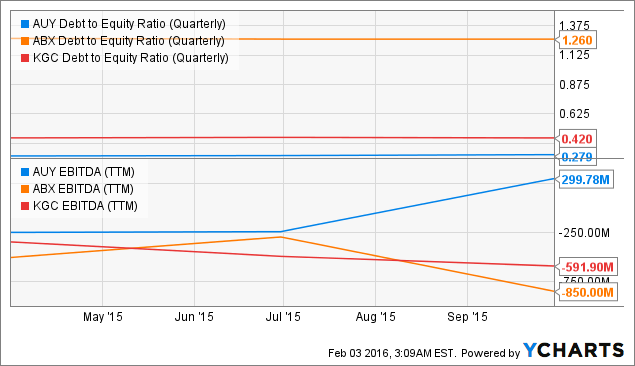 AUY Debt to Equity Ratio (Quarterly) data by YCharts
As shown above, Yamana carries the lowest leverage when compared to peers such as Barrick Gold (NYSE:ABX) and Kinross Gold (NYSE:KGC). Also, the company's improving EBITDA performance indicates that it can service its debt obligations without any problem. Moreover, as seen in the chart given below, Yamana does not have big debt maturities to contend with in 2016 and 2017.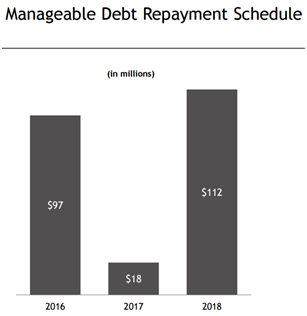 Source: Yamana Gold
Additionally, even its 2017 debt maturity of $112 million should not create much pressure since an improvement in gold prices by then will strengthen its cash flow to meet the obligation. All in all, Yamana does not have to make any sizable debt repayments before 2020.
What's more, as shown in the chart below, Yamana has been using its liquidity wisely by reducing the net debt position on the back of its metal purchase agreements, which have been used to pay the balance of its revolving credit facility.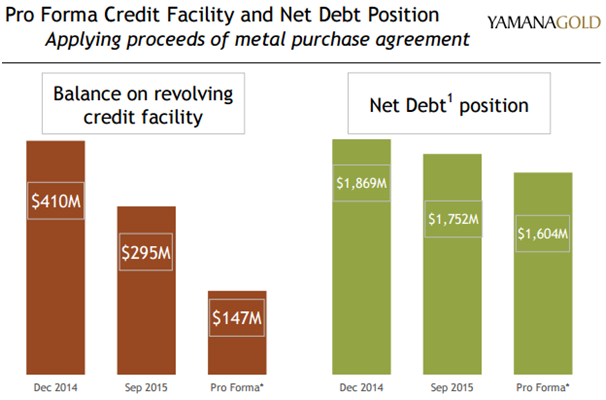 Source: Yamana Gold
Thus, as seen above, Yamana has been taking the right steps to improve the state of its balance sheet. The company has a relaxed debt repayment schedule and it is taking steps to relieve as much burden as it can by paying off its revolving credit facilities. Looking ahead, it is quite possible that Yamana will be able to improve its balance sheet further as it generates higher funds from its assets. Let's see how.
Why Yamana's balance sheet can improve further
Yamana has a strong asset base that will amplify the impact of improving gold prices on its financials and allow it to improve cash flow generation and better margins. I'm saying this because the company's cornerstone assets where it is directing most of its capital expenses are anticipated to deliver increased production at lower costs.
For instance, at Jacobina, Yamana has seen its production increase 32% and cash costs decline 27%. Similarly, at Canadian Malartic, Yamana saw its production increase 12% last quarter and cash costs dropped 10%. Now, as gold prices rise, Yamana will see an increase in its gross margin performance as the cost base of its assets is declining. This will ultimately lead to a better cash flow performance and help Yamana pay off its debt more efficiently.
More importantly, investors should not rule out further improvements in Yamana's cost profile as the company is focused on exploring more high-grade areas, which will lead to higher production at reduced costs. For instance, last quarter, Yamana's grades had increased to 2.6 grams per ton from 1.9 grams per ton in the preceding one, and looking ahead, better grades cannot be ruled out as the company sees further reductions in cash costs.
For instance, after achieving cash costs of $594 per ounce from its continuing operations in the last reported quarter, Yamana projects that its cash costs for the second half of the year will come in at $570 an ounce. As a result, Yamana can be expected to bring its free cash flow into positive territory due to lower costs and better pricing, and the good thing is that the metric is already improving at a good pace: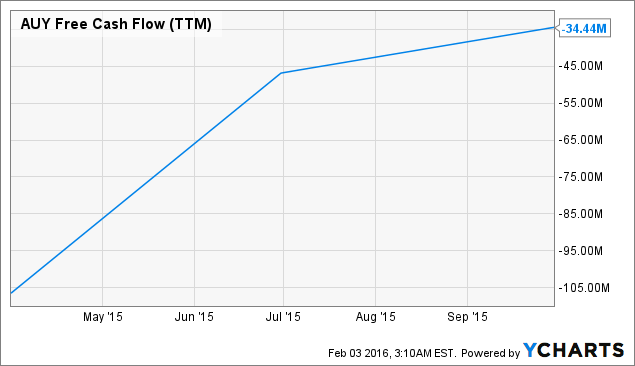 AUY Free Cash Flow (TTM) data by YCharts
Conclusion
Hence, apart from improving gold prices, Yamana Gold's favorable balance sheet and improving free cash flow are some more reasons why investors should consider going long. So, it will be a good idea to remain invested in Yamana Gold shares as it is capable of delivering more upside in the long run.
Disclosure: I/we have no positions in any stocks mentioned, and no plans to initiate any positions within the next 72 hours.
I wrote this article myself, and it expresses my own opinions. I am not receiving compensation for it (other than from Seeking Alpha). I have no business relationship with any company whose stock is mentioned in this article.