In my previous article on Microsoft (NASDAQ:MSFT), written on September 19 of last year, I argued that the company had likely reached fair value at a price of $43, and it was unlikely that we would see any significant price increases for the remainder of the year. Lo and behold, the stock reached a peak of just over $56 by the end of this year.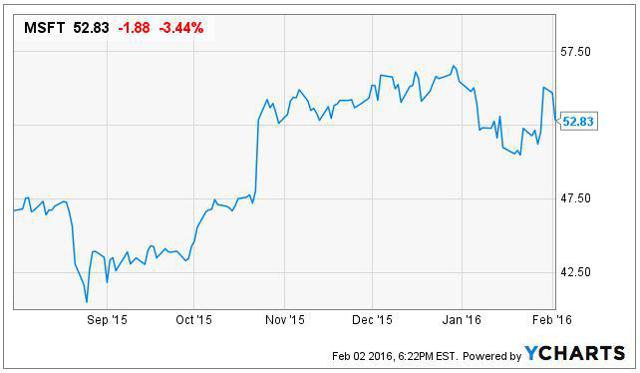 I had previously argued that a large factor behind Microsoft having previously broken through the $50 mark had been investor sentiment rather than actual earnings. In other words, the price is going higher because investors are betting on future rather than current earnings. In this context, investor sentiment is very clearly to the upside with the P/E ratio having increased sharply in 2015 from 20 to 37.
So, why all the hype about Microsoft? I do admit to having been quite the pessimist in my last article, having argued that the company may not be able to differentiate itself sufficiently in the cloud space and potentially low Surface Pro sales could derail its progress.
Granted, these risks remain. However, investors are clearly excited about what lies ahead. In fact, a commenter in my previous article detailed some very interesting points as to why this represents exciting times for Microsoft. Among them are the following:
1. Windows 10 upgrades have shown a high level of market saturation. With the software passing 10% market share, this puts it ahead of both Windows 8.1 and Windows XP. This clearly demonstrates that demand for Microsoft's software shows no signs of abating, and this will prove to be very good news for the company going forward.
2. Moreover, the big draw of Office 365 is not only cloud capability, but also new subscription plans, offering flexibility for businesses. This reorganization of the company's Office Suite offering to suit business users has resulted in a 59 percent growth in Office 365 subscriptions for Q2 2016.
3. Surface sales saw a strong rise this earnings quarter, up by 29 percent. Granted, Apple's (NASDAQ:AAPL) iPad Pro outsold the Surface tablet, but Microsoft is not overly concerned about this. The company recognizes that the business user is its main area of focus, and Microsoft is succeeding in retaining users for newer software such as Windows 10 and Office 365 as mentioned above. Given that the Surface promotes better compatibility across these and other Microsoft products, sales across businesses are expected to increase for the Surface device.
In spite of all of the above, my motto has always been "the bigger the P/E ratio, the happier you need to keep investors." In this context, what goes up greatly could also come down greatly. There is one area where MSFT could falter greatly: mobile. With phone revenues having dropped by 49 percent year on year, Microsoft's Devices segment as a whole has fallen 22 percent.
Moreover, in the latest blow to Windows 10 Mobile, WeChat has recently announced that it will no longer be accommodating the platform for development. Additionally, the software lacks sufficient initiative for developers to build applications for the platform, as it is becoming obvious that the focus in this area is on competing platforms.
In my opinion, Windows 10 Mobile stands the best chance of being a success if the company can manage to incorporate it among the suite of products it already targets to business users. Indeed, the vast majority of Microsoft's users are small and large businesses, and the best use of these devices would be for users to integrate existing Windows features such as Office 365, or other specialized business software on the Windows platform.
It is futile for Windows 10 Mobile to attempt to appeal to the mainstream market - the breadth and choice of apps available on iOS and Android far exceeds that of Microsoft. Instead, the company should position its smartphone offerings in the same way as it is positioning the Surface tablet - the ability to conduct business on the move with the full benefits of the Windows operating system.
In this context, it remains to be seen as to whether the introduction of a Surface phone could be the solution in this regard. Under current proposals, the introduction of 64-bit ARM support and x86 support would mean that Windows 10 Mobile would gain the capability to run desktop-class applications. While this would have less appeal to the regular smartphone user, it would be a boon to the many businesses that rely heavily on the Windows platform. Should such an initiative work, then Microsoft's smartphone offerings could see a significant rise in demand, and the stock price would likely rise accordingly.
To make a bold statement, Microsoft will either soar or dive at this point. Should the uptake on Windows 10, Office 365 and Surface continue, then this is very good news for the company. However, if phone sales continue to disappoint - and more importantly if the same concerns investors - then the stock could see a nosedive.
Disclosure: I/we have no positions in any stocks mentioned, and no plans to initiate any positions within the next 72 hours.
I wrote this article myself, and it expresses my own opinions. I am not receiving compensation for it (other than from Seeking Alpha). I have no business relationship with any company whose stock is mentioned in this article.