Realty Income Corporation (NYSE:O) is one of the exceptional equity REITs. Their triple net lease REIT business has them trading at a premium to peers and makes this an attractive time to issue equity and use it to fund new acquisitions if management is able to find the right portfolio of investments. That brings me to some comments that were linked to Amazon (NASDAQ:AMZN) by way of General Growth Properties (NYSE:GGP). Those comments indicated that Amazon was planning to open 300 to 400 physical book store locations. Yes, we are talking about an industry Amazon decimated.
The Story
If you haven't seen the first news blurb to show up locally, Seeking Alpha picked up the story after trading hours ended. The source linked in that post came from CNBC. However the story was only a couple paragraphs linking back to a piece on Wall Street Journal. According to the Wall Street Journal piece (also published after the market closed). That article doesn't link back to the specific earnings call, but attributes the focus of the piece to comments made by the CEO of GGP on their earnings call. Seeking Alpha has the transcript of the earnings call.
Since the market opened Barnes and Noble (NYSE:BKS) has been in a massive slide. They ended down over 5%, but the S&P 500 also opened low and slid some on the day to end down 1.8%.
Getting Back to Realty Income Corporation
When I saw the original story, before they mentioned that it was another REIT announcing it, I got to wondering if Realty Income Corporation would have any interest in being involved in such a deal. Bookstores haven't been part of their portfolio for a while. The last time bookstores represented more than .1% (yes that is a decimal before the one) of rental revenues was back in 2009.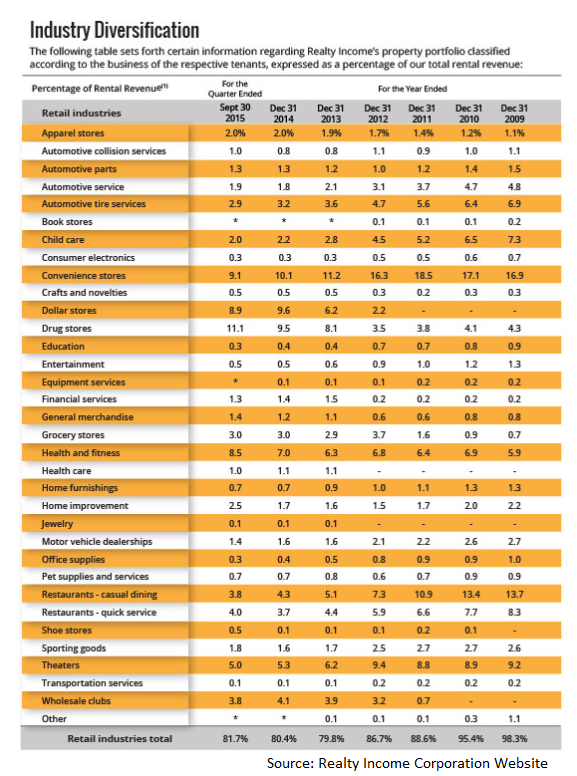 However, that may be a function of simply wanting stronger tenants. Amazon would certainly qualify as a strong tenant. Morningstar has assigned a credit rating of BBB+ assigned to them. On the other hand, Realty Income Corporation is looking for more than just strong credit ratings. They also want their retail locations to be non-discretionary. Even though they are primarily retail, evidenced by 81.7% of their revenue coming from retail properties in the third quarter, they are limiting risk exposure to individual business. No single tenant represents more than 7% of revenue, which would start to beg questions about how much of a footprint Amazon would want. At the end of the third quarter there were 4,473 total properties in the Realty Income Corporation portfolio. Of course, it would be strange for GGP to bring it up on the earnings call if they were not expecting to land the deal. On the other hand, it could simply have been mentioned as a way to demonstrate that there was still demand for retail business.
FFO and AFFO
Some shareholders will say that Realty Income Corporation tends to trade with the 10 year treasury. At times that assessment can be remarkably accurate. I was updating my tables to show the FFO and AFFO yields on a few REITs and decided to test the numbers against the ten year treasury yield.
For simplicity sake, I've used the first 9 months (3 quarters) of 2015 for the FFO and AFFO numbers to make them easily comparable across the REITs. Those numbers have been annualized, rather than incorporating estimates for the fourth quarters. I compare Realty Income Corporation with National Retail Properties (NYSE:NNN) and STORE Capital (NYSE:STOR) because I believe these are the best of breed triple net lease REITs. I already own shares in NNN and STOR and would love to add some O if shares come down on price. Right now the multiples are too high for me to stomach.

I took the measurements for February after the market closed on February 2nd.
Clearly the P/FFO multiples are getting pretty high for these REITs. That concerns me a bit, but I'm holding onto my position and waiting for lower prices before looking to add. If prices keep climbing it could push me to sell and wait for lower prices.
The interesting thing about these yields is what happens when we compare them with the yield on the 10-year treasury. On February 2nd the yield on the 10 year was 1.852%. On December 23rd the yield was 2.2516%. If we round the numbers we can see yield dropped by .40%. If Realty Income Corporation was really trading with the ten year treasury, we would expect that their FFO and AFFO yields would have moved by a similar amount. Note that the values used for FFO and AFFO per share have not changed, so the change is simply in the yield due to price movements.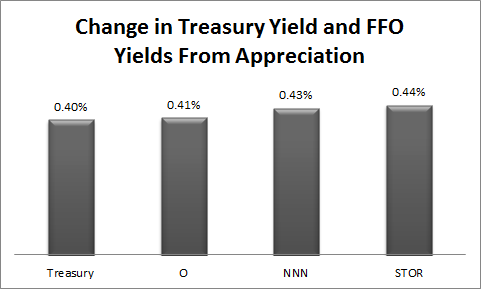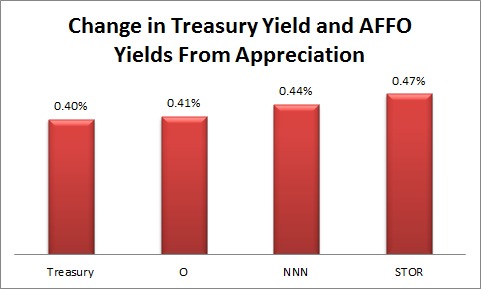 The fluctuation in yield measured this way is remarkably consistent. The yield on O was the lowest to start with, so it isn't surprising that it climbed the least. The climb in share price was almost precisely the same for O and NNN. Both were between 11.3% and 11.4%. It is important to recognize that most equity REITs did not have this level of success. The Vanguard REIT Index ETF (NYSEARCA:VNQ) declined by about 3.8% during the same time frame.
I wouldn't expect the yield movement relative to treasuries to be this consistent every day, but it worked out very nicely for this comparison.
Capitalizing on the Low Cost of Capital
These are the kind of high share prices that would be very favorable for issuing new equity and using it to fund new acquisitions. The broad market, the REIT indexes, and most investments aside from treasuries are falling. This would appear to be a great scenario for acquiring real estate from other companies with weaker valuations. It wouldn't shock me if a deal were announced for several hundred million in properties to be acquired from a REIT trading at a lower valuation. Because Realty Income Corporation wants to have high quality tenants and properties that will maintain their value, they wouldn't want to be absorbing entire REITs. One reason for the premium valuation here is the quality of the portfolio. The history of raising dividends and solid management certainly won't hurt the valuation, but it works on the basis of a strong portfolio.
Benjamin Graham
Maybe it is simply because I started taking some time in January and February to review the writings of Benjamin Graham and David Dodd, but I keep seeing the relevance of their writings. Even after 80 years, their principles remain true. If you have a copy of the sixth edition of Security Analysis, on page 79 the following quote begins:
"Relative Importance of the Terms of the Commitment and the Character of the Enterprise
Our Distinction between the character of the enterprise and the terms of the commitment suggests a question as to which element is the more important. Is it better to invest in an attractive enterprise on unattractive terms or in an unattractive enterprise on attractive terms? The popular view unhesitatingly prefers the former alternative, and in so doing it is instinctively, rather than logically, right. Over a long period, experience will undoubtedly show that less money has been lost by the great body of investors through paying too high a price for securities of the best regarded enterprises than by trying to secure a larger income or profit from commitments in enterprises of lower grade.
From the standpoint of analysis, however, this empirical result does not dispose of the matter. It merely exemplifies a rule that is applicable to all kinds of merchandise, viz, that the untrained buyer fares best by purchasing goods of the highest reputation, even though he may pay a comparatively high price. But, needless to say, this is not a rule to guide the expert merchandise buyer, for he is expected to judge quality by examination and not solely by reputation, and at times he may even sacrifice certain definite degrees of quality if that which he obtains is adequate for his purpose and attractive in price. This distinction applies as well to the purchase of securities as to buying paints or watches. It results in two principles of quite opposite character, the one suitable for the untrained investor, the other useful only to the analyst."
Conclusion
If Amazon were to create physical stores, they might find an excellent partner in a highly quality REIT that would hold the physical assets. The question of course, might rely on how effective the model turns out to be. I would expect Amazon to want a much smaller test market with shorter contracts. If Amazon won't be a suitable partner since Realty Income Corporation wants long leases, they may still be very active in looking for deals they can use to capitalize on their high share price. For long-term shareholders, the high share price is only useful if Realty Income Corporation uses it to issue new equity that can be used to fund purchases that will increase FFO and AFFO per share. These accretive acquisitions are part of the strategy for growing dividends per share.
The yield on shares of the top triple net lease REITs moved along with the yield on 10 year treasuries. Those 10 year treasury yields are now getting exceptionally low. If we see a little more confidence in the economy and some growth in treasury rates, it could send share prices falling. Exceptionally high share prices and a weak market are putting Realty Income Corporation in a great position to look for acquisitions. I hope they'll have an announcement within the next few months.
Disclosure: I am/we are long NNN, STOR, VNQ.
I wrote this article myself, and it expresses my own opinions. I am not receiving compensation for it (other than from Seeking Alpha). I have no business relationship with any company whose stock is mentioned in this article.
Additional disclosure: Information in this article represents the opinion of the analyst. All statements are represented as opinions, rather than facts, and should not be construed as advice to buy or sell a security. Ratings of "outperform" and "underperform" reflect the analyst's estimation of a divergence between the market value for a security and the price that would be appropriate given the potential for risks and returns relative to other securities. The analyst does not know your particular objectives for returns or constraints upon investing. All investors are encouraged to do their own research before making any investment decision. Information is regularly obtained from Yahoo Finance, Google Finance, and SEC Database. If Yahoo, Google, or the SEC database contained faulty or old information it could be incorporated into my analysis.